NASCAR Sprint Cup Series: Brad Keselowski Dominates at Bristol Motor Speedway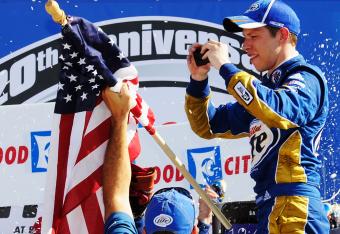 Brad Keselowski tweeting a picture of Victory Lane at Bristol
John Harrelson/Getty Images
Brad Keselowski led half of the race en route to a dominant victory in the Food City 500 at Bristol Motor Speedway. Keselowski had the best car all day, leading four times for 231 laps.
Keselowski put the blue deuce on point for the first time at Lap 217, charging underneath Brian Vickers. From there on, it was a duel back and forth between Keselowski and Matt Kenseth. Through four more caution periods over 269 more laps, they traded the lead, raced nose-to-tail and side-by-side.
Though Kenseth could keep the margin tight, he couldn't do anything with Keselowski for the last 111 laps. Keselowski chose the outside lane on the final restart and led the final 16 laps to take the checkered flag.
Keselowski smoked his tires all the way to victory lane where he climbed from the car and tweeted a picture of his crew in mid-celebration.
A lot has been made of the fact that Keselowski took advantage of the lack of timing lines on pit road to win the night race at Bristol last year. Since then, NASCAR has added two more timing lines to circumvent that advantage.
In Victory Lane, Keselowski said, "I knew this car was good enough to win the race last fall, with or without timing lines. It was good to come back and prove it here in the spring race" (live NASCAR on FOX).
Matt Kenseth finished second after leading 46 laps and challenging Keselowski all afternoon. For the last half of the race, Kenseth was the only one who could run with Keselowski.
He had one last shot at the win when the caution flew on Lap 478. Lane choice on the preceding restart was likely the deciding factor. Keselowski and Kenseth were at a dead heat coming to the green, but Keselowski ultimately used the momentum from the outside lane to gain the advantage and take home the win.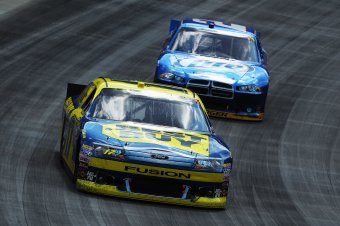 Justin Edmonds/Getty Images
When asked if he thought the choice of lanes decided the race, Kenseth replied, "Yes and no. If I could have been on top, maybe I could pin him down there" (live NASCAR on FOX).
Brian Vickers had a strong day in his return to NASCAR driving for Michael Waltrip Racing. Vickers led 125 laps and ran in the top five the whole race. He finished fifth at the tail-end of excellent showing from all three MWR cars with Martin Truex Jr. finishing third and Clint Bowyer finishing fourth.
The rest of the top 10 included Jeff Burton, Jamie McMurray, Juan Pablo Montoya, Jimmie Johnson and Paul Menard. This marks Johnson's third straight top-10 since finishing 42nd at Daytona.
After a six-car pile-up on Lap 24 that took out potential contenders Kasey Kahne, Kyle Busch and Carl Edwards, the action seemed to settle down with only a series of single-car incidents halting the pace for the rest of the day.
Hendrick teammates Jeff Gordon and Dale Earnhardt Jr. got together, racing side-by-side for a spot resulting in a flat tire and a wrecked race car for Gordon. After the wreck, Gordon was upset with Junior over the radio, but he took a more understanding tone when he conducted his interview after.
The racing was fast and hard all day as the race was completed in just less than three hours. Like yesterday, drivers were able to race two- and three-wide all the way around the race track which is always exciting for the fans. Today was just another example of why the stands are always packed in Thunder Valley.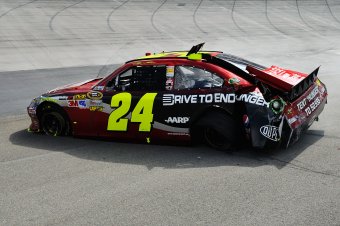 Rainier Ehrhardt/Getty Images
Now the boys will pack it up and head to California next week for the Auto Club 400 at the Auto Club Speedway.
Top 10 Finishers
1.Brad Keselowski
2. Matt Kenseth
3. Martin Truex Jr.
4. Clint Bowyer
5. Brian Vickers
6. Jeff Burton
7. Jamie McMurray
8. Juan Pablo Montoya
9. Jimmie Johnson
10. Paul Menard
Other Notable Finishers
11. Kevin Harvick
13. Greg Biffle
14. Tony Stewart
15. Dale Earnhardt Jr.
20. Denny Hamlin
32. Kyle Busch
35. Jeff Gordon
37. Kasey Kahne
39. Carl Edwards
This article is
What is the duplicate article?
Why is this article offensive?
Where is this article plagiarized from?
Why is this article poorly edited?