Duke Basketball: Austin Rivers Must Return or Risk NBA Disappointment
March 18, 2012

Streeter Lecka/Getty Images
Duke guard Austin Rivers is nowhere near ready to make the jump to the NBA, and he would be absolutely idiotic to consider doing so.
Nonetheless, there's a ton of speculation regarding whether or not he will declare.
Quotes from Jack Daly's piece in News & Observer after Duke's NCAA tournament loss to Lehigh make Rivers sound like he's up in the air about it. No firm denials, but he's also also not saying that he'll stay:
"Rivers said after Friday's game that the disappointing loss will not affect whether he declares for the NBA draft.

"'I said at the beginning of the year I had one thing in my mind and that was to win – to do everything I could to help Duke win,' Rivers said. 'And to lose in the first round – we failed. I failed. As far as what I'm going to do, this doesn't affect it at all. These are my brothers. I'm going to be best friends with these dudes the rest of my life. I'm not even worried about what I'm doing right now. We lost.'"
Haven't we seen how valuable it can be to spend an extra year or two developing your game in college?
Not only that but think of the difference one or two years can make in the maturity of a young man. Don't be fooled by the glitz and glamor of the NBA—there is no doubting the fact that it's a man's game, and it takes a high level of maturity to succeed in the league as anything more than a D-League bench player.
According to Nicholas Schwartz of The New York Times, Rivers is nowhere near ready as a basketball player, let alone as a young man:
"Rivers still lacks an N.B.A.-ready body and has trouble finishing at the rim through contact, evident in his 5-for-14 performance against an unheralded Lehigh front line. Rivers is not an elite shooter either, at just 43 percent from the field, and shoots an abysmal 65.8 percent from the free-throw line."
Coming in with those numbers and glaring holes in his game are just not going to cut it in the NBA.
Of course, it seems like it would make sense. One could argue that Rivers' stock couldn't be higher after this breakout season, he knows the league because of his father (Celtics coach Doc Rivers) and the need for point guards is huge in the NBA right now.
But even with all that being said, it just isn't worth it.
Rivers has the opportunity to go back to Duke and continue working on his game while playing a very high level of competition. If he had the season he did at a mid-major or Cinderella school, I could understand wanting to strike while the iron is hot. Duke is no mid-major, though. As long as Rivers is playing, he's going to get a ton of attention, and he's going to be playing against everybody's best shot.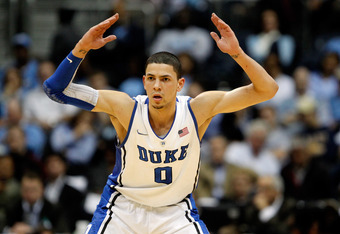 Streeter Lecka/Getty Images
If he were to go to the NBA, chances are he'd be relegated to a bench role where he couldn't learn or grow as much in active game situations. That's disastrous for a young player who still has a lot of basketball to learn and develop.
It just doesn't make sense.
Obviously the appeal of the NBA is understandable, and I'm sure it looks great after such a disappointing loss with Duke. But Rivers would be much more disappointed in the long run if he decides to jump to the NBA this year.