Kentucky Football: 5 Big Questions Heading into Spring Practice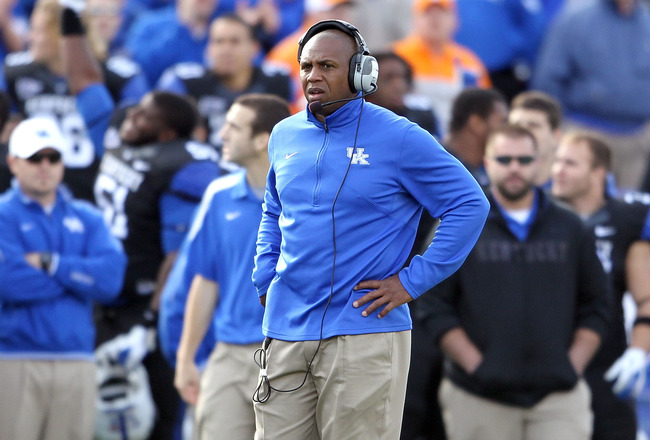 Andy Lyons/Getty Images
The University of Kentucky Wildcats will begin spring practice on Wednesday, March 21. Head coach Joker Phillips has a lot of questions about the team he will field this fall that will begin to be answered (for better or worse).
The following are a few of the key areas that Cats fans will have their eyes on as the Wildcats try to build on their season- and streak-ending victory against Tennessee and make it back to a bowl game.
1. Who Will Step Up at Linebacker?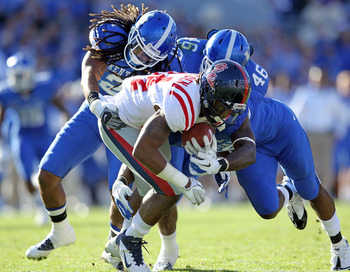 Andy Lyons/Getty Images
Danny Trevathan, Winston Guy and Ronnie Sneed were a key part of keeping Kentucky's defense (and the entire team) from a complete collapse last season. Trevathan in particular was phenomenal, recording 143 tackles, three sacks and four interceptions.
With all three of these players having graduated, replacing their production was already going to be a monumental task. When rising senior linebacker Ridge Wilson was suspended indefinitely by the team after receiving a felony drug charge on Feb. 27, things became even more grim.
The Cats got some great recruits this year at the linebacker position in Khalid Henderson and Kadeem Thomas, but they won't report until the fall.
In the meantime, junior Avery Williamson will be the oldest member of a linebacker corps that looks to heavily feature sophomore Alvin Dupree, red-shirt sophomore Justin Henderson and red-shirt sophomore Malcolm McDuffen.
Jabari Johnson (who could be a huge impact player) has been hampered by a shoulder injury and will most likely not participate in spring practice.
By the way, if any of those names sound completely unfamiliar to you, you're not alone. Kentucky is going to have a lot of guys getting more snaps than they ever have this fall. It will be interesting to see who begins to step up in the spring.
2. Is Maxwell Smith Ready to Lead the Cats at QB?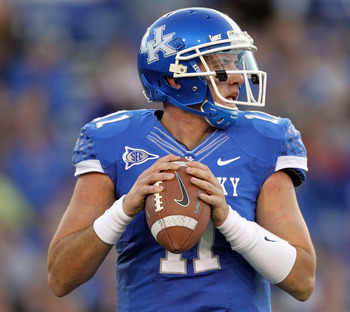 Andy Lyons/Getty Images
One of the few bright spots for Kentucky's offense last year was the emergence of Maxwell Smith. He showed poise that was way ahead of his years, great footwork, a willingness to stay in the pocket under pressure and throwing accuracy that was sorely missed while Morgan Newton was under center.
While Smith's play late in the season would make you think that his job as the starter is safe, there are a few other factors to consider.
Newton may have had a rough season, but if there was ever a time for a kid to start doing the "Rocky training montage" to win back his job, it's now. Also, keep in mind that Newton is very physically gifted and one of Joker Phillips' favorites.
There are also two other very talented options at quarterback in the form of Bookie Cobbins and true freshman phenom Patrick Towles.
If Newton shows any of the form he had in his brief 2010 campaign, or Smith has a poor spring showing, there may be a quarterback controversy in the bluegrass again.
In all honesty, though, I just don't see that happening. Smith did a great job taking over a team in disarray and a young receiving corps that was dropping more passes than they were catching. Now that he has had game experience and the receivers will be more experienced, it's Smith's job to lose.
3. Will the Wide Receivers Hang onto the Ball This Year?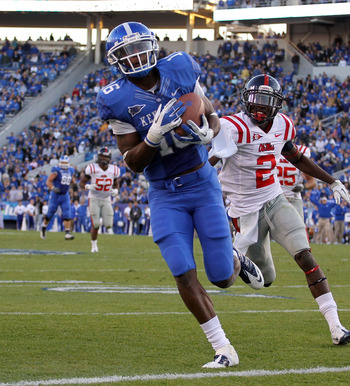 Andy Lyons/Getty Images
While a lot of folks are still nervous (or have just plain given up) on the wide receiver position for Kentucky, this is one area about which I'm pretty optimistic.
While the loss of WR coach Tee Martin is huge from a staff/recruiting stand point, it may actually benefit the play of the Wildcats' receivers. Martin, who was a quarterback in college, fielded a UK receiving corps that looked absolutely awful the last two years. Take away Randall Cobb in 2010, and the stats are worse than you could imagine.
Martin even admitted his lack of knowledge about the position in this 2011 interview with Tom Leach.
New WR coach Pat Washington (who coached for 11 years at Tennessee with Kentucky offensive coordinator Randy Sanders) inherits a group (led by outstanding play maker LaRod King) that looked much better with some game experience and a better quarterback under center (Maxwell Smith) at the end of last year.
Add in the fact that Kentucky will have Daryl Collins back after missing all of least season due to a knee injury, and this unit should surprise people...in a good way.
4. Is Josh Clemons the Answer at Running Back?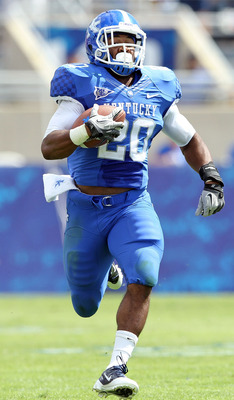 Andy Lyons/Getty Images
Running back may be the deepest position on Kentucky's football team this fall. One name that should have fans excited for next football season is Josh Clemons, who looked incredible in the first few games of 2011 before suffering a season-ending knee injury.
While Clemons may not have as much game experience as Raymond Sanders, his explosiveness makes him too good of an option not to be the main ball carrier for the Wildcats. Hopefully, he has fully recovered and begins laying claim to the starting job this spring.
5. Will New Defensive Backs Coach Mike Cassity Get the Job Done?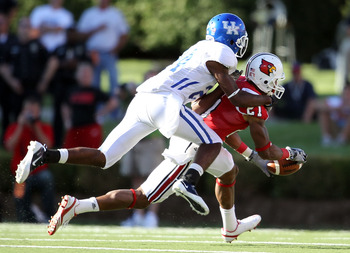 Andy Lyons/Getty Images
New defensive backs coach Mike Cassity will be replacing Steve Brown, which many Wildcats fans are probably hailing as an instant upgrade already.
Unfortunately, Cassity's unit will be missing two starting corners from last season. He may have to move Martavius Neloms from safety to corner and wait for true freshman Marcus Caffey (and his blazing speed) to report to Kentucky in the fall to get his the starting corner positions set.
Cassity, who has 37 seasons of coaching experience, will be inheriting a very young unit. They should be stable at safety (especially if Neloms stays in that position), but as stated before, the Wildcats will probably have to start at least one true freshman at CB unless someone steps up in the spring.
If you want to sing my praises, tell me that I am the worst writer you've ever read, or just want to observe my weird and offbeat view of things, follow me on Twitter@NickNafster79
Keep Reading

Kentucky Wildcats Football: Like this team?