NFL Free Agent Rumors: New England Patriots Must Cut WR Chad Ochocinco
March 18, 2012

Elsa/Getty Images
After signing wide receivers Brandon Lloyd and Anthony Gonzalez in free agency, the New England Patriots must cut disappointing receiver Chad Ochocinco.
According to Pro Football Talk, the Patriots have talked to Ochocinco about the idea of restructuring his contract. The team could restructure his deal and save salary cap space, or just cut him and rid the team of his poor play.
Ochocinco took to Twitter to give his response to Pro Football Talk's article on Sunday, saying through his account:
On the way out to McDonalds or Starbucks? Child Please RT @ProFootballTalk: Talk increases in New England that @Ochocinco is on the way out

— Chad Ochocinco (@ochocinco) March 18, 2012
The Patriots shouldn't even bother trying to restructure Ochocinco's contract, cutting him is the only option. He was brought to New England via trade from the Cincinnati Bengals before last season to give the team more depth at the wide receiver position and a deep threat in the passing game.
Ochocinco had just 15 catches for 276 yards and a touchdown last season in 15 games. Those stats in the NFL's second ranked passing offense are atrocious. The year before with the Bengals, Ochocinco had 67 catches for 831 yards and four touchdowns in 14 games.
With the Patriots adding more depth at receiver with the Lloyd and Gonzalez signings, there's absolutely no need for Ochocinco to remain with the team for the 2012 season.
Consider Ian Rapoport of the Boston Herald's take on Ochocinco:
The most disappointing performer in 2011, Ochocinco had just 15 catches despite earning more than $5 million. He has indicated he'd be open to restructuring his contract, but that might not be enough. He's aging, unproductive, expensive, and still trying to learn the offense. I would not be surprised if this relationship ended before 2012.
It's clear that Patriots head coach Bill Belichick likes Ochocinco, but can he trust the veteran receiver to be productive after he was so bad in 2011, and had lots of trouble learning the offense? I don't see how he can.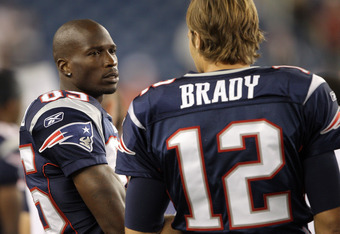 Elsa/Getty Images
The Patriots just need to cut their losses and move on. They thought Ochocinco could make an impact in the offense and it just didn't work out. By adding two quality receivers in free agency this month, there is no need to keep Ochocinco on the roster.
New England would be better off re-signing veteran receiver Deion Branch, who understands the offense better than Ochocinco and probably has more trust from quarterback Tom Brady.