F1 2012 Championship: How the Teams Are Shaping Up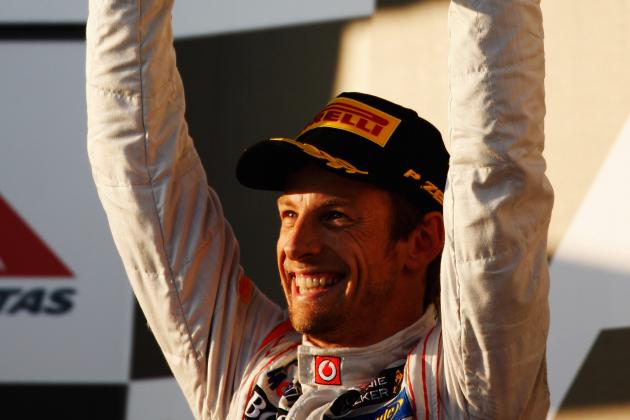 Mark Thompson/Getty Images

It was such a great beginning to the F1 2012 Championship.
There were battles up and down the field, lots of surprises and plenty of disappointment.
With such a great race, there were winners and losers. In the case of rivalries between teams, there was plenty to watch and learn.
I'll go through the competitors, team by team, and tell you who I expect to head to Malaysia with their heads held high, and who will be looking to prove their worth.
Begin Slideshow

»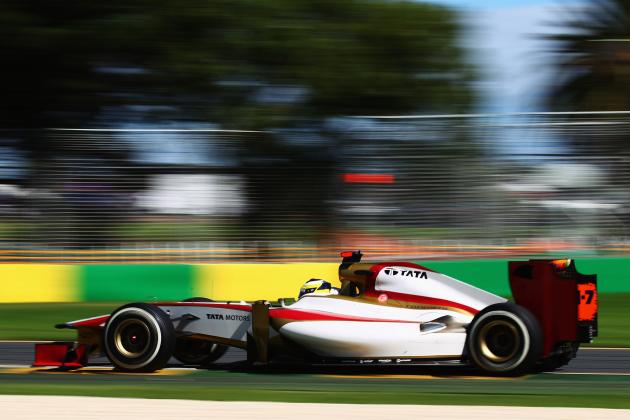 Clive Mason/Getty Images

There were no winners here. HRT didn't even qualify for the race, so neither driver got a chance to show us anything. The lack of sponsors on the car means it will be very difficult to improve their car much in the brief time before Malaysia, or any time over the year for that matter. HRT have another tough year in front of them, to no one's surprise.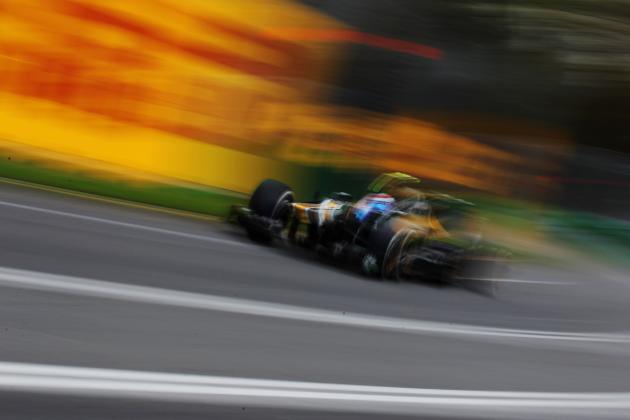 Mark Thompson/Getty Images

It was a disappointing day for Caterham. Although they did better than expected on Friday, nothing came of it on either Saturday or Sunday. Their car is equipped with KERS this year, so I think people were expecting a bit more from them.
Unfortunately, mechanical issues brought their race to a premature end. I know I was hoping for quite a bit more. Time will tell what happens with their season, but it's definitely not off on a good foot.
Hekki Kovalainen handled Petrov with relative ease, giving proof to the point Lotus made in letting Petrov go. Petrov was comfortably beaten in qualifying, and did nothing of note to redeem himself in the race.
Although Caterham most likely made the right choice in letting Jarno Trulli go, there are still a few doubts about replacing him with Petrov. Today did nothing to dispel them.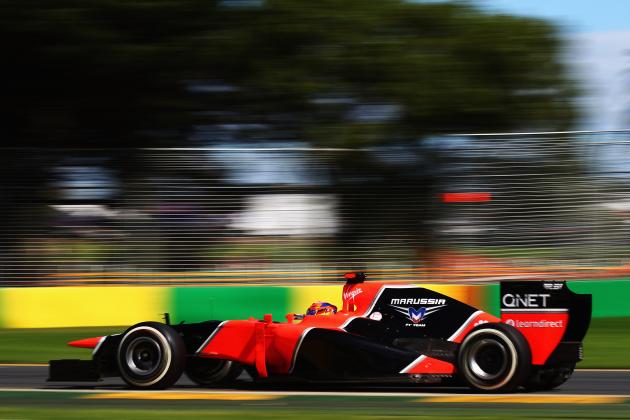 Clive Mason/Getty Images

This wasn't too bad of a showing for Marussia, all things considered. They had a similar amount of testing to HRT—none—but had both cars finish the race. This is better than Caterham, which has got to be a relief for them.
Were they actually racing? Sadly, no. Did they show up much better than they probably imagined? I guess that they did.
Timo Glock was the winner of the two cars, but Charles Pic did well enough. Although Pic spent most of the race as a mobile chicane, he did finish the race without any major incidents.
As Pic gets more used to both the car and F1 in general, I predict he'll be giving Glock a run for his money.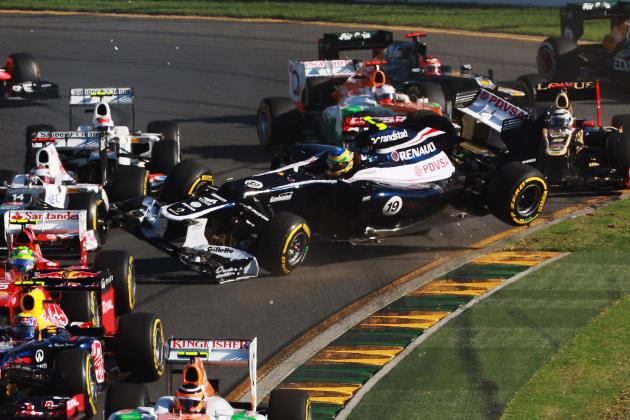 Mark Thompson/Getty Images

That photo pretty much sums up Williams' weekend. They made a great opening showing, demonstrating the pace of the car. It was a marked improvement from last year, and at points in the race they were definitely contenders.
Watching Maldonado close in on Alonso made me think of Juan Pablo Montoya battling with Schumacher in the past. However, it was all for naught.
Pastor Maldonado was the out-and-out winner. Bruno Senna appeared to be in over his head and unable to show the potential of the car.
Pastor Maldonado was cool and collected for most of the race, and only lost out on points at the end. Granted, Maldonado appeared to make a driver error that caused his crash, and probably caused plenty of heartache in the Williams' garage. However, Bruno Senna's performance probably caused more of a feeling of heartburn.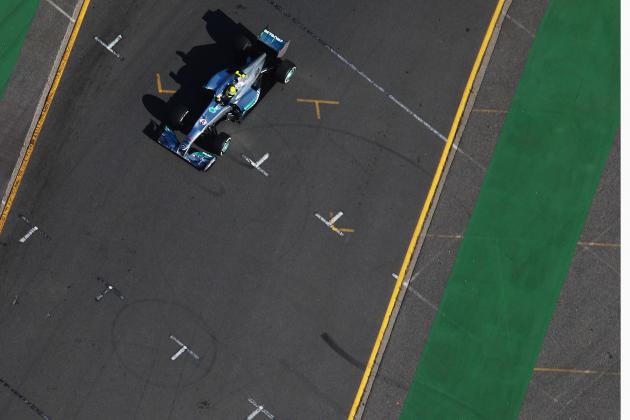 Mark Thompson/Getty Images

Mercedes GP are another team that will be hoping to put Australia as far behind them as possible. Michael Schumacher qualified in fourth, out placing his teammate in qualifying for the first time.
The Mercedes appeared fast and smooth, and lots of people were thinking that Ross Brawn had constructed another dominate car. There was lots of talk of the Mercedes new take on the F-duct, and how it could be a game-changer.
Is it? Hard to tell based on this race, but I'm guessing no.
Michael Schumacher had a great qualifying, but Nico Rosberg took the race. Although mechanical failures played their part in both drivers' downfall, Rosberg held on for much longer. Until the last lap, it appeared that Rosberg would walk away with decent points.
I'm a little bit on the fence on this one.
Ross Brawn and Schumacher made a dominant pair in the past, and their relationship means the car has been designed to suit Schumacher. That said, Rosberg is highly rated by the team, and I guess the team doesn't really mind who claims the first victory.
I'll give this race to Rosberg simply because he was closer to the front at the end, but Malaysia will be a whole new story.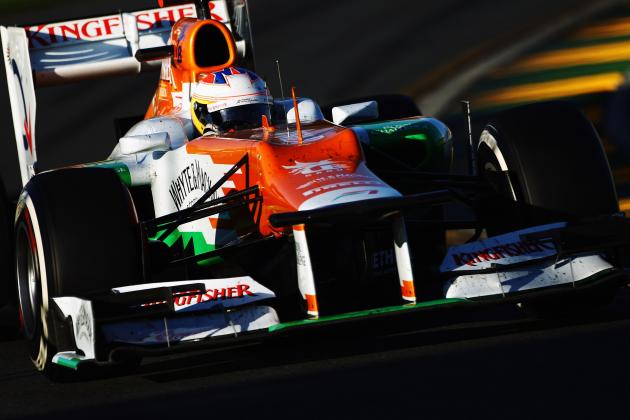 Clive Mason/Getty Images

Force India have been steadily improving. Their overall performance last year was fairly decent. However, the first race of this year was not one to write home about.
With only one driver finishing and taking the last available points, things could certainly have been better. Hulkenberg had a first lap incident that ended his race early. Di Resta only made it into the points due to the misfortune of others. However, he made a great pace at the end to at least pick up the last point.
This race goes to Di Resta by a long way. Hulkenberg will have a tough time beating Di Resta this year unless he improves a lot.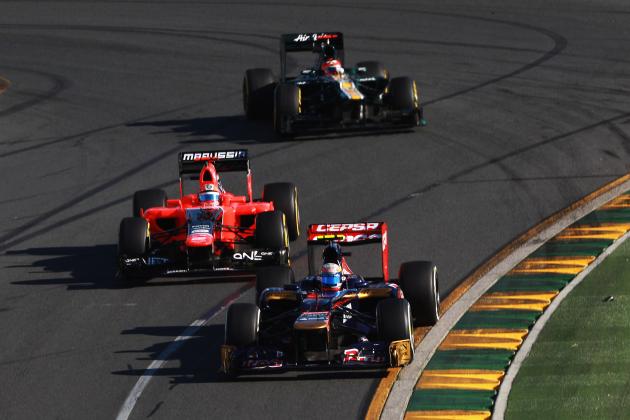 Mark Thompson/Getty Images

Toro Rosso had a more than decent start to the season. One driver made it to Q3, and the other was just outside of it. They looked good throughout the race, and didn't appear to miss either of last year's drivers at all.
They scored a few points, their reliability was good and both cars finished the race. If they keep it up, they'll be getting even more points soon.
Daniel Riccardio had a good race. He qualified well and did his job on the track.
Jean-Eric Vergne had a great first race in F1. He didn't make any major mistakes and brought his car home in one piece.
Nonetheless, I guess the little experience Riccardio got last year in the HRT paid off this time. Whether that will continue remains to be seen.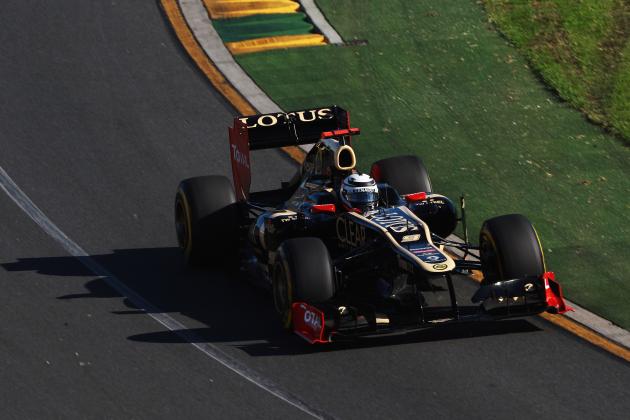 Mark Thompson/Getty Images

Lotus is yet another team who started the year well.
They proved that they weren't completely running on fumes in preseason testing. They showed that they have a car that is reliable and can compete.
Are they at Mercedes level yet? Not quite, but if they can keep up in the development race, they might just pull off an upset.
I'm a huge Kimi Raikonnen fan, but I was still pulling for Romain Grosjean. He had an amazing qualifying, a decent enough race start and showed that he fully deserves to be in that seat.
A devastating collision with Pastor Maldonado took what should have been an all-star return to racing.
Kimi Raikkonen, on the other hand, had a miserable qualifying. However, he more than made up for it in the race. He showed his mettle, and had an amazing last lap. If he hadn't fallen asleep for a bit to let Kamui Kobayashi past, he could have taken even more points away from the race.
It appears that Lotus have a great driver pairing that will do well for them this year.
Clive Mason/Getty Images

Sauber are the revelation of the year. They came up with a great car to showcase their drivers, who did not disappoint.
Peter Sauber was probably the happiest one leaving Melbourne. Although they didn't get a win, I'm sure they didn't expect to get the points that they did. They outperformed many teams that spend more than they do, and it wasn't a fluke result either.
Kamui Kobayashi put on a master-class in driving. If it had been him behind Alonso instead of Maldonado, are there any doubts he would have made it past?
Not in my mind.
Sergio Perez also had a great race, and could have placed higher than Kobayashi due to his skill with tires. However, in the end, Kobayashi got the place he deserved. I'm still a little surprised that Ferrari seem to be more interested in Perez.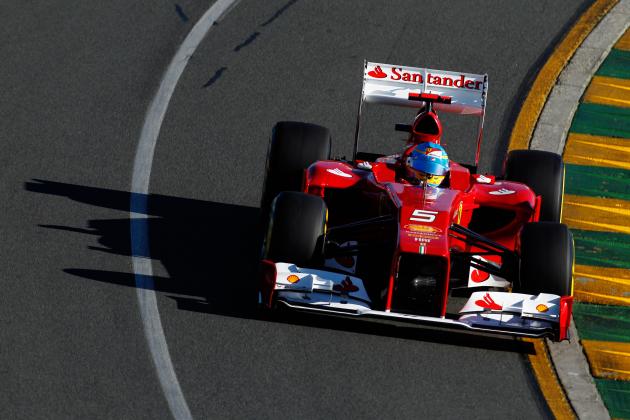 Paul Gilham/Getty Images

Although Ferrari are never happy if they aren't on the podium, they still seemed to rescue some points from what seemed likely to be a disaster of a weekend. Although they qualified dismally, the car showed that it has some race-pace in it.
With the right driver behind the wheel, and 24-7 work over the next few days, the Ferrari might pull off a miracle in Malaysia.
Felipe Massa will not see out the year if he keeps this up. He was terrible in both qualifying and the race. It doesn't help him much that he has Fernando Alonso in the other car, but he has not stepped up to the plate.
Alonso did what he always does; he wrestled the car up as far as he could with tenacious effort. If Ferrari produce the right car, not many can doubt that Alonso will take it to the front. The only question is if Ferrari can produce that car.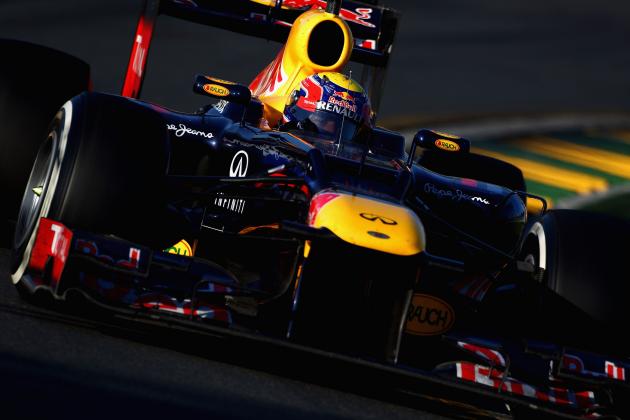 Clive Mason/Getty Images

Red Bull didn't come out of the blocks and blow everyone away, but they can't be too upset with how the race ended either. They still have the potential to win, and the next few tracks historically suit them over the McLaren.
However, they will need to do a lot of work over the course of the year to both catch up with McLaren and stay in front of the others. They've proven that they can dominate a race from the front. Now it's time to show they can catch up from the back, too.
Although Mark Webber out-qualified Sebastian Vettel for the first time in quite a while, he still ended the race behind him. Vettel's race-craft has been steadily improving, and I doubt Mark Webber will be able to beat him in a race without extenuating circumstances. This could very well be Webber's last Australian Grand Prix.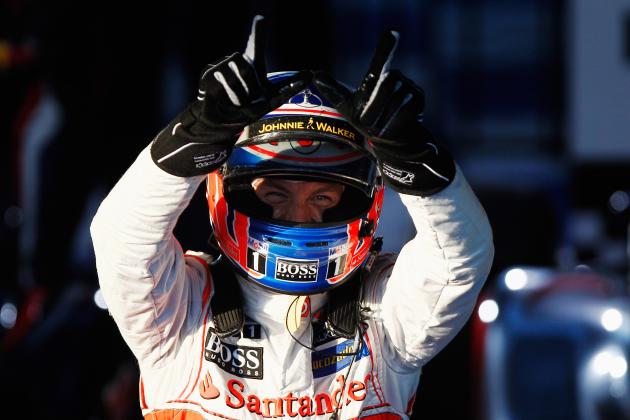 Paul Gilham/Getty Images

McLaren came to Australia with a great car. Their car has both beauty and speed. It has tremendous speed and can go the distance.
From this result, it looks like the Constructor's Championship, at a minimum, is theirs to lose. Everyone knows that they can develop a car over the course of a season, and it's always easier to start from the front.
Lewis Hamilton looked utterly beat at the end of the race. Even though he qualified in P1, he still lost.
What else does he have to do to win?
Well, come off the start line well, for one . Manage his tires better, for another. But most importantly, show the patience and over-all mastery that Jenson Button possesses. Button has shown that he deserves everything he's achieved in F1, and he isn't finished yet.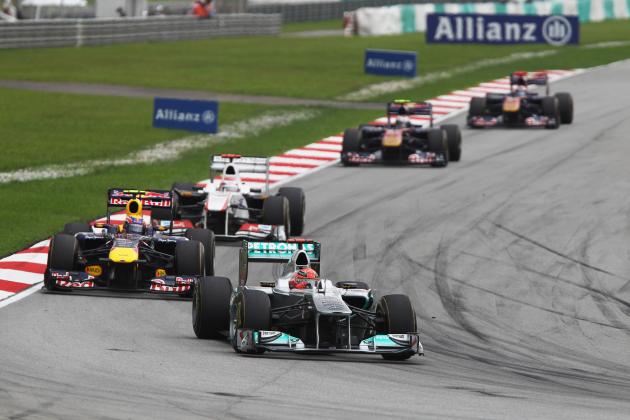 Paul Gilham/Getty Images

Next weekend's Malaysian Grand Prix is shaping up to be the best in years. An already extremely tight field will only get closer as the teams use this weekend's race to improve. The inter-team winners of this weekend will get no free ride in the coming races. I can't wait for the race to begin!