Denver Broncos Free Agency: Sorry, but Peyton Manning Was Never Interested
March 18, 2012

Joey Foley/Getty Images
Let me save you the suspense, Peyton Manning never intended to become a Denver Bronco.
Even on the eve of the meteoric five-year, $90 million possible contract, with almost $62 guaranteed, most of which coming this season and next, the truth is that Peyton Manning was using the Broncos.
He wanted a team like Denver or Tennessee or maybe both to get into a bidding war for his services to set the market.
He wanted to dangle himself (as the carrot) in front of teams looking to add him, to lure them to bid on his services for next year.
He never wanted to come to Denver.
Instead, it appears that Manning had already played the slew of NFL teams drooling over him, but really had his eyes set on a team that was just one game away from their shot at last season's Super Bowl: the San Francisco 49ers.
The Niners are conveniently without a legitimate No. 1 starter at the quarterback position. They are in talks with Alex Smith to return, but it appears like they will not go forward with the contract until Manning has decided where he will play.
It's my belief that Manning decided months ago, after the Indianapolis Colts owner, Jim Irsay, decided on picking Andrew Luck as this year's 2012 NFL draft No. 1 overall pick.
The Colts were moving on, and Manning was already plotting his next move.
Just like he can call plays on the fly from the no-huddle baffling defenses, he blinded teams with his enormous potential as he worked behind the scenes at setting up a meeting with the San Francisco 49ers to throw the ball for them.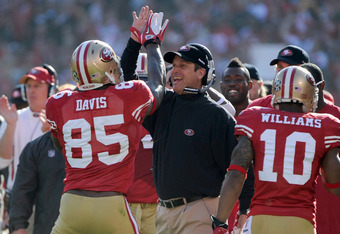 Thearon W. Henderson/Getty Images
It was an under-the-radar session that Manning went through in San Francisco on Tuesday, March 13, 2012. The Niners weren't even among the teams in the running at that point. It was the Tennessee Titans, Denver Broncos and Miami Dolphins, all teams that were fatally flawed, had tons of cash to blow and were in desperate need of a quarterback.
The case for the 49ers, however, is much more convincing. The Niners have an awesome defense, which carried them deep into the playoffs. They have some very talented receivers and tight ends, and a workhorse back that can occasionally carry his team on his back.
Imagine San Francisco next season, without the game-managing Alex Smith under the center, and instead Peyton Manning? They would be nearly unstoppable.
Denver Broncos fans, I am sorry to burst your bubble, but Manning led you on with no intentions of going steady.