Robin Van Persie, Juan Mata and the PL's All Stars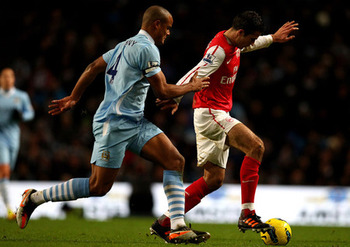 How spread is the Premier League's talent?
Since the same seven clubs typically overpower the rest of the league every season, is all the league's talent is being hoarded by a handful of clubs?
In part two of this five-part series, I have created England's strongest starting 11.
*Remember the rule—only one player per team*
So far, we have seen that Spain holds an attack that will not be matched by any league in the world.
But can England produce a more balanced squad?
These players will likely be more recognizable to many readers, but are they better?
Take a look and decide for yourself.
Here is the Premier League's starting eleven.
Keeper: Michael Vorm (Swansea)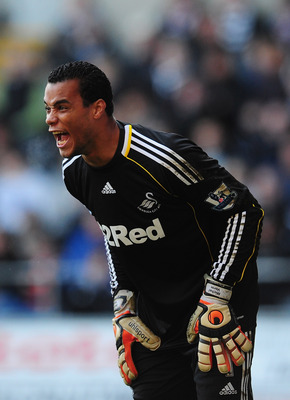 Stu Forster/Getty Images
Garry Monk and Ashley Williams.
Recognize those names? Most fans who do not watch the PL would not.
These are two of the men helping Michael Vorm keep the opposition off the score sheet every week.
Despite not having Kompany, Vidic, or even Luiz in front of him, Vorm is only a single clean sheet behind Joe Hart this season.
Not only was he a value buy—£1.5 million—he is also only just getting into his prime.
And as a keeper, one could argue that he has not even started playing near his best yet.
Right Back: Glen Johnson (Liverpool)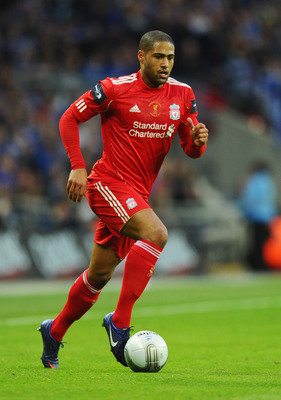 Mike Hewitt/Getty Images
Johnson is finally getting his confidence back after a lengthy injury layoff and now helps form the most selfish defense in England.
Kyle Walker may be winning more hearts this season, but his defense is suspect.
Bacary Sagna and Micah Richards will not be their club's representative.
Even if all those fullbacks were eligible, Johnson is one of the most complete right backs of all.
He may be more inclined to move forward than to stay and defend, but having the cover he does on this team would give him more freedom to press and assist in the attack.
Defender: Vincent Kompany (Manchester City)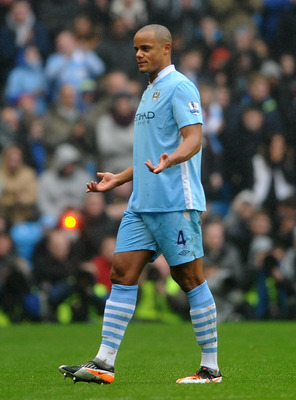 Laurence Griffiths/Getty Images
Some say Kompany is the best central defender in the Premier League.
Others dislike Manchester City.
The Belgium and Man City skipper is a superb tackler and great passer.
With the form he has shown this season, Kompany has shot beyond the Premier League and put himself in the conversation for best defender in the world.
Knowing the type of attack the other leagues are bringing to the table, it is essential to have Kompany on this team instead of other deserving teammates.
Center Back: Scott Dann (Blackburn)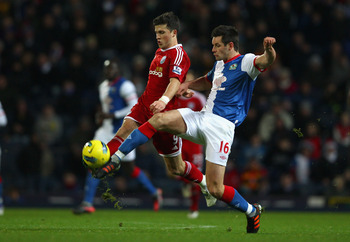 Clive Brunskill/Getty Images
Dann is probably the most underrated player on this squad.
He was a star for Birmingham last season and had clubs like Liverpool and Arsenal vying for his signature.
Since joining Blackburn, Dann has played so well that the club has had an easier time with Christoper Samba move to Russia.
He has also made the absence of Ryan Nelsen easier on the team.
It is too bad he got hurt, especially the way he did.
Dann may still be growing as a leader on the pitch, but the presence of Vincent Kompany will make that minor fault irrelevant.
Left Back: Leighton Baines (Everton)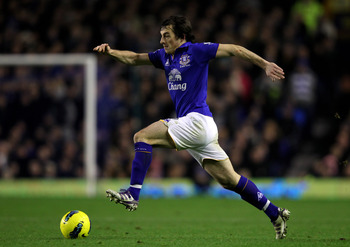 Alex Livesey/Getty Images
Leighton Baines may be the best left back in the Premier League.
According to BR's own Allan Jiang, Baines has produced the most goal-scoring opportunities of any defender in the league this season.
Baines is a fast, attack-minded fullback who is also great with set pieces and a reliable penalty taker.
He is seemingly destined to move on to a bigger club and he would be a welcomed addition to any side in the world—besides perhaps Real Madrid.
Defensive Midfielder: Scott Parker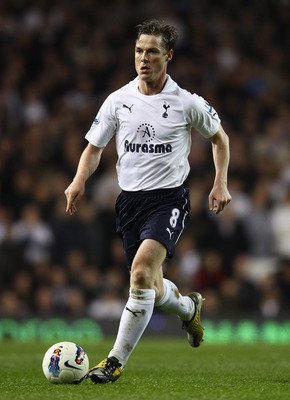 Julian Finney/Getty Images
Scott Parker is one of the best defensive midfielders in England.
In fact, he is probably the best defender of any DMF in the PL.
A bit of a late bloomer, Parker is now being recognized for his leadership and discipline on and off the pitch.
Last season, Parker almost single-highhandedly led West Ham out of relegation.
But West Ham fell short and their loss was Tottenham's gain.
The 31-year-old was recently named England's captain and will hope to carry his form over the last two seasons—the best of his life—into the international arena.
Midfielder: Clint Dempsey (Fulham)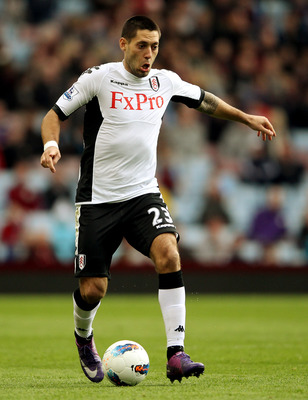 Scott Heavey/Getty Images
The only American on any list, Dempsey is finally being recognized as the best player America has.
He may very well be having the greatest season of any American in history.
This season has been Dempsey's best yet—scoring 18 goals in all competitions.
He is now Fulham's all-time leading goal scorer.
He has played so well that Arsenal looks to be targeting Dempsey this summer.
At 29 years old, moving to Arsenal would present a well-deserved opportunity to finally partake in Champions League football.
Midfielder: Juan Mata (Chelsea)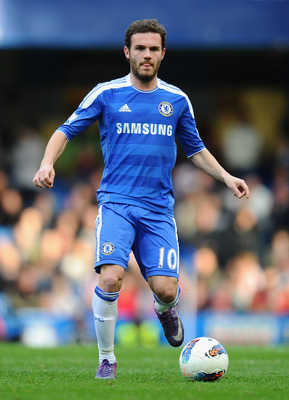 Mike Hewitt/Getty Images
After just one season, Juan Mata is battling David Silva for the title of best midfielder in England.
His former teammate has a slight head start in trying to win over fans, but Mata's impact has been immediate.
Since he formed one of Europe's best midfield duos in Valencia, Mata's individual talent went relatively underappreciated outside of La Liga.
The past two seasons have seen him get praised as one of the best midfielders in the world.
In this team, he will be the man controlling the midfield and creating chances for the front men.
With such great midfield units coming from the rest of Europe's leagues, Mata will need to be at his very best to compete.
Center Forward: Wayne Rooney (Manchester United)
Jasper Juinen/Getty Images
With all due respect to Antonio Valencia—who has been spectacular—Wayne Rooney is the man keeping Manchester United at the top of the PL.
With United's midfield being one of its worst in recent memory, Rooney has had to take on a larger responsibility and a wider zone.
Injuries to Chicharito and inconsistent play from the rest of United have also seen him needing to carry the goal-scoring load.
He has done an admirable job at both.
Wayne Rooney may not be the best forward in the league this season, but remember that it is United ahead of the pack at the moment.
That shows that his individual stats do not reflect how important Rooney has been.
Striker: Robin Van Persie (Arsenal)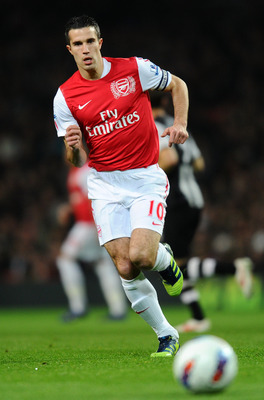 Mike Hewitt/Getty Images
Speaking of players being important to their club, enter Robin van Persie.
If the Ballon d'Or was awarded based on which player was most important to their club, Van Persie may finally win his first.
Unfortunately, Arsenal's results this season have not matched RVP's output.
With 33 goals in all competitions, he has had not only his best season ever, but one of the best of any Arsenal player in history.
Spain is bringing the most deadly attack to this competition with Lionel Messi and Cristiano Ronaldo.
But this season, Robin van Persie is the only player in England who deserves to be mentioned along with those two.
Striker: Demba Ba (Newcastle)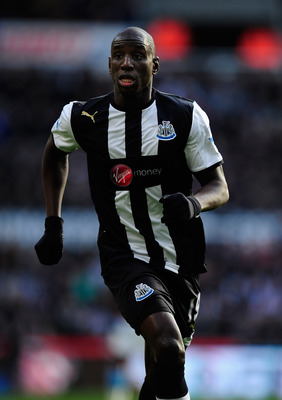 Stu Forster/Getty Images
Every bit as valuable as RVP this season is Demba Ba.
Ba has consistently kept Newcastle in the fight for a top-5 finish with 16 goals this season.
Arsenal fans remind us that Van Persie deserves respect for "only" having the likes of Arteta, Sagna and Walcott supporting him.
While that is true, Demba Ba does not even have that much supporting talent.
It is still unclear whether or not Ba will leave Newcastle this summer, but if he does decide to, there will be no shortage of clubs fighting for his signature.
Formation: 4-4-2
Vorm
Johnson—Kompany—Dann—Baines
Parker
Dempsey Juan Mata
Rooney
RVP Ba
Conclusion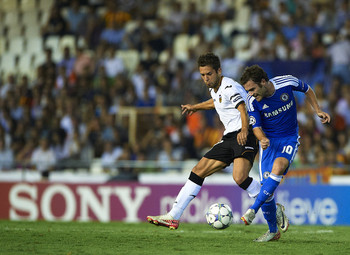 Keep Reading

Arsenal: Like this team?