Oakland A's: 5 Under-the-Radar Prospects to Watch in 2012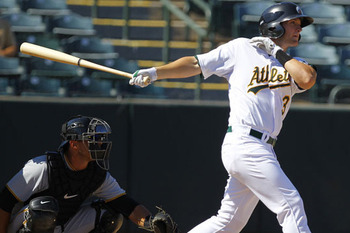 Last year, a player that emerged from obscurity in the Oakland Athletics farm system was third base prospect Stephen Parker.
In 2010 he hit .296, with 21 home runs and 98 RBI, yet coming into 2011 he was still largely overshadowed by fellow prospects Grant Green and Michael Choice. Despite his breakout 2010 campaign, he solidified his position as the team's third baseman of the future with his consistent and solid play last season.
Parker, like Green and Choice, was drafted out of college. That's usually been Billy Beane's draft philosophy, select players out of college who'll be more prepared for professional ball, and therefore advance through the minors quicker. In recent years, however, he's started to value high school players more in the earlier rounds.
Though a lot less is known about the high school players, there's generally more of an upside to them even though they have the potential to become boom or bust kind of prospects. But it also means that they may not scratch the surface of their true capability until two or three years into their minor league careers.
Here are five prospects who can break out in 2012.
Yordy Cabrera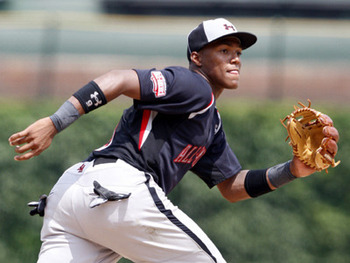 Cabrera is a tall, athletic 21-year-old who has yet to tap into his raw power. The potential is certainly there, in his only at-bat this spring, Cabrera launched a game-winning home run against the Cubs back on March 5th.
The only question with Cabrera is his ability to make consistent contact. Last year Cabrera was second on his team in strikeouts, tallying up 110 in 359 ABs. Though his size generates a lot of his power, it also has many doubting whether or not he'll be able to stick at his natural position of SS. It's very likely that he may shift to third, or a corner outfield spot, in the future due to his limited range.
Look for Cabrera to make some big strides in his second season of pro ball. Having a year to adjust and recognize pitches will help him with his contact at the plate, and result in a lot more long balls. If all his tools come together, the A's may have a very dynamic player in Cabrera.
Aaron Shipman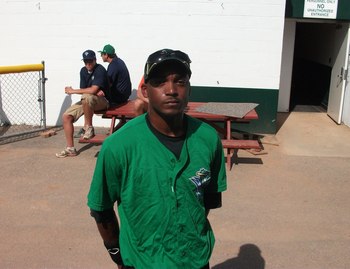 Drafted in the third round of the 2010 draft, Shipman got off to a very slow start in the beginning of last season. He would start to improve his production late though, bringing his average close to .260.
Shipman's best tool is his plate discipline. In his first full year of pro ball, Shipman was able to accumulate more walks than strikeouts. That's a quality that will definitely make him a very popular player once he makes his way to Oakland.
Though the power is not quite there yet for his size and may never show up, Shipman figures to be a very solid major league center fielder. He has very good speed and athleticism which will make him a plus defensive player, and combined with his ability to consistently get on base he should become a very good leadoff hitter as well.
Barely 20, Shipman still has a long way in his development, and is at least three years away from Oakland.
Blake Hassebrock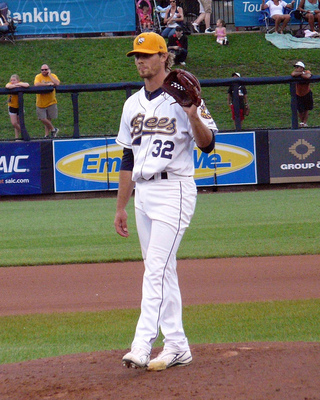 Can you name which A's pitching prospect had the lowest ERA last season? That would be Blake Hassebrock. A steal in the eighth round of the 2010 draft, the UNC Greensboro product finished last season with a 2.64 ERA in 26 starts.
Possessing a good frame at 6"4, Hassebrock has the makeup and stuff of a very good, overpowering pitcher. One issue he was able to solve last season was his command. Challenging hitters on a more consistent basis, he was able to limit the amount of walks he surrendered, and forced opposing lineups to beat him instead of him beating himself.
If he can continue to harness his natural ability, then Hassebrock can become a major player in the A's system next season.
Miles Head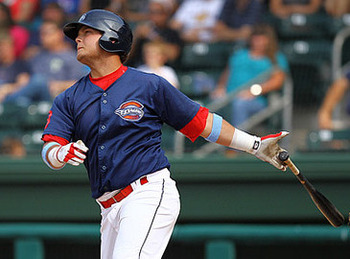 Miles Head is just the kind of player the A's look for. He doesn't look like your average first baseman, but the kid can hit. If it were just on stats, Head would appear to be a top prospect.
Between two levels last season Head combined to hit .299, with 22 home runs and 82 RBI. His sturdy frame provides him with plus bat speed and the potential to hit for plus power as well. He also has a very good eye at the plate that results in a lot of walks, and a good on-base percentage.
At a stocky 6'0", 215 pounds, Head does have some issues in the field, though, due to his lack of natural athleticism. Though his footwork and range are a concern, Head does possess good hands and a strong arm dating back to when he was a third baseman early in his career. Don't be surprised if the A's move him back to third to cover up some of his defensive deficiencies.
Rashun Dixon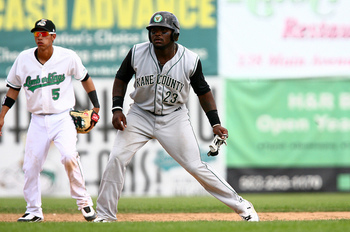 Between Cabrera, Shipman and Dixon, the young center fielder is probably the most athletic out of the three, and possesses the highest ceiling. A tremendous athlete, Dixon was a two-sport star coming out of high school in 2008, having a scholarship to play football at Mississippi State. Leaving teams fearful that he would choose football over baseball, the A's were able to nab him in the 10th round and work out a contract that included a $600,000 signing bonus.
The superstar potential is there for Dixon, but he is still incredibly raw. His athleticism and power potential are off the charts, while his plate discipline is improving.
The concern with Dixon is his ability to make consistent contact. He still strikes out way too much to be considered a top prospect, and will have to continue to progress in his approach as a hitter. The most home runs Dixon has hit in a season is 11, so his numbers don't quite match up to his capabilities.
Once his understanding of the game catches up to his physical abilities, you're looking at a game changing kind of player.
Keep Reading

Oakland Athletics: Like this team?