Top 20 NBA Prospects and Their Past or Present NBA Double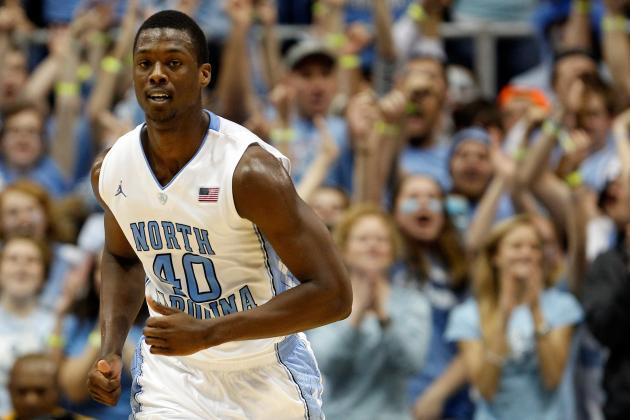 Streeter Lecka/Getty Images

The NCAA Tournament is well underway and some of the best NBA prospects have showcased their abilities for all to see.
While some players like Damian Lillard of Weber State and Terrence Ross of Washington weren't fortunate enough to participate in March Madness, I'm sure they'll be relieved to hear they made my top 20 list.
This list was actually quite difficult to make, and in the true spirit of March Madness, there were definitely a few "snubs." This just proves how deep this draft class truly is.
While there are a few names on this list that I think have big-time bust potential, there's no doubting that some of these guys will be stars at the next level.
As players get more and more athletic, it's hard to find their correct comparison, especially when you're trying to relate them to stars of the past. However, I've somehow managed to make a viable argument for each comparison, so let's start the discussions.
Begin Slideshow

»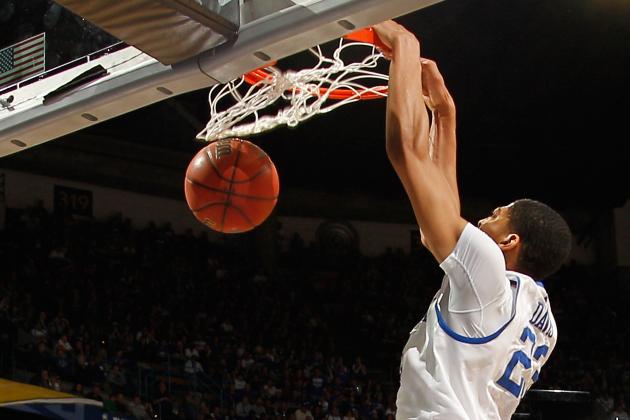 Chris Graythen/Getty Images

2011-2012 Stats: 14.3 points, 10 rebounds, 4.7 blocks, 1.4 steals per game
Height: 6'10"
Weight: 220
NBA Comparison: Marcus Camby, Bill Russell, Chris Bosh
Anthony Davis is almost certainly going to be the No. 1 overall selection in the upcoming NBA Draft. Being that this is going to be one of the deepest drafts since the mid-2000s, that's a pretty big deal (as if going No. 1 in the NBA draft any year isn't a big deal).
Davis has a chance to be the first player to win Player of the Year, Freshman of the Year, Defensive Player of the Year, NCAA Tournament MVP and be the No. 1 overall selection. However, I can't say that going to Charlotte (the likely proprietor of the No. 1 pick) will be a good fit for Davis.
While Davis already has established himself as a great defender and shot-blocker, his offensive game is still raw. He still needs to be better with his back to the basket. But his ability to step out and hit a mid-range jumper will make him a tough guard for other bigs.
Davis is a rare prospect who doesn't exactly have one clear player comparison. His rebounding and shot blocking is reminiscent of Marcus Camby and Bill Russell, while his offensive ability is closer to a young Chris Bosh.
Here's to hoping he doesn't waste his potential on the Bobcats.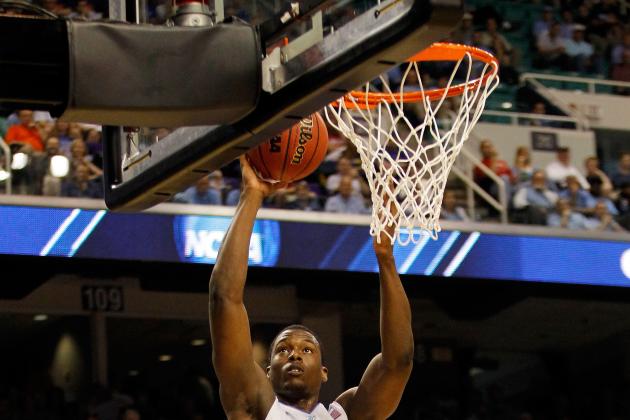 Streeter Lecka/Getty Images

2011-2012 Stats: 17.4 points, 5.2 rebounds, 1.1 steals per game
Height: 6'8"
Weight: 215
NBA Comparison: Luol Deng
Harrison Barnes has the look and feel of an NBA superstar. His athleticism and 6'8" frame make him the perfect candidate to be a starting small forward at the next level.
He's undoubtedly the most talented player on a North Carolina roster that's loaded with first-round draft potential, and his choice to remain in school for his sophomore season has made him an all-around better player.
With that being said, there are still times when Barnes disappears during games. It could be because the Tar Heels have Kendall Marshall, James McAdoo, Tyler Zeller and John Henson on the roster. The presence of that many talented players certainly alleviates the pressure that would be put on Barnes' shoulders in any other situation.
But shouldn't he be dominating every game? He still has tremendous upside, and he should be taken either second or third in the upcoming draft. But his disappearing act leaves more to be desired. I'm not saying he's going to be a bust, but it's always a possibility.
If he lives up to his potential, his ceiling will be higher than a Luol Deng comparison. However, Deng (who is actually playing the best he's played this season) is an accurate description of how Barnes may perform once he gets into the league.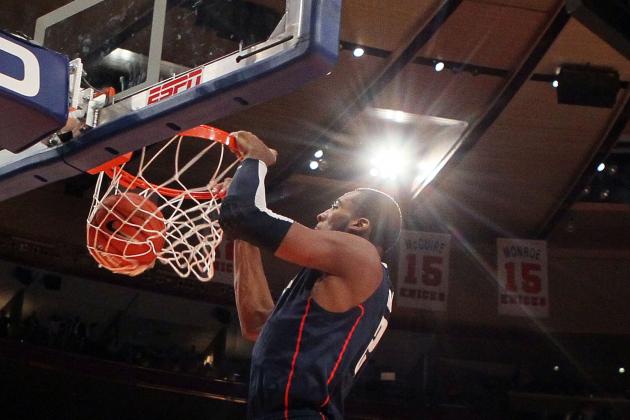 Jim McIsaac/Getty Images

2011-2012 Stats: 10.2 points, 7.2 rebounds, 2.7 blocks per game
Height: 6'10"
Weight: 270
NBA Comparison: Ceiling—Amare Stoudemire; Currently—Poor Man's Serge Ibaka
There's no doubting the upside and potential that UConn center Andre Drummond possesses, but his performance this season as a freshman did not warrant a No. 2 draft pick, which is where most mock drafts have him going.
Based on his play alone, Drummond's bust potential is through the roof. However, when you look at his frame and see his flashes of greatness (17 and 14 against Syracuse, 20 and 11 against West Virginia), it's hard to not consider taking a chance on him.
I really hope Drummond at least considers staying in school for another season. He is not ready to play against NBA-caliber power forwards and centers. With another year of school, he'd be able to work out the kinks of his virtually non-existent post game.
His ceiling screams Amare Stoudemire. The similarity between the two in terms of size and athleticism is uncanny, but he's not even close to resembling Stoudemire's talent. Right now, he's about where Serge Ibaka was when he came into the league—good shot-blocker and rebounder with a very raw offensive game.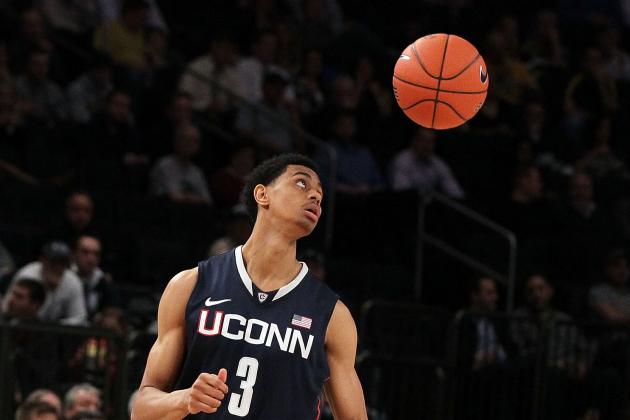 Jim McIsaac/Getty Images

2011-2012 Stats: 17.7 points, 4.9 rebounds, 1.7 assists per game
Height: 6'5"
Weight: 195
NBA Comparison: Richard Hamilton
Yes, sophomore shooting guard Jeremy Lamb is the second member of the UConn team to appear on this list. I know you're asking yourselves, "If UConn had Drummond and Lamb, two potential top-five draft picks, why didn't they have a better season?"
My answer is this: Don't forget they also had a good point guard in Shabazz Napier and another potential draft pick in Alex Oriakhi. There's no real reason they shouldn't have been a top-10 team all year. There's no reason they shouldn't have been a Final Four team. The only explanation is that nobody played up to their potential, and that includes Lamb.
With the absence of Kemba Walker, Lamb had to step up his offensive production. There's no doubt he did that, upping his points per game to almost 18, but the rest of his game stayed the same.
Lamb may never be a lock-down defender, but he will always be a pure scorer. The perfect NBA comparison for Lamb is former UConn shooting guard Richard Hamilton. Like Hamilton, Lamb thrives off moving without the ball to get himself open.
He may be skinny, and he may have some work to do, but Lamb is going to provide points wherever he goes.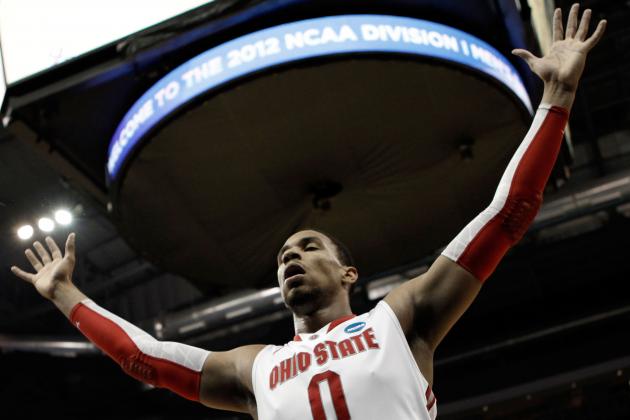 Jared Wickerham/Getty Images

2011-2012 Stats: 17.6 points, 9.3 rebounds, 1.2 steals, 1.1 blocks per game
Height: 6'9"
Weight: 265
NBA Comparison: Al Jefferson/Karl Malone
I'll admit, I was never very high on Jared Sullinger. I admired his choice to remain in school for an extra year, but he missed out on being a top-three draft pick. In a loaded draft class, Sullinger will be lucky to go in the top five.
However, even if he goes No. 8, that's still lottery money, I suppose. Anyway, Sullinger's play as of late has made me reconsider my previous thoughts. I'm not entirely sure Sullinger is really 6'9", so he will most likely play as an undersized power forward in the NBA, but he definitely has potential.
His playing style reminds me a lot of both Al Jefferson (currently with the Utah Jazz) and Karl Malone (formerly with the Utah Jazz). He's got a better-than-average back-to-the-basket game, he's a great rebounder for his size and he's a more than capable defender.
He's even a little like Dejuan Blair—you know, minus all the knee problems and with way more upside. Sullinger has a big body, though, and he's not going to be afraid to bang around against bigger defenders.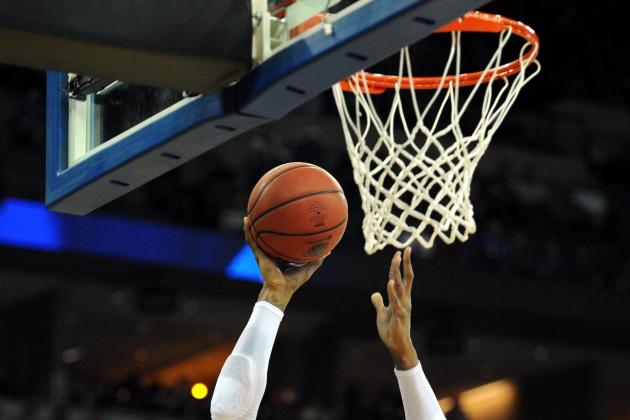 Eric Francis/Getty Images

2011-2012 Stats: 17.9 assists, 11.8 rebounds, 1.9 assists per game
Height: 6'9"
Weight: 237
NBA Comparison: Paul Millsap
If anyone can take away the NCAA Player of the Year award away from Anthony Davis, it's Thomas Robinson. Robinson is having a tremendous season for the Jayhawks, and it really came out of nowhere.
Last season, Robinson only averaged 14.6 minutes per game. He was productive and showed potential, but I don't know if anyone was expecting to see him playing the way he has.
Robinson is explosive on offense, almost akin to a smaller Blake Griffin. But I'm afraid that explosion and ability to finish at the rim won't come as easy to him at the next level. Robinson has a great post game, and he's also able to hit a mid-range jumper.
When you add in his ability to run the floor and handle the ball, Robinson's game is starting to look familiar. Is this guy Paul Millsap or what? Millsap plays as an undersized power forward for the Jazz, but his versatility and ability to get to the rim make him a tough matchup for any defender.
Even though Robinson is listed on some websites as 6'10", I can almost guarantee he's going to measure up as 6'9", possibly even 6'8". He's not quite the offensive talent that Millsap is yet, but he'll be there soon.
Robinson is my third-favorite prospect in this year's draft class, but I have a feeling that he's going to go in the 5-to10 range.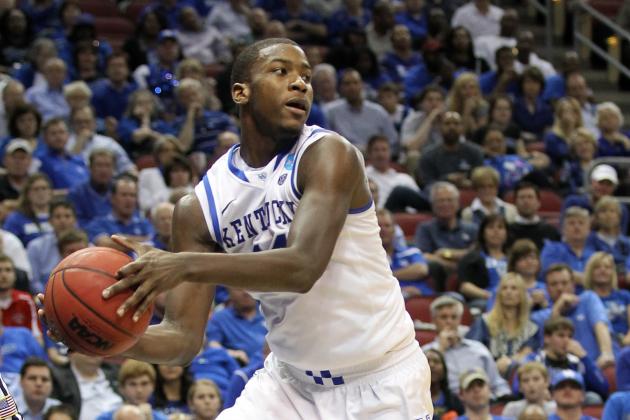 Andy Lyons/Getty Images

2011-2012 Stats: 11.8 points, 7.6 rebounds, 2.0 assists per game
Height: 6'7"
Weight: 232
NBA Comparison: Gerald Wallace
A few weeks ago, Michael Kidd-Gilchrist told reporters that he's staying at Kentucky. However, his comments have to be taken with a grain of salt. Kidd-Gilchrist will be a definite lottery pick if he decides to leave school, and, let's face it, Kentucky doesn't have the best track record when it comes to kids sticking around.
With that being said, I'm still including Kidd-Gilchrist on this list because he's an obvious top-20 prospect. He might be smart to stay in school for another year, though, as he would likely be a top-three pick next year (maybe this year, too, though).
Kidd-Gilchrist's stats don't look overly impressive, but that's mostly due to being on a team full of superstars. Anthony Davis is the only Wildcat with impressive stats, and they would be even better if he were on a lesser squad. The same can be said about Kidd-Gilchrist and Terrence Jones.
At 6'7" and 232 pounds, Kidd-Gilchrist has good size to be a small forward at the next level. He's not asked to be a primary scorer on his current team, as he's only averaging eight shot attempts per game, and his jump shot is one aspect that he really needs to work on to be a more complete player.
His non-stop motor and rebounding ability are very akin to New Jersey Nets' forward Gerald Wallace. Also like Wallace, Kidd-Gilchrist is at his best when he's getting to the rim.
We'll see if he sticks to his statement and stays enrolled for another season, but I have a sneaking suspicion that the appeal of the NBA will lure him away.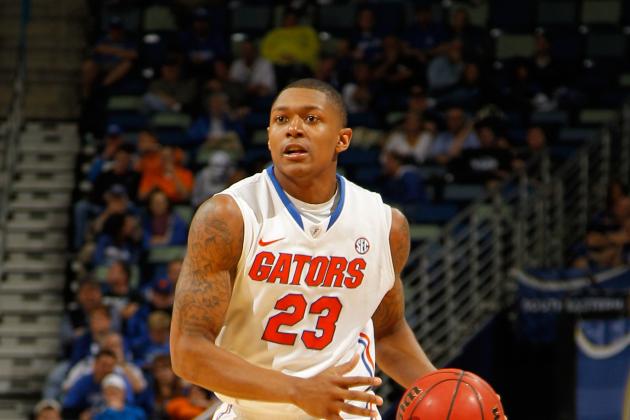 Chris Graythen/Getty Images

2011-2012 Stats: 14.6 points, 6.5 points, 2.2 assists per game
Height: 6'3"
Weight: 207
NBA Comparison: Ray Allen/Eric Gordon
Before the season started, I predicted that Bradley Beal would be contending for NCAA Player of the Year honors. I really liked his game coming out of high school, but he hasn't exactly been the same player in his first year at Florida.
Obviously that's due to the level of competition, and some players (like Harrison Barnes, for instance) need an extra year to finely tune aspects of their game that could be better. With that being said, Beal is still having a better than average freshman season, averaging nearly 15 points and seven rebounds a game.
I assume Beal will be a one-and-done player, and he's still going to be a lottery pick. He has a lot of potential, and there hasn't been a closer comparison to Ray Allen since Jesus Shuttlesworth. Like Allen, Beal's jump shot is something to marvel over, but his size is more akin to Eric Gordon.
What Gordon and Allen both have that Beal is currently lacking, though, is the ability to get to the rim and produce their own shots. Being an undersized shooting guard in the NBA, Beal will have to be more than just a jump shooter.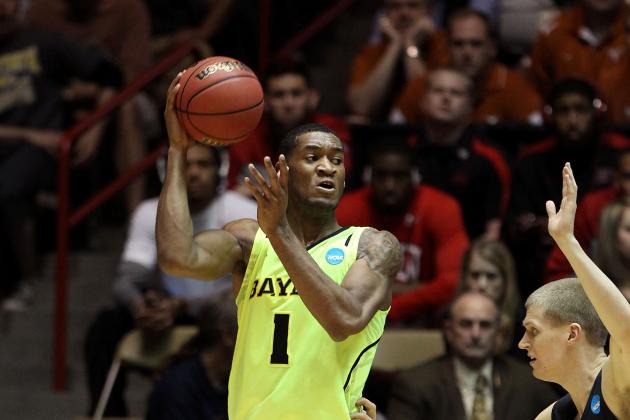 Christian Petersen/Getty Images

2011-2012 Stats: 14.0 points, 7.7 rebounds, 1.3 assists per game
Height: 6'11"
Weight: 235
NBA Comparison: Tracy McGrady/Anthony Randolph
Perry Jones III is another player whose play hasn't lived up to his enormous potential. His upside alone would have gotten him drafted in the top five last year, but Jones wisely returned to school to shore up his game.
Jones has shown progression this season, but unfortunately, that progression is minimal. His potential will still make him a lottery pick if he chooses to leave. But in a deeper draft, Jones is no longer a top-five pick.
At 6'11", Jones has the athletic ability to run the floor like a guard, handle the ball, step out and hit jumpers and finish at the rim. During the Big 12 tournament, Jones finally started putting his talent to good use.
He had 31 points and 11 rebounds against Kansas State, 18 points and seven rebounds against Kansas, 16 points and 11 rebounds against Missouri. It was like he finally realized he was more athletic and talented than everybody he was playing against.
However, like Barnes, Jones still has the problem of disappearing during the course of the game (or for the entire game, for that matter). After playing so well in the Big 12 Tournament, Jones has regressed during the NCAA Tournament—two points against South Dakota State and seven points against Colorado.
If Jones progresses, he can essentially be a taller version of Tracy McGrady. However, he is currently looking more like Anthony Randolph.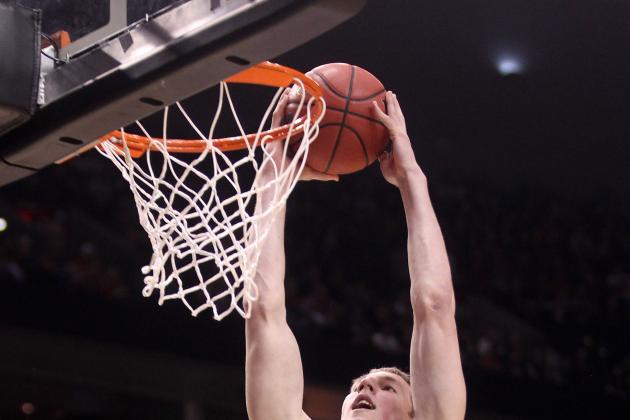 Jed Jacobsohn/Getty Images

2011-2012 Stats: 15.5 points, 6.4 rebounds, 1.4 steals per game
Height: 6'11"
Weight: 230
NBA Comparison: Luis Scola/Anderson Varejao
Skyrocketing up everybody's draft board, the 6'11" freshman center out of Indiana is the first Zeller brother to appear on this list. Don't worry, the other one will arrive shortly. As it stands, Cody Zeller appears to be the more popular draft choice.
Cody has continued to progress throughout the course of his freshman season at Indiana. He has turned into one of the premiere players in the Big Ten as well as the entire NCAA.
However, being that Cody is a freshman, there's a chance that he could return to school. He may not completely follow in his brother's footsteps and spend all four years in college. But staying in school for at least one more year might be wise.
If he does stay another year, his draft stock should rise tremendously, likely making him a top-three draft pick. He also would be able to work on making his jump shot more consistent.
For a big man, Cody is a terrific ball-handler. He is great at facing up and creating his own shot as well as finishing at the rim. I like to think of Cody as combination of Luis Scola and Anderson Varejao. He has the build of Varejao, the low-post abilities of Scola and the athleticism of both.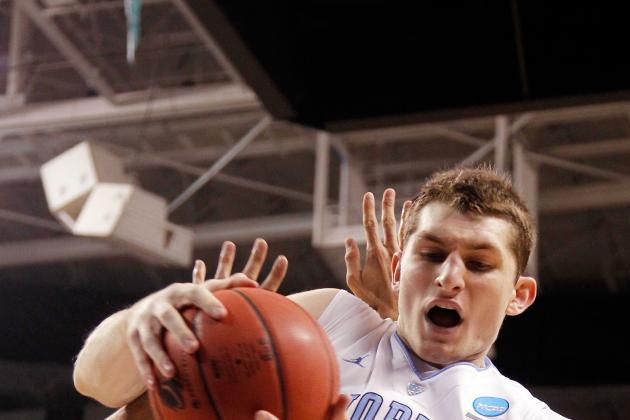 Mike Ehrmann/Getty Images

2011-2012 Stats: 16.5 points, 9.3 rebounds, 1.4 blocks per game
Height: 7'0"
Weight: 250
NBA Comparison: David Lee/Anderson Varejao
And now it's time to talk about the other Zeller, Cody's brother Tyler. Now a senior at the University of North Carolina, Tyler is playing a big part in the Tar Heels' national championship hopes.
After electing to forgo last year's draft, Tyler has continued improving both his offensive and defensive game and is now a potential lottery pick.
While Cody is better at facing up to the basket and creating his own shot, Tyler has a more refined post game and a better mid-range jump shot. Basically, Cody is more raw, but also more athletic, and Tyler is more experienced.
Tyler is also slightly bigger and stronger than Cody, making him a more viable option for teams that want a center who can provide adequate defense and scoring against NBA-quality big men.
Like his brother, one of Tyler's NBA comparisons is Anderson Varejao due to build and athleticism. But I think Tyler's ceiling is David Lee. While he's taller than Lee, the two play a very similar style. If Tyler can continue to improve his jump shot, the Lee comparison will be uncanny.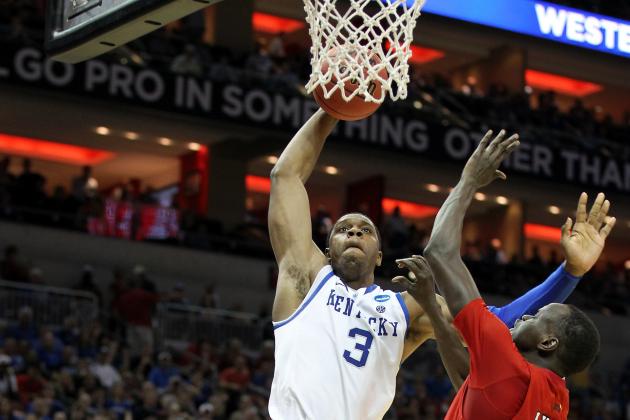 Andy Lyons/Getty Images

2011-2012 Stats: 12.5 points, 7.0 rebounds, 1.8 blocks per game
Height: 6'9"
Weight: 252
NBA Comparison: Josh Smith
I'm just going to go ahead and put this out there: I really like Terrence Jones and what he brings to the table. I thought it might be a mistake for him to skip last year's draft due to all the talent this year's draft is providing, but I would still take him in the top 10.
However, I may be alone in thinking that. Most mock drafts I've read have Jones going anywhere from No. 12 to No. 18. Obviously, the money is going to be a lot better if he can stay in the lottery, but if he misses the cut, he goes to a better team (and still will make a good sum of money).
The problem with Jones is that he's a "tweener," and it's unclear what position he'll play in the NBA. He's a great combo forward in college due to length, strength, ability to hit a jump shot and attack the basket, but he'll be undersized at power forward in the NBA.
If he can continue working on his jump shot, I think Jones will make a great small forward in the NBA. I've read a lot of "Marvin Williams" comparisons for Jones, but I'm going to ahead and pick a different Atlanta Hawk to compare him to, and no, it's not just because he's left-handed.
Like Josh Smith, Jones is terrific at attacking the basket and playing defense. Both players rely on their athleticism and length, and they're more or less the same size (Jones might even be a little bigger). Smith plays the combo forward perfectly in the NBA, so why can't Jones do the same?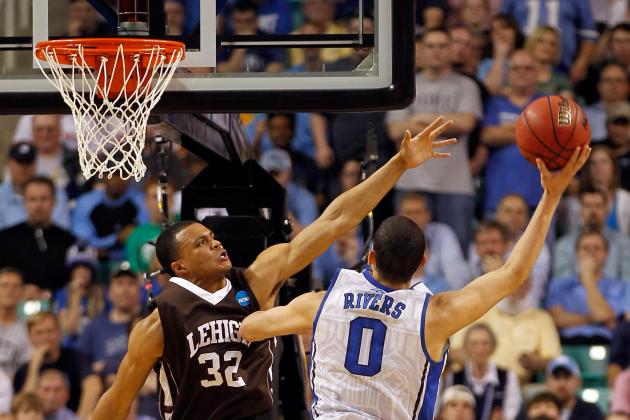 Mike Ehrmann/Getty Images

2011-2012 Stats: 15.4 points, 3.4 rebounds, 2.1 assists per game
Height: 6'4"
Weight: 200
NBA Comparison: Jamal Crawford
Austin Rivers has lottery pick potential, but I really hope he decides to stay at Duke for another season. Not only will his draft stock go up immensely, but he'll be able to work on his point-guard abilities.
As of now, Rivers is a shooting guard who is trying to play point guard, but is doing it rather ineffectively. Rivers is at his best when he has the ball in his hands creating his own shot. He's also more than capable of coming off screens and hoisting up threes (he's averaging almost five attempts from deep per game).
I'm not going to take the easy road out and say that Rivers' NBA comparison is his father, Doc Rivers. While they do play a similar style, I think that Austin is a bit more athletic than Doc, and his play most resembles current Portland Trail Blazer shooting guard Jamal Crawford.
Both Rivers and Crawford are around 6'4" and 200 pounds, both can play point guard if needed, but both thrive playing off the ball and providing a scoring threat. Crawford needs the ball in his hands when he's in the game, and the same goes for Rivers.
Now that Duke is out of the NCAA Tournament after a humiliating loss to Lehigh, Rivers will have awhile to make his decision on whether or not he will return.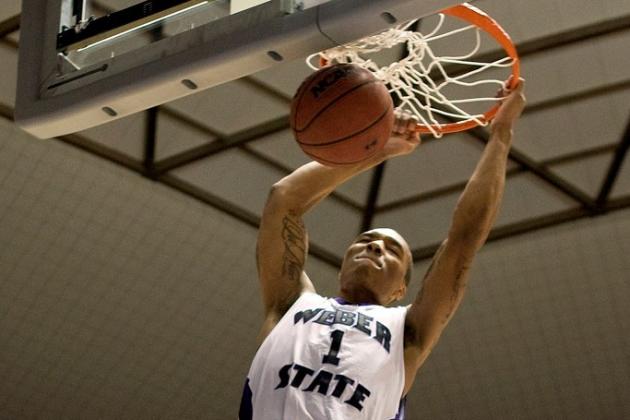 2011-2012 Stats: 24.5 points, 5.1 rebounds, 4.0 assists per game
Height: 6'3"
Weight: 195
NBA Comparison: Steve Francis
Damian Lillard has been on everybody's draft board since the beginning of the year. But only recently did he surpass both Kendall Marshall of North Carolina and Tony Wroten of Washington to become this draft class's best point guard. Or, at least, the point guard with the most upside.
Unfortunately for Lillard, he plays on a Weber State team that relies on him to do everything, and the Wildcats already have been eliminated from the CIT Tournament by Loyola Marymount. That wasn't Lillard's fault, though, as the junior point guard finished his season by posting 27 points and six rebounds.
Lillard has a stereotypical point-guard build for the NBA, and he's going to be a triple threat at the next level (scoring, rebounding, passing). While he has no problem getting to the rim, Lillard's best attribute may be his range.
This season Lillard was a 42 percent shooter from deep, and that's after he jacked up seven threes per game. It was hard for me to think of a current NBA player that Lillard could be compared to, but one former star instantly came to mind: Steve Francis.
Both Lillard and Francis were the exact same build and played the exact same way. While Francis may have been a better all-around scorer than Lillard, there's no doubt that Lillard is close to catching up.
Francis was used to scoring 25 points a night while grabbing five rebounds and dishing out four assists. While Lillard's stat line is sure to take a dip from college to the NBA, there's no reason to think that a Steve Francis type-of-career is out of the question.
Jonathan Daniel/Getty Images

2011-2012 Stats: 13.6 points, 8.2 rebounds, 1.9 blocks per game
Height: 7'1"
Weight: 245
NBA Comparison: Tyson Chandler
Meyers Leonard has definitely upped his production over the course of a year. As a freshman, Leonard was only playing eight minutes per game and averaging just over two points.
Being that Leonard is still very raw offensively, staying in school for another year would be quite beneficial. However, as the second- or third-best center prospect in this year's draft class, staying in school for another year might be out of the question.
While Leonard may never be the go-to guy for a team on offense, his huge frame and wingspan make him an interesting defensive prospect.
With a few more years under his belt, Leonard's ceiling and NBA comparison will likely be Tyson Chandler. Chandler is an above-average scorer around the basket, but he's most well known as a dominating defender.
If Leonard chooses to enter the draft this year, he will likely spend a few years coming off the bench until he's ready to become a starter. I like Leonard's potential to become a player like Chandler, but that's only going to happen if he continues to progress.
I really hope he spends another year in school.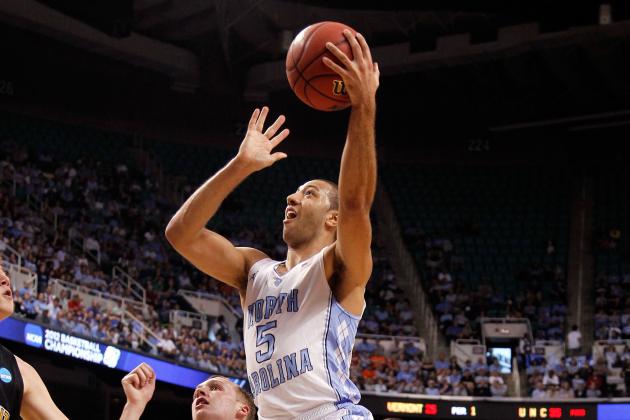 Mike Ehrmann/Getty Images

2011-2012 Stats: 7.8 points, 2.6 rebounds, 9.7 assists per game
Height: 6'4"
Weight: 195
NBA Comparison: Jason Kidd
While Damian Lillard may be the best all-around point guard in this draft class, North Carolina's Kendall Marshall is without a doubt the best passer. He's a "traditional" point guard in every sense. He really looks to get his teammates involved before he looks for his own shot.
Marshall is in a strange position with his skill set. Being a traditional point guard would normally be a sought after commodity. However, in the past few years, the NBA has really benefited due to the rise of the hybrid point guard.
Guys like Russell Westbrook and defending MVP Derrick Rose are dominating in the league due to their athleticism and power, and it's hard to overlook that. Does that mean that every team will want to switch to a hybrid point guard? Not likely. Steve Nash and Chris Paul are still two of the best point guards in the NBA, so Marshall still has hope.
Granted, Marshall isn't nearly the scorer that Nash and Paul are, but he is a guy who can average 10 assists at the next level. As of now, Marshall's style of play is quite reminiscent of Jason Kidd. Kidd is a pass-first point guard who can do a little bit of everything.
Marshall will need to bolster his rebounding in order to fully embrace the Kidd comparison, but with his 6'4" frame, Marshall should have no problem grabbing a few boards now and then.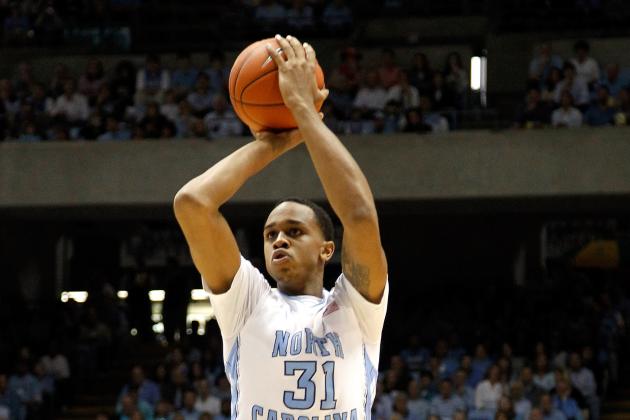 Streeter Lecka/Getty Images

2011-2012 Stats: 13.8 points, 10.1 rebounds, 2.9 blocks per game
Height: 6'11"
Weight: 220
NBA Comparison: Hakim Warrick/Anthony Randolph/Keon Clark
I've never been super high on John Henson, but I'm willing to acknowledge that he has the potential to be a great defender at the next level.
That North Carolina has been playing so well without Henson's presence in the lineup might give credence to the fact that he's not that important and that my doubts about Henson are coming to fruition. However, it could just be that North Carolina is loaded with talent. Yeah, that's probably more likely.
Henson is already a long power forward standing at 6'11", but what's really impressive is his 7'4" wingspan. That wingspan is what makes Henson such a great defender, and his 2.9 blocks per game are good enough for second best in the ACC and 11th best in the NCAA.
After forgoing last year's draft, Henson is likely to leave this year, but there's still a chance he could return for his senior season a la Tyler Zeller. Things that Henson still needs to improve on are his mid-range jump shot/perimeter game and adding bulk to his lanky frame.
Right now, Henson is a combination of a few different players. He's built like Anthony Randolph and Keon Clark, but his style of play more resembles Hakim Warrick. However, Henson has the potential to be a better defender than all of these guys.
I don't think he'll ever be a force offensively, but defensively his ceiling should be Kevin Garnett.
Patrick McDermott/Getty Images

2011-2012 Stats: 15.8 points, 10.6 rebounds, 1.1 assists per game
Height: 6'11"
Weight: 230
NBA Comparison: Jermaine O'Neal
Arnett Moultrie is a hard-to-figure prospect. Some mock drafts have Moultrie going in the top five, some have him in the top 10 and some don't even have him going in the first round.
Personally, I have Moultrie going right outside the lottery, but that could be because I haven't had the chance to watch Moultrie play in more than a few games. From what I've seen, Moultrie definitely has a lot of upside, and he has a great frame to translate to the power forward position in the NBA.
Moultrie is super athletic and runs the floor really well for a big man. He's an efficient scorer around the rim, but he tends to spend a lot of his time on the perimeter. He's already got a decent mid-range jump shot, so what Moultrie needs to work on is adding strength to make him an even better defender.
Due to his athleticism, length and ability to run the floor, Moultrie reminds me a lot of Jermaine O'Neal—young Jermaine O'Neal, not current Jermaine O'Neal.
Before all of O'Neal's injuries, he was consistently one of the most athletically gifted power forwards in the NBA. O'Neal has always been an above-average rebounder with decent shooting range, and I think that's exactly what Moultrie can transform into at the next level.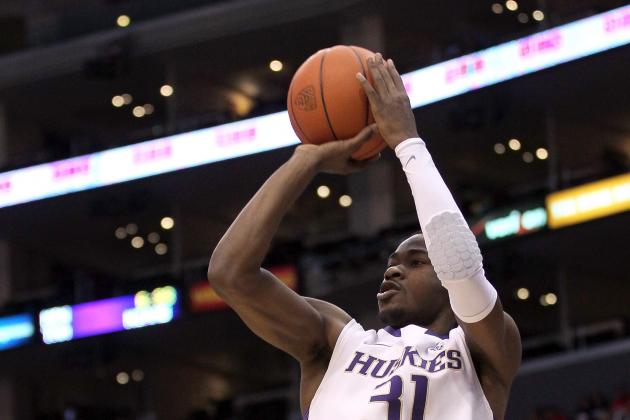 Stephen Dunn/Getty Images

2011-2012 Stats: 15.3 points, 6.5 rebounds, 1.4 assists per game
Height: 6'6"
Weight: 195
NBA Comparison: Dorell Wright/Wesley Johnson
While freshman point guard Tony Wroten may be the better known and more hyped Washington Husky, sophomore shooting guard Terrence Ross is actually the better NBA prospect...for now. If Wroten sticks around for his sophomore season, he could blossom into a top five pick.
However, for now, Ross is more polished and ready to take his game to the next level. Ross is a dynamic scorer who has great range and a quick first step to the basket. At 6'6", Ross is essentially what every team wants in a shooting guard, but he does still need to add some bulk to his frame.
It would also be wise for Ross to continue working on being a better on-ball defender. But that's not to say he's a bad defender by any means—guarding Dwyane Wade and Kobe Bryant will be a tad more challenging than anybody he faced in the Pac-12.
The Dorell Wright comparison might not be fair due to the difference in size and the fact that they play different positions, but their style of play is very similar. Both are excellent shooters with seemingly unlimited range, and both are good rebounders for their size and position.
Wesley Johnson may be a more accurate comparison in terms of size and athleticism; both players are great at getting to the rim and finishing.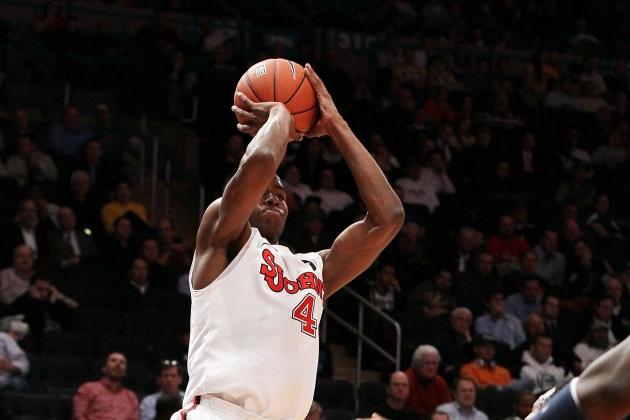 Jim McIsaac/Getty Images

2011-2012 Stats: 15.3 points, 8.6 rebounds, 1.6 steals, 1.4 blocks per game
Height: 6'8"
Weight: 208
NBA Comparison: Rudy Gay
Moe Harkless? Who is Moe Harkless? I had to ask myself that same question about a month and a half ago, but in that time, Harkless has been climbing up draft boards.
My apologies to some players who didn't make the top 20, such as Jeff Taylor (Vanderbilt), Doug McDermott (Creighton), Andrew Nicholson (St. Bonaventure) and James McAdoo (North Carolina), but I really like what Harkless brings to the table.
He is only a freshman, but is expected to enter the NBA draft. If so, he is projected to be a mid-to-late first-round pick. If he stayed another year at St. John's, he likely would be a lock for the lottery.
Harkless has terrific size for a small forward, and his length and athleticism make him an explosive leaper and great shot-blocker for his size. His quickness, size and ability to get to the rim is very reminiscent of Rudy Gay. Gay, however, is a much more consistent shooter than Harkless, but that can be fixed (as long as Harkless is willing to put in the hours).
That, however, seems to be the only knock on Harkless. At times during the season, Harkless played unmotivated basketball, especially on defense. While this should raise some questions regarding his maturity, we have to remember that he is only 18 years old.
This guy has a lot of upside. You'll be hearing his name more as the draft gets closer.