NFL Free Agency: 10 Biggest Winners and 10 Biggest Losers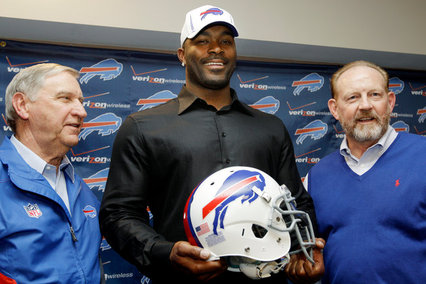 As soon as the NFL began free agency on March 13, the fortunes of NFL teams have changed on a daily basis based on which players a team was able to add or subsequently lose.
Things change quickly when compiling lists of the top 10 "winners and losers" in free agency. As soon as Peyton Manning decides which team he is joining, that organization will shoot up in the rankings, but as of today, he is still undecided.
So, with that thought in mind, understand that this list is created as a snapshot taken from the first six days of free agency. In another week, teams that are in the "winners" category could easily be in the "losers" category, and vice versa.
We are analyzing the big picture. We are looking at talent that was signed from other teams and in-house free agents that were retained. We are also looking at what players have left their past organizations for good. It is also possible that players were released but returned to sign a new deal with their old team.
We have broken this list down to include the top 10 teams that have made the most positive impact for their organizations so far in free agency, and a bottom 10 list, which are the teams that have lost more talent than they have brought in. If you don't see your favorite team on either list, that means that they are stuck in the middle.
Before you fire off your comments, remember this is a snapshot covering the first six days of free agency only. In three days, this list could be very different.
On to the presentation.
Begin Slideshow

»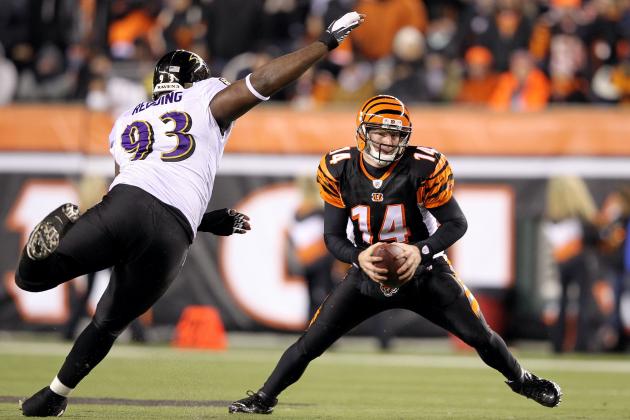 Andy Lyons/Getty Images

Our No. 10 winner in free agency is the Indianapolis Colts. The Colts have signed safety Tom Zbikowski (Baltimore), defensive end Cory Redding (Baltimore), center/guard Mike McGlynn (Cincinnati) and they traded a sixth-round draft pick for tackle Winston Justice (Philadelphia).
The Colts also surprised the league when they were able to sign free-agent wide receiver Reggie Wayne to a new three-year deal. So much for Wayne being a package deal with Peyton Manning.
Indy has lost quarterback Dan Orvlosky and wide receiver Pierre Garcon. They will also be losing Peyton Manning in the near future, but that hasn't officially happened yet. When it does, they could easily change their free-agency grouping.
It is not a surprise that head coach Chuck Pagano is bringing in players that he worked with in Baltimore. While Redding and Zbikowski mark the beginning of Ravens players leaving for Indianapolis, it would not be a surprise to see the Colts land others going forward.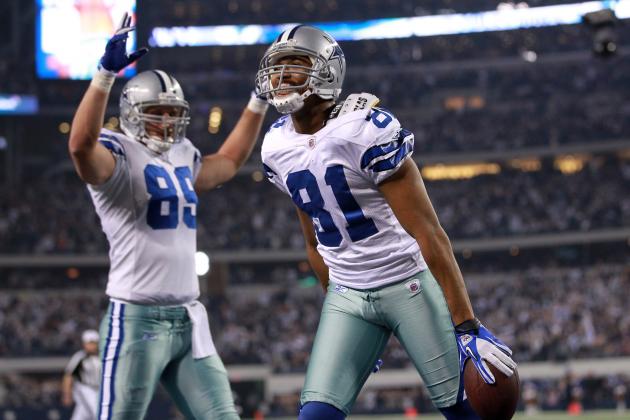 Ronald Martinez/Getty Images

The Jacksonville Jaguars added quarterback Chad Henne (Miami) and wide receiver Laurent Robinson (Dallas). They also retained defensive end Jeremy Mincey, defensive tackle C.J. Mosley and safety Dwight Lowery. They have yet to lose any player of significance in free agency.
Chad Henne has a realistic opportunity to take the starting quarterback job from Blaine Gabbert.
Laurent Robinson will be asked to prove that he is a number one wide receiver, and not just a one-year wonder.
Numerous teams around the league were interested in the services of Mincey and Lowery, so the fact that the Jaguars were able to retain both players further boosts their performance in free agency.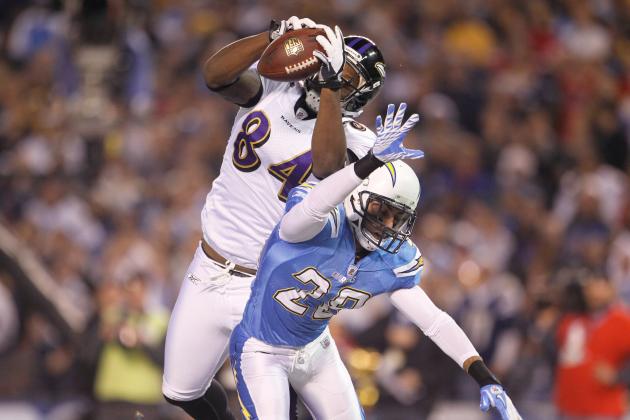 Jeff Gross/Getty Images

The New England Patriots have come away with a positive start to their 2012 offseason thanks to a total of seven deals that they finished in the first week of free agency.
The Patriots signed safety Steve Gregory (San Diego), defensive end Jonathan Fanene (Cincinnati), defensive end Trevor Scott (Oakland) and wide receivers Brandon Lloyd (St. Louis) and Anthony Gonzalez (Indianapolis). In addition, the Patriots re-signed center Dan Connolly and special teams player Matt Slater.
To date, the Patriots haven't lost any key free agents from 2011, but that could change within the week. BenJarvus Green-Ellis is talking to multiple teams, and the interest in pass-rusher Mark Anderson is heating up.
Landing Gregory and Fanene will improve the Patriots overall defense, which ranked No. 31 in 2011. Fanene should help the pass-rush, while Gregory should improve a porous secondary by starting at safety.
Lloyd should help the Patriots passing game, unless his locker-room behavior becomes an issue.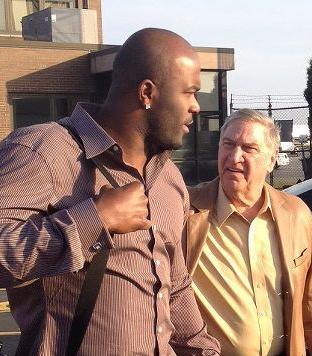 It is debatable that the Buffalo Bills could be ranked higher or lower on this list based on their signing of defensive end Mario Williams. Easily the biggest free-agent signing of the first six days of free agency, as the general perception was that Peyton Manning and Williams were the two best free agents available in the class of 2012.
The fact that the Bills were able to sign Williams to a six-year deal is much more significant than just improving their defense. It also signals to the rest of the league that Bills are a franchise that is on the rise. I explained that in detail in this article a few days ago for those that care to check it out.
Williams is the kind of player that will make everybody around him a better player. I fully expect the Bills defense to have more sacks, create more turnovers and to be ranked much higher in overall defense (No. 26 in 2011). If the defense is markedly better, then the offense should have the ball more often and have that many more chances to increase their outpit.
As Buddy Nix stated on the eve of the start of free agency that the Bills "plan to be out of the free agency business by Friday."
Nix kept his word, as the Bills have emptied their available cash into the wallet of Mario Williams.
From here on out, the Bills will focus on their own remaining free agents, including Demetrius Bell, Bryan Scott and possibly Roscoe Parrish. The Bills have already made offers to Bell and Scott, but there is no deal to report for either.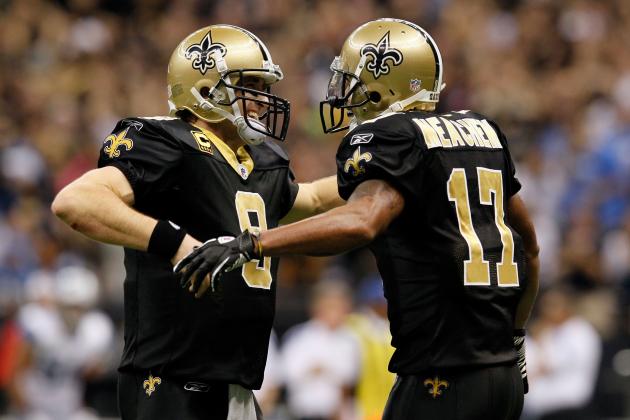 Kevin C. Cox/Getty Images

The San Diego Chargers have been as active as any team in the NFL during the first week of free agency, as the Chargers have signed nine free agents to date.
The nine are: wide receivers Robert Meachem (New Orleans) and Eddie Royal (Denver), FB Le'Ron McClain (Kansas City), linebacker Jarret Johnson (Baltimore), quarterback Charley Whitehurst (Seattle) and safety Atari Bigby (Seattle), tight end Randy McMichael, center Nick Hardwick and tackle Jared Gaither.
The Chargers have lost Steve Gregory, Vincent Jackson and Mike Tolbert in free agency, and it seems likely that Marcus McNeill will sign elsewhere in the near future.
Signing Meachem and Royal gives Philip Rivers a couple of good targets and helps to ease the loss of Vincent Jackson. Even if McNeill departs, the return of Gaither should stabilize San Diego's offensive line.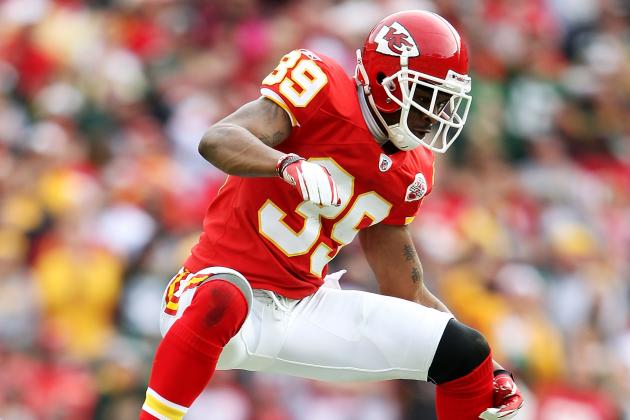 Jamie Squire/Getty Images

The Dallas Cowboys have been an active player in free agency so far, as they have signed seven free agents so far. They are: guard Nate Livings (Cincinnati), safety Brodney Pool (New York Jets), linebacker Dan Connor (Carolina), FB Lawrence Vickers (Houston), corner Brandon Carr (Kansas City), quarterback Kyle Orton (Kansas City) and guard Mackenzy Bernadeau (Carolina).
The Cowboys also re-signed wide receiver Kevin Ogletree.
To date, the Cowboys have lost Laurent Robinson and Martellus Bennett.
Overall, Dallas has improved their team along the offensive line and in the secondary. It is also important to note that they have a quality backup to Tony Romo in Kyle Orton, so they are covered if Romo gets hurt again.
Matt Sullivan/Getty Images

The St. Louis Rams have not been shy about opening up their checkbook in free agency, as they have landed some key free agents in the early going.
The Rams have signed corner Cortland Finnegan (Tennessee), center Scott Wells (Green Bay) and defensive lineman Kendall Langford (Miami). The combined totaled of these deals is roughly $98 million.
That the Rams could land these three key free agents is a testament to the belief that they will be on the rise under Jeff Fisher.
When you combine these additions with the key new draft picks that the Rams acquired in the trade with the Washington Redskins, the new talent coming in 2012 will make a big impact on the team.
As for losses, the Rams parted ways with Ronald Bartell and Brandon Lloyd.
Overall, it has been a positive offseason so far for St. Louis.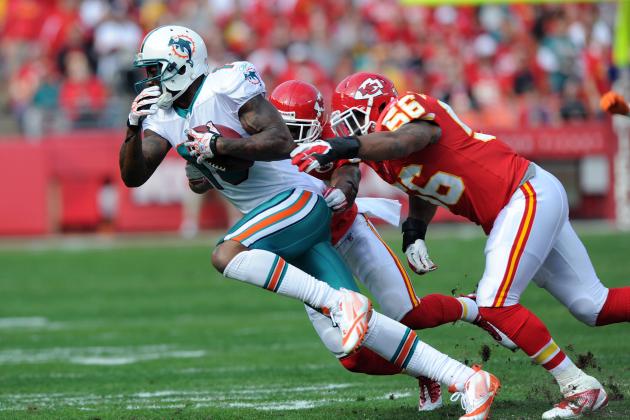 Peter Aiken/Getty Images

The Chicago Bears have also been busy in free agency. The biggest move so far for the Bears was the trade for Miami Dolphins wide receiver Brandon Marshall. Marshall gives the Bears the dynamic No. 1 wide receiver that the team has been missing. Pairing him with ex-teammate Jay Cutler has to be a positive development for both players.
In addition to the Marshall trade, the Bears have signed wide receiver/special teamer Eric Weems (Atlanta), quarterback Jason Campbell (Oakland) and special teams ace Blake Castanzo (49ers).
The Bears have also been active with their own free agents, re-signing defensive end Israel Idonije, quarterback Josh McCown and tight end Kellen Davis.
The only player the Bears have lost so far in free agency is Brandon Meriweather.
Chicago has added a quality backup quarterback in Campbell, a true go-to wide receiver in Marshall and upgraded their special teams.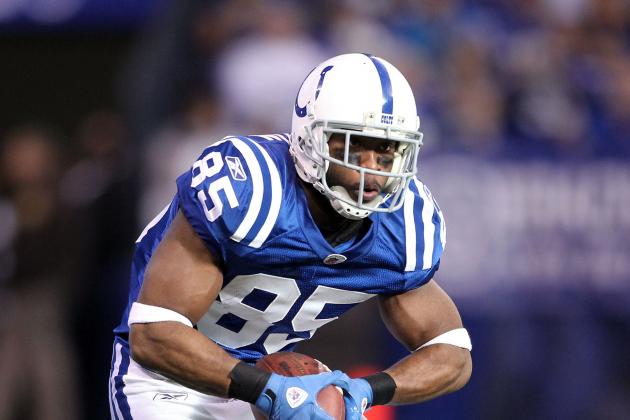 Andy Lyons/Getty Images

When was the last time that Daniel Snyder was applauded for making some really good free agent signings? Well, the jury is still out, but so far, so good.
Snyder and the Washington Redskins have an upcoming battle on their hands with the NFL and commissioner Roger Goodell over salary cap violations. The NFL might have to strip a significant chunk of the Redskins' salary cap availability away from the team. This could become an ugly battle.
As far as who the Redskins have signed, they have basically redone their wide receiver corps in preparation for the arrival of quarterback Robert Griffin III. The Redskins signed wide receivers Pierre Garcon (Washington) and Josh Morgan (49ers), cornerback Cedric Griffin (Minnesota) and safety Brandon Meriweather (Chicago).
In addition, the Redskins have signed their own free agents including defensive end Adam Carriker, quarterback Rex Grossman and tight end Fred Davis. The Redskins had given Davis a franchise tag, but he is now signed to a new contract.
Besides all of those positive developments, Washington hasn't lost a single key player yet to free agency.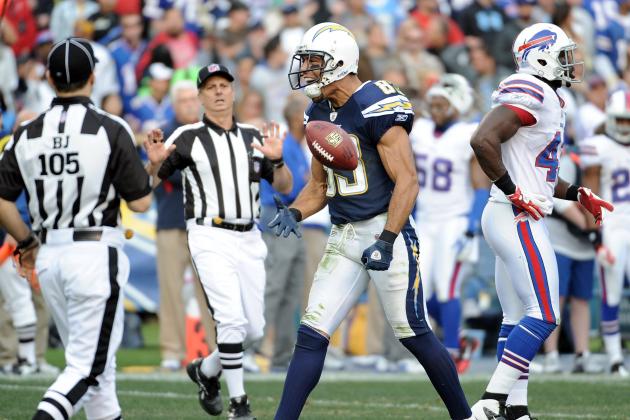 Harry How/Getty Images

If there was a team that was in desperate need of an influx of new blood with a winning attitude, it was the Tampa Bay Buccaneers. The Bucs had an absolutely miserable end to the 2011 season, losing their final 10 games to finish at 4-12.
New head coach Greg Schiano wants to change the culture in Tampa, and has already gotten things rolling with the additions of wide receiver Vincent Jackson (San Diego), guard Carl Nicks (New Orleans) and safety Eric Wright (Detroit).
The three new veterans are true professionals with playoff experience, and should help a young Bucs team find a new direction.
The Bucs also landed a quality back-up quarterback in Dan Orlovsky (Indianapolis).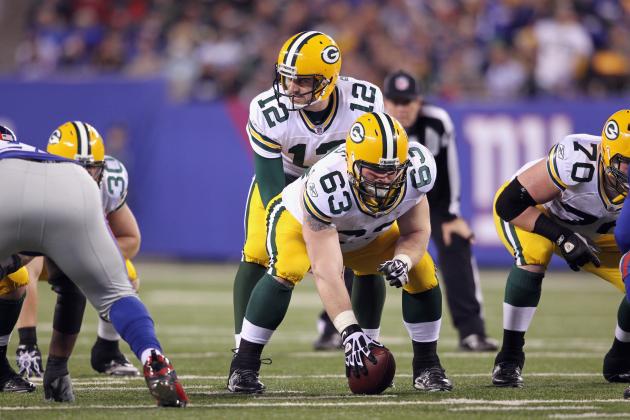 Nick Laham/Getty Images

The only free-agent transaction so far of any consequence that was connected with the Green Bay Packers was the departure of center Scott Wells to the St. Louis Rams.
The Packers didn't have many holes on their team, which is why you haven't seen them signing any free agents to speak of. But losing an All-Pro player like Wells is a step in the wrong direction.
It is thought that Green Bay will attempt to replace Wells with some of their depth along the offensive line. Candidates include T.J. Lang and Evan Dietrich-Smith, according to this article from the Milwaukee Journal-Sentinel.
Losing Matt Flynn leaves the Packers rather thin at quarterback in the event that Aaron Rodgers sustains any kind of a serious injury.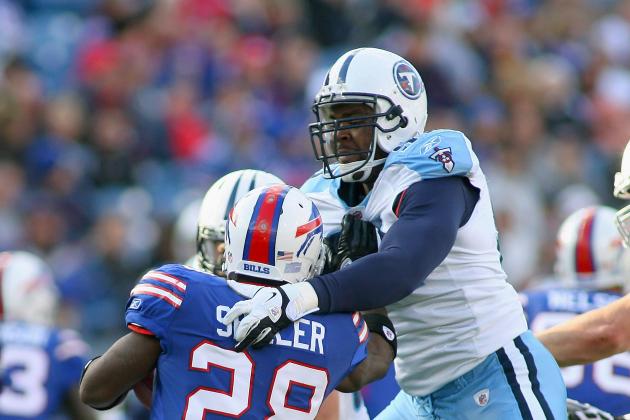 Rick Stewart/Getty Images

The Tennessee Titans are still in the hunt for Peyton Manning. But for now, that issue is still up in the air, so we can't bump up the Titans rank in free agency until you know that he has signed a contract to join the team.
But for now, we do know that the Titans have lost two key members from the 2011 team. They lost corner Cortland Finnegan and defensive lineman Jason Jones. Both of those veterans played a key role in the Titans defense and will be missed in 2012.
The only major free-agent signing to date is guard Steve Hutchinson, and while Hutchinson is a quality signing, he doesn't make up the difference in losing the two veteran defensive stars.
However, if Manning decides to play for Tennessee, then disregard the above. Like we said, these lists are going to be a moving target that can literally change from one day to the next.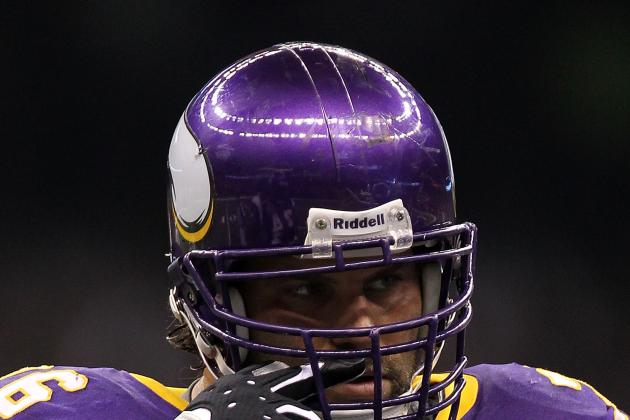 Ronald Martinez/Getty Images

The Minnesota Vikings have been trying to get younger, but in the process, they have been losing some of their quality players. All-Pro guard Steve Hutchinson left for the Tennessee Titans, so replacing him with someone of equal talent not be easy.
The Vikings have signed some free agents, such as defensive linemen Fred Evans and Letroy Guion. They also signed tight end John Carlson and quarterback Sage Rosenfels. The Vikings already had a quality tight end in Kyle Randolph, so the Carlson deal left people wondering what the Vikings thought process was since Rudolph was projected to be the starter in 2012.
Carlson missed the entire 2011 season due to being injured, yet the Vikings signed him to a $25 million deal.
In addition, the Vikings are trying to low-ball linebacker Erin Henderson in trying to let his asking price come down. Henderson won't let that happen, so the Vikings run the risk of losing him to another team.
Overall, the Vikings' impact via free agency is more negative than it is positive.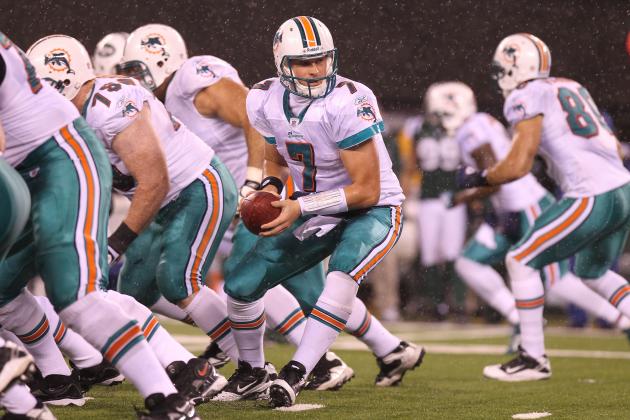 Nick Laham/Getty Images

When this article was ready to be published, the Miami Dolphins have yet to sign a new quarterback. They are definitely trying to land one, but the fact that they have yet to convince anybody to join them has to be somewhat disconcerting to Dolphins fans.
The Dolphins have been trying to upgrade their national reputation over the past few years, but from trying to land Jim Harbaugh, Jeff Fisher and now Peyton Manning, each failure is hurting their overall perception.
From the past week of free agency, the Dolphins have traded away Brandon Marshall and lost Chad Henne and Kendall Langford.
The Dolphins did sign three free agents to date, nose tackle Paul Soliai, defensive back Richard Marshall and linebacker Jamaal Westerman. But the talent the Dolphins added is not equal to the talent they lost.
We will see who the Dolphins eventually sign to be an upgrade over Matt Moore, but if they have to overpay to land Matt Flynn (who only has two career NFL starts to his resume), the Dolphins will be viewed as an organization that continues to be going in the wrong direction.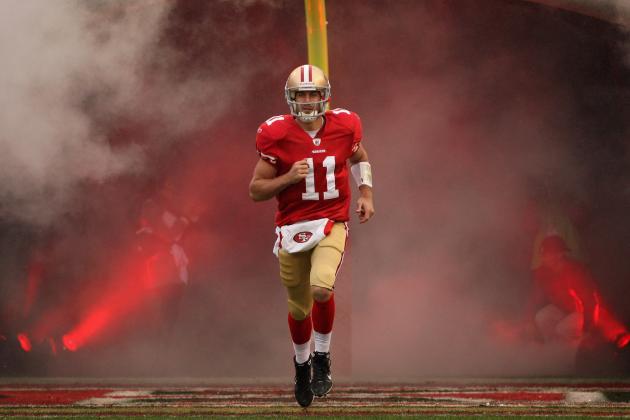 Ezra Shaw/Getty Images

As we cited in the beginning slide, ranking how every NFL team has performed in free agency can change dramatically by one major signing.
For the San Francisco 49ers, that one signing would be landing Peyton Manning to become their new quarterback. But what if the 49ers lose out on Manning (who could opt to stay in the AFC with either Denver of Tennessee) and Alex Smith as well, who is going to visit the Miami Dolphins and Seattle Seahawks? Who would the 49ers give the ball to then, Colin Kaepernick? Good luck with that one, 49ers fans.
The 49ers lost wide receiver Josh Morgan, but were able to replace him with Mario Manningham. Before free agency started, the 49ers signed Randy Moss as well, so even though he wasn't signed during the free-agency period, we all know that he will be a positive addition to the team. Well, check that. I guess that all depends if the 49ers have a quarterback that can get Moss the football.
The 49ers were able to re-sign corner Carlos Rogers, so the good news is that they are keeping their defense together. They did lose a key free agent from their special teams in Blake Costanzo, who left for the Chicago Bears. The 49ers lost some depth on their offensive line when Adam Snyder departed.
But the big key for the 49ers is the quarterback scenario. They are involved in a dangerous game with Alex Smith, who had been loyal to the 49ers for the past six seasons. The culprit to some degree also has to be agent Tom Condon, who potentially was leading Smith into a scenario where he would be left without a job or team that needed a quarterback, so Smith is right to consider firing Condon as his agent.
But the prospect still exists for the 49ers to be left holding an empty bag at quarterback. While they stand a chance to emerge from the Manning circus smelling like a rose, there is the prospect that they took an unnecessary gamble with Alex Smith's loyalty to the team, which may be permanently scarred.
If they land Manning to a new deal, we can put the 49ers in the winning column. Obviously, this is a very fluid situation that bears watching.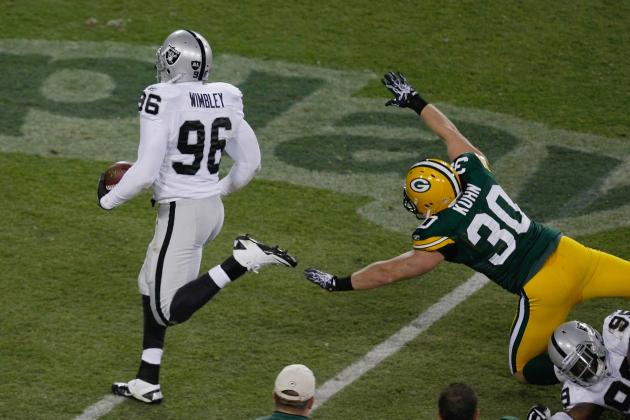 Scott Boehm/Getty Images

The Oakland Raiders continue to see more talent leaving the organization than what is coming in. It didn't help that the Raiders had to remove $22 million of payroll to get in line with the salary cap before free agency started. So, the list of casualties was Stanford Routt, John Henderson, Cooper Carlisle, Hiram Eugene and Chris Johnson. Mission accomplished.
But after that, more bad news followed. The Raiders had no choice but to release linebacker Kamerion Wimbley due to the space his 2012 salary would command.The Raiders also have to let Michael Bush leave via free agency, and since Darren McFadden has a proven injury history, they lack proper depth now when he goes down the next time.
Besides losing Wimbley, the Raiders have also seen three others players from the 2011 roster leave via free agency. They are quarterback Jason Campbell, wide receiver Chaz Shilens and defensive end Trevor Scott. Since they lost Campbell, the backup to Carson Palmer right now is Terrelle Pryor.
It is not all bad news. The Raiders did have enough cap space to sign two free agents so far. They signed corner Ronald Bartell and guard Mike Brisiel. Although these additions will help, the Raiders' depth across the roster has been hurt due to the cuts that the team had to make and the free agents that they couldn't keep. Not only that, but the Raiders don't own a draft pick for the first three rounds, so there will only be limited help from the draft.
Wesley Hitt/Getty Images

It has been a rough offseason so far in 2012 for the New Orleans Saints. They got rocked with the news that they will be penalized for the Gregg Williams "Bounty Hunting" practices that the team employed over prior years. They failed to come to an agreement with quarterback Drew Brees and angered him greatly by slapping him with the franchise tag.
Then, free agency began, and the Saints started seeing their own free agents being scooped up by other teams before they knew it. All-Pro Carl Nicks fled to Tampa Bay for a huge contract, while Robert Meachem went to San Diego.
The Saints at least were able to save some face by signing Marques Colston to a deal and replaced Nicks by signing guard Ben Grubbs from the Baltimore Ravens. While Grubbs for Nicks could be considered to be a wash, there is still the matter of the time needed to re-build the chemistry of the offensive line that walked out the door with Nicks.
The Saints wait for word from NFL commissioner Roger Goodell on what players are going to be suspended and how many draft picks the team will lose. The Saints are trying to do what they can to stop the flow of bad press. It is bad enough that they don't have a draft pick until No. 59 overall at the draft, but what if Goodell strips them of that pick? Their next pick would then come at No. 90 overall.
The Saints have to be concerned about their depth on defense, especially if multiple players are suspended for more than one game in the 2012 season. If their first draft pick isn't until No. 90, the quality of that depth will be further downgraded.
Until the Saints are able to make Drew Brees happy and get him signed to a long-term deal, the vibe coming out of New Orleans remains ominous.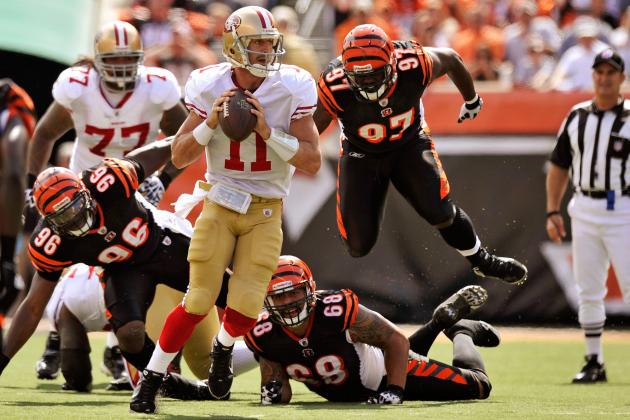 Jamie Sabau/Getty Images

While Cincinnati Bengals owner Mike Brown is known as a notoriously cheap owner, his stubbornness might have worked in getting the draft picks he wanted from the Oakland Raiders for trading them Carson Palmer, but it doesn't mean that it is going to work well in NFL free agency.
The Bengals are losing more players than they are bringing in. Once the main waves of free agency have come and gone and the dust starts to settle, remaining free agents will start becoming a little more desperate, and then that is right where Paul Brown likes to have them.
So far in 2012 free agency, the Bengals have lost Nate Livings, Frostee Rucker, Jonathan Fanene and Mike McGlynn. To replace the four veterans, the Bengals have signed guard Travelle Wharton (Carolina) and defensive back Jason Allen (Houston).
The Bengals are still vying for safety Reggie Nelson, and if they lose him, that would be another step backwards. The Bengals are said to be talking to Michael Bush, so there is ray of hope that they will bring in some more talent, but for now, the net results are not so positive for Cincinnati.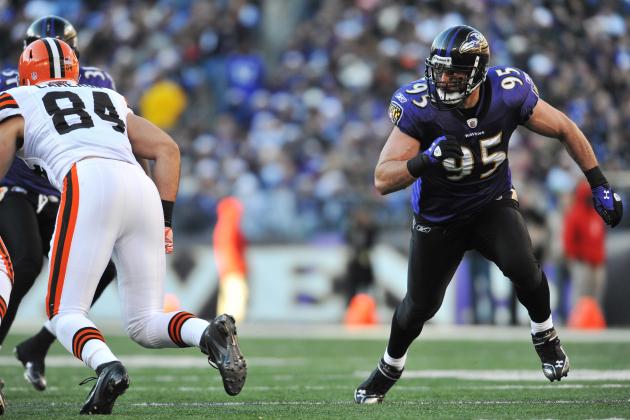 Larry French/Getty Images

Everybody suspected that when the Indianapolis Colts named former Baltimore Ravens defensive coordinator Check Pagano as their new head coach, that Pagano would attempt to bring some of his former players over with him to the Colts.
Well, it is not just the Colts that have picked up that idea, as there has been a fairly steady stream of personnel leaving Baltimore and nothing coming back in to replace them.
To date, the Ravens have lost safeties Tom Zbikowski and Haruki Nakamura, guard Ben Grubbs, linebacker Jarret Johnson and defensive end Cory Redding. Pagano was certainly behind the signing of Zbikowski and Redding, as both players are now members of the Colts.
The Ravens re-signed center Matt Birk, but he is the only player they have signed to a new contract. That was only after Birk mulled over a decision to not retire after about two months of reflection. How does the quote go? Once you start thinking about retirement, you already have. Hopefully, that is not the case for Birk, but the Ravens will know more once they see his play in training camp.
The Ravens are said to be trying to sign quarterback Joe Flacco to a long-range deal, but their fans are also probably wondering when they are going to start signing some free agents to replace the players they lost, especially Ben Grubbs.
Bob Levey/Getty Images

We aren't sure what the Houston Texans thought would happen when they decided to let a number of quality free agents go out and test the market. Maybe they believed that a number of them would give the team a chance to match their best offer, or that after they got a good offer, they would give the Texans a hometown discount from there.
Whatever the logic was, it hasn't worked out very well for Houston. They have already lost five key players from the 2011 season and were on the verge of losing another one, but they re-signed center Chris Myers to come back to the team.
The ones that got away were defensive end/linebacker Mario Williams, fullback Lawrence Vickers, guard Mike Brisiel, corner Jason Allen and tackle Eric Winston. Williams, of course, was overwhelmed by an offer of $96 million for the next six years to play with the Buffalo Bills. There wasn't any way that the Texans could match that offer.
Replacing Winston will be tough because he was highly regarded around the league. As it stands, the Texans offensive line is downgraded now and they have to figure out a way to repair it. It will be interesting to see what the Texans do to rectify the problem.