New York Yankees: Pineda Struggles with Velocity, Jesus Montero a World Away
March 16, 2012

Rob Tringali/Getty Images
Michael Pineda is very happy with his changeup right about now. It's the pitch that everyone in Yankeeland has been telling him he needs to develop if he wants to be a legitimate, top-of-the-rotation starter for the Yankees. And they're all right, by the way, as there are few examples in today's game of two-pitch starters thriving for any prolonged amount of time.
So while it's wonderful that Pineda is apparently making progress with his changeup, so much so that Joe Girardi was "euphoric" when discussing it yesterday with George King of the New York Post, the reality is that Pineda was not brought to New York because of his ability to throw off-speed pitches.
Pineda was brought to New York, rather, because the Yankees want what every other team wants, that is to say pitchers that can throw the ball through the backstop from the first inning on. That is what the Yankees, and Brian Cashman specifically, thought they were getting when they surrendered their best hitting prospect since Robinson Cano, Jesus Montero, in the deal that brought Pineda to the Bronx.
Unfortunately, though, Pineda's progress with the changeup threatens to be overshadowed by what has to be considered an alarming dip in the velocity of his fastball. When Pineda was lights out during the first half of the 2011 season, it was his fastball, which consistently topped out in the 96-97 MPH range, that made opposing hitters stand up and take notice.
His slider during that season was also above par, but when a hitter is gearing up for extreme heat, the effectiveness of all secondary pitches is multiplied.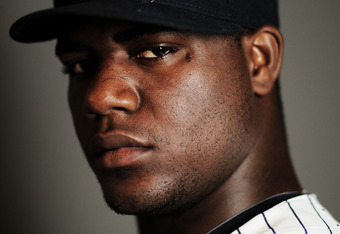 Nick Laham/Getty Images
When velocity is down, though, as it has been for Pineda this spring, sliders and changeups become far more vulnerable. In his start yesterday, Pineda was clocked at a high of 92 mph and averaged around 90 mph throughout. Pedestrian numbers to say the least, and certainly not sufficient if Pineda is to be considered for a prominent role in the Yankees rotation for years to come.
It is just this type of circumstance, then, that once again calls into question the wisdom of the trade that brought Pineda to the Yankees in the first place. Montero, you see, will never have to worry about losing his fastball as he anchors the middle of the Seattle Mariners' lineup. And at 22 years of age, there is little threat that Montero will suffer from a loss of bat speed any time soon.
While injuries are part of the game, injuries to pitchers' arms are what strikes fear into the hearts of all front office baseball people. The act of pitching is violent and tremendously stressful to virtually every tendon and ligament and muscle in the arm, and this is one of the reasons that most organizations tread so lightly in terms of pitch counts and innings loads with young pitchers in recent years.
The wisdom of this kid-gloves approach with pitchers can be debated endlessly, of course, but what cannot be debated is the fact that an arm injury to a young pitcher being counted on to provide effective innings for a contending club is a serious thing.
Even if we remove the threat of injury from the discussion, though, another reality is that young pitchers typically require more years of seasoning, so to speak, than do young hitters.
This is not universally true, of course, but it is true enough that, again, trading an apparently ready-for-prime-time Montero for a far less known commodity such as Pineda was a highly questionable strategy. And in a season in which the Yankees will be holding their collective breaths to see if Alex Rodriguez and Mark Teixeira can return to form, and also if Derek Jeter's second half and Curtis Granderson's entire season were for real, losing a bat like Montero's could prove fatal.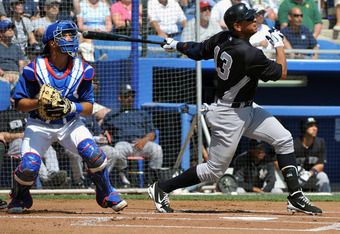 Al Messerschmidt/Getty Images
As it stands, the Yankees lineup effectively ends right around the five or six hole, depending on whether Jeter leads off or if Brett Gardner is given that role. If it's Jeter leading off, then the lineup is done at five, if its Gardner, then its over at six. This is especially true in the postseason, as Nick Swisher has made it abundantly clear that he is not to be counted on when the stakes are raised.
If we look at every other contending club in the American League, however, with the exception of the Tampa Bay Rays, we see that Boston, Detroit, Los Angeles, Texas and even the Toronto Blue Jays have lineups that extend much deeper than the Yankees. Whats more, the key players that make up these lineups are not coming off of career worst years or approaching middle age, two realities that afflict a number of vital cogs in the Yankee starting nine.
If we now use our imaginations and put Montero back into the Yankee lineup, in either the six or seven hole, all of a sudden the entire picture changes. If he's sixth, Mark Teixeira is that much more effective in the five slot, and no matter if he's sixth or seventh, Girardi can now move Swisher back in the lineup, where his production would be a bonus as opposed to a critical expectation.
In the end, the trade for Pineda promised to alter a number of elements associated with the Yankees future regardless of whether his fastball remained fast or not. And to be clear, this column expressed dissatisfaction with the deal from day one, and so this is not a case of cherry-picking facts to support a theory or belief.
Over and above the loss of Montero, there is the reality that Pineda's arrival calls into question the Yankees' faith in Dellin Betances and perhaps even Manny Banuelos, the two young pitching prospects the Yankees are said to be counting on to fill out their rotation in years to come.
This is not to say that either of those pitchers were targeted for front end duties this season, but neither was Pineda, according to statements from the Yankees brass on the subject.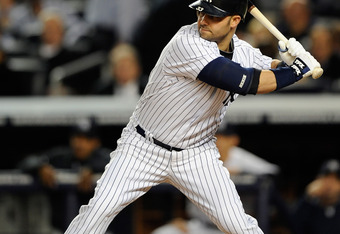 Patrick McDermott/Getty Images
With that said, would it have been such a horrible scenario had the Yankees rotation consisted of C.C. Sabathia, Hiroki Kuroda, Ivan Nova, Phil Hughes and Freddy Garcia, with Betances and or Banuelos ready for spot starts? With Montero potentially contributing 25 HRs and 80-100 RBI from the middle of the lineup, and protecting some of the more vital Yankee bats in the process, the answer is no.
In the final analysis, this entire discussion really does center around potential. Both Montero and Pineda could wind up on the scrap heap of young baseball phenoms, or they could each deliver on the promise that they each possess. The issue, then, is which potentiality is more likely, Montero losing his skills as a hitter or Pineda not developing into a legitimate No. 1 or No. 2 starter?
If history is to be our guide, put your money on Montero being everything he is supposed to be, and on Pineda being something less than what the Yankees are hoping for.