Chicago Bulls Beat Miami Heat 106-102 Sans Derrick Rose, but with John Lucas III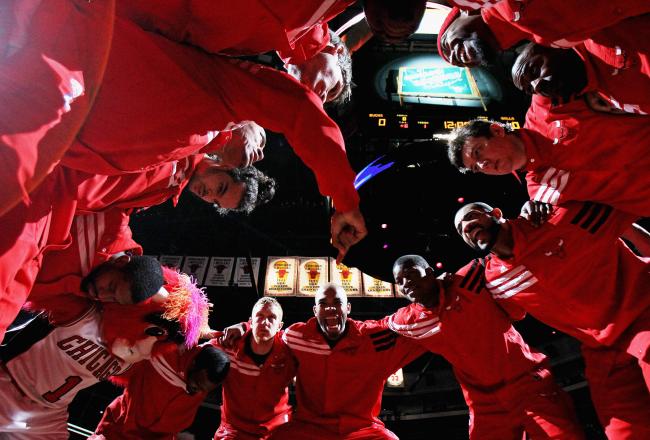 Jonathan Daniel/Getty Images
The Chicago Bulls have been described as "Derrick Rose and a bunch of other guys." Tonight those other guys let their names be known as the Bulls beat the Miami Heat, 106-102, with their MVP sidelined. The Miami Heat learned the hard way, this Rose has thorns.
The "thorns" included the likes of Taj Gibson and Jimmy Butler. Most importantly it included the likes of John Lucas III, who was, without a doubt, the MVP of tonight's game. He scored 24 points on 9-of-12 shooting and two rebounds and one assist. He did this in only 27 minutes.
Joakim Noah had 14 points and seven rebounds. Luol Deng had 11 and five. C.J. Watson had 11 points and four rebounds.
Chicago opened up a 16-point lead in the second quarter and Miami consistently tried to whittle away at it, but every time they would get it down the Bulls would open it back up. Then within the final two minutes of the game they closed to four points and make it a two-possession game.
The Heat came back and forced a missed shot with 18 seconds left, but Ronnie Brewer secured the offensive rebound, whom the Heat were forced to foul. The Heat fouled Kyle Korver on the inbounds pass and he sank a pair of free throws to give the Bulls a six-point lead with 17.2 seconds left.
James Jones hit a three-point shot with 10 seconds left to cut the lead to three. They fouled Korver after a Chicago timeout and Korver made it a two-possession game by sinking both free throws. Then James Jones came back and hit another three with 6.0 seconds left.
Lucas had to make the free throws to make it a two-possession game and he did.
If there was ever a question of whether Derrick Rose had enough "help" to beat Miami, it was answered with a resounding yes tonight considering they beat them without him.
The quality of this victory simply cannot be overrated as the Bulls weren't just without Rose, they were also without Richard Hamilton as well. Yet without their starting backcourt they were able to beat Miami and even the season series.
You can't fault Dwayne Wade who scored 36 points, or LeBron James, who scored 35, though. The rest of the Heat (including Chris Bosh) combined for just 31 points.
Does this win prove the Bulls can win a 7-game series as constructed?
There were four keys to the victory, they hit their threes, going 10-of-19 from deep. They hit their free throws, going 24-of-26 from the charity strip. They won the battle of the boards 50-34. Finally, they won the battle of the benches, 56-15.
If there was ever a testament to their depth this is it. The Bulls got 13 points from Luol Deng and Carlos Boozer combined, they didn't have Rose, and they still beat the Miami Heat on a night where Wade and James combined for 71 points.
The Bulls won this game became they won every "heart, hustle and muscle" stat. They simply outplayed the Heat because they were not to be denied tonight. It was a performance of intensity, depth, persistence and effort.
There is one thing that is certain. If the Bulls can beat the Heat without Rose or Hamilton, they can beat them with them. The biggest ramification of this game going forward is belief. There isn't a Bull on the roster right now that doesn't believe the Bulls can beat the Heat in a seven-game series.
This article is
What is the duplicate article?
Why is this article offensive?
Where is this article plagiarized from?
Why is this article poorly edited?

Chicago Bulls: Like this team?