25 Scrappiest Philadelphia Phillies Players of All-Time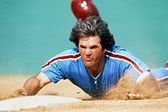 What in the world is a "scrappy" player?
Sort of sounds like a breakfast meat, though I assure you this slide show has absolutely nothing to do with scrapple. Then again, I suppose there is an analogy to be made here. Scrappy players have been traditionally labeled as guys full of heart and lacking talent, kind of like the same way scrapple is lacking the best parts of the pig.
Okay, enough with the scrapple comparisons.
Scrappy players, as far as baseball is concerned, have always been the guys who played the game stuck in full throttle. They may not have been the most talented, but every play involving them was hardcore. The run hard, throw hard, and look mean doing it.
I suppose a good motto for scrappy players would be, "By any means necessary."
Scrappy players have always been viewed a bit differently in Philadelphia, however. While the rest of the baseball world considers them to be players who make up in heart what they lack in talent, fans of the Philadelphia Phillies believe that "scrappy" is more of a lifestyle.
The most talented player in the world could be booed right out of this city for a lack of hustle, but a scrappy player will hold the hearts of the fans for a lifetime and then some.
That's why there is no limit on talent level on this list. Any player that wants to survive playing baseball in the city of Philadelphia will have to become a scrappy player in one way or another, and that will be reflected in the slide show.
In short, any player known for his hustle, determination, aggressiveness, or any other synonym of the word "scrappy" was eligible for this list.
For news, rumors, analysis, and game recaps during spring training, check out Greg's blog: The Phillies Phactor!
Begin Slideshow

»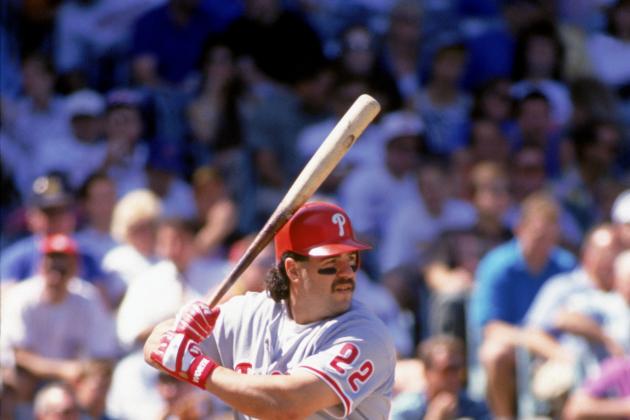 Jonathan Daniel/Getty Images

Pete Incaviglia looked like he was always ready to rumble.
Another stocky outfielder with a mullet and growing beer bell, he fit in perfectly with the 1993 Phillies—a group of players that looked like they should have finished in last place but played like they were National League champions.
Incaviglia was the type of guy that would rip your arm off if it meant getting a win. Not only was he a key contributor to the Phillies, but he brought the type of rough, tough energy that Phillies fans love.
He looked like a hockey player, but I'm sure most fans are glad he stuck to baseball.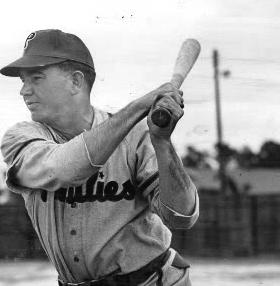 How does a slow-footed, so-so hitting third baseman with the nickname of "Puddin' Head" stick with a single organization, at one of the game's most demanding positions, for 13 seasons?
Well, you find other ways to contribute.
That's exactly what former Phillies' third baseman Willie Jones did. He would emerge as the Phils' starting third baseman by the time that stellar 1950 season rolled around, but after that year, his numbers began to fall off the table. He was an adequate defender, but certainly not spectacular. He was slow, had average power, and just an okay eye at the dish.
What was his secret?
It was durability. Jones had a reputation for being willing to take the field each and every day, no matter the pain, injury, or nagging soreness. From 1949-56, Jones would play no fewer than 142 games in a single season.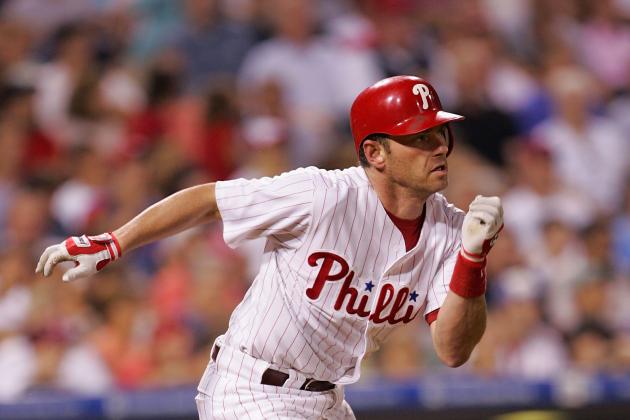 Jamie Squire/Getty Images

Do you know who the Phillies' all-time leader in games played by a catcher is?
It isn't legendary backstop Bob Boone, who led the Phillies to a World Series in 1980. Nor is it 2008 champion Carlos Ruiz. It's not "Grandpa Whiz," Andy Seminick, or old-time catcher Jack Clements.
It's Mike Lieberthal.
Drafted in 1990, Lieberthal wouldn't make his debut until 1994 and by 2007, was a member of the Los Angeles Dodgers. For anyone following along, Lieberthal just missed the postseason and played for the Phillies during a long period of "dark days."
Even then, he was one of the club's lone bright spots. A tough guy, Lieberthal wasn't the best defensive catcher, but he had the mental makeup to play the position well. His offensive prowess from a historically weak offensive position and blue-collar approach helped make him a Philly favorite.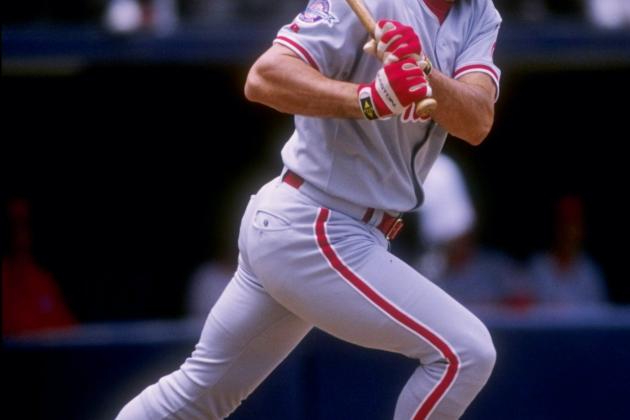 Stephen Dunn/Getty Images

Off the top of my head, I can't think of a former Phillie with a greater determination to play the game on baseball through any means necessary than retired outfielder Jim Eisenreich.
Diagnosed with Tourette Syndrome, playing the game of baseball didn't always come easy for the former outfielder, who was forced to temporarily retire from the MLB on several different occasions because of his condition.
However, if the following statement doesn't ring true for most of the "scrappy" players on this list, then call me crazy: They just keep coming back.
Eisenreich made several different triumphant returns to the diamond in his career, and had few better years than the four he spent in Philly.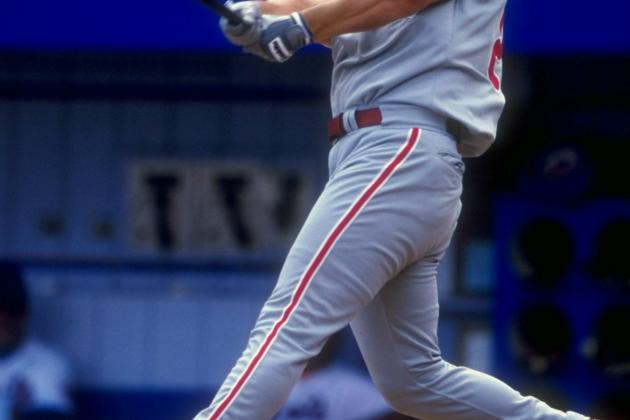 Ezra Shaw/Getty Images

Gregg Jefferies will probably be best remembered in the city of Philadelphia for his sweet swing.
He wasn't the greatest of players, but had some of the best years of his career with the Phillies. Maybe that was a coincidence, but more than likely, it wasn't.
Jefferies was the type of player that thrived in Philadelphia. Though he had enough power to be considered somewhat of a power threat, Jefferies made his money by putting the ball in play and hustling around the bases.
Though he was a solid defender, there is no doubt that Jefferies used that picturesque swing to spread the ball around the diamond and make things happen on the base paths.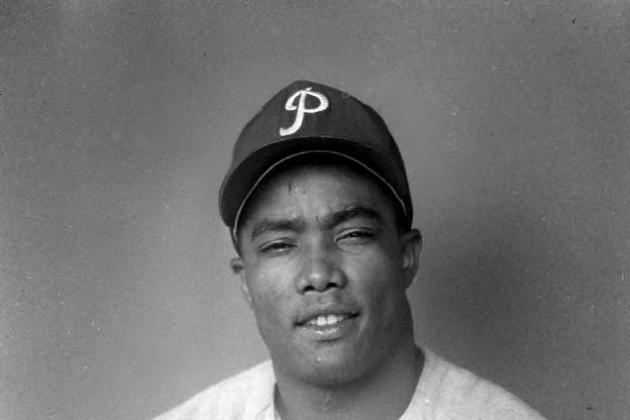 Tony Taylor was another fan favorite in Philadelphia for obvious reasons.
Taylor was a versatile infielder with a limited talent ceiling, so that certainly wasn't the source of his favor with the fans. He played first, second, and third base, and though he appeared in one All-Star Game, Taylor was more of a role player than anything.
The former infielder made a name for himself by grinding out every chance he got, leading to a 15-year career with the Phillies. A solid player, Taylor was good, but not great. His greatest skill may have been his determination and endless hustle.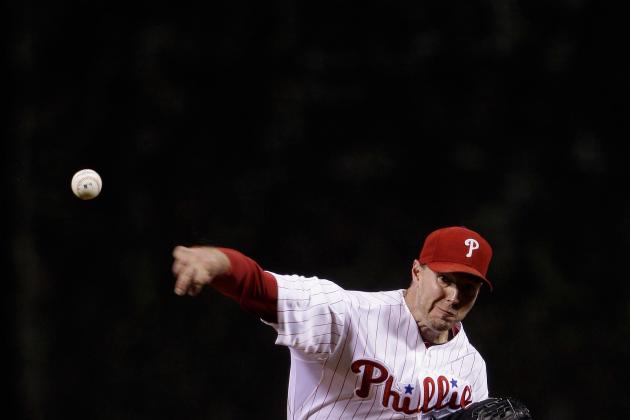 Pool/Getty Images

Okay, so calling Roy Halladay a "scrappy" player may seem like a bit of a stretch.
Like I said in the opening of this slide show, however, I don't believe that scrappy players have to be limited to the traditional image, and if you're going to talk about determined players who come to fight every time they play, how could you not mention Doc?
One of the most determined players in baseball, who can forget, though a painful memory, Halladay's gritty performance in Game 5 of the 2011 NLDS against the St. Louis Cardinals, when he pitched a complete game of one-run ball to keep the club's postseason hopes alive?
Or how about his performance against the San Francisco Giants in the 2010 NLCS, when he pitched with a pulled groin?
Or what about his postseason no-hitter against the Cincinnati Reds?
I think I've made my point.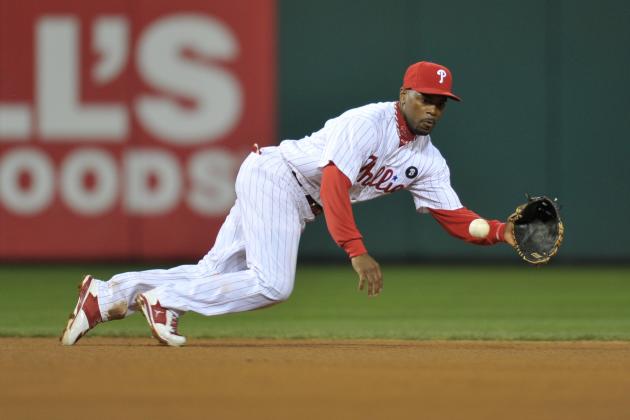 Drew Hallowell/Getty Images

I almost took Jimmy Rollins off of this list not once, but twice.
The longtime Phillies' shortstop has come under fire in recent seasons for slacking his way up the first base line and things of that nature, but it was at that moment that I realized that you have to broaden your horizons for a list like this—find the needle in the haystack.
Early in his career and up through today, you could make a strong case for Rollins as a "scrappy" player. The man is one of the best defensive shortstops in the game, unafraid of diving to either side of his body to make a play.
Offensively, the name of his game is speed, and to fully utilize that skill-set, you have to have a certain understanding of, well, how to "get dirty." Rollins does.
So I guess the point is this: Don't believe everything "they" tell you. Rollins has put the Phillies on his back and carried them countless times throughout his career, and if he pulled a hamstring running out a ground ball, that wouldn't do anyone any good.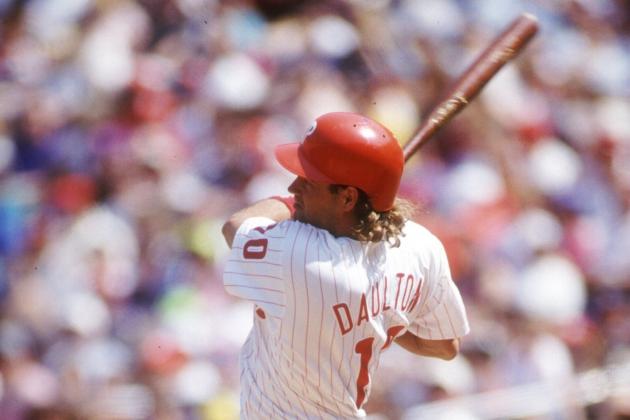 Getty Images/Getty Images

One the most infamous moments of Darren Daulton's career came during a game against the rival New York Mets, the short version of which is that a brawl broke out and the Phillies' catcher wound up landing a few nice shots on Mets' pitcher Doc Gooden.
Anyone that gets into a brawl in Philly is a scrappy player.
Well, there's more to it than that. Though many called him a "vocal" leader, Daulton led by example as well. One of the most determined players in the history of the franchise, "Dutch" wasn't afraid to put himself on the line for a win.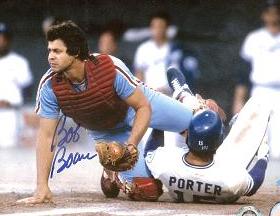 Bob Boone was tough, both mentally and physically, and that's what made him a good catcher.
Regarded as one of the best, if not the best, defensive catchers of his time and certainly in Phillies' history, you had to throw a terrible pitch to get it by Boone in his prime.
What made him a great, scrappy player was the simple fact that he wasn't willing to take a hit—or dish one out, depending on your perspective.
In an era where running over the catcher was common practice, Boone was the brick wall stopping the Big Bad Wolf from blowing the Phillies' house down. There was no guarantee that you were going to get through with Boone standing in the way.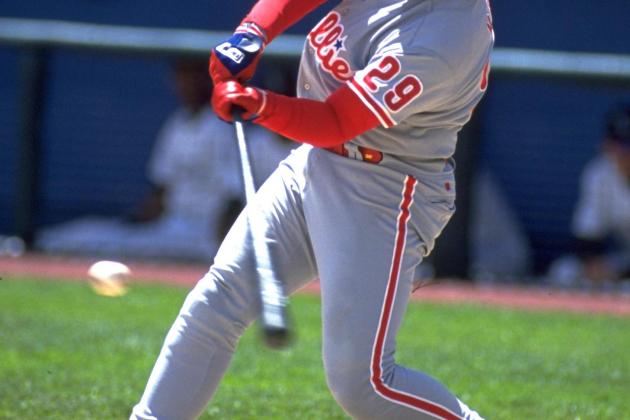 Tim DeFrisco/Getty Images

John Kruk isn't exactly the first player to come to mind when people talk about "scrappy" players, but the more you think about it, the more apparent it becomes that it's exactly what Kruk was.
Though he was a big-bodied first baseman, Kruk's game was always contact. He had a great eye at the plate and knew how to make effective contact, spraying the ball to all fields to collect his base hits and doubles, seldom leaving the yard but often finding the outfield gaps.
With his beer belly and mullet, Kruk looked more like a fighter than an athlete, but then again, in his famous quote, Kruk admitted he wasn't an athlete, saying, "I'm not an athlete. I'm a professional baseball player."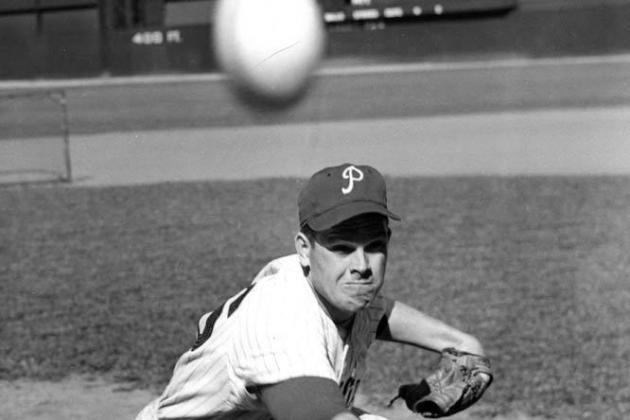 Robin Roberts doesn't fit the traditional mold of what people picture as a "scrappy" player. The man is in the Hall of Fame for crying out loud.
But if there was a grittier, more determined pitcher in the history of the Phillies' organization, I've yet to figure out who it is.
Making his MLB debut in 1948, pitchers with Roberts' skill-set were quickly falling by the wayside. He was an absolute work-horse, unable to give up until the last out was in the books or his team was in the win column.
Who could forget the final game of the 1950 regular season against the Brooklyn Dodgers, when Roberts pitched 10 innings to ensure the Phillies had a shot at the win, and win they did.
While Roberts was definitely talented, there is no doubt that his work-horse mentality made him a Hall of Famer. It helped him elevate his game. Roberts led the league in games started in six consecutive seasons, and in five consecutive, respectively, he led the league in complete games and innings pitched.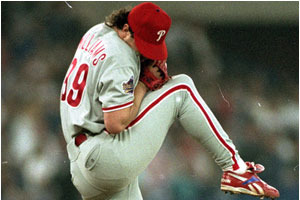 Nowadays, he may just be the scrappiest analyst in the game, but they didn't call Mitch Williams "Wild Thing" for nothing as a closer with the Phillies.
The man was wild.
With no fear whatsoever, Williams marched to the beat of his own drum. In two pitches, he had the ability to throw his explosive fastball high and tight, whizzing it right by the batter's ear before blowing him away with the next pitch, then have the audacity to say that's what he meant to do.
They say closers are cut from a different cloth. Williams is cut from an entirely different material, its source yet to be identified.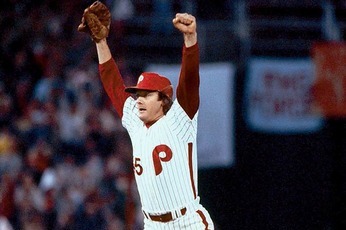 Pitchers aren't often tabbed as "scrappy" players, but you have to admit that the designation fits former Phillies' closer Tug McGraw to a tee.
Traded by the New York Mets to the Phillies, McGraw arrived with a chip on his shoulder that would fuel his success. When the Phillies became World Champions in 1980, McGraw hoisted the trophy and famously proclaimed the New York could "stick it." The Phillies were number one.
He'd come out of the bullpen, slap his thighs with his glove, and sell a kidney on the black market if that's what it took to get an out. A rough and tumble closer, McGraw was quite the scrappy player.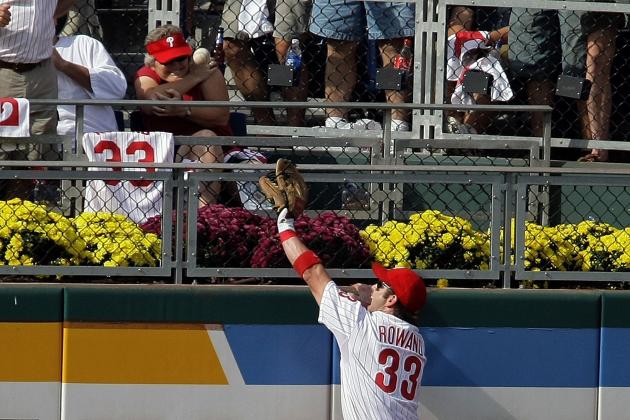 Drew Hallowell/Getty Images

Aaron Rowand was probably his own worst enemy in his prime.
At the plate, he had a good thing going for the Phillies, but he was willing to put it all on the line for a win. In fact, if you didn't know the man and watch him play, you would probably guess that running into outfield walls was a strange hobby or something for the former Phillies' outfielder.
In a way, I guess it was.
The most memorable collision was the one where Rowand ran nose-first into the center field wall, eventually spending several weeks on the disabled list with a broken nose. Would he have done it again, knowing the outcome?
You bet he would, and that's why Philly loved him.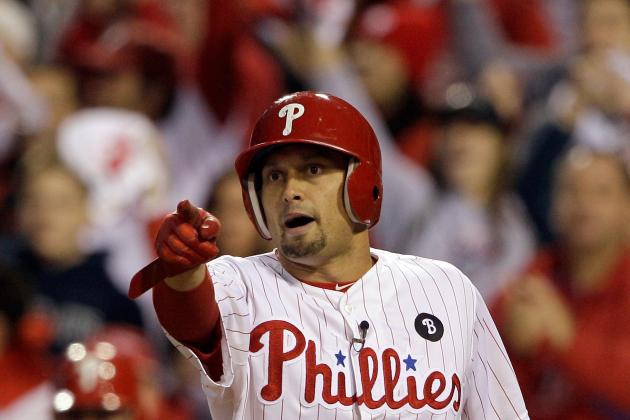 Rob Carr/Getty Images

Shane Victorino has spent most of Spring Training publicly campaigning for a contract extension with the Phillies, but that shouldn't come as much of a surprise: He and the Phillies are a perfect fit for each other.
On the field, there is no questioning his talent. Over the years, Victorino has developed into one of the game's best "five-tool" center fielders.
It's that extra spark that the "Flyin' Hawaiian" brings to the game that makes him a perfect fit for baseball in Philadelphia.
Two of the most memorable occurrences of said spark both happened to be skirmished with NL West teams. In the postseason, he warned Hiroki Kuroda not to throw at his head, after the former Los Angeles Dodgers starter sailed a pitch over his head.
More recently, tempers boiled over in a game against the San Francisco Giants, when Victorino charged the mound and helped cause a benches-clearing brawl.
Most importantly, he plays the game hard. I think many outfield walls can attest to that.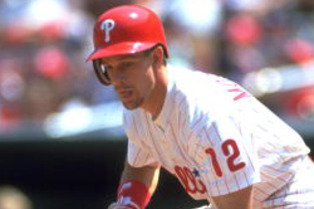 There are a couple of players on this list that aren't the prototypical, "scrappy" player.
Mickey Morandini is not one of them. You could probably crack open a dictionary and find his picture right next to the word.
It shouldn't come as much of a surprise to learn that Morandini is a current Minor League manager. The man made his money by playing technically sound baseball and doing things by the book.
Morandini was a great role player. He could lay down a bunt and had good bat control. In the field, he was a solid enough defender to earn the nickname of "Dandy Little Glove Man."
To this day, he remains one of my favorite Dan Baker introductions.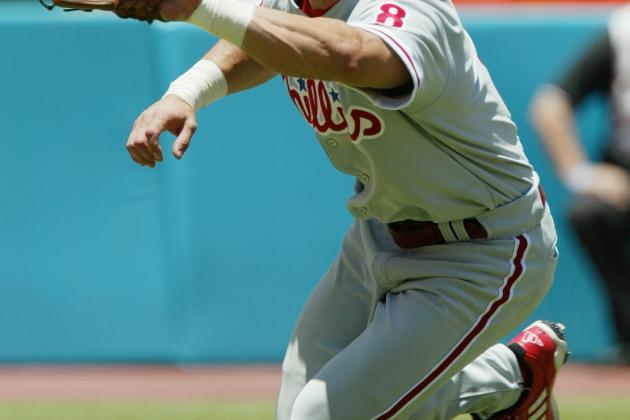 Eliot J. Schechter/Getty Images

He may not have been with the Phillies for a long time, but long before he was beating his former club in a dramatic 2011 NLDS as a member of the St. Louis Cardinals, Nick Punto was a utility man for the Phillies, and I just couldn't leave his scrappy play off of this list.
Without a single outstanding tool to speak of, Punto made a career for himself out of being a pest to other teams, and I say that with no offense intended, though I'm sure he would take it as more of a compliment.
Punto has always had the ability to play solid defense, slap the ball around the diamond, and do the small nuances of the game well.
That's what made him valuable to the Cardinals last season, and they won the World Series. Just saying.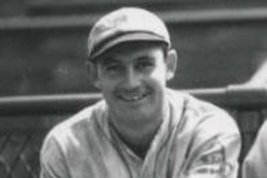 Dick Bartell wasn't a superstar.
Sure, he was probably one of the best shortstops in franchise history, but that's not saying much.
The man didn't make a name for himself with unbelievable talent or a once in a lifetime bat or something like that, but by playing every game like it was his last.
Though he had a few great seasons that earned him an All-Star appearance or two, Bartell made his money by playing fundamental baseball. He was tough; not afraid of anyone. In fact, it was his durability and seemingly endless energy that made him one of the scrappiest players in baseball during his time, and certainly one of the scrappiest in Phillies' history.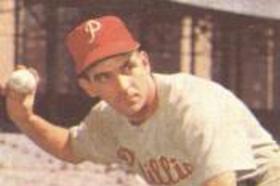 The Phillies don't have a history of great shortstops, that is for certain. But when a guy like Granny Hamner ranks easily within your top three, top five at the max, then you have to raise an eyebrow. After all, Hamner was a career .262 hitter with 104 home runs and a dWAR of 0.4.
How in the world did he stick around for 16 seasons in a place like Philadelphia?
The answer, as cliche as it may sound, was heart.
Hamner signed with the Phillies as an amateur free agent in 1944 and was on a Major League field during that same season at the ripe age of 17. He was a solid ball player, and a shortstop, which always helps. But in a time where scouting and statistics were secondary, the upper echelon of Phillies' management loved him because of his grit and determination.
As long as he was trying his hardest, he had a job, and that's how you spend 16 seasons in Philly.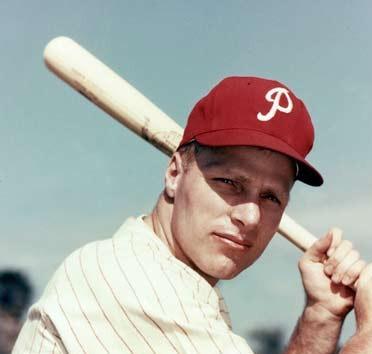 Richie Ashburn is one of the most beloved Phillies of all-time, but that shouldn't be too surprising given the content of this list.
On the field, Ashburn wasn't blessed with a skill-set that insured he would become a baseball legend. He didn't have any power at the plate, but managed to hone the skills that he did have into valuable weapons.
He worked hard, and Phillies' fans loved him for it.
At just 5-foot-10, 170 pounds, Ashburn was the prototypical contact hitter, but so much more than that. He had an excellent eye at the plate, which was just the beginning. His short legs and ability to "motor" around the bases earned him the nickname of "Put-Put."
He played the game hard and excelled at the technical aspects, like base-running, fielding, and sliding. He wasn't afraid to get dirty for a win, and almost never left the ninth inning with a clean uniform—a classic trait of the scrappy player.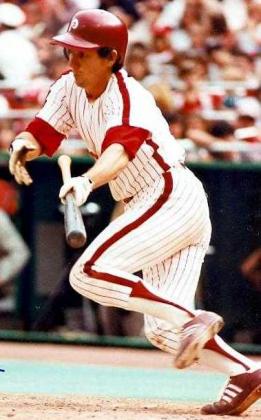 Opposing players called Larry Bowa the "Gnat," and you don't get a nickname like that without being one hell of a scrappy player.
At 5-foot-10, 155 pounds, Bowa was tiny. That was true at the plate as well, as evidenced by his lack of power and offensive ineptitude.
However, like all great scrappy players, Bowa found ways to contribute. He handled the bat skillfully, turning "no power" into line drive doubles. He stole bases. He came through in the clutch. All of those baseball cliches that people hate to hear? Well, Bowa was actually good at them.
Most importantly, he was technically solid. A great defender and a good bunter, Bowa knew his role, and that made him a pest for other teams to take care of, but a pleasure for the Phillies at shortstop.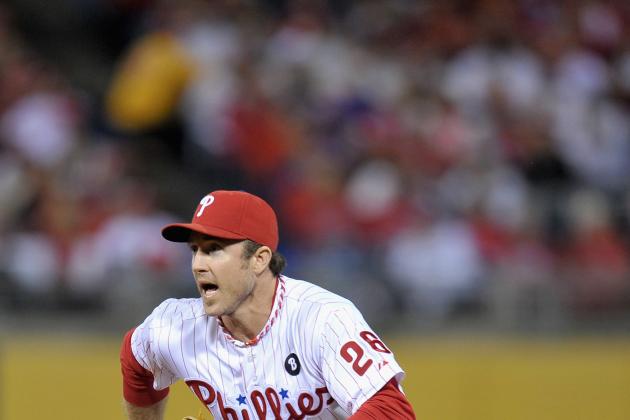 Drew Hallowell/Getty Images

There are a few players on this list that forced me to stop and reconsider whether or not that whole "scrappy players are guys who make up in heart what they lack in talent" theory holds water. It doesn't.
Chase Utley is the perfect example.
No sane person with the slightest idea of how the game of baseball is played would ever doubt Utley's talent, but in the city of Philadelphia, the fans know that Utley is a scrappy player. The second baseman's energy level is stuck on full throttle, even through a chronic knee condition.
"The Man," as Harry Kalas referred to him, once ran right through Washington Nationals' catcher Jesus Flores. He nearly sparked a brawl against the San Francisco Giants in a postseason game, and when the Phillies won the World Series in 2008, let the world know just what kind of champions they were.
That's just the tip of the iceberg.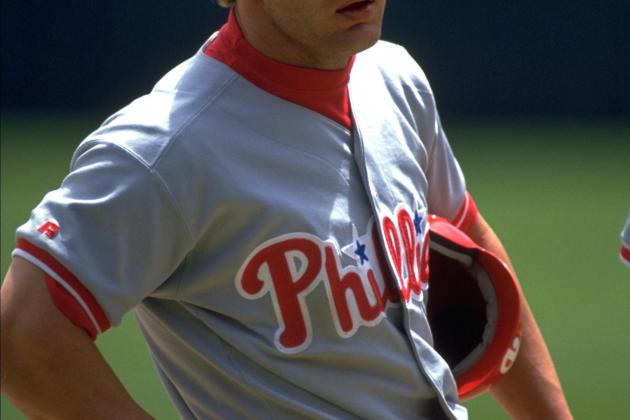 Tim DeFrisco/Getty Images

Anyone nicknamed "Nails" was kind of a shoo-in for this list.
Then again, Lenny Dykstra happened to be the only guy that counted in that regard, but he was kind of a shoo-in anyway.
A member of that beloved 1993 team that is well represented in this slide show, Dykstra may have been the league leader in "scrappiness" during the '93 season. They called him "Nails" because, well, he was tough as nails, and during his Phillies' career, he wasn't afraid to show it.
He had a chip on his shoulder after the New York Mets pigeonholed him into a platoon gig, and when the Phillies opened his cage by making him an everyday player, Dykstra ran free.
He made a name for himself by running into outfield walls, diving head first into AstroTurf, sliding hard, disrupting double plays, and running over catchers.
It's a real shame he fell off the deep end. He had the chance to become the type of sports legend that this city embraces forever.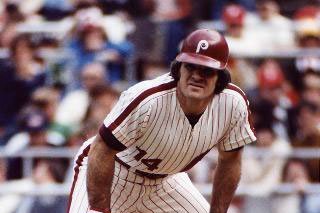 Here he is. The prime reason that "scrappy" players don't have to be guys that hover around the replacement level. The reason that scrappy players can be great.
Pete Rose.
Baseball's King of Hits.
First and foremost, Rose looked the part. With his unkempt hair and permanent scowl, he just looked like he wanted to hurt people. Most catchers and infielders would later find out that this actually was the case, especially if you were standing in the way of home plate or trying to stop a head first slide.
At the plate, Rose had almost no power, especially during the later years of his career. He made a name for himself by being the toughest out in the history of baseball. Arguably the greatest contact hitter in the history of the game, it didn't matter who was on the mound. It didn't matter what the count was. If he had a bat in his hands, the pitcher was in trouble.
That's evidenced by 4,256 career hits.
Once on base, the nightmare was just beginning. He was an excellent base-runner and would run right through a brick wall if the opposition decided to build one between third base and home plate.
Rose is the definition of "scrappy." He just did it better than anyone in the history of baseball.