UFC 146: Main Card Packs Plenty of Weight, but How Good Will the Fights Be?
March 14, 2012

Jason Merritt/Getty Images
For the first time ever the UFC has filled an entire main card with heavyweights. It might help with pay-per-view sales, but perhaps one issue Dana and Co. haven't considered is that heavyweight fights are not always entertaining.
The flyweights fought at a fantastic pace in Sydney recently and really showed why the introduction of a 125 lbs division was long overdue. Fighters that weigh in excess of 250 lbs aren't capable of keeping up anything like that sort of a strike rate.
When heavyweight fights finish fast they are fun, which has been the case with almost all of the big fights the UFC has put on recently. When they get into the third round the action often slows to a virtual standstill as 10 minutes-plus of carrying around their 260 lbs frames starts to take a toll on the fighters.
I can't see Junior Dos Santos vs. Alistair Overeem making it out of the first round somehow. Dos Santos will back himself in the boxing exchanges but Overeem has those deadly knees and kicks. Both bring so much power that sooner or later (most likely sooner) one of them will finish the fight.
Dos Santos has a superior ground game to Overeem, but there is nowhere near as much of a difference between their skill sets as there is between those of Cain Velasquez and Frank Mir, who are fighting in the co-main event.
Mir's stand-up is getting better all the time but he is still best known for breaking the occasional bone with a submission. Velasquez is well known for his stand-up fighting ability but he is also an All-American wrestler who will need to have good takedown defense if he doesn't want to end up on his back.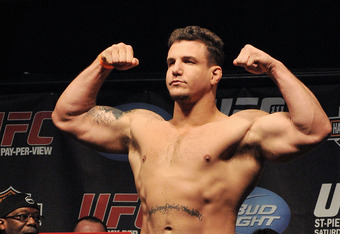 Jon Kopaloff/Getty Images
The last two fights of the night are outstanding and I have no complaints with them, but the other three on the main card concern me. I could see Roy Nelson and Antonio Silva ending up exhausted and unable to muster up a decent strike between them if this one drags on too long.
Either man could get the first-round knockout but if they don't, I fear the frequency of boos will increase for as long as the fight drags on. It could be a fun fight but it could also be a very bad one and the UFC are taking a risk with it.
It's difficult to imagine Stefan Struve vs. Mark Hunt lasting for too long because Struve simply doesn't do decisions and Hunt is what Joe Rogan will probably be describing as a K-1 level striker, if he hasn't already.
The first round should be entertaining but after that it will be downhill all the way. The same could apply to Gabriel Gonzaga vs. Shane Del Rosario—although who doesn't want to see a Muay Thai world champion with an 11-0 MMA record in the UFC?
The UFC are running a real risk by filling the main card with heavyweights. If it pays off then it could pave the way for some superb future fights, but if the fireworks don't materialize it could be one of the dullest cards ever.