Derrick Rose Injury: Updates on Bulls Star's Groin Injury
March 14, 2012

Jonathan Daniel/Getty Images
If the Chicago Bulls are to surge past the Miami Heat in the playoffs this season, they are going to need Derrick Rose healthy.
UPDATE: Sunday, April 8 at 11:41 a.m. ET
Derrick Rose is expected to make his long awaited return today against the New York Knicks, according to ESPN Chicago's Nick Friedell. 
Derrick will play according to Thibs

— Nick Friedell (@ESPNChiBulls) April 8, 2012
Update: Thursday, April 5 at 9:15 p.m. ET by Eric Ball
The Bulls are going to be without their star yet again.
KC Johnson of the Chicago Tribune reports that Rose will miss Thursday night's game against the Boston Celtics:
DRose said he's out, will play Sunday vs. Knicks. #Bulls

— K.C Johnson (@KCJHoop) April 6, 2012
This comes as little surprise considering the Bulls have taken an extra cautious approach with their MVP.
The good news is that Rose will officially be back on Sunday.With 10 games remaining after tonight, the stretch run is here and the Bulls need their star guard to ensure they are ready to go for the postseason. 
Update: Thursday, April 5 at 1:55 p.m. ET by Alex Kay
It appears we finally have a solid date for Derrick Rose's long awaited return.
According to K.C. Johnson of the Chicago Tribune, Rose will be playing on Sunday against the New York Knicks, if he doesn't go tonight against the Boston Celtics.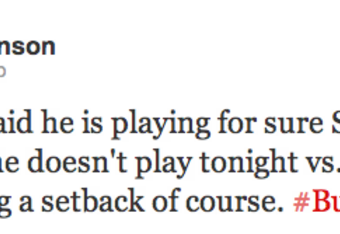 This is great news for Bulls fans, who have been patiently waiting for Rose to get healthy for 11 games and counting now.
Stay tuned here up until the 9:30 p.m. ET tip off to find out if the superstar point guard will suit up and play against the C's tonight in Chicago. 
Update: Thursday, April 5 at 10:35 a.m. ET by Alex Kay
Derrick Rose is getting closer to returning to the Chicago Bulls lineup, but has yet to go full speed in practice yet - according to Aggrey Sam of CSN Chicago. 
Here is what the point guard said when asked yesterday if he would be available for a home contest against the Boston Celtics today.
"I really don't know. I felt good, but me playing tomorrow, I don't know. I'm able to run a little bit more, but not at my top speed," said Rose after practice. "I really can't explain, unless you've had the injury.

"[I] definitely [feel better]. I'm running, able to move a little bit more, so I'm getting healthy," he continued. "I've taken three weeks off — or two weeks off, however many I've taken off — my conditioning is definitely a worry, but in basketball, you should be able to fight through it.
It would be good for Rose to get back into the lineup against a potential playoff opponent in the Celtics. 
We'll keep you updated on D-Rose's status throughout the day and up until the 9:30 p.m. EST tip. 
UPDATE: Wednesday, April 4 at 1:50 p.m. ET
Things reportedly went well for Chicago Bulls point guard Derrick Rose in his return to practice on Wednesday as he competed in contact drills. The practice went so well, in fact, that head coach Tom Thibodeau believes Rose could possibly play on Thursday against the Boston Celtics, according to Aggrey Sam of Comcast SportsNet Chicago.
After consecutive losses, the first-place Bulls have been slipping as of late and could really use the boost that Rose's return would provide. At the same time, the Bulls don't want to rush Rose back and risk further injury. It will be important to strike a balance between those two things, but if Rose can play on Thursday, then it may be exactly what Chicago needs to turn things around.
Update: Wednesday, April 4 at 8:00 a.m. EST
With the playoffs rapidly approaching, the Bulls are going to do everything they can to make sure Rose is on the court for a few games at the end of the regular season to shake off some potential rust. 
According to Bulls general manager Gar Forman, Rose is going to be back at practice on Wednesday after a workout on Tuesday. 
He will practice tomorrow with the team and go through some of the practice, so we're cautiously optimistic that it will be pretty soon when he's back on the floor. He's chomping at the bit. He wants to be out there, and obviously we want him out there. But at the same time, we want to be really careful with it and make sure he's ready to go before he steps on the court.
The Bulls are starting to show some cracks in the armor without their MVP, losing by 14 points to Oklahoma City and following that up with a six-point defeat at the hands of Houston. 
Rose is making progress, but the real news will be how his body responds to the practice session. 
Update: Monday, April 2 at 8:20 a.m. EST by Alex Kay
The Oklahoma City Thunder trounced Chicago yesterday and it marked the tenth consecutive game that the Bulls had to play without Derrick Rose.
They were extremely undermanned without their star point guard, who is still out with a groin injury. 
According to ESPN Chicago's Nick Friedell, Rose is stating he has no timetable for a return, but that it should be before the regular season concludes. 
"I think so," he said when asked if he'll return before the playoffs begin. "I think so, if it's up to me. So yeah, I think I am."
The injury is certainly worse than the team and public believed at first.
"Yeah, it definitely is," he said. "Missing this amount of games. It definitely hurts, but if anything I'm hoping that it's a blessing in disguise where the only positive thing I can look at is (that) I'm getting my rest a little bit." 
Keep it tuned here throughout the coming days to get the latest updates, news, opinions, analysis and reactions on Derrick Rose and his possible return from a crippling groin injury.
Update: Sunday, April 1 at 12:50 p.m. ET
It is not yet Rose time for the Chicago Bulls. Nick Friedell, of ESPN Chicago, tweeted the defending MVP is officially out for Sunday's East vs. West clash against the Oklahoma City Thunder.
Derrick officially out according to Thibs. Rip will warm up and then Thibs will decide if he will play.

— Nick Friedell (@ESPNChiBulls) April 1, 2012
It's not all bad news in that tweet. Rip Hamilton may finally step back onto the court. He has not played since March 5th. 
Update: Saturday, March 31 at 3:55 p.m. EST by Andrew Kulha
According to Vaughn McClure of the Chicago Tribune, Rose will miss yet another game because of his groin. This time he will be missing a chance to play the Oklahoma City Thunder, who are currently the best team in the Western Conference with a 39-12 record.
McClure quotes that Rose is trying to remain positive regarding the situation:
"Just trying to put it behind me, man, just trying to stay positive,'' Rose said after Saturday's abbreviated practice at the Berto Center. "It feels the same."
This isn't good news for a team that's trying to work on consistency and chemistry going into the playoffs. Stay tuned for more updates on Rose's injury as they become available.
Update: Monday, March 26 at 7:55 a.m. EDT by Alex Kay
Nick Friedell of ESPN Chicago is reporting that Derrick Rose is extremely likely to miss his seventh consecutive game tonight against the Denver Nuggets due to a groin injury.
When asked how much his superstar point guard has been contributing in practice, coach Tom Thibodeau stated,
"Very little," Thibodeau said. "But he's at the next phase. (He's) just starting off with the running on a treadmill."
Stay tuned here throughout the day for an update when Rose is officially announced out and any breaking news concerning his eventual return to the court. 
Update: Friday, March 23 at 1:40 p.m. ET by Tim Daniels
Rose continues to make progress toward a return from a groin injury, but K.C. Johnson of the Chicago Tribune reports the superstar point guard isn't likely to make a comeback tomorrow:
DRose ran in a pool and did individual shooting. Rip did full, non-contact practice. Both day-to-day but doubt they play Saturday. #Bulls

— K.C Johnson (@KCJHoop) March 23, 2012
The Bulls aren't going to take any unnecessary chances with their most important player, so it's no surprise to see him slowly working back into game shape. Being ready for the playoffs is more crucial than any March clash.
Update: Wednesday, March 21 at 12:10 p.m. EDT by Alex Kay
K.C. Johnson of The Chicago Tribune is reporting that Derrick Rose will not participate in tonight's game against the Toronto Raptors.
Rose reportedly has not been able to run or participate in shootaround since sustaining a strained groin against the New York Knicks on March 12.
C.J. Watson and John Lucas III will continue to log minutes at the point in D-Rose's absence. 
Update: Wednesday, March 21 at 11:30 a.m. EDT by Alex Kay
The Chicago Bulls are uncertain of their star point guard's status and will be up until just prior to tip-off.
According to Aggrey Sam, Bulls insider for Comcast SportsNet Chicago, coach Tom Thibodeau is calling D-Rose a "game-time decision."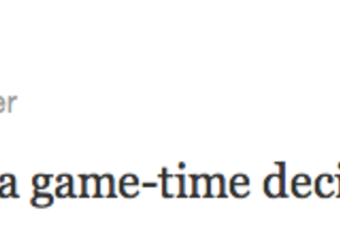 Chicago is travelling to Canada to take on the Toronto Raptors tonight and we will update you right here as soon as we find out if Rose will be active and expected to play or not.
UPDATE: Monday, March 19th at 7:10 p.m. EDT
According to Aggrey Sam of Comcast SportsNet Chicago, the Bulls will once again be without their starting back court of Derrick Rose and Richard Hamilton, this time against the Orlando Magic:
Thibs: Derrick/Rip out, CJ/Lu in

— Aggrey Sam (@CSNBullsInsider) March 19, 2012
With those two out of action, Tom Thibodeau will once be forced to heap big minutes onto CJ Watson and John Lucas III.
This will mark the 14th time this season that Rose has had to sit out due to injury. Chicago has gone 9-4 in Rose's absence, including a big win over the Miami Heat last week.
UPDATE: Sunday, March 18, 11:20 p.m. ET by Donald Wood
The groin injury that has been plaguing the NBA's defending MVP may be taking longer to heal than the Chicago Bulls anticipated. While they expected him back early this week, the star may not play during the entire road trip.
The Chicago Sun-Times Bulls beat writer Neil Hayes talks about Rose's injury and how it may keep him out longer than expected:
 "I don't know," Bulls coach Tom Thibodeau said. "We'll see."

Thibodeau didn't sound optimistic. It's sounding more and more like Rose will at least sit out the upcoming road trip to Orlando and Toronto. The team will return home early Thursday morning with no games scheduled until the Raptors come to town on Saturday. That may be a more realistic return for Rose, who has been rehabbing and lifting weights but hasn't started running yet.
Chicago has played it very safe with Derrick Rose since he injured his groin, but the slow improvement rate has to be a serious concern for the team. They are playoff bound no matter what at this point of the season, so sitting Rose until 100 percent healthy is a great plan.
Update: Saturday, March 17 at 7:00 p.m. ET
The Bulls have let everyone know that Rose will be out for tonight's game as they host the Philadelphia 76ers. The news comes via their official Twitter page.
Rose and Hamilton out tonight. Everyone else is a go. #PHIvsCHI

— Chicago Bulls (@chicagobulls) March 17, 2012
This will once again leave the point guard duties to CJ Watson and John Lucas III. They will also be without Hamilton, but Chicago is growing accustomed to playing without Hamilton. 
Update: Friday, March 16 at 8:20 p.m. ET
It looks like Derrick Rose is out for tonight's game, but C.J. Watson will get the start. The Chicago Tribune's K.C. Johnson tweets:
C.J. Watson will indeed start for #Bulls.

— K.C Johnson (@KCJHoop) March 17, 2012
With Rose out of the action, it looks like the point guard duties will be handled by Watson and John Lucas, who went off against the Miami Heat on Wednesday night.
The Trail Blazers are going through a bit of a crisis right now, so the absence of Rose shouldn't throw the Bulls off into a direction they don't want to go.
If there was a game for Rose to sit, this is it.
Updated by Jeff Chase
Update: Friday, March 16 at 12:40 p.m. ET
It looks as if Rose will continue to sit and rest in tonight's matchup against the Trail Blazers. Chicago Tribune's K.C. Johnson tweets:
Rip is out. DRose and CJ gametime but neither did shootaround so probably won't play. Lu in vs. Port. #Bulls

— K.C Johnson (@KCJHoop) March 16, 2012
If you saw the Trail Blazers against the Knicks the other night, you'd know the Bulls can easily win this game without their best on the court. Add in the fact that this team just underwent a huge transformation yesterday at the trade deadline and there isn't much to scare the Bulls.
Keeping Rose healthy is their primary objective and resting him against the Trail Blazers will give the reserves and role players a chance to see more court time.
Update: Wednesday, March 14 at 8:10 p.m. ET
The Chicago Tribune's KC Johnson tweeted the news no Bulls fan wants to ever see.
DRose out vs. Heat. CJ in. #Bulls

— K.C Johnson (@KCJHoop) March 15, 2012
That certainly takes some of the shine off of this matchup. It also makes this a no lose proposition for the Bulls. If they can beat the Heat without the reigning league MVP it will give them a huge mental edge, and if they lose they can just write it off. No one expect them to beat Miami without Rose.
And as the Bulls get set to face the Heat on Wednesday, Rose is not 100 percent.
Brian Windhorst of ESPN tweeted on Wednesday:
Derrick Rose (groin) to be a gametime decision against Heat tonight.

— Brian Windhorst (@WindhorstESPN) March 14, 2012
Rose, who had 32 points, seven assists and six rebounds in the Bulls' 104-99 victory over the New York Knicks on Monday, has also been dealing with general soreness, although that's not related to the fender bender he was involved in on Tuesday.
For the season, Rose is averaging 22.8 points, 8.0 assists and 3.5 rebounds while shooting 45 percent from the floor. The reigning MVP has become an undeniable force for the Bulls as he tries to hand Chicago its first championship since 1998.
So far, the Bulls have the best record in the NBA and are 2.5 games ahead of the Heat for the Eastern Conference's No. 1 seed. One thing the team is going to have to juggle all season is keeping Rose healthy while still gunning for that top seed. The Bulls may want to sit Rose and make sure he doesn't aggravate the injury, but that's easier said than done, especially when you have a competitor in Rose who wants nothing more than to beat the Heat on Wednesday night.
In Rose, you have the single most important player in keeping the Heat out of the Finals. It's Chicago and Miami in the East...and then everyone else (sorry, D12). That's why it's more important to keep Rose healthy than gun for the No. 1 seed. The Bulls and Heat will likely meet up in the Eastern Conference Finals anyway, and you want Rose at full strength at that point.
Of course, if the Bulls can keep Rose healthy and capture the No. 1 seed, that would be the ideal situation.
Follow me on Twitter. We can talk about Derrick Rose and the Bulls.