Jimmie Johnson: 5 Reasons His Years of Domination Are Over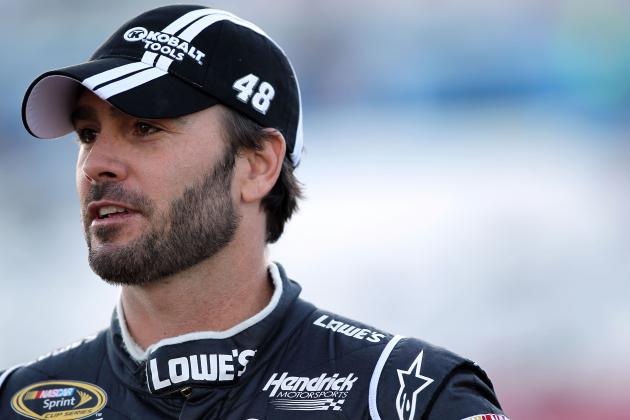 Jeff Bottari/Getty Images

While Jimmie Johnson is recovering from his awful start to the 2012 season, the questions are creeping up whether his dominance in the Sprint Cup Series is over.
The 2011 season was a shock to the NASCAR world when Johnson's championship streak was stopped.
Johnson and his team did not look the same all season long and only got to Victory Lane twice in 2011.
Which Jimmie Johnson will we see in 2012? The return of a dominant Jimmie Johnson or a Jimmie Johnson that can't stand out from the rest of the field anymore?
I believe Johnson's years of domination are over and here are five reasons why.
Begin Slideshow

»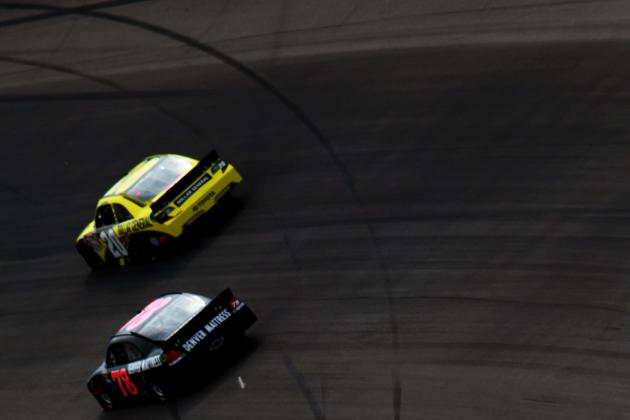 Ronald Martinez/Getty Images

There is no doubt that the competition is tougher than it has ever been.
While Johnson has had competition over the years, 2011 was a real sign that there are new players that can win on any given race day (five first-time winners in 2011).
There are also the powerhouse teams like Roush Fenway Racing and Richard Childress Racing that just get better and better.
Roush cars look especially strong this season, and his drivers are hungry for a championship.
Even Johnson's teammates at Hendrick Motorsports can be his stiffest competition. Dale Earnhardt Jr. is already showing that he is turning the corner this season.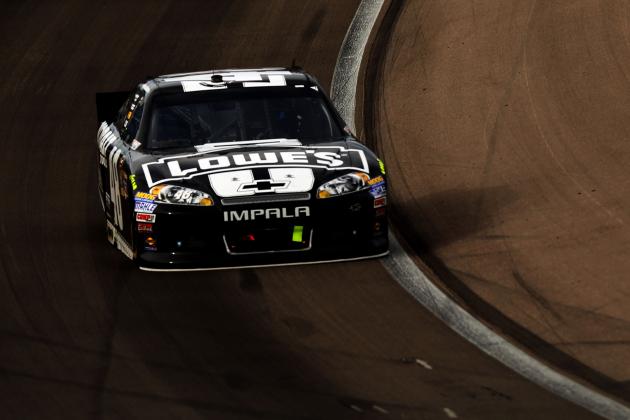 Ezra Shaw/Getty Images

This is an interesting question.
Can success make a person or team "soft"? The answer is absolutely yes.
Remember, Jimmie Johnson came into the Sprint Cup Series as a complete unknown. No one ever heard of him, and many people questioned whether he belonged in the Sprint Cup Series. The only ones that believed in him were Jeff Gordon and Rick Hendrick.
Johnson had to prove himself to the racing world. Now he's one of the drivers on top of the racing world.
He does not have to prove anything to anyone anymore. He did what no other driver could ever do by winning five straight championships.
It took the hunger to prove himself to get on that hot streak and he'll never get that back.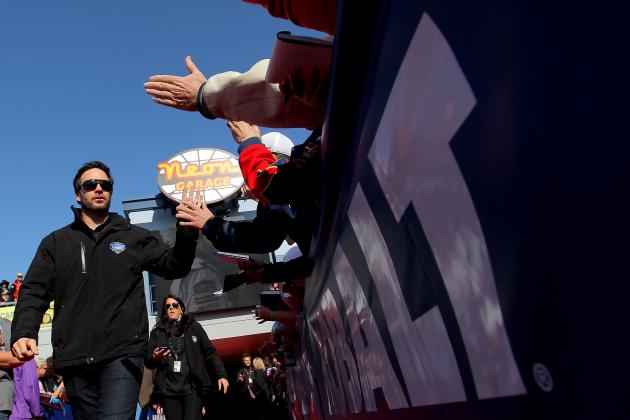 Justin Edmonds/Getty Images

Has the pressure gotten to Jimmie Johnson and his team?
I believe the pressure got to him, and it is only going to get worse this season. People are looking at Johnson to see if he can win another championship.
In 2011, constant questions came up if he lost the "magic" or he was having issues with crew chief Chad Knaus.
It is only thing to have "positive" pressure, when people ask if he can repeat as a champion after he just won a championship. It is another thing to handle "negative" pressure and question if he can ever win a championship again after losing.
It's going to be tough to live up to the hype and pressure his own success created.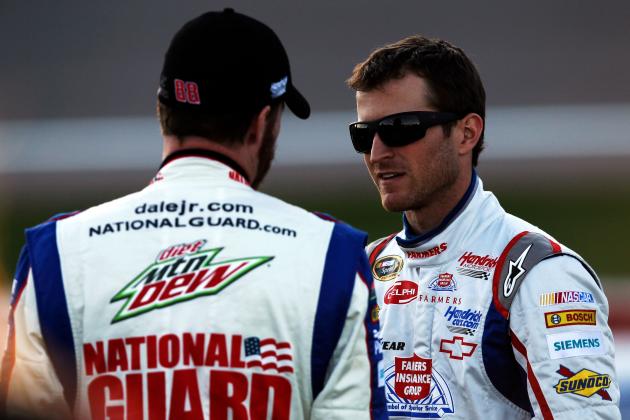 Tom Pennington/Getty Images

I believe that the focus has shifted at Hendrick Motorsports.
A clear sign of that occurred at the beginning of the 2011 season. Hendrick Motorsports shifted teams and drivers around with the exception of Johnson to help bring the other teams get closer to Victory Lane.
It worked for the most part. Jeff Gordon won three races and Dale Earnhardt Jr. made the Chase. Now Kasey Kahne comes into Hendrick Motorsports.
The focus is shifting to Dale Earnhardt Jr. and Kasey Kahne. I believe Jimmie Johnson is now expected to live up to the expectations he set for himself.
A similar situation happened when Johnson joined Hendrick Motorsports. The focus shifted from Jeff Gordon to Jimmie Johnson. It got to the point where Johnson was driving Gordon's cars to get him up to speed.
I think we're looking at another shift in the Hendrick Motorsports camp.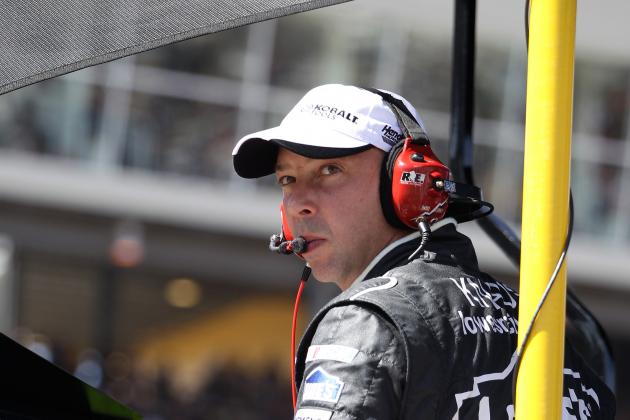 Christian Petersen/Getty Images

This the key factor in the fate of Jimmie Johnson's career.
A relationship between a driver and his crew chief is vital to the success of the team. Questions about the working relationship between Jimmie Johnson and crew chief Chad Knaus came up multiple times during the 2011 season.
The 2011 season was a display of tension between Johnson and Knaus. Johnson was getting frustrated with Knaus' ways of motivation, and it showed on the track.
Then the question of trust has to be asked with the checkered past of Chad Knaus. Coming into the 2011 season, Knaus was suspended twice in his career for illegal modifications to Johnson's race cars.
At Talladega last year, Knaus was caught on camera and audio talking to Johnson before racing telling him to break the rear end if they won the race. Since then, NASCAR has kept a close eye on the No. 48 car.
Now Knaus is facing another suspension for illegal modifications to Johnson's car that were made when Speedweeks started in Daytona. Knaus lost the initial appeal, but he's going through another appeal process.
This is something that can't keep happening. Johnson needs his crew chief at every race. If Chad can't stay out of trouble, can Jimmie Johnson win a championship with another crew chief?
It's tough to win with a different crew chief after years of great success. Ask Jeff Gordon upon Ray Evernham's departure from Hendrick Motorsports.