Dallas Cowboys Class of 2009: The Greatest Bust in Team History
June 26, 2016
Ronald Martinez/Getty Images
That Dallas Cowboys owner Jerry Jones is inept as a general manager in the National Football League is now so painfully obvious that it has ceased to be worthy of mention.
Pointing out his management guffaws is like shooting fish in a barrel or beating your seven-year-old grandson in an arm wrestling match. There is just no joy in it, no sense of fulfillment.
I just happen to be joyous and fulfilled enough to do it anyway.
The announcement that kicker David Buehler has been cut brought to mind the worst draft in the history of the Dallas Cowboys, and one of the worst in the history of professional football.
If you remain unconvinced that Jerry Jones is lost as a GM unless he has his hand held by an actual football man like Jimmy Johnson or Bill Parcells, I give you (drum roll, please) your Dallas Cowboys 2009 NFL Draft extravaganza.
You be the judge, the jury and the helpless fan.
Round by round, here we go...
Round 1
Your heroes had no pick. Jerry had already used it to acquire—wait for it!—wideout Roy Williams. Yes, that Roy Williams. The Lions used the Cowboys' 20th pick on TE Brandon Pettigrew. Still on the board to be taken later in round one: Clay Matthews (Packers, 26th overall) and Hakeem Nicks (Giants, 29th overall).
I would give this a grade, but I do not want to insult teachers.
Round 2
The Cowboys had the 19th pick and traded it to the Buffalo Bills for their third- and fourth-round picks. Let's withhold judgment until we see how this turns out.
Round 3
With the fifth pick (from the Browns), the Cowboys took LB Jason Williams out of Western Illinois. In his first three years in the league, Williams has amassed an astounding 20 tackles. (Yes, my tongue was in my cheek there.) He has never worked his way into the starting lineup. He's a bit player at best; a two-bit player at worst.
With the 11th pick of the third round (from the Bills), the Cowboys took OT Robert Brewster. If you do not know anything about him, don't bother. He was hurt his rookie season and when he healed, they discovered he couldn't play. He's no longer with the team.
Round 4
With the first pick in the fourth round (from the Lions), the Cowboys selected QB Stephen McGee out of Texas A&M. McGee was a fabulous high school quarterback and a decent college quarterback on a team that had no real passing game, and has been—and shall forever remain—a backup at best in the NFL.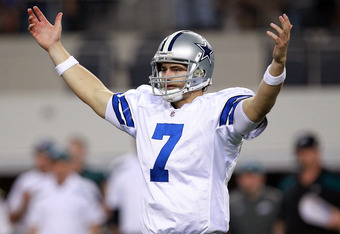 Ronald Martinez/Getty Images
The 10th pick in the fourth round (from the Bills) was spent on LB Victor Butler from Oregon State, because, in a three-four defense, you can never have too many quality linebackers. Butler is a quality backup linebacker. In three years, however, he has managed just 30 tackles and 15 assists. Not the worst mid-round pick ever, but not the man you want to hang your hat on as the best pick of your 2009 draft, which he probably is.
The Cowboys traded for the Tampa Bay Buccaneers' 20th pick in the fourth to snag DE/LB Brandon Williams—a brilliant move. (Again, facetious.) Williams recorded three tackles in 2010 before moving on to Arizona, where he did nothing at all.
Round 5
The Cowboys traded with the Oakland Raiders to get the seventh pick in the fifth round. They saw something they liked in CB DeAngelo Smith out of Cincinnati. DeAngelo ended up playing in Detroit in 2009, recording six tackles. That's it. Nothing since.
With the 30th pick in the fifth round, the Cowboys took FS Michael Hamlin. Hamlin made it through the '09 season and part of 2010 before he was set free. His numbers were nil.
No. 36 in the fifth was spent on K David Buehler, the strong-footed, linebacker-looking kicker out of USC, whom the Cowboys cut yesterday. He was supposed to be for the purpose of kicking the ball too deep to return on kickoffs and for kicking the ridiculously long field goals. He was a luxury the Cowboys could not afford. And he was not that luxurious anyway.
Round 6
In this round, the Cowboys picked up SS Stephen Hodge of TCU and TE John Phillips of Virginia. Hodge is another bust. John Phillips has proven himself a good player, especially in the blocking game. He has shown potential as a receiver, as well. That's good, because the second-round pick from the 2008 draft, Martellus "Marty B" Bennett, another colossal bust, is likely on his way out.
Round 7
Here, the Cowboys picked up CB Mike Mickens from Cincinnati and WR Manuel Johnson from Oklahoma. For some reason, the Cowboys were completely enamored with the Cincinnati Bearcats backfield. They took two players from that unit. One has worked out about as well as the other. If you don't remember Mickens or Johnson, it is likely because you are not family or a close personal friend to either of them.
I would offer insightful commentary on the lost draft of 2009. I would mention how a team cannot afford to just skip entire years of drafting and developing quality players. I would talk about Jerry Jones and company and how overmatched they are in the NFL.
But the facts do not need me. They speak for themselves.