San Diego Chargers: 4 Reasons Malcom Floyd Will Shine Without Vincent Jackson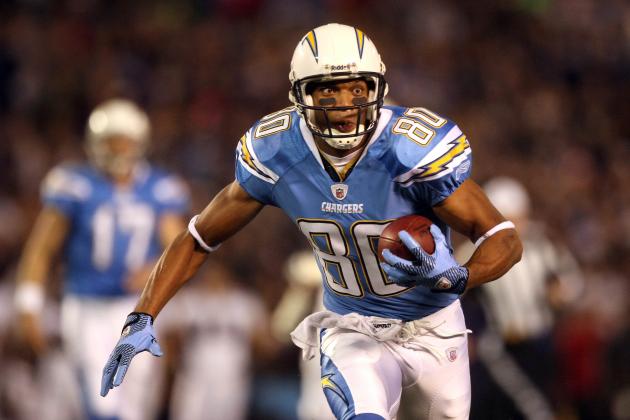 Donald Miralle/Getty Images

San Diego Chargers wide receiver Malcom Floyd will not miss Vincent Jackson.
The Chargers were the first big losers of free agency as Pro Bowl wide receiver Vincent Jackson signed with the Tampa Bay Buccaneers. However, the big hole left by Jackson's departure has a silver lining that implies the emergence of Floyd as a Pro Bowl-caliber receiver.
Though Floyd came into the league a year before Jackson, he has always played under the big man's shadow and will now finally be able to escape it and become the go-to playmaker.
Here are four reasons Floyd is better off with Jackson gone.
Begin Slideshow

»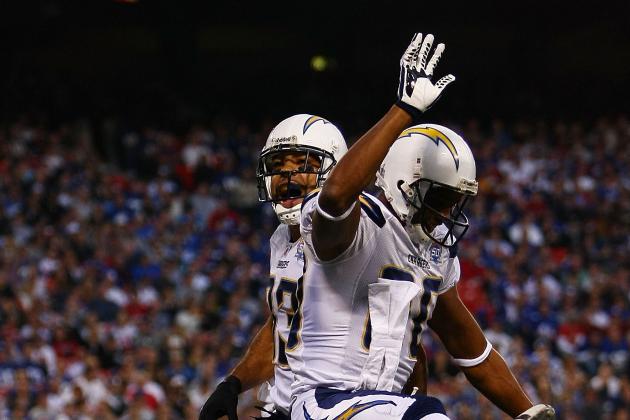 Chris McGrath/Getty Images

As I alluded to earlier, Floyd has always had to play second fiddle to Jackson. Philip Rivers routinely targets Jackson, especially on deep patterns as Jackson is generally stronger than Floyd at getting up in the air.
Beyond that, play calls and schemes were always designed in Jackson's favor. Even when he was out with injury, Floyd was always looked upon as someone who can fill in as a depleted No. 1 wideout, rather than given the chance to actually step up and prove he has just as much ability.
You need to look no further than the numbers to see this is true. Jackson averages 17.4 yards per catch, while Floyd is nearly identical at 17.9.
In terms of their physical respects, both are 6'5", both weigh roughly 225 pounds and both had nearly identical 40-yard times and vertical leaps (4.45 seconds and 38") at the combine.
Perhaps the only advantage Jackson really has over Floyd was the privilege of being drafted in the second round as opposed to Floyd, who was an undrafted free agent. The kind of financial investment made in Jackson would make it an easy choice to make him the No. 1 receiver and face of the receiving corps.
However, when it comes down to it there is little argument that these two players are distinctly different in any substantial way.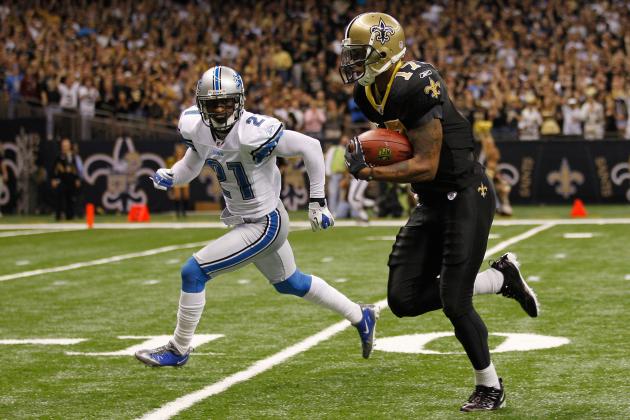 Chris Graythen/Getty Images

Nearly as quick as Jackson signed with Tampa, San Diego added more depth to the position by signing free agent Robert Meachem.
According to ESPN.com, the deal will be for four years and $25.9 million with $14 million guaranteed.
Meachem comes from the high-flying aerial game of New Orleans. The former Tennessee Volunteer was the first-round pick of the Saints back in 2007 and has 23 career touchdowns in his first four seasons.
Meachem does not come to San Diego as a foreign player to management. GM A.J. Smith originally sought him out in the 2007 draft, but the Saints took him three spots before the Chargers could. Smith opted for Buster Davis, who has been a bust by his standards. However, now with him on the team, Smith will hopefully vindicate his interest.
Coming from the Saints passing attack, Meachem did not get as many touches as you would expect out of a top receiver. However, the game plan in New Orleans relies on spreading out the ball as much as possible. The Saints have an incredible six players in the top 100 receptions last season.
Meachem was last on that list, but his nine catches for 20-plus yards was third best on the team.
Floyd suffered most when Jackson was not on the field, as defenses would not honor a deep threat in the Chargers attack. Safeties would come up and defend the out-routes and short crossing slot patterns Floyd ran, giving Philip Rivers nowhere to throw the ball.
Meachem will serve the role of going downfield to spread out the secondary. He is one of the league's fastest player in an all-out sprint, and though he is not the best route-runner, he has the kind of speed necessary to make cornerbacks honor him.
Ultimately, Floyd's success will depend on how much of a threat Meachem can become.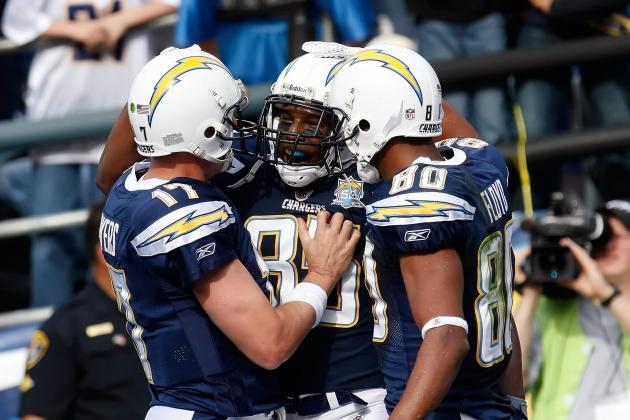 Jeff Gross/Getty Images

With Jackson always the favored wideout, Rivers' connection with Floyd has never been as strong. With Jackson now gone, the two can develop a feel for one another that would make them both more effective.
Much is made amongst NFL people about the kind of connection a route-runner has with his passer. All season long we it was beaten into our heads by every media outlet how perfectly in sync Aaron Rodgers was with his group of receivers. The ball routinely left his hand two or three steps before the receiver broke his route, timing it for a perfect arrival.
Rivers has never been the kind of passer that plays this type of perfect game. He has always been more of a slinger like Brett Favre, chucking the ball to his talented group of playmakers. His real skill is in giving them the best chance of making the play, not necessarily doing it for them.
It is foolish to think this Rodgers style is better than Rivers' way. Just look at what happened in the NFC playoffs when the Packers' routes were read and covered by the Giants. Rodgers had no alternative and had to resort to using his legs to make plays.
Rivers rarely ever scrambles like that and prefers to throw the ball up, confident his guy will come down with it.
However, even then, there is still a certain amount of chemistry that must be developed on both sides of the play. Rivers must know where Floyd is going to want it thrown and Floyd must know how long before it will be launched.
This, of course, will take some time to master, but after a game or two, they should resemble the kind of relationship that existed between Jackson and Rivers.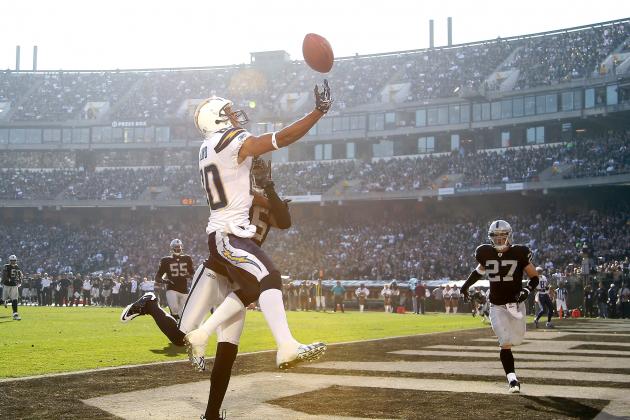 Ezra Shaw/Getty Images

With the departure of Jackson and the arrival of Meachem, Floyd immediately became the most senior receiver on a team that currently only has three at the position with real NFL experience.
Meachem, just like any newly acquired player, will take some time to get settled into the San Diego offense and adapt to the style of play. The other wideout, Vincent Brown, is coming off a pretty good rookie season, where injuries to Jackson and Floyd saw him getting substantial playing time.
However, come the first day of training camp, Floyd will be the lone guy who fully understands what is going on.
While the lack of depth at the position is an issue in itself, it also bolsters Floyd up to the leader of the group.
Much of our sentiment about who the No. 1 player is or even who the go-to guy on the team is has to do with our perception of their ability in relation to those around him. Ryan Mathews had nearly double the amount of runs and yards as Mike Tolbert, but many would make the argument he is the leader of the backfield.
This has to do with everything from seniority to personality, where Tolbert is clearly stronger in both.
Though Meachem could likely have the better stats than Floyd, the latter will be the one that the media gravitate toward for responses and the fans relate to as lifelong Charger. This kind of presence alone will make him seemingly shine brighter than he ever did before.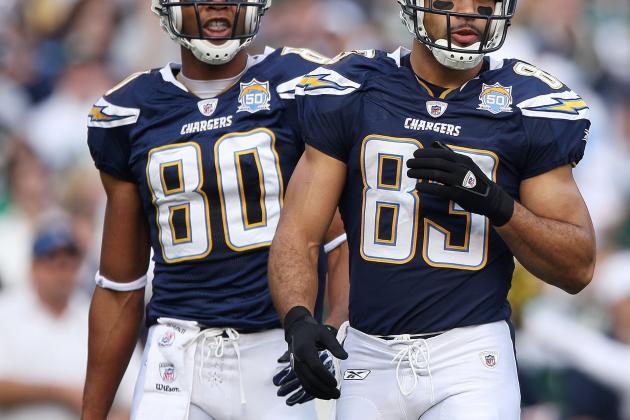 Donald Miralle/Getty Images

The Chargers are going to look to have a much better season in 2012. Last year was an epic failure on all levels as they failed to qualify for the playoffs for the second straight year.
Pundits will look at the loss of their top playmaker as further evidence of San Diego's decline. Those who once regularly picked the Chargers to represent the AFC in the Super Bowl will begin to shy away, seeing a big hole where Jackson once stood.
However, they are not taking into account they fact that Floyd will rise to the occasion.
The question is do you think he will? If so, is it for the reasons I stated or are there others? Do you think the loss of Jackson will be too much to overcome?
As always, please leave your comments below, and thanks for reading!
Follow me on Twitter @thecriterionman.