Toronto Blue Jays: 5 Signs Team Is Ready to Take the AL East by Force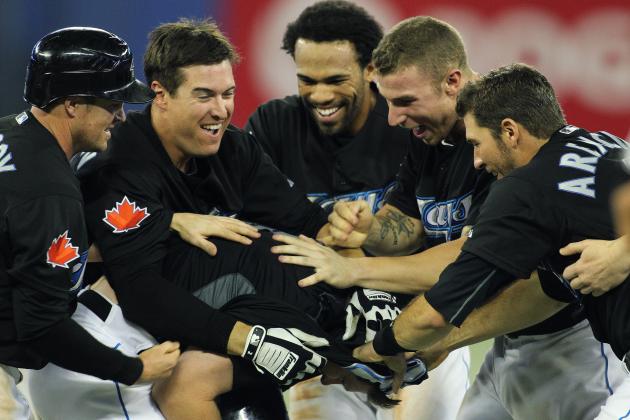 Claus Andersen/Getty Images

The Toronto Blue Jays have had it tough for the past 20 years.
Playing in the American League East is difficult, especially when you have the New York Yankees and the Boston Red Sox in the same division. Even the Tampa Bay Rays have done well in recent years.
But now it's Toronto's turn.
With the creation of a second Wild Card starting this upcoming season, the Blue Jays have a chance to capitalize.
In addition, the rest of the AL East will be in a decline.
Sure, the Yankees will always be the Yankees. But the Red Sox could suffer in 2012.
With a new manager and questions at pitching, it could be a rebuilding year in Boston. Tampa Bay, with its small payroll and inability to keep their stars long-term, can't do well forever. And Baltimore...well, it's Baltimore, and Peter Angelos is still the owner of that organization.
The Blue Jays are ready to take the AL East by force. Here are five reasons why Toronto is ready to see some postseason action in 2012 and beyond.
Begin Slideshow

»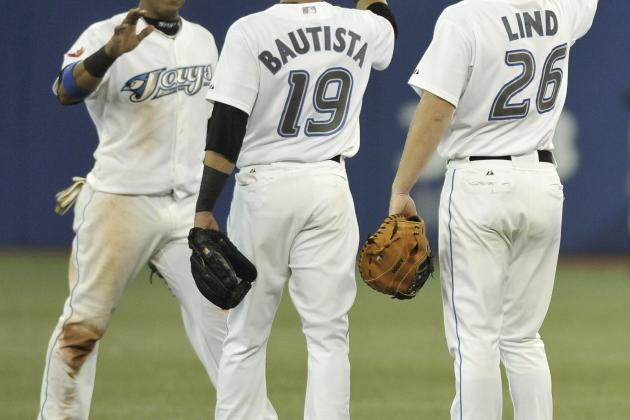 Brad White/Getty Images

To compete in the AL East and the American League in general, you need offensive production throughout your lineup. You need guys that drive in plenty of runs.
The New York Yankees currently have Curtis Granderson, Robinson Cano, Mark Teixeira, Alex Rodriguez and Nick Swisher.
The Boston Red Sox have Adrian Gonzalez, David Ortiz, Jacoby Ellsbury, Dustin Pedroia and Kevin Youkilis.
The Tampa Bay Rays have Evan Longoria, B.J. Upton, Ben Zobrist and the return of Carlos Pena.
But the Blue Jays have guys that can drive in runs, as well.
Players such as Adam Lind, Edwin Encarnacion, Colby Rasums and J.P. Arencibia will be counted on to deliver the power in the lineup.
However, their most important offensive weapon is of course...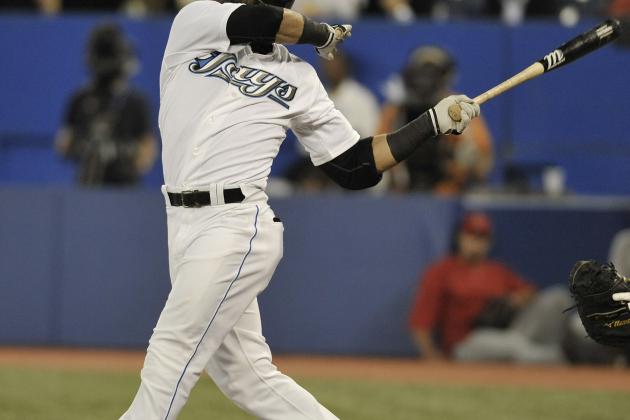 Brad White/Getty Images

Jose Bautista is the most important player on this team.
He's the two-time reigning home run champ, and even though he didn't hit 54 home runs like he did in 2010, last season may have been the best in his career.
He posted a batting average over .300 for the first time, and his on-base percentage jumped by nearly 70 points from the season before. He also led the American League in walks (132) and intentional walks (24).
In addition, he has defensive versatility. He's able to play third base and right field, which allows manager John Farrell to be creative when writing in the lineups each game.
If he can duplicate the success he's had the last two seasons, and the rest of the Blue Jays' lineup can get on base, this team can win plenty of games.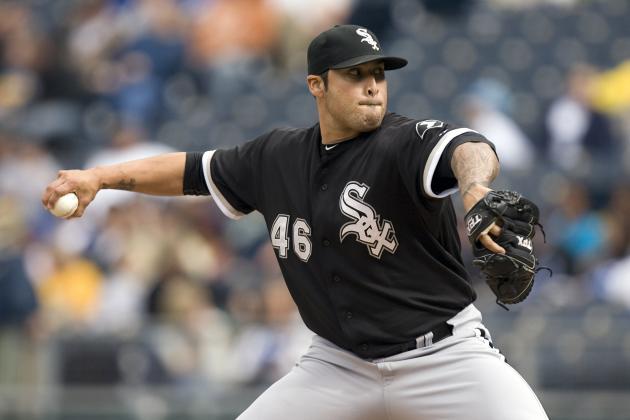 Ed Zurga/Getty Images

Last year, the bullpen was the Blue Jays' biggest problem.
In the offseason, General Manager Alex Anthopoulos managed to fix that problem. He signed relievers Darren Oliver, Francisco Cordero and Nelson Figueroa to deals.
However, one of the biggest deals was trading for Chicago White Sox closer Sergio Santos.
Despite playing on a 79-83 White Sox team last year, Santos recorded 30 saves in 36 opportunities.
With Santos on board, they not only have an effective closer, but at 29 years old, he is capable of pitching for this organization for several years.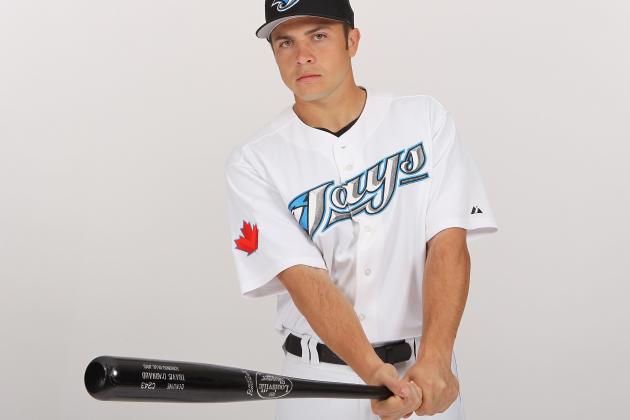 Nick Laham/Getty Images
Travis d'Arnaud
Toronto has several guys that look ready to make an impact for this organization at the major-league level in 2012.
First is outfielder Moises Sierra. This kid has plenty of power to showcase.
In Double-A New Hampshire last year, he had 18 home runs and 67 RBI. He also showed his speed by stealing 16 bases.
Not only does he have power in his bat, he has it with his arm too. He recorded 11 assists in the outfield.
If Colby Rasmus struggles or gets injured, Sierra would be a good replacement. He could help form a very potent outfield, with him in center, Eric Thames in left and Bautista in right.
Second is another outfielder, Anthony Gose. Unlike Sierra, Gose is more of a runner than a slugger.
He had 70 steals in Double-A last year and could be an easy replacement for Rajai Davis (whose contract ends this year, unless the organization takes his 2013 club option).
If he can improve his batting average, Gose could make for a very solid leadoff/No. 2 hitter in the near future.
Third is shortstop Adeiny Hechavarria. While he doesn't deliver the same offensive output as Sierra or Gose, this kid does a great job defensively. He can also provide as a baserunner.
With some mentoring from Omar Vizquel, Hechavarria could develop into something big.
Already in spring training he's done well. In seven games, he has a.353 batting average and a home run to his credit.
Finally, there's catcher Travis d'Arnaud. As one of the players involved in the Roy Halladay trade in 2009, he's developed very nicely.
He's much better defensively than J.P. Arencibia, which gives me reason to believe that he'll be called up sometime this year and Arencibia will be moved to first base (which, in turn, would either make Adam Lind play left, or more likely, become the designated hitter).
However, he's also been able to show what he can do with his bat. In Double-A last year, he had 21 home runs, 78 RBI and a .311 batting average.
If all of these guys can perform, and you mix them up with the talents of players such as Bautista, Arencibia and Lind, we're looking at an offensively potent team for years to come.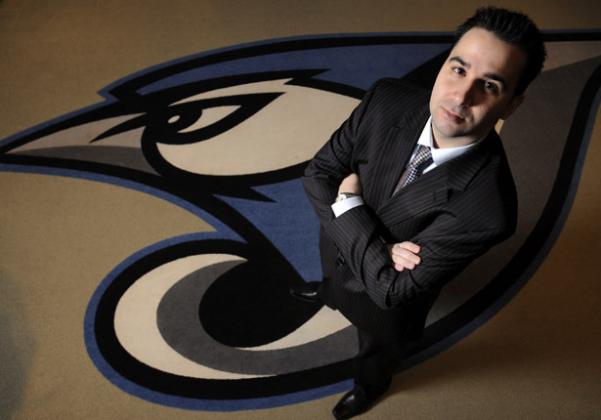 Alex Anthopoulos may be one of the smartest general managers in baseball right now.
Though he's only been the GM for two full seasons, he's already made quite an impact.
He was able to trade Halladay to the Philadelphia Phillies rather than just letting him go in free agency, getting Kyle Drabek and Travis d'Arnaud in return.
He traded Brandon League to the Seattle Mariners for Brandon Morrow, who is now their No. 2 starting pitcher.
He acquired Yunel Escobar from the Atlanta Braves, and he has done a solid job at the top of the lineup.
This offseason, he's fixed the bullpen and traded for a great closer in Sergio Santos from the Chicago White Sox.
He's stocked plenty of supplemental draft picks; most notably, he picked up Miguel Olivo, a Type-B free agent, and declined his club option, earning a pick as a result.
He was able to re-sign Bautista
However, the biggest thing Anthopoulos has done thus far is get rid of Vernon Wells' bloated contract, trading him to the Los Angeles Angels. Not only did he get Mike Napoli (who he later traded to the Texas Rangers) and Juan Rivera, but he also didn't have to eat any of the $36 million remaining on Wells' contract.
Anthopoulos is so young (34), and yet he's such an intelligent individual. Since replacing J.P. Ricciardi (the less we talk about him, the better), he's done so much for this organization and it will be interesting to see what else he will do.