New York Yankees: Predicting the Top 5 Batting Averages of 2012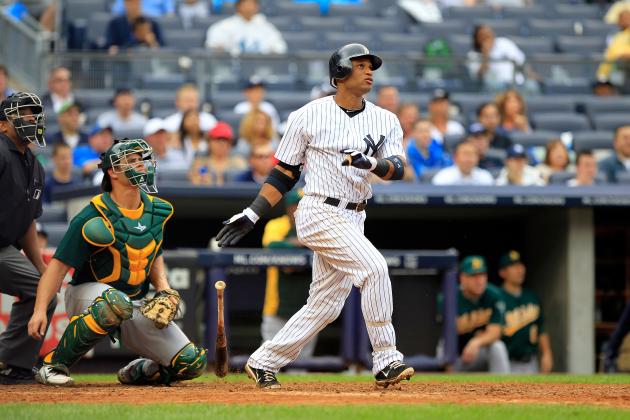 Chris Trotman/Getty Images

The Yankees hit .263 as a team last season, good enough for fifth place in the American League and seventh place in the majors.
Leading the charge was second baseman Robinson Cano, who posted a .302 average. He was the only member of the team to post a batting average above .300. Cano's .302 average was good enough for 12th in the majors.
Second on the team was Derek Jeter at .297. Jeter may have started the season off slowly, but he finished up with a very strong second half.
Curtis Granderson and his .262 average was third on the team in 2011. Granderson posted an all-around spectacular season, with career highs in home runs, runs, RBI and his highest batting average since 2008.
Nick Swisher hit .260 last season, good enough for fourth on the team. He actually regressed significantly from his .288 average in 2010, but his 23 home runs and 85 RBI were an important part of the lineup.
At .259, Brett Gardner rounds out the team's top five batting averages of 2011. After hitting .270 in 2009 and .277 in 2010, Gardner struggled at times in 2011. He will look to improve that number this season.
It's important to note that Alex Rodriguez would have placed third on this list had he recorded the sufficient number of at-bats. Rodriguez' .276 average did not qualify as he only recorded 373 at-bats in 99 games.
The Yankees' top five batting averages will see a bit of a difference between 2011 and 2012.
Begin Slideshow

»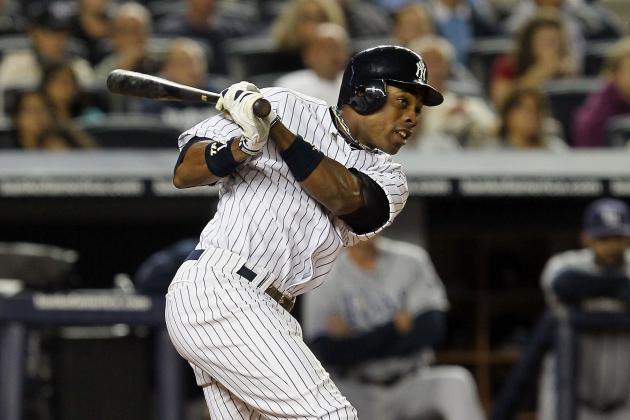 Jim McIsaac/Getty Images

After posting back-to-back seasons of a sub-.250 batting average (.249 and .247), Granderson posted a .262 line in 2011.
Even with the nice increase from 2010 to 2011, Granderson still finished below his career mark of .267.
Granderson has hit .280 or better just two times in his career (.302 in 2007 and .280 in 2008), so we should not expect that from him in 2012.
Given his improvement against left-handers in 2011, it's possible that he could improve even more this season.
Granderson and hitting coach Kevin Long will be hard at work this spring in hopes of improving the only below average statistic in Granderson's 2011 stat sheet.
In 2012, expect his improvements against left-handers to continue. He may not hit 41 home runs again, but his batting average will climb to a much more respectable level.
Granderson will hit .273 in 2012.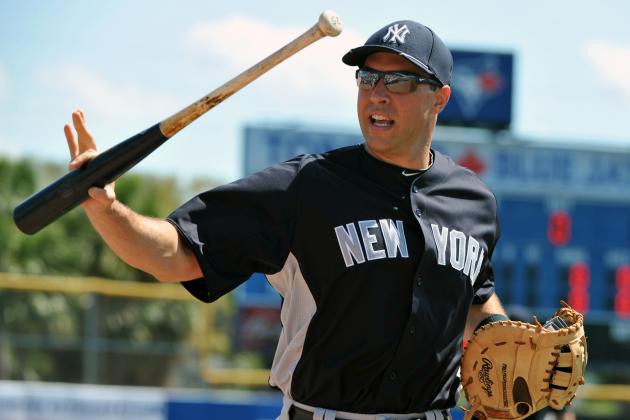 Al Messerschmidt/Getty Images

Teixeira had a tough season at the plate in 2011. Despite hitting 39 home runs, Teixeira hit a measly .248, the lowest mark of his nine-year major league career.
Teams implemented a drastic shift against Tex last season while he was hitting left-handed, which turned many of his harder hit balls into outs.
The reason teams felt comfortable shifting against Tex is because of the fact that he is very pull-happy from the left side of the plate. He routinely rolled over pitches on the outer half of the plate, resulting in weak ground balls to the right side.
In 2012, Teixeira has said that he'll make a much more conscious effort to hit the ball the other way from the left side. He's even gone so far as to say that he may try to bunt a bit more to beat the shift.
The Yankees signed Teixeira to be a big run producer, but after posting a sub-.250 season for the first time in his career, the team needs him to put in the work necessary to make improvements.
He's a very hard-worker and realizes that there's work to be done, so expect Tex's batting average to climb in 2012.
I wouldn't be surprised to see Teixeira hit .281 in 2012.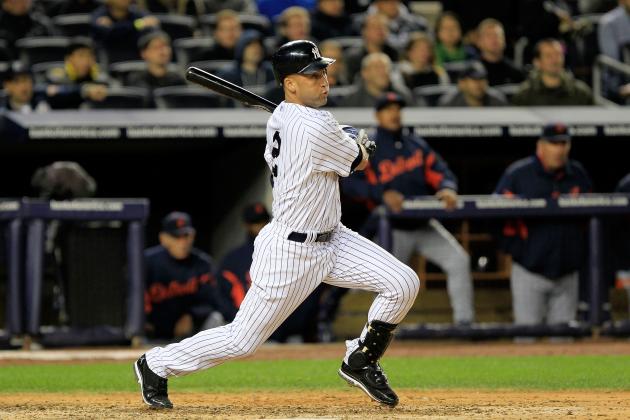 Chris Trotman/Getty Images

After hitting .300 or better for five consecutive seasons, Jeter slumped down to a .270 average in 2010.
He may not have hit .300 in 2011, but he came really close.
At .297, Jeter was still sixteen points under his career average. But he was very successful in silencing many of his preseason doubters.
It's clear that Jeter's skills are on the decline and it's clear that we will probably never see 2009-Jeter ever again. It's not yet time to count out the captain, though.
His power may be gone (just 34 extra base hits in 2011), but his ability to hit will never go away.
Jeter's a smart player. He knows that he can no longer look to drive the gaps and drive in runs. He seemed to adjust to that role after the All-Star break, so there's reason to believe that he will continue the same approach over the full 2012 season.
Jeter's 37-year-old body may no longer be able to take the full 162-game season (plus playoffs), though, so his batting average may see a reverse trend than it did in 2011.
Expect a .300 average prior to the break and around a .280 average after the break. This should put Jeter somewhere around a .289 mark in 2012.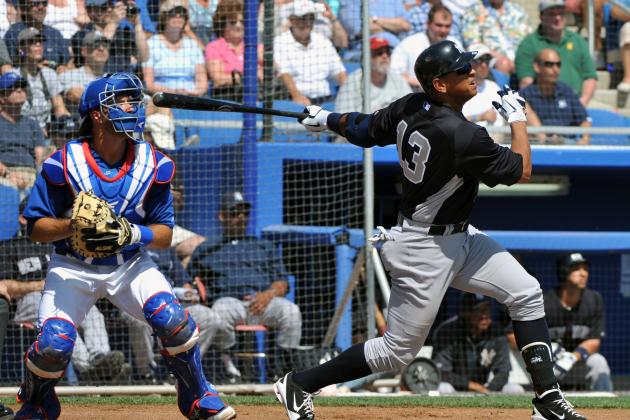 Al Messerschmidt/Getty Images

As I noted earlier, Rodriguez did not receive enough at-bats to qualify for the team's top five averages. That shouldn't be a problem this season, however, as the orthokine therapy that he received during the offseason figures to keep him healthy during the long season.
It worked for Kobe Bryant, so there's no reason to believe that it won't work for Rodriguez as well.
Rodriguez has not hit .300 since 2008 (.302), but many (including myself) believe that he will bounce back well in 2012.
With manager Joe Girardi's plan to rotate many of his older veterans into the DH spot in the lineup (a plan devised mostly for Rodriguez), A-Rod will be able to stay fresh late into the season.
Long gone are the days that Rodriguez will post MVP-type numbers, but expect a solid comeback season for him in 2012.
My earlier predictions have him hitting .285, but don't be surprised if he hits up to .295 next season.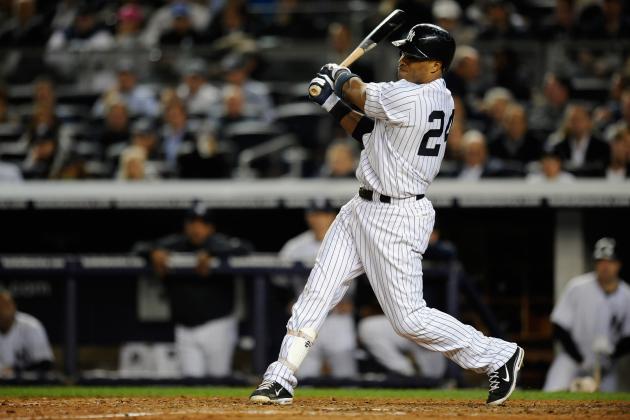 Patrick McDermott/Getty Images

No surprise here.
Cano has become the face of the Yankees lineup and arguably one of the best hitters in the majors today.
It's hard to believe that he had a down year in 2011, as he finished sixth in the AL MVP voting with a line of .302/.349/.533 with 28 home runs and 118 RBI.
He hit a career high .342 in 2006, but he has never come close to that mark again. His closest effort came in 2009 when he hit .320.
Many expect MVP caliber numbers from Cano in 2012 and the team may need him to perform as such if they hope to reach the World Series. In a much improved American League, any improvement by any player makes a huge difference.
I predict that Cano will take home American League MVP honors in 2012, posting a line close to his 2006 mark of .342.
At .335, Cano will lead the Yankees, as well as the American League, in batting average.