March Madness 2012: The Iowa State Cyclones Won't Fold to the Defending Champs
March 13, 2012

It's good to be back. In the just the second year of Fred "The Mayor" Hoiberg's coaching tenure at Iowa State, the Cyclones put together a strong 22-10 season, tying for third in a strong Big 12 and earning their first NCAA tournament berth since 2005.
Congratulations, Iowa State. You get to play the defending champions in the first round before facing No. 1 overall Kentucky, in Kentucky.
But, contrary to the prevailing opinions of writers on this topic, I'm confident that the Cyclones will refuse to show up to March Madness just to be sent away in the Round of 64.
As soon as the South region was revealed on Selection Sunday, the sportscasters on ESPN spoke with the conventional wisdom regarding the matchup between Iowa State and Connecticut, all but bypassing the Cyclones to speak of the way the Huskies would play against Kentucky in the Round of 32.
This general sentiment has been greatly echoed by sportswriters everywhere who cite UConn's size, toughness and experience as reasons why they should breeze pass Hoiberg's squad.
Sure, the tournament is a blank slate, and everyone's starting even, but the choice to pick Connecticut as an easy win ignores the entire 2011-12 season, and it focuses far too much on the way that team played (then with Kemba Walker) in last year's tourney.
The Cyclones have remade themselves since The Mayor took over, with a new emphasis on good shooting from behind the arc. The Cyclones made an average of 8.9 three-pointers a game—eighth in the country—on their way to a 34th in Division I 38 percent from three-point range.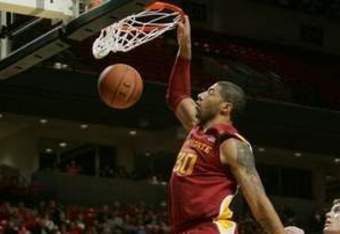 In addition, they hold their opponents (such as high-percentage Missouri and Baylor) to a mere 29.8 percent from behind the three-point line, better than all but 17 teams in Division I. That should be more than enough to secure a barrage of treys against a Connecticut team that makes only 33 percent of their three-point shots, a mere 213th in the country.
The Huskies have other weaknesses. Even with their size, they're only averaging one more rebound per game than the relatively-small Cyclones. They will most likely dominate Iowa State in blocks, but it's unlikely that blocking even twice the shots that the Cyclones can block will help UConn escape from their superior shooting.
Both teams turn the ball over more than they should, but neither of them are real foul magnets, meaning that the Huskies pitiful 67 percent free-throw shooting, and the Cyclones equally dismal 68 percent, may not be a huge difference maker.
Iowa State has another thing going for them: Royce White. Teams struggle to guard him, and he's more than ready to take advantage of even a momentary lapse on the part of the opposing defense. Even his miserable 50 percent free-throw shooting is excusable because unless he gets fouled in the open field, there's a good chance he's going to get the bucket and have a shot at an and-one. Unless the Huskies can get a lot of fouls on him early in the game, he'll be a dominant force throughout.
If Connecticut wants to win this, they're going to have to defend the paint like it's nobody's business. They've been great about that, supplementing their 45 percent shooting with a seventh in the country field goal defense that allows only 39 percent of their opponents' shots in.
If they can hold White off in this area, they can make the game more about the three-point shot for the Cyclones. Of course, even that could backfire, with two of every five three-pointers finding the net for Iowa State.
Iowa State, for its part, really needs to attack the backboard. Right out of the gates, they need to attack the Huskies' vaunted defense and go to the paint and challenge for shots and rebounds. If they can win that battle, it'll be smooth sailing for the Cyclones. Even if they can't quite match UConn there, though, they can definitely follow tournament tradition and choose to live or die by the three—and I have a feeling they'll live.
This is Iowa State's game to lose, even with a relatively inexperienced tournament team. They've got all of the ingredients to prevent last year's champions from dreaming of a repeat, and they could even look to challenge the Wildcats (because if Northern Iowa can upset Kansas, anything is possible).
With all of that in mind, I don't hesitate to predict that the Cyclones will win this matchup, probably by the high single digits. With a bad loss to Texas in the rearview and Kentucky on the horizon, they'll be able to focus on shutting down the Huskies and doing what they've done best this season—proving the doubters wrong.