LeBron James Is Better Than Kobe Bryant Ever Was
March 13, 2012

Harry How/Getty Images
The Los Angeles Lakers may have beaten the Miami Heat in their latest matchup, but LeBron James has eclipsed Kobe Bryant as the league's best game-changer since Michael Jordan…Cue the eye roll in Southern California.  Yes, Bryant is a prolific scorer—no one converts on impossible shots as often—but James plays with an incomparable skill set and employs the kind of leadership Bryant has never embraced.
As with previous years, James' numbers are staggering (27.7 ppg, 8.4 rpg and 6.6 apg), but at 55 percent from the field this season, it's his efficiency that's most impressive.  The only non-center among the top six in NBA shooting percentage, James' feat is particularly impressive considering he's attempted 679 total shots.  Only Kevin Durant (775), Russell Westbrook (747) and Kobe Bryant (934) have hoisted the rock more often. 
And if you think 55 percent is a fluke, think again.  James' trajectory has been remarkably consistent.  He's shot under 47 percent from the field only once (his rookie year) during his career, and boosted his shooting percentage each of the past five seasons.  As for Bryant, he's never reached the 47 percent mark, and at 43 percent from the field this season, he sits firmly in the middle of the NBA pack at 65th.
Perhaps as important, James' statistical achievements have persuaded his teammates to imitate his discriminating shot selection.  Dwyane Wade, Chris Bosh, Mario Chalmers, Mike Miller and Joel Anthony are all thriving on career-best shooting percentages, and the more selective approach has the Heat leading the league in scoring efficiency.  At 45 percent from behind the arc, the improved mindset has been particularly lucrative for Chalmers, who's connecting with greater frequency despite upping his attempts.  The blueprint has been simple.  With James pinching the defense and the Heat briskly moving the ball, there's been more interior looks and open jump shots.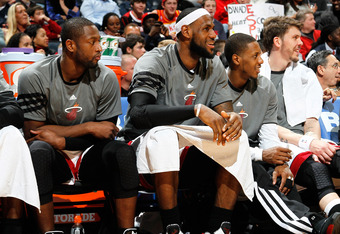 Kevin C. Cox/Getty Images
James has also been the force behind Miami's arresting defense, where his ability to squash opposing teams' fast breaks not only has the NBA hearing footsteps, but South Beach digging the hustle play. In a league where other coaches have struggled to coax defense out of their triggermen—see Mark Jackson with Golden State and Mike D'Antoni in New York—James has led the top-down effort toward accountability.
Take the recent game against the Lakers.  Despite an off night from the field in which the Heat shot just 37 percent, Miami stayed in the fight thanks to its league-best team defense.  As usual, James' rare combination of size and athleticism allowed coach Erik Spoelstra to tweak his lineup without much sacrifice, including a stretch of minutes in which "the King" draped a visibly frustrated Pau Gasol.
I know, I know, but what about the championships?  Kobe has five, and Lebron…big freakin' donut.  I thought about that, but I'm not convinced Bryant is the consummate winner we all think he is.  There's no doubt that Bryant propelled the Lakers to back-to-back titles from 2009-10, but it's equally unequivocal that Bryant's (and Shaq's) immaturity squelched what should have been a lengthy dynasty.  Four years of being "the man" following Shaq's departure brought zero championships and the return of Bryant's grumbling—an especially inane reaction given his role in the team's reshuffling.
And if you believe Bryant's responsible for the Lakers' 2000-2002 three-peat, you probably also think that Luke Walton is worth every penny of his $30 million contract.  Fact is, Shaq won those championships.  That's not to say that Kobe wasn't an integral part, he was, but in the same manner that Scottie Pippen was integral to Chicago's run.  Was Pippen an All-Star, even a Hall of Famer?  Absolutely, but those were Michael's teams.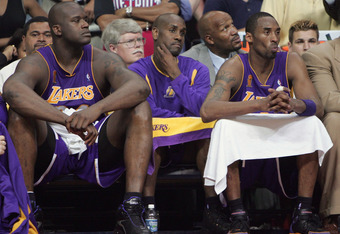 Jed Jacobsohn/Getty Images
Now, don't go twisting my words into thinking I'm arguing Bryant is no better than Pippen.  That's not it at all.  I'm saying that from 1999-2003 Shaq was posting freakish numbers and collapsing defenses to the benefit of all, not least of whom was Kobe.  Opposing defenses swarmed the paint, employed "hack-a-Shaq" and ceded open looks to his teammates in an effort to contain "Diesel's" damage.  In spite of the incessant clawing, Shaq still managed to snag all three Finals' MVP honors, averaging 30 ppg and 15 rpg during the 2000 and 2001 playoffs, before tapering off a bit in 2002 with 28.5 ppg and 12.6 rpg.  He was, quite simply, unstoppable.
Drop the three-peat, and Bryant's 30 years old by the time his team wins its first championship?
The purpose of all this isn't to discount Kobe's accomplishments, but to suggest that using Bryant as a measuring stick might be a mistake.  At 27 years old and despite whatever animus still lingers from "The Decision," James possesses a skill set unlike any player in NBA history.  Whereas Bryant benefited from playing his early years with a once-in-a-generation player in Shaquille O'Neal, LeBron James is that player. 
So why is James subject to so much second-guessing while Bryant remains immune to such criticism?  Is it because Bryant performs better in the postseason?  The numbers suggest otherwise.  At 28.0 ppg, 8.4 rpg and 7.0 apg on 46 percent shooting, James trumps Bryant's playoff averages of 25 ppg, 5.0 rpg and 5.0 apg on 45 percent from the field.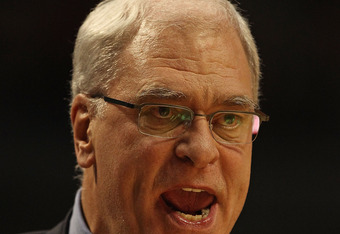 Jonathan Daniel/Getty Images
Is it because Kobe's the better closer?  Maybe, but I'm not convinced Bryant's "hero moments" haven't hurt the Lakers in the long run.  The isolation sets that have yielded so much glory for him in the past pose a real challenge to the team concept.  Phil Jackson knew this as much as anyone, frequently expressing to those within the Lakers organization his concern with Kobe scrapping diagrammed plays in favor of calling his own number.  A recent loss to the 76ers saw Bryant fire, and miss, the Lakers' final eight shots.  Think that's not going to rankle a few teammates?
Yeah, I know, but the Lakers have played like this for years, even when they were winning championships.  Right?  That's true, the Lakers have flirted with underachievement, but their uninspired play has become too endemic to "flip the switch" as in years past.  Just look at the behavior of what should be an indomitable cast of players.  Andrew Bynum looks like the second coming of Kareem one night, and Sam Bowie the next, while Pau Gasol mopes around like a heart-sick teenager and Metta World Peace appears lost in his own subconscious. 
Juxtapose James' positivity against Bryant's short fuse, and it's easy to see why the Lakers have been prone to complacency.  Bryant remains the same intolerant, distrusting teammate he was when he first entered the league.  With three minutes remaining against the Heat, Bryant took World Peace to task over a lazy screen.  Forget that World Peace was in the midst of the best performance of his turbulent season, or that he's about as stable as a Jenga tower.  How about employing the same heavy hand with Bynum?  Never mind that this is the same guy who clothes-lined J.J. Barea and then stripped off his jersey in frustration during last spring's playoffs.  But hey, mistakes need to be called out, right?
I'd disagree.  The formula only works while you're winning, and the Lakers have been more manic in recent years than consistently good.  Michael Jordan may have been a demanding tyrant, but six titles in seven years bought him plenty of latitude.  James' leadership might be the more oft criticized, but it's also much steadier.  For as much as we criticize his tendency to defer to teammates, the practice has given Miami an energetic, cohesive squad.  Where Bryant pantomimes frustration with slumping shoulders and eye-rolls, James is the consummate leader, picking up teammates after errant shots and sprinting to cover missed assignments.
With James providing that brand of leadership, expect the kind of dynasty Bryant never realized.