Cleveland Browns Free Agency 2012: Could Browns Pursue RT Eric Winston?
March 13, 2012

Bob Levey/Getty Images
The Cleveland Browns have released veteran right tackle Tony Pashos, leaving a glaring hole on an offensive line that's going to need filling this offseason—and as quickly as possible.
Pashos was released despite playing 12 games in 2011 with a torn ankle tendon which he just had surgically repaired last week. With a nine-month rehabilitation schedule, it was likely that Pashos would have missed the entirety of the 2012 season.
The Browns could have restructured the final year of his contract, worth $3.35 million, but instead decided to release him, saving the team $2 million in cap space as a result. However, with Pashos out of the lineup (and off the field even if he wasn't cut), the Browns need to find his replacement.
Luckily for the Browns, a top right tackle has hit the free-agent market and could be the perfect addition to the team's leaky offensive line. That would be Eric Winston, who the Houston Texans surprisingly released almost simultaneously with the Browns cutting Pashos.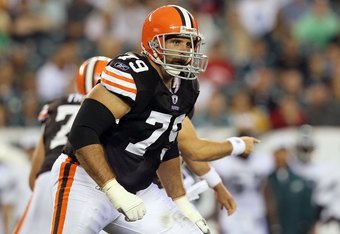 Jim McIsaac/Getty Images
Part of the reason the Texans were so successful offensively last season despite the injuries that befell running back Arian Foster, quarterback Matt Schaub and wide receiver Andre Johnson had to do with the impressive performance of their offensive line, on which Winston was a major player.
Regardless of why the Texans decided to chop up one of their most effective units, it now provides a great opportunity for the Browns to significantly upgrade their right tackle position.
Pashos was a veteran, yes, but not terribly effective though his ankle likely contributed to that in 2011. Because of it, he wouldn't likely be starting for the Browns in 2012 regardless.
Cleveland certainly needs help keeping the quarterback protected, whether that's Colt McCoy or someone else this season, and could clearly use some higher-caliber run-blocking—again whether it's Peyton Hillis or another running back carrying the majority of the load.
Winston was set to make $5.5 million in base salary from the Texans this year, and will likely be seeking a 2012 paycheck in the $4-5 million range from a new team.
The Browns certainly have the cap room to afford Winston, and considering their immediate need at right tackle as well as their ongoing search to improve their offensive line, they'd be foolish not to extend him an offer.