WWE Raw Results: Top 10 Moments from Last Night's Show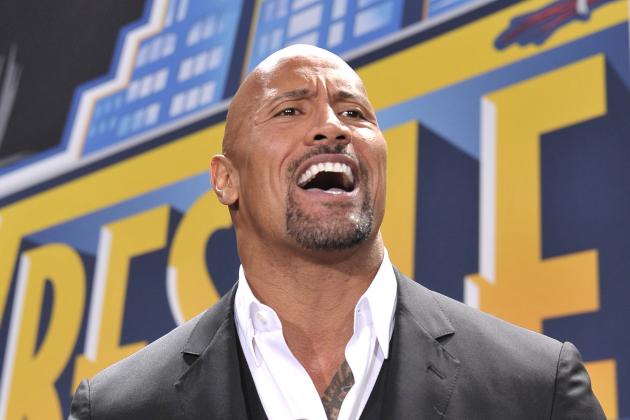 Michael N. Todaro/Getty Images

Last night, WWE put on a very entertaining show. There was not a lot of "filler," and everybody on the show added in a positive way.

On top of that, Cleveland was a very nice live crowd for WWE. If I had to give the Red Brand a grade, I would fall in the B range. With that being said, let's get to the top moments from Raw!
Begin Slideshow

»
What is going on here?

Is Zack Ryder a goofball once again or is Eve Torres playing him...again? This either needs to end or get somewhere interesting quick.

Add in Beth Phoenix still not doing anything at Mania, and you have a very intriguing situation here. Perhaps WWE will dip into the "celebrity bag" with Maria Menounos...

Also, there was no divas match last night on Raw. Disappointing!
Well, I guess Brodus Clay cleaned up his work inside the ring. Yeah, good one! Yet another "report" that way too many fans bought into....

Getting closer to the biggest show of the year, it is nice to have a little funk back on Monday nights. He defeated Jinder Mahal in a matters of seconds, and I enjoyed every moment of it.

Cameron and Naomi were ringside and did a fine job as well.

Here is to hoping he makes it to Teddy Long's team on April 1st, 2012...
Randy Orton defeated Jack Swagger in a fun match.

Their battle was not very long, nor should it have been. Orton is on an entirely different level than Swagger, so the outcome was never in doubt.

Kane tried to "scare" Mr. RKO after the match, which reminded viewers of their impending clash.
Wow, Mark Henry sure is getting "buried" right now, huh? Since being 100 percent, he sure has looked dreadful, right? Chalk up yet another brilliant "report" to get fans to believe without much merit!

Henry and David Otunga destroyed Santino Marella with Mr. Excitement watching on. He purposely put the Cobra at a disadvantage, and it was a nice teaser for WrestleMania.

I can't believe R-Truth and Kofi Kingston were made to look so terrible, but it certainly added to the heel team moving forward. Weren't their some "reports" about a new push for Kofi? Yeah, about that...

Add in a great little plug for Otunga's Twitter, and you have a great night for Johnny Ace's team. If only Otunga would use my nickname for him, "Attorney at Raw!"
For those wondering, the promo video I posted should shed some light on what happened Monday night.

CM Punk defeated The Miz in a short match. With James Roday hosting the night for WWE, he did a fine job as ring announcer.

The Miz continues to look for a role at Mania, and the current WWE Champion continues to look good inside the ring.

After the match, things took a strange turn. Chris Jericho started taunting Punk about alcohol, his father, and their battle at WrestleMania.

I don't think this feud is ready for "personal" interactions yet. That is fine for after Mania. Right now, I wish they stay on deciding who is truly the best in the world.

If needed, save all the extra family drama for a re-match next month...
Sadly, there was no Rosa Mendes last night. I guess her and the tag champs were not needed for Raw.

Alicia Fox, on the other hand, was used perfectly Monday night. She did not have match, but Fox promoted WrestleMania with a major celebrity.

Her and the Bella Twins talked fashion, divas, and even The Rock vs. John Cena. With their biggest show of the year coming up in a few days, why not add a little extra buzz to the event?

Aksana also put on an entertaining show. She did the "Santino" entrance perfectly and looked stunning doing so. Thankfully, Teddy Long saved her before getting in harm's way.
First, I must compliment Vickie Guerrero. Her pink outfit was outstanding, and she looked great Monday night for the WWE Universe.

Also, I have to give props to Daniel Bryan and AJ. They were interviewed during this segment, and both played their parts well. The World Title feud is finally picking up steam.

Onto the actual Sheamus vs. Dolph Ziggler match. It was well done, as WWE gave them plenty of time and each man performed up to their high standard.

As I have said many times, Sheamus needs to continue winning. On Raw, he picked up yet another victory, and it was definitely well earned.
I am giving extra credit to Shawn Michaels this week because he is calling the shots at Wrestle Mania.

With Triple H vs. Undertaker set to take place in a Heck on a Deck match, HBK will be the special guest referee. Thus, he is the one to watch out for.

While I still do not see why Shawn is needed, the promos involved in this feud are becoming better and better each week. Once again, all three played up their history and tried to cast doubt into the Mania match's finish.

Taker is certainly winning, but it will be interesting to see what road the company takes.

Are DX back together? Is Taker really going to "end" Michaels? How will the steel structure play into the entire feud?

Lots of questions still to answer...
This Friday night, Christian will be making his return to Smackdown. Yes, it took almost a full month for him to appear again after Elimination Chamber.

He will be interviewing Mr. Excitement and Mr. Long in an edition of the "Peep Show." That will surely get him on the Wrestle Mania show. I'd love to see Alberto Del Rio with him.

It sure does make a difference when you have a reason to come back, huh?

Secondly, WWE hyped up John Cena vs. Mark Henry for next week's Raw. These two are both great talents, but I have a major concern here.

Why is John Cena wrestling again before Wrestle Mania XXVIII?

WWE has been very "lucky" that Cena and Rock have stayed healthy all year. I can't even imagine the panic that would occur had one of them been seriously hurt during 2011.

Now just 13 days away from one of the biggest money making matches of all time, WWE is putting Cena in the ring with a 400 pound man fresh off a series of injuries.

Wow. WWE has made it over 300 days without a single road block stopping the Cena/Rock dream match. With less than two weeks before Mania, they are certainly tempting fate...
What an amazing heel turn by John Cena last night! He made fun of The Rock, and the crowd was all over him. Oh wait...my mistake. That didn't happen.

John Cena began the show with a nice rap. He made plenty of insults, and the live audience loved every second of his performance.

For me, the highlight was hearing his old theme music. On top of that, he wore a jersey and was in full on "Thuganomics" mode. Job well done!

The Rock closed Raw with a very entertaining concert. I think the live crowd liked it more than I did, but that probably had a lot to do with the multiple mentions of Cleveland.

In the end, both took a few jabs at one another. That is all that matters. WWE has two more weeks to make this feud intense, and this was simply a break between the face to face confrontations.

Last night was great, with Rock and Cena going at each other. Next week should be even better...

Follow Justin Watry on Twitter!