NCAA Tournament 2012: Connecticut Huskies Scouting Report
March 13, 2012

Jim McIsaac/Getty Images
The Connecticut Huskies had a very up and down season following their national championship last year. Despite playing without Ryan Boatright due to suspension and Jim Calhoun coaching due to illness, UConn received an at-large bid with a 20-13 overall record, 8-10 in the Big East.
This team doesn't have Kemba Walker anymore, but they still have a ton of talent.
Connecticut Huskies Scouting Report
Strengths
Talented
Explosive
Great Post Size
Can Shoot the Three
Solid Length
Good Rebounding
Stay out of Foul Trouble
This UConn team is without their leader from last year, but they are just as talented.
Looking at the top seven players for the Huskies, it's tough to fathom why they struggled so much this season. They have tons of athletic ability and have the ability to shoot lights out when they're hot.
Connecticut's most talented player right now is arguably Andre Drummond. Drummond is a big body inside and is paired with Alex Oriakhi and key bench player Tyler Olander. UConn has the talent to dominate in the paint and go toe-to-toe with any big, including Anthony Davis.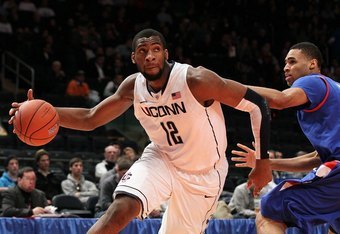 Jim McIsaac/Getty Images
The talent isn't just inside though, as Ryan Boatright, Shabazz Napier and Jeremy Lamb are all very talented guards.
Boatright has superb quickness and when he is in control of the offense, he is the type of distributor the Huskies need to replace Kemba.
Napier is a different type of point guard who is more of a shooter, but isn't lacking in talent.
Jeremy Lamb is one of the best shooting guards in the nation and despite his lanky frame, has shown the ability to play inside and out.
There is no doubt Connecticut has the talent for a deep run, but there is much more to it than that.
Weaknesses
Young
Questionable Shot Selection
Below Average Ball Movement
Defense is Lackadaisical
Follow the Ball Too Much
Soft
Struggle at the End of Half's
Connecticut's youth really shows up on tape.
Something that has marred the Connecticut offense all season has been questionable shot selection. There are multiple times in every game in which the Huskies don't properly move the ball and take a dumb shot. Whether it be a contested jumper or an ill-advised shot early in the possession, it's been a consistent problem.
Since Ryan Boatright has come back from suspension, it hasn't been as big of a problem. However, Boatright doesn't play all 40 minutes and isn't immune to these problems either.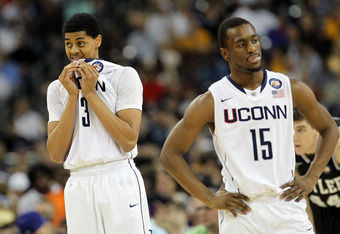 Ronald Martinez/Getty Images
The defense is another huge problem. UConn just doesn't seem to care to defend at times. They follow the ball too often and get caught out of position because of it. The only thing I can chalk it up to is laziness on the defensive end. The poor showings they have at times on defense is inexcusable given their talent level.
Though Andre Drummond has a ton of talent, he is soft for the most part. A player with his kind of tools should be able to dominate constantly. It's a matter of "Jekyll and Hyde" with Drummond. He has played much better lately, but Connecticut needs him at his best if they want to go far in the tournament.
Finally, I've noticed Connecticut seems to struggle at the end of halfs. I believe this is because they don't have great depth, only really playing seven guys. They seem to tire out, take poor shots and not run the offense.
UConn has as much talent as anybody in this tournament, but also as many weaknesses as any team in the field.
Chances of Winning First Game: 75 Percent

As I talked about in the Iowa State scouting report, I just think Connecticut has too much talent to lose their first game. The Cyclones have a chance if the Huskies play sloppy like they've been known to do. I have a hard time seeing a Jim Calhoun being "one and done" though.
UConn has an array of size inside and talented shooters. They should be able to walk away with a good win on Thursday.
Chances of Reaching Final Four: Six Percent

It basically comes down to whether or not they can get past Kentucky. Connecticut is one of the few teams with the talent in the paint to matchup with Kentucky, but let's face it; Drummond is as soft as a pillow compared to Anthony Davis.
Kentucky also has superior length on the perimeter which should disrupt the UConn guards.
Chances of Winning It All: 3.5 Percent

For Connecticut, their national title hopes depend on beating Kentucky. If the Huskies can get by the Wildcats, then their chances rise significantly.
Again, this UConn team isn't short on talent. They just have yet to consistently play up to that talent this season.
This isn't the same team without Kemba Walker. Walker was a dynamite player. Not only was he a special scorer who could create his own shot, but he was a great leader who found ways to get everybody involved, even when he was scoring a ton.
Who on this Connecticut team can put the Huskies on their back like Kemba did? They have plenty of guys who can do it. Somebody needs to step up and take the reins of this team if they want any chance to repeat.