Stanford Football: Freshmen Impress at March 10 Open Practice
March 13, 2012

Stanford football held its second open spring practice on March 10.  Among those in attendance were All-Americans QB Andrew Luck and OT David DeCastro, soon to be playing on Sundays at an NFL stadium near you, along with ESPN football analyst Rod Gilmore, who starred at CB for Stanford during the John Elway era.
David Shaw's Cardinal now turns to final exams (Stanford is one of the few BCS schools on the quarter system, which means the players must take three sets of exams per year) and spring break.
Stanford returns to the practice field on April 2. Meantime, here's some of what we saw on March 10, as Coach Shaw, the 2011 Pac-12 Coach of the Year, led the afternoon practice. 
Kelsey Young
We briefly mentioned 5'10" redshirt freshman Kelsey Young in our players to watch and March 3 practice notes. A 4-star recruit from Norco HS (alma mater of Toby Gerhart), Young is among the fastest Stanford players, with great acceleration and 4.4 speed in the 40.
Young took numerous snaps during the 80-play scrimmage on March 10—not at RB, but rather at WR. He caught a long touchdown pass and displayed decent hands.   
With senior All-Conference RB Stepfan Taylor sure to get 200-plus carries in 2012, Young may well play at WR and at KR, where he'd replace the graduating Chris Owusu. Young looks too fast and too elusive not to be on the field in 2012.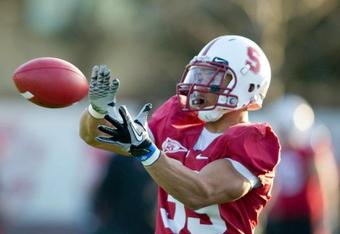 Jordan Richards 
Last week, we highlighted freshman S Jordan Richards as an important up-and-coming DB. 
He saw plenty of action at safety during the March 10 practice, where he turned some heads with a touchdown-saving tackle in chasing down a WR (not Kelsey Young) from behind, after a 50-yard sprint from clear across the field. 
ESPN's Rod Gilmore was duly impressed by Richards' effort, noting to me that, "a DB can save his team at least four points on the scoreboard by making that play. If the defense ends up holding the opponent to just a field goal, the DB's tackle means a four-point difference. If the defense holds on downs or gets a turnover, the DB's play becomes a seven-point difference."
Richards and his teammates vying to earn starting jobs at safety have big shoes to fill, as graduating seniors Delano Howell (first-team All-Conference) and Michael Thomas (Honorable Mention All-Conference) were sure tacklers and vocal leaders on defense.
Wayne Lyons 
Freshman CB Wayne Lyons has also been noted as a defensive player to watch this spring. Blessed with NFL size, speed and athleticism, Lyons has been touted by Coach Shaw as having the potential to contend for the Thorpe Award.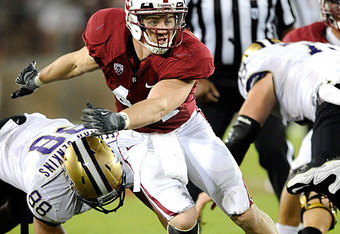 As he had during the March 3 practice, Lyons appeared with the second team defense. Redshirt sophomore Terrence Brown (who had Stanford's only INT in the Fiesta Bowl) and sophomore Barry Browning played on the first team defense.
Lyons made some hard tackles and showed off his closing speed. Expect to see lots more of Lyons during the April practices and during the 2012 season.
Chase Thomas
Redshirt junior OLB Chase Thomas led Stanford's defense in 2011 with 10 sacks and 52 total tackles, including 33 solos and 22 for loss.
For good measure, Thomas added five forced fumbles. His efforts were rewarded with first-team All-American honors by The Sporting News.
Thomas has picked up where he left off, wreaking havoc at times during the March 10 practice, using his athleticism and technique to pressure the Cardinal QBs. He will be a key player on Stanford's 2012 defense, especially if ILB Shayne Skov's knee or DUI issues persist. 
The QBs 
Brett Nottingham and Josh Nunes both saw plenty of action on March 10. Both looked sharp and both threw TD passes to Nottingham's high school teammate, TE Zach Ertz. 
Nottingham and Nunes will likely continue to see plenty of action when practice resumes on April 2. They do have a tough act to follow. No. 12 was pretty darn good.