March Madness 2012 Bracket Predictions: Kentucky Wildcats Will Face Early Exit
March 13, 2012

Chris Graythen/Getty Images
The Kentucky Wildcats are going to be knocked out of the 2012 NCAA tournament in the third round.
For those of you that haven't blacked out from shock, that's about at least two rounds two early in most opinions. Some actually think this Wildcat team is national championship-bound, so my prediction would be extremely early.
Nonetheless, it's what I see happening, and I'm going to stick to it.
For those of you demanding an explanation, here's a few reasons I don't like this Wildcats team.
Brace yourself, Wildcats fans. This one's going to be a bumpy ride.
Lack of Depth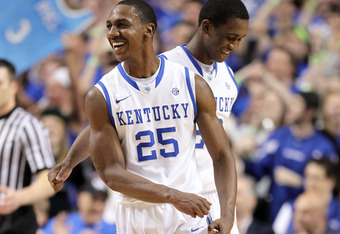 Andy Lyons/Getty Images
You'd think that depth would have a little bit more value in a tournament such as March Madness, where the whole thing is primarily won on attrition and endurance.
I have no doubt that Kentucky is a great team—they're No. 1 for a reason—but I just cannot get past their lack of depth.
Here's what broadcaster Marv Albert has to say about the Wildcats, via an article from Eric Prisbell of the Washington Post:
When venerable broadcaster Marv Albert looks at Kentucky, he said he sees one thing: six future NBA players. But beyond those six standouts, the Wildcats hardly have any other players of consequence. The Gators played fast to fatigue the Wildcats, whose reserves account for just 22.4 percent of Kentucky's team minutes this season, which ranks 317th nationally.
If a team can run you out of the building by simply pushing the ball, that's not going to get you far in this tournament. If Kentucky had a deeper bench that wouldn't be an issue, but that's not the case.
What's the point of having the talent Kentucky has, but not being able to utilize them at full strength?
That's going to be contribute to their downfall. It's not the only thing though.
Matchup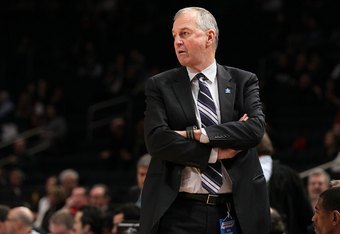 Jim McIsaac/Getty Images
Looming large in the third round of the tournament is a potential matchup with the defending champion UConn Huskies.
They are coached by arguably one of the best in Jim Calhoun, and are led by sophomore Jeremy Lamb and his 17.7 points per game.
They're only a No. 9 seed, but don't be fooled, this team is very good.
They're experienced in both coaching and tournament play, and they present an absolutely horrible matchup for Kentucky in round three.
While other teams are still warming up, Kentucky is going to have to be playing Sweet 16-level basketball.
In the end, this is where Kentucky is going to fall.
Conclusion
For all the talent they possess, this is a Kentucky team that's just not ready for the big stage. In a year or two they're going to be tremendous, but every great team has to go through growing pains.
Consider this a growing experience.