Buffalo Bills Free Agency: 4 Fits for Dave Wannstedt's 4-3 Defense
March 12, 2012

Rick Stewart/Getty Images
The Buffalo Bills' decision to turn the defense over to Dave Wannstedt could be the smartest move they make this offseason. Under Wannstedt, the plan is to shift to more of a 4-3 base, given his expertise in this area.
Free agency provides the ideal opportunity for the Bills to find more suitable scheme fits than are currently on the roster. Defensive end and outside linebacker are positions which must be addressed.
Here are four players who would ease Buffalo's transition to a 4-3 front.
Frostee Rucker, DE, Cincinnati Bengals
Under Bengals defensive coordinator Mike Zimmer, Rucker operated in a similar college-style 4-3 to the one often favored by Wannstedt.
The 6'3" 280-pounder is an effective pass-rusher and collected four quarterback takedowns in a rotational role in 2011. Rucker would give the Bills a solid defensive end who could develop into more under Wannstedt's tutelage.
Mark Anderson, DE, New England Patriots
A trait of Wannstedt's fearsome 4-3 defense with the Dallas Cowboys, Chicago Bears and Miami Dolphins was the use of converted linebackers at defensive end. That makes Mark Anderson an interesting prospect.
The 28-year-old recorded 10 sacks on a suspect Patriots defense in 2011. At 6'4" and 255 pounds, Anderson has the frame and speed to be an effective edge rusher in Wannstedt's schemes.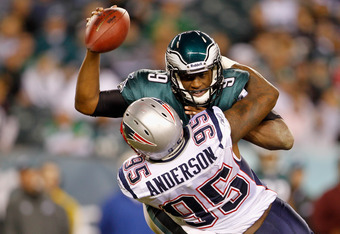 Rich Schultz/Getty Images
He could operate on either side of the formation for the Bills and would certainly benefit from the attention paid to hulking tackle tandem Kyle Williams and Marcell Dareus. Anderson could be counted on to boost a porous Bills pass-rush.
Rocky McIntosh, OLB, Washington Redskins
McIntosh would be a great addition to the Bills defense.
He has struggled to adapt to the Redskins' switch to a 3-4 and seems desperate for a return to his 4-3 roots.
He has the quickness and athleticism Wannstedt likes at outside linebacker. McIntosh is an active, sideline-to-sideline linebacker with some decent blitz skills.
Back in his preferred defense, the six-year pro could surprise a few people and make a lot of plays for the Bills.
Ernie Sims, OLB, Indianapolis Colts
Sims has never matched the heights of his early production with the Detroit Lions in 2006 and 2007, yet he could fit well with what Buffalo is trying to do on defense in 2012.
Wannstedt's best defenses have always been built on speed, particularly at linebacker, where even converted safeties have seen time. Speed is the one thing Sims has plenty of.
The 6'0" 230-pounder is excellent in pursuit and is a sound tackler. He is the kind of fleet-footed linebacker who could help form the basis of the Bills' run defense this season.
Despite recently re-signing Kirk Morrison, Buffalo could use more speed and athleticism at linebacker. McIntosh and Sims offer both these things.