Saints Bounty System, a Trip-Up for the Bountiful: An Insider's Perspective
March 12, 2012

Chris Graythen/Getty Images
As long as sports have been around, athletes have looked for an edge. The latest and most disconcerting example is the revelation that NFL coaches have encouraged or turned a blind eye to the intent to injure another player.
The revelations about the 2010 New Orleans Saints and the bounties placed on knocking out Brett Favre in the NFC Championship game and Kurt Warner the week earlier have far-reaching implications.
One has to now ask:
How widespread is the bounty system?
How many of the other NFL teams have similar practices?
Why didn't anyone step forward? (Did no one say, "This is wrong"?)
How many serious injuries were sustained as a result of the practice? How many careers were shortened?
Have the participants opened themselves up to lawsuits?
This is a difficult and unfortunate set of events that have been exposed.
I had the honor of coaching alongside two NFL Hall of Fame coaches: Chuck Noll and Bud Grant. Neither one of them would have condoned such a system. In fact, Coach Noll was outspoken about the "criminal element" of the 1970s Oakland Raiders, led by Jack "The Assassin" Tatum, who achieved notoriety for paralyzing Patriots receiver Darryl Stingley.
The question is: Why did the bounty system start in the first place? Coaches looked for an edge to get people motivated in a different way. They decided the focus would be big hits. The focus went from big hits to disabling, injuring and knocking out players and rewarding players them for it.
Football is a physical game, but if you want to be paid to knock someone out, you should become a heavyweight fighter.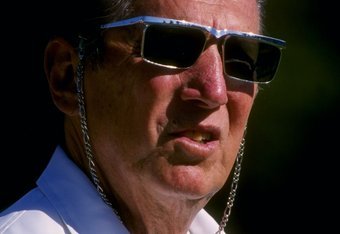 Otto Greule Jr/Getty Images
It might have been more understandable for players in the 1970's or 80's to try to win prizes for big hits; the pay scales were much different back then. But in a league in which many players have multi-million dollar contracts, a $1,000 bonus is chump change.
Was it really about "Show me the money?" Some people argue that it is part of the "look at me" culture in which we live. As a director might ask his actors: What's the motivation?
The coaches who promoted the practice of bounty-hunting have found a way to capture the minds of the players and caused them to behave and focus on other aspects of the game. We live in an instant gratification society; that's why videogames are so popular. A hard hit, even if made against a defenseless player who was either down, out-of-bounds, or in some other way vulnerable, earned an immediate reward and praise.
There was a hierarchy to the payments: $1,000 when an opponent was carted off the field and $1,500 if an opposing player was knocked out of a game. Prize money increased during the playoffs. What made this wrong is that the focus came on disabling players rather than making a clean, hard hit.
The evidence is overwhelming against that Saints and then-defensive coach Gregg Williams, who has issued an apology for his "terrible mistake." Since the revelations, a number of players have acknowledged that the practice was in effect across the league.
It would be naive to assume the Saints are the only team to employ such tactics. In fact, there were rumors that head coaches in previous eras had such bonus systems in place. However, the hits are now more devastating, as players today are bigger, stronger and faster than ever.
All of this comes at a time when the NFL is experiencing unparalleled popularity and high ratings, but it is also a time when the league is facing lawsuits from former players who are suing the league claiming that their long-term disabilities are the result of concussions and other injuries sustained during their playing days.
Fans like to see hard hits. It's a mentality that dates back to the gladiator times. Players like to make big hits, but they have to be done in the framework of the rules and within some enforced code of conduct. It is quite a challenge to balance the inherent violence in the sport with gentlemanly play.
Look for Roger Goodell to handle this swiftly and firmly. We can expect fines, firings, and perhaps player suspensions. The NFL Commissioner, one of the most powerful men in all of sports, has not been shy about enforcing the rules. Look for him to continue to do so.
The NFL Players Association should see this as a wake-up call. If the association is truly looking out for the interest of all its members, including the quarterbacks who are often the targets of bounties, they need to look into this.
Jed Hughes is Vice Chair of Korn/Ferry and the leader of the executive search firm's Global Sports Practice.  Among his high-profile placements are Mark Murphy, CEO of the Green Bay Packers; Larry Scott, Commissioner of the Pac-12 Conference; and Brady Hoke, head coach of the Michigan Wolverines.  Earlier in his career, Mr. Hughes coached for two decades in professional and intercollegiate football where he served under five Hall of Fame coaches: Bo Schembechler (Michigan), Chuck Noll (Pittsburgh Steelers), Bud Grant (Minnesota Vikings), John Ralston (Stanford) and Terry Donahue (UCLA).  Follow him on Facebook, Twitter @jedhughesKF.