NCAA Tournament 2012: 8 Tips to Follow When Filling out Your Bracket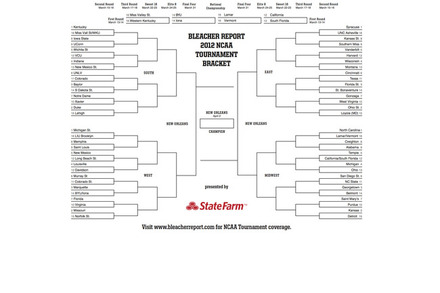 The NCAA tournament is unpredictable. Each year millions of college basketball fans fill out brackets, and more often than not, they end up disastrous by the second week.
There are all kinds of strategies out there to try and make your picks, and with office pools and websites offering prizes for perfect or near-perfect brackets, there are bundles of money to be had if you can strike tournament gold just once.
Though each year is different, we can look at tournament trends and statistics to help us try to make sense of the field and help us find some patterns.
Here are eight trends to pay attention to when making your bracket.
Begin Slideshow

»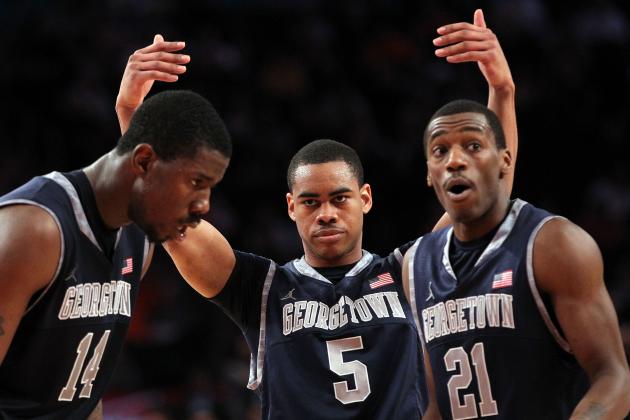 Michael Heiman/Getty Images

This one seems obvious, but the stats back it up. Since 1985, when the tournament expanded to 64 teams, No. 1 seeds are a perfect 108-0.
Kentucky, Syracuse, UNC, Michigan State advance easily.
During this time, No. 2 seeds are 104-4. The last time a No. 15 won a game in the tournament was 2001 when Hampton shocked Iowa State.
Put Missouri, Duke, Ohio State and Kansas through with confidence.
The No. 3 seeds have a tougher time in the Round of 64, but are still 92-16 against No. 14 teams.
Pencil in Baylor, Florida State, Georgetown and Marquette for at least one win.
Eric Francis/Getty Images

Matchups to Watch
No. 11 Texas vs. No. 6 Cincinnati
No. 11 NC State vs. No. 6 San Diego State
The last time all four No. 6 seeds won their opening games was 2004. Their all-time record against No. 11 seeds is 72-36, so you can be confident that at least one will exit early.
Matchups to Watch
No. 12 Long Beach State vs. No. 5 New Mexico
No. 12 VCU vs. No. 5 Wichita State
Everyone knows the deadly five vs. 12 matchup is a prime game to pick an upset, and for good reason. Only three times in the 27 years since the field expanded has there been zero No. 12 winners in the Round of 64.
Matchups to Watch
No. 13 Davidson vs. No. 4 Louisville
No. 13 Ohio vs. No. 4 Michigan
While the No. 13 over No. 4 upset seems like a long shot and rare to some, it's actually not that uncommon. It has happened in nine of the last 11 years, including Morehead State's win over Louisville in 2011.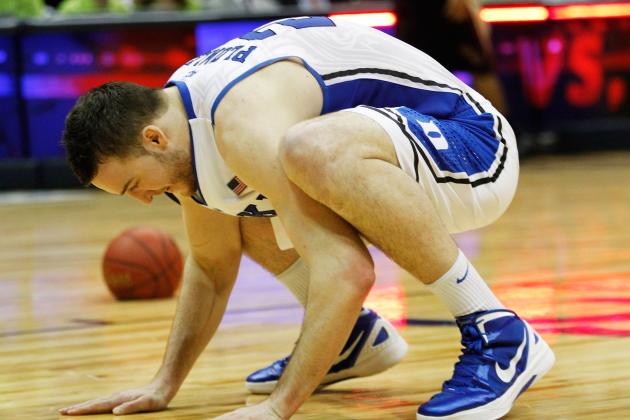 Streeter Lecka/Getty Images

Even though 104 of 108 No. 2 seeds have advanced to the weekend, only 70 of those 104 have made it to the Sweet 16. One out of the four teams is likely to go down in the Round of 32. There are some shaky No. 2 seeds in this tournament, so don't be afraid to can one early.
Matchup to Watch

No. 7 Notre Dame/No. 10 Xavier vs. No. 2 Duke
Duke got the No. 2 seed in the South region, but hasn't played like one of late. They were ousted in the semifinals of the ACC tournament, blown out by UNC at home on March 3 and had to come back from huge deficits to win twice in the past month. They are poised for an early exit if they keep playing like they have been.
Meanwhile, Notre Dame and Xavier are more than capable of making a Sweet 16 run this year. The Fighting Irish finished third in the Big East while Xavier took third in the A-10.
Streeter Lecka/Getty Images

There have been just two occurrences since 1985 where no double-digit seeds made the Sweet 16. In fact, teams with a No. 10 seed or lower have advanced to that point 59 times in 27 years. Last year, there were four such teams in the Round of 16. Marquette, VCU, Florida State and Richmond all won at least two games.
Teams to Watch
No. 10 Xavier
If they can get past No. 7 Notre Dame in their opening game, they have a nice matchup against a troubled No. 2 seed in Duke. Xavier won their only game when facing a Top 25 team this year, taking down then-No. 19 Vanderbilt on November 28.
No. 11 NC State
NC State nearly found themselves playing for the ACC Tournament title Sunday, but instead lost a heart-breaker to UNC 69-67 in the semis. The team gets a favorable contest against No. 6 San Diego State which could lead to a possible Round of 32 game with No. 3 Georgetown.
No. 11 Texas
Though the Longhorns were just 9-9 in the Big 12, they had to face Baylor, Kansas and Missouri twice each, resulting in six losses. Their losses at home against these top teams were all by five points or less, so Texas can hang with the best of them. They get a close matchup with Cincinnati to start off, and will likely need to get through Florida State to land a spot in the Sweet 16.
No. 12 Long Beach State
Long Beach State is an exciting Cinderella pick for 2012. They hung with Kansas and UNC when they played them on the road in early December and beat Xavier by 10 on December 22. They face New Mexico in the Round of 64 and could meet Louisville with a win—both are intriguing contests that could be winnable for the 49ers.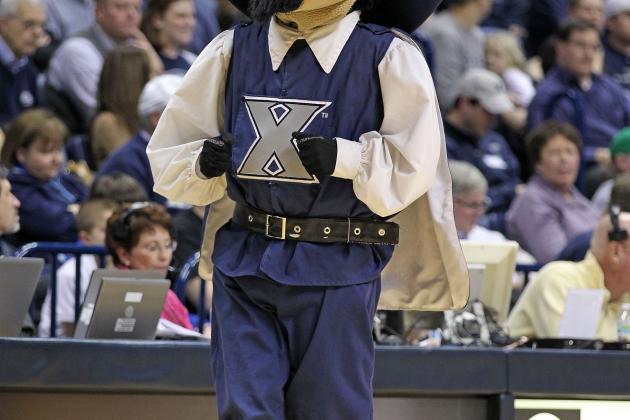 Andy Lyons/Getty Images

Butler and VCU both made the Elite Eight last season, and both were seeded No. 7 or lower. There have been 27 such teams that have advanced that far in the last 27 years. Out of these 27 teams, 13 of them were either No. 7 or No. 10 seeds, playing into the trend that nearly one-third of No. 2 seeds exit in the second round.
Teams to Watch

No. 7 Notre Dame
Notre Dame, like Xavier, can advance to face Duke with an opening round victory. They also gave Syracuse their only loss of the regular season, so we know they can play with the best college basketball has to offer.
No. 8 Memphis
The Tigers will be an interesting team to watch in the tournament. The Conference-USA champions take on Saint Louis in an eight vs. nine game on Friday. A win could set up a game with Michigan State who is coming off a Big Ten tournament championship, but look far from unbeatable.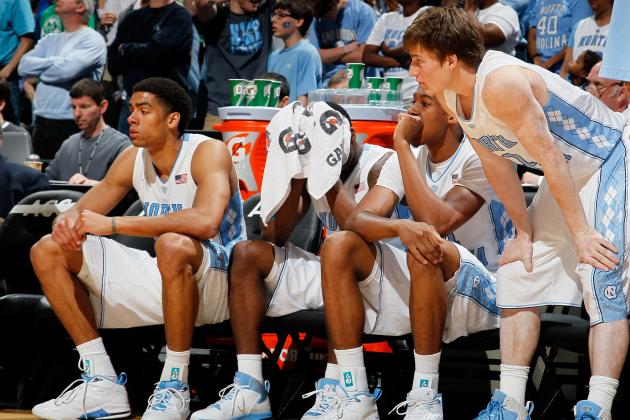 Kevin C. Cox/Getty Images

You may want to put three No. 1 seeds in the Final Four without even thinking about it, but before you do, listen to what the stats say. There have been only four times in the last 27 years where three or more No. 1 seeds have made the Final Four in the same year. On the flip side, there have been zero No. 1 seeds twice in that same span. You're better off going with two top seeds and stopping there.
There have been 108 Final Four teams since 1985, and 92 of them have been seeded no lower than No. 4. For those who love the No. 12 seeds, there has never been such a team in the Final Four.
No. 1 Seeds: Kentucky, Michigan State, Syracuse, UNC .
No. 2 Seeds: Duke, Missouri, Ohio State, Kansas.
No. 3 Seeds: Baylor, Marquette, Florida State, Georgetown.
No. 4 Seeds: Indiana, Louisville, Wisconsin, Michigan.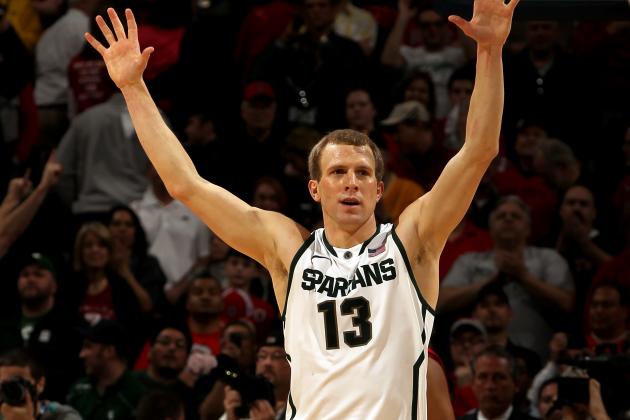 Jonathan Daniel/Getty Images

This one is another seemingly obvious one. Since seeding began in 1979, 18 of the 33 winners of the NCAA tournament have been No. 1 seeds. Only four of them have been lower than a No. 3, one No. 4 seed, two No. 6 seeds and one No. 8 seed.
Favorites: Kentucky, Michigan State, Syracuse, UNC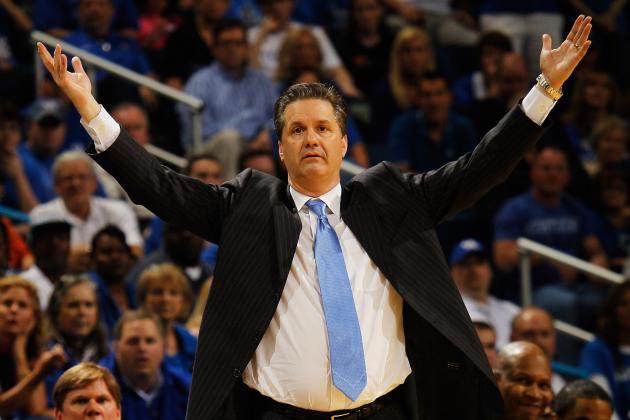 Chris Graythen/Getty Images

Surprisingly, the top seed in each of the last eight tournaments have a combined three Final Four appearances and just one national title. This is not good news for John Calipari and Kentucky. Maybe it's just a coincidence, or maybe it's the fact that everyone is gunning for the No. 1, but the stats don't lie.
Your winner should be: Michigan State, UNC or Syracuse