Washington Redskins: RG3, LaRon Landry and London Fletcher... a Team Sport?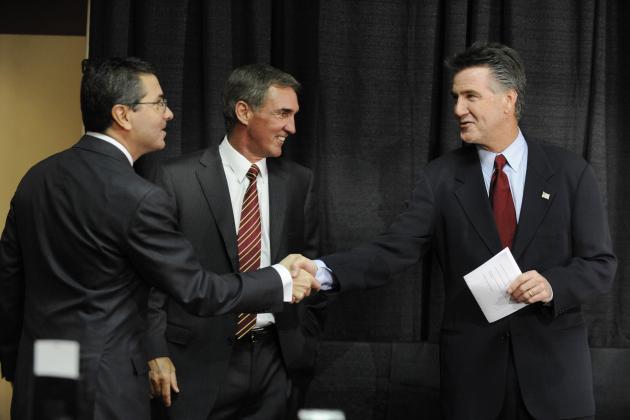 Mitchell Layton/Getty Images

This weekend started the inevitable Washington Redskins offseason championship talk. Making one of the largest moves in NFL Draft history, the Redskins traded away a second-round pick this year, and two future first rounders in order to swap spaces with the St. Louis Rams. Obviously, the Washington Redskins are going after Robert Griffin III.
This move won't be finalized until Tuesday, but you can be sure it will be talked about ad nauseam for the next few months.
Overlooked, however, in all the hoopla is that the Redskins are parting ways with safety LaRon Landry, and have yet to ink a deal with linebacker London Fletcher. These two issues are as significant in their own way as the blockbuster trade made over the weekend.
UPDATE: The Washington Redskins may be looking at a tremendously reduced cap space due to the recently announced "punishment" levied by the NFL for front loading contracts during the year without a salary cap. Regardless of the fact that the Redskins did not actually break any rules, the reality is that they face a 36 million dollar cut to their cap to be levied over two seasons.
Lets take a look at the ramifications of the current situation.
Begin Slideshow

»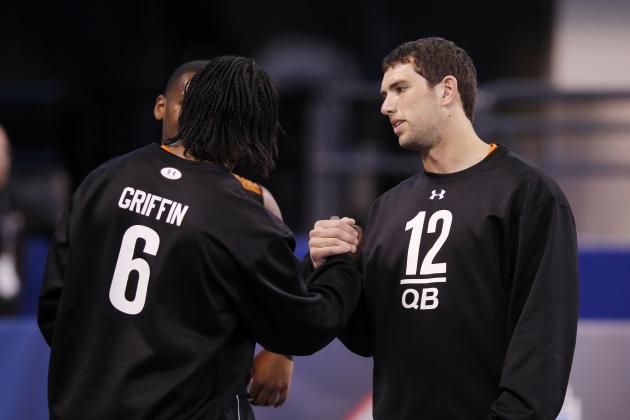 Joe Robbins/Getty Images

By trading up into the second pick of the 2012 draft, the Washington Redskins have guaranteed that they will have their franchise quarterback in place for the season. I figure it's a 90 percent certainty that the next Washington QB is Robert Griffin III.
I give Andrew Luck a 10 percent chance on being here. I can't go with a definite because all bets are off when it comes to the 2012 Colts – holders of this years first pick.
Conventional wisdom has Luck going first, but what can anyone say about a Colts team that has fired their coaches, let the greatest QB in history walk as a free agent, and has already released guards, receivers, a running-back and a defender or two since the end of last season?
Anything we say about Indianapolis is just guesswork at this point.
The good news is that either quarterback will be a superior addition to the team. Both should have a long and prosperous NFL career.
The talk now is all about surrounding him with weapons and protection. Names like Carl Nicks, Vincent Jackson and Mario Manningham have been thrown around with great force this weekend. Fred Davis is set at tight end whether he signs a long term deal or not, since he has been franchised, but the receiver corps are wide open to cuts, trades and shuffling.
But the Redskins have a lot more to fix than just their receivers and offensive line. It will be a tight juggle to fill as many holes as possible for this team. They only sacrificed one pick this year, but it was a second rounder – perfect for a receiver or a safety – two desperate needs.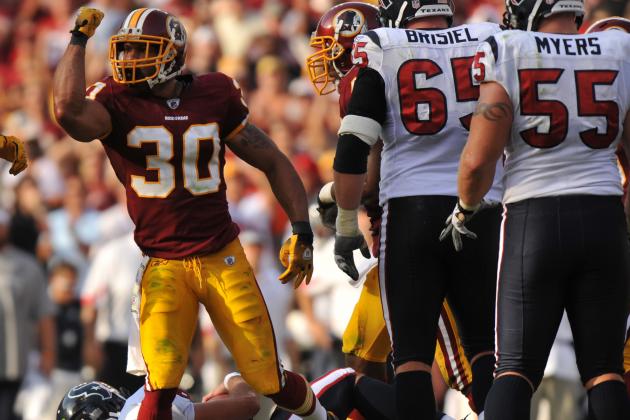 Larry French/Getty Images

LaRon Landry was supposed to be our franchise safety. He was supposed to step in and bring a fierceness to our defense that was lost with the tragic death of Sean Taylor. Instead he has ignored medical advice for two years and missed almost as many games as he's played in.
Reports are surfacing that the Redskins are not going to pursue him in FA this season. What does that leave us with?
Well, it leaves us with a free safety in Atogwe who was also injured all season. In fact he was so injured that our back up rookie Strong Safety, Dejon Gomes, wound up taking the starting Free Safety position from him. Now Dejon will have to replace Landry and step into his more natural position of SS, leaving exactly one player as depth, Reed Doughty.
UPDATE: Atogwe has been released by the Redskins as of Monday afternoon.
Doughty is a very good back up, but this is terrifyingly thin depth for such an important position. The Redskins now find themselves with only Gomes and Doughty with a corner as back up.
Add to this a tremendously thin draft class at safety and you essentially MUST grab one of the three worthwhile free agents at the position; Jordan Babineaux, Reggie Nelson or Jim Leonhard.
What this means is that Washington may have to take a pass on grabbing a tremendously talented corner such as Brandon Carr, though we need depth there as well.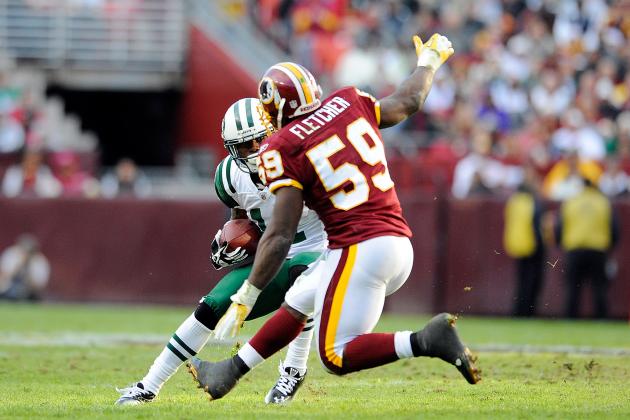 Patrick McDermott/Getty Images

London Fletcher. The best linebacker in the NFL last year with the most tackles of anyone on the team or anyone else in his position, remains unsigned.
How is this possible? Most likely it's because Fletcher is nearing the end of his career and wants the market to set his worth. Hopefully, the Redskins will match or beat any other offer, and London will finish his career in the Burgundy and Gold.
His value to the team is unquestionable. He is a future Hall of Famer. He's a team captain, a veteran and a leader. He is also 36 and may be looking for a Superbowl ring before he retires. If Fletcher wants to leave, he will, and the Redskins will suddenly find that their entire defensive identity has left the building.
His return is essential for the Washington Defense. The front office really needs to do whatever it takes to keep him a Redskin, but they also need to look at a late draft pick, or even a young free agent to groom as his successor.
The problem with going after a Free Agent in the current situation is that it could leave us short somewhere else more important.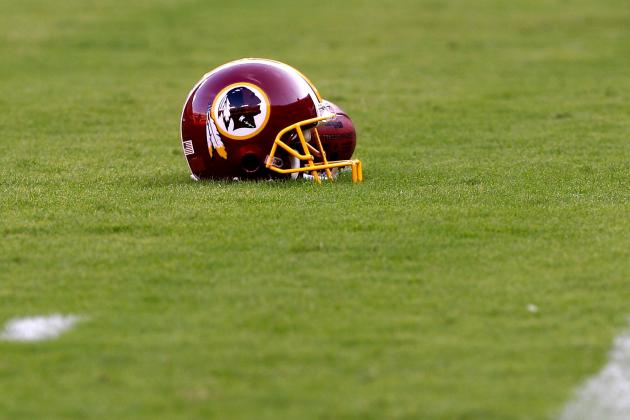 Rob Carr/Getty Images

Keeping all this in mind, the Redskins will have to seriously look at free agent safeties and receivers before any other positions, and until they sign Fletcher, they need to pursue an inside linebacker as well.
If Fletcher signs, then they can look to rounds six or seven of the draft for the ILB project. That would free them up to sign a tackle in FA as well, but by then it might be too late and the best lineman will already be gone.
The talk of Guard Carl Nicks should be left at talk. I love the guy and would kill to see him in Burgundy and Gold, but Tackle is where we're weak, guard and center have good depth thanks to the tendered contracts of Lichtensteiger and Montgomery.
The Goodell approved 36 million dollar fine would also certainly indicate that chasing a corner like Brandon Carr or other big name is out of the question. Washington has potentially lost a lot of cap space.
Guards are plentiful in this draft and they all look good, so depth at the line is possible through the draft this year if we can grab a good tackle in round four and a guard in round five. However, offensive line needs an immediate upgrade at right tackle, and that can really only be addressed through free agency this year.
The main thing is to hope that while the fans and pundits are going crazy over the blockbuster trade to land the franchise quarterback and the slightly infuriating fines, the front office remembers that football is a team sport and that other positions need to be filled this off-season, not next year.
Besides the obvious re-signings of key free agents already on the team such as Fletcher, the free agent signings of a number one receiver, a safety and a tackle would be optimal for the Washington Redskins. Anything left over...nevermind.