NBA: 4-Way Trade That Should Happen Between Lakers, Bulls, Kings and Blazers
March 12, 2012

Ezra Shaw/Getty Images
Lakers get PG Raymond Felton ($7.6M - one year) from Trail Blazers.
Bulls get SG Jamal Crawford ($5M - two years) from Trail Blazers and PG Isaiah Thomas ($475K - three years) from Kings.
Trail Blazers get PG C.J. Watson ($3.4M - two years) from Bulls and PF J.J. Hickson ($2.4M - one year) and SF Donte Greene ($1.7M - one year) from Kings.
Kings get SF Gerald Wallace ($9.5M - two years) from Trail Blazers and PG John Lucas ($915K - one year) and 2012 first-round pick from Bulls.
Why it Works:
The Los Angeles Lakers use the Lamar Odom trade exception to rent Raymond Felton for the remainder of the season. If Felton plays well during the rest of the year then L.A. could amnesty Meta World Peace at the end of the season to clear cap space to resign Felton to a contract extension. Simply put, the Lakers are in need of a point guard and this four-team trade allows them to do so by only using their trade exception and not giving up Pau Gasol or Andrew Bynum.
The Chicago Bulls acquire the instant offense of Jamal Crawford and address their biggest need of a scorer who can create his own shot and help take pressure of Derrick Rose in the playoffs. Chicago does this by sending C.J. Watson to the Blazers who are in need of a point guard after are moving Felton to the Lakers. Chicago then sends John Lucas and its 2012 first-round pick to Kings to obtain Isaiah Thomas. Thomas, who has been playing very well as of late, would replace Watson as Rose's primary backup for the remainder of the year and for 2 more seasons while playing on a rookie-scale contract.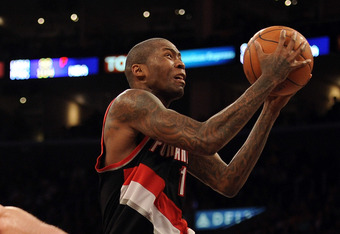 Harry How/Getty Images
The Portland Trail Blazers replace the departing Felton with C.J. Watson. This move saves the team over $4M and gives them one full year to see how well Watson meshes with Portland's core of LaMarcus Aldridge, Wesley Matthews and Nicolas Batum after this year to decide whether to extend his contract. The Blazers also shed salary by moving Gerald Wallace and Jamal Crawford for the expiring contacts of J.J. Hickson and Donte Greene. The money saved through moving Wallace and Crawford gives Portland more flexibility to resign Batum at the end of the year. Those cap saving moves also open up more playing time for Matthews at shooting guard and Batum at small forward.
The Sacramento Kings manage to move the expiring contracts of Hickson and Greene along with undrafted Thomas to acquire former All-Star Gerald Wallace and Chicago's 2012 first-round pick. Wallace would add a defensive toughness needed in Sacramento and his hard work would help form a solid foundation for the Kings to build upon when installing a new locker room culture of winning. Wallace could also help mentor and teach the talented and less focused duo of DeMarcus Cousins and Tyreke Evans how to be true professionals. Through this trade, the Kings also find a way back into the first-round of the 2012 draft after sending their pick to the Cavilers to dump Baron Davis.
Overall, this four-way trade would be a win-win-win-win.