Denver Broncos: What the Acquisition of Peyton Manning Would Mean for Tim Tebow
March 11, 2012

Jim Rogash/Getty Images
As of late, the Broncos have notoriously been rising up the Peyton Manning power rankings, as they are now a top-three option for No. 18.
Peyton visited Denver on Friday for an extensive six-hour meeting with John Fox, John Elway and other Bronco officials. 
One of the NFL's greatest quarterbacks to ever play the game just visited the Cardinals and will likely visit the Dolphins very soon.  
However, an ESPN report is saying that Manning is favoring the Broncos along with the Cardinals. If Manning decides to sign with Denver, fellow quarterback Tim Tebow will be in a completely different situation than he was in last year.
The Broncos will have a big decision to make regarding Tebow if Manning becomes a Bronco. Their two main options would be to sit him behind Peyton and develop, or they could send him elsewhere.
If Tebow could learn and develop under No. 18 for two or three years, the young quarterback may turn into a legitimate NFL starter. However, if it does not pan out, Denver would have to go back to the rebuilding process.
As for grooming Tebow, the Broncos are looking at a massive risk-reward scenario. If you go back to the Aaron Rodgers-Brett Favre situation, the Packers were extraordinarily rewarded. Rodgers sat and watched from the sidelines for multiple seasons, but quickly played at a Pro Bowl level once he received the starting nod.
However, that was a rare case. Grooming and developing a player is always a titanic gamble, and with the unconventional Tebow, the risk is even greater.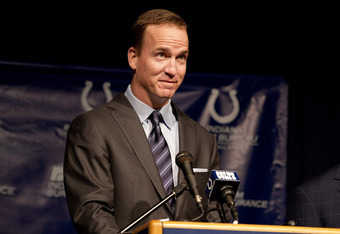 Joey Foley/Getty Images
If the Broncos get rid of Tebow, it would definitely be via trade. Teams like the Jacksonville Jaguars should be all over Tebow. The Jaguars would love some more fan support, and the former Florida Gator quarterback would immediately rally up the fans.
The Broncos could easily squeak out a fourth-round pick, but they can't settle for that little. Tebow could go for as much as a second because of his ability to haul in fans by the masses. The Jaguars should be willing to give up that much for him.
Denver would be able to use that extra pick on a conventional quarterback like Brandon Weeden or Kirk Cousins. They could develop and wait under Manning, and the gamble is much less than what it would be with Timmy Tebow.
Tebowmania would also be stripped away from Denver. They wouldn't have nearly as many distractions or setbacks to deal with. The Broncos could focus on pure and conventional football.
If the Broncos acquire Peyton Manning, their next decision is what to do with Tebow. The right decision is to deal Tebow and let the Peyton Manning-led Broncos focus on football.