ACC Championship 2012: Poor Perimeter Play Haunts UNC Again vs. FSU
March 11, 2012

Kevin C. Cox/Getty Images
North Carolina has plenty of excuses they can use in their 85-82 loss to Florida State in the 2012 ACC Championship. John Henson was out again and there was definitely some questionable officiating going on.
But the Tar Heels faithful—myself included—can stuff the excuses in a bag and light it on fire. The Seminoles' stellar shooting was just too much for the notoriously poor perimeter play of UNC.
Not having Henson in the game was a huge loss for Carolina, and I'm sure his presence would have made the difference in a win or a loss on this Sunday afternoon. However, he wouldn't have been making three-pointers and guarding the perimeter.
The all-around perimeter game is what bit North Carolina in the butt.
First of all, the Tar Heels defense allowed Florida State to shoot 50 percent from beyond the arc. They're lucky Deividas Dulkys didn't go off on them like he did on Jan. 14. He was "only" 4-of-9 from three-point range. Dulkys was 8-of-10 in their last encounter.
Sometimes, one can attribute an opponent's three-point field goal percentage to just insane shooting in the face of the defense. This was not the situation today. The Seminoles had time to lick their fingers and line up the seams before the shot.
The Tar Heels were slow on their switches and ran into screens all day long. Michael Snaer did his part in making UNC pay, going 4-of-5 from three-point land.
Not only did Florida State shoot lights-out from their fenced-off real estate behind the arc, they also shot 59 percent from the floor—and 62 percent in the first half. The Seminoles did a great job inside and took advantage of the size mismatch without Henson at Carolina's disposal.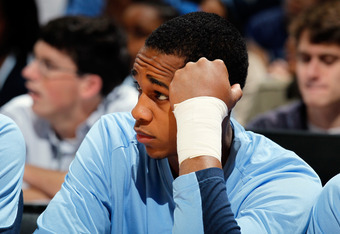 Kevin C. Cox/Getty Images
Nobody made more of a difference for Florida State than their guards, though—and that's where the Henson excuse can go right out the window. FSU guards accounted for 54 of their 85 points. They also accounted for 20 assists, which was more than the entire UNC team. The Tar Heels only had 12 assists on the day—and Kendall Marshall had nine of those.
Switch sides of the court and perimeter play wasn't any better.
P.J. Hairston had a great game and came close to knocking down a tough game-tying buzzer-beater. He was 3-of-7 from three-point range—the final shot included—and was 3-of-4 during a three-minute span in the second half. The rest of the Tar Heels were 2-of-13 for the day.
After a strong performance against Maryland, Reggie Bullock went cold in the last two games of the tournament. He was 0-for-5 from three-point range in this game, and is 1-for-10 in his last two. The Heels desperately need Bullock to shake his slump—even if Hairston punched out of his today.
Harrison Barnes had an excellent day in every facet of the game—except shooting the three-ball. He got in the paint with consistency, he was aggressive on both sides of the ball and on the glass, but he just couldn't knock down the three more than once.
He finished with 21 points, seven rebounds and went 4-of-4 from the free throw line. I'll be a happy camper if Barnes can continue to make his free throws down the stretch.
Tyler Zeller had another fine game, scoring 19 points and snatching seven offensive rebounds. UNC was going inside to him a lot in the first half, but seemed to lean on the perimeter game more in the second. That strategy may have been costly—and at no time more costly than at the 10-second mark.
With UNC down 83-82, Kendall Marshall had a wide-open three and took it—and bricked it.
In Marshall's defense, I can understand why he took the shot. He just buried a lean-in three-pointer 20 seconds prior. But when a point guard has 10 feet of space in front of him and 10 seconds to work with, he has to step up for a closer shot. If the defense draws in, get it to Zeller and let him ice the game.
Though it was a poor decision in my book, Marshall shouldn't shoulder the blame. There was plenty to spread around.
John Henson being out is not an excuse, but it is a silver lining in the ugly cloud looming over Tar Heels Nation today. Since Henson went down, the bench has gotten more experience. It has given players like Hairston a chance to break out of their slumps. And it has allowed James Michael McAdoo to catch up to the college game.
It may have been a rocky road through the ACC Tournament, but we may find out the road is paved on the other side.