Cleveland Browns: 4 Possible Replacements for Colt McCoy Team Should Target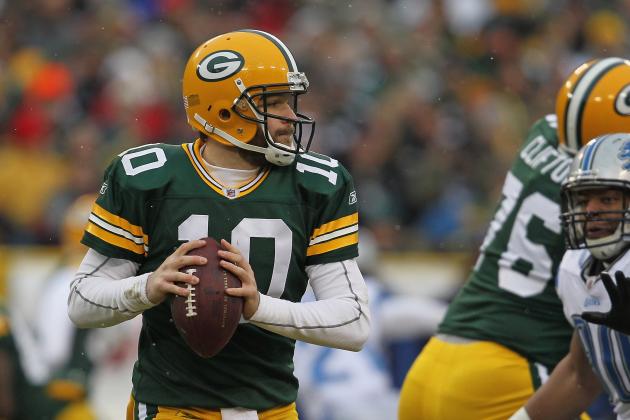 Jonathan Daniel/Getty Images

It has quickly become obvious that the Cleveland Browns don't have confidence that Colt McCoy can be their franchise quarterback moving forward.
They offered up a bounty to the St. Louis Rams in hopes of landing the No. 2 overall pick and Robert Griffin III.
There have also been a myriad of different rumors that have linked the Browns to pretty much every quarterback on the market.
I am not the biggest fan of McCoy, but I do think that they should give him an opportunity to succeed with some actual talent on the offensive side of the ball. After all, their skill positions lacked a great deal in 2011.
With that said, it is becoming evident that they plan to acquire another quarterback in the offseason.
This article is going to focus on four players that might work out well in Cleveland.
Begin Slideshow

»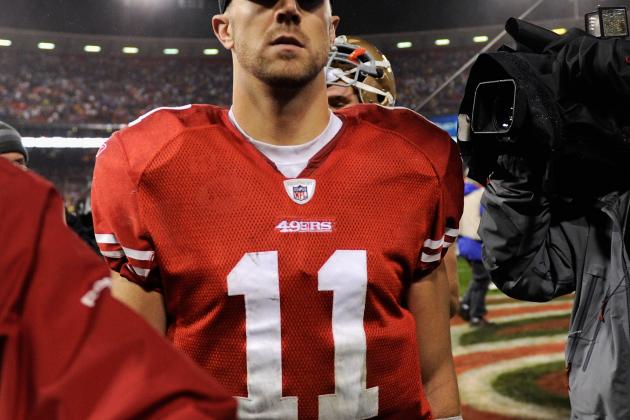 Thearon W. Henderson/Getty Images

I am throwing this out there because Alex Smith is actually one of the top free-agent quarterbacks on the market. Imagine that, but it is true.
He was extremely productive for the San Francisco 49ers in their surprising run last season. Smith made the least mistakes of any starting quarterback in the league, didn't have a good receiving corps to throw to and was held back a great deal by a conservative offense.
It seems that he has turned the corner and could be a real find in free agency.
At this point, the 49ers and Smith seem to be far apart in regards to a contract. This will enable the improving quarterback to actually hit the open market next week.
With that said, he is pretty much a game manager at this point. Sound familiar? It should, this is exactly what Colt McCoy is.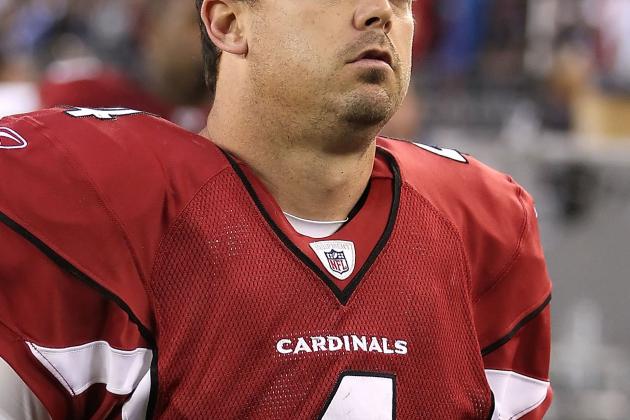 Christian Petersen/Getty Images

This is a two-pronged situation and remains incredibly fluid at this point. If the Arizona Cardinals are successful in signing Peyton Manning, they would have to find a taker for Kevin Kolb.
That could be difficult in of itself because Kolb played poorly as a starter in Arizona last season.
ESPN suggests that the Cleveland Browns are a possible landing spot for the young quarterback. This rumor is based on the fact that Pat Shurmer was Kolb's position coach with the Philadelphia Eagles and that the quarterback is comfortable in this offense.
I am not sure how much substance this holds, but I would be weary about acquiring the services of Kevin Kolb. He has yet to prove anything in the NFL as a starter and would be a lofty risk.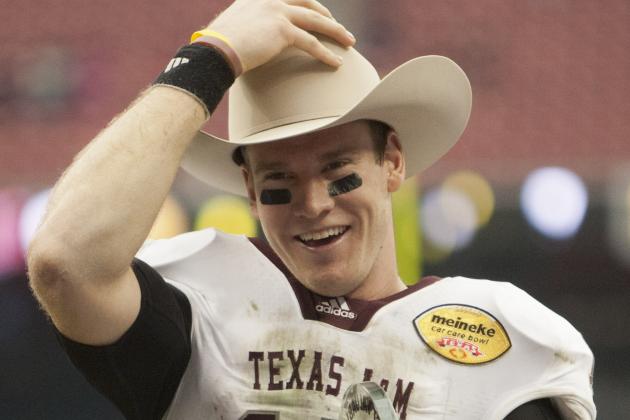 Bob Levey/Getty Images
Cowboy up
Every single year it seems that a quarterback goes much higher in the draft than what his value and performance would suggest. Christian Ponder was a prime example of this in 2011.
Could Ryan Tannehill be that quarterback next month?
I am not suggesting that the Cleveland Browns pony up the fourth overall pick on the former Texas A&M quarterback. With that said, their second first-round pick could be in play for Tannehill.
He has the arm strength and accuracy to be a top-of-the-line starting quarterback in the NFL. Tannehill has much more "tools" than Colt McCoy possesses at the quarterback position.
The more likely scenario here is that the Browns spend their second-round pick on a quarterback and force McCoy into a training camp battle.
That has some validity to it.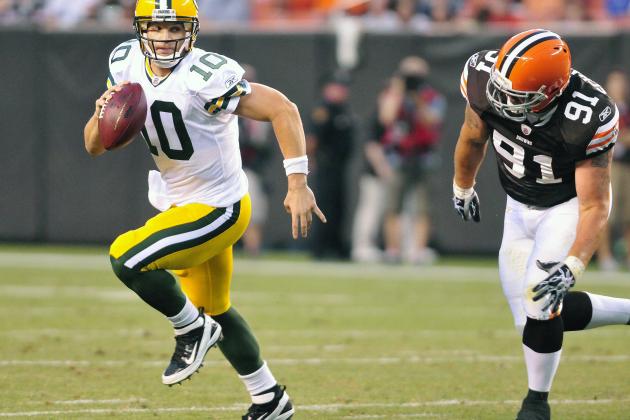 Jason Miller/Getty Images

If the Cleveland Browns were to address the quarterback position, Matt Flynn would seem to make the most sense.
He has a tremendous amount of potential and could end up being a franchise guy for this struggling franchise. You are talking about an individual that has that rare combination of arm strength and accuracy. He is extremely strong on the intermediate routes, reads defenses extremely good and limits mistakes in the pocket.
With that said, Flynn is still somewhat of an unproven commodity. He has started a total of just two regular season games in four seasons with the Green Bay Packers, sitting behind Aaron Rodgers.
The benefits of bringing in Flynn would far outweigh the risks. Of course there are financial worries about signing an unproven quarterback to a long-term contract, but that is a risk that some teams just need to take. Flynn wouldn't cost the Browns a draft pick and could be that missing piece that they need on the offensive side of the ball.
Listen, the talent is there for the Browns. They have a great offensive line, solid defensive foundation and the coaching to succeed. They just need to get more talent at the skill positions.
Flynn would immediately be an upgrade over Colt McCoy. At least, in terms of talent and skill.