Dereck Rodriguez Forges His Own Path to the Big Leagues
March 12, 2012

His name is Ivan Dereck Rodriguez, and he's the son of former American League MVP and future Hall of Fame catcher Ivan "Pudge" Rodriguez.
But do him a favor and just call him Dereck. And don't assume he's a power-hitting catcher who strikes fear into the hearts of would-be base-stealers.
Unlike his old man, the younger Rodriguez is a tall, speedy, slick-fielding outfielder. He's about to embark on his first full professional season in the Minnesota Twins organization, which drafted him in the sixth round of the 2011 draft.
I had the chance to talk to Dereck one-on-one this past week, and one thing became clear: His baseball journey is his own. 
Dereck expects no special treatment due to his lineage, nor does he want any. In fact, he prefers to keep the fact that he's the son of a legend on the down-low.
"I don't really like telling people who my dad is," he said, "because then I don't know if they're going to like me for me or because of who my dad is."
Dereck and his father couldn't be more different as players, which helps his cause. You're not going to see Dereck squatting behind the dish for nine innings at a time over 20-plus major league seasons. You're more likely to see him legging out triples and making impressive plays out in the outfield. He likens his work in the outfield to that of Kansas City Royals right fielder Jeff Francoeur.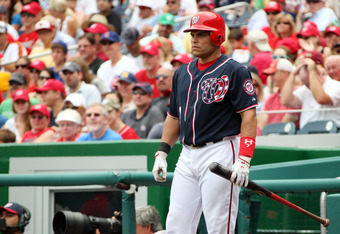 Ned Dishman/Getty Images
Dereck tried to be a catcher once upon a time, but he found that he just wasn't cut out for it.
"I used to be a catcher," he said, "but I didn't have much love for it. To be a catcher, you gotta love it. You can't just catch to catch."
This is not to say that Dereck and Pudge found it impossible to have a baseball relationship with one another. On the contrary, the son learned a lot from the father, and he is genuinely grateful for all of it.
Dereck said of his father's role in his development as a player, "He played a huge role. He taught me everything I needed to know. He taught me what it takes to be a professional baseball player. He gave me pretty much all the tools that I have. He showed me a lot."
Naturally, Dereck's mom played a big role too, especially when he was coming into his own as a high school player in Florida. It wasn't long before he was nationally ranked and found himself in high demand, and that's when his mother's support became more important than ever.
"She was with me at every showcase I went to and every tryout. She was probably my No. 1 fan, my biggest supporter," he said. "She motivated me, gave me confidence when I was down. She helped pick me back up. She was always there."
Dereck also got plenty of guidance from Harold Vaca of the Florida Diamond Pros, an organization that helps high school prospects get exposure in front of college and pro scouts. Vaca still sticks by Dereck as an advisor, but during Rodriguez's high school career he was a kind of compass for Dereck's baseball career.
"Harold helped me out a lot," said Dereck, adding: "I really wasn't that well developed as a player. He helped me out going to tryouts, signing me up for tryouts. He was pretty much my main confidant."
It was largely thanks to Vaca that Dereck was able to get nationally ranked in the first place, which is a funny story in its own right:
"The reason I got ranked is because I went to the PG Nationals and I didn't even know what it was until two days before the showcase, Harold called me and said 'Hey kid, you got invited to this showcase and I need you to go to Tampa tomorrow night.' My mom was in Puerto Rico, and I was at home by myself. I was staying home by myself...He actually was the one who picked me up. He came with me and helped me out."
As far as the actual draft process was concerned, Dereck made a point of saying that it was a "nerve-wracking" experience. He got used to playing games in front of scouts, and before long he was meeting with them in his home with his family around him. Dereck also found himself going to plenty of showcases and filling out many questionnaires. 
Amazingly, during all this nobody—or at least very few people—noticed that they were dealing with the son of an active MLB legend. It wasn't until Dereck provided written proof that people realized who he was:
When I went to showcases and stuff like that, I actually fooled people. They didn't know who my dad was. I had to fill out questionnaires and that's where they ask you who your father is and what his profession is. That's when everything started blowing up.
That Dereck managed to keep his bloodlines in the dark while he was rising to prominence as a top high school prospect is a testament to how different the MLB draft process is compared to the NFL and NBA drafts. It seems all baseball draft prospects go about their business in relative obscurity, even those with famous fathers. Had Dereck been striving to become a professional football or basketball player, no doubt reports of him would have surfaced on SportsCenter on at least one occasion.
For the record, football and basketball never were real possibilities for Dereck. He said he used to get in too much foul trouble when he played basketball. He never developed an interest in football, even despite the fact the football coach at his high school took an interest in him:
"I was [throwing a football around in P.E.] in high school and I started throwing the ball 60, 65 yards. The P.E. coach was the football coach, and he said, 'Why don't you try out for football?' I'm like, 'Nah, I'm too scared.' I was too scared of getting hit, of getting hurt."
So unlike, say, Trey Griffey, it was baseball all the way for Dereck Rodriguez.
When the 2011 MLB draft finally came, nervousness prevailed in the Rodriguez household. For Dereck himself, sleep did not come easily.
That is, not until the very moment he was actually drafted. His draft-day story is one for the books:
I was actually taking a nap. I was actually on the couch taking a nap. My mom was pregnant, so she was kinda nervous. She was on the computer looking at the draft. I didn't sleep the night before. I was so nervous, I couldn't sleep. Around 2:30 or 3:00 I was taking a nap, and all of a sudden I hear my whole family screaming.
Not long after Dereck got the good news, he got a call from his dad, who was with the Washington Nationals at the time (he's now a free agent, but is still on the prowl for work).
"He called me," said Dereck. "He was excited. Imagine your father plays 21 years in the major leagues and then finds out that his son got drafted. It was pretty fun. We had a good conversation."
The elder Rodriguez later told The Washington Post that he actually knew Dereck was going to be drafted well before it actually happened.
"I was on this for days, talking to scouts," he said. "They called me before it happened."
He added: "His dream came true. Now it's time for him to play ball."
That's exactly what Dereck did. After the Twins took him with the 208th overall pick in the draft, he reported to the team's affiliate in the Gulf Coast League and immediately got to work.
And this, as you might expect, was a humbling experience. Once he got to the GCL, Dereck was no longer a nationally ranked high school baseball player. He was a young professional who needed a lot of work. And to make matters worse, the weather was a little too warm for his tastes.
"Hot," answered Dereck when I asked him to describe the Gulf Coast League. "It was really hot."
The weather was hot, and his instructors were tough. In all, it was a tough experience:
[The instructors] don't beat around the bush. They tell you this, they tell you that. If you don't like it, then oh well. It's pretty much like a boot camp. It's hot, you train for four hours, fundamentals and everything, and then you play a game...I remember one day we played 14 innings. We were at the park from 7:00 in the morning until almost 5:00. So it was pretty tough.
Per MILB.com, Dereck ended up playing in 29 games in the Gulf Coast League, hitting .156 in 90 at-bats with 35 strikeouts. 
But Rome wasn't built in a day, and major league ballplayers aren't made over 90 at-bats. As much baseball as possible is needed.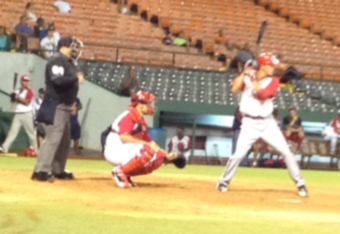 So when the winter came, Dereck went and played winter ball in Puerto Rico. As a bonus, he got to play on the same team as his legendary father.
"That was the first time that ever happened in Puerto Rico, a father and son playing on the same team," he said.
With his first full season as a professional fast approaching, Dereck knows it's time to get down to business. He's heading into the 2012 season with the same mindset of probably every other minor leaguer under the sun: "Put up the best numbers I can and try and beat every other person at my position."
Dereck is not going to cut any corners, and he appreciates that the Twins aren't cutting any corners for him. He gets no special treatment on account of his lineage, and for that he's grateful.
"That's what I like about the Twins," he said. "They haven't treated me differently. They treat me like every other player. I get no special treatment because of who my dad is and I like it that way." 
Ultimately, Dereck says he would like nothing more than to set foot in Target Field one day. In all likelihood, that reality is still several years away, and it's going to take a lot of hard work to achieve it. 
But for now, he is content. He'll continue to get attention because of who his father is, but what it all boils down to for Dereck is that he's on his own doing his own thing.
"I made it where I wanted to be, and now I get to do my job, work hard and be my own man."
Feel like talking baseball? Hit me up on Twitter:
While you're at it, follow Dereck too.