Michael Bush to Bengals: Why Ex-Raiders RB Would Look Good in Cincinnati
March 11, 2012

Ezra Shaw/Getty Images
The Cincinnati Bengals find themselves in a great position with the NFL free agency period set to begin early next week. The team is currently without a starting running back, luckily for the Bengals ex-Raiders running back Michael Bush is available—and he fits the Bengals offense perfectly.
The Bengals' starting back from last season, Cedric Benson, is a free agent and will most likely not be coming back to Cincinnati after regressing last season and publicly criticizing the team's offense. That leaves Bernard Scott, Brian Leonard and Cedric Peerman as the top backs currently on the roster.
The team can either find a starting back in free agency, or through the NFL draft. With easily over $40 million in free cap space, Cincinnati should have no issues enticing any free agent to come to the Queen City next season.
One such free agent that would do wonders for the Bengals is Bush, the Louisville Kentucky native. Last week, the Oakland Raiders placed the franchise tag on safety Tyvon Branch, all but ensuring Bush would hit the open market.
In four seasons with the Raiders, Bush has primarily worked as a backup, collecting 2,642 yards, 21 touchdowns and a 4.2 average. Bush is also great in pass-protection, making him a valuable asset.  
The best part about Bush? He's fumbled three times in four seasons.
At 27 years old, some may not like the thought of bringing Bush in because he is only three years away from the dreaded age of 30 that typically marks a steady decline at the position. However, Bush has primarily functioned as a backup throughout his career, so as Jamison Hensley points out, he's still got a lot of quality football left: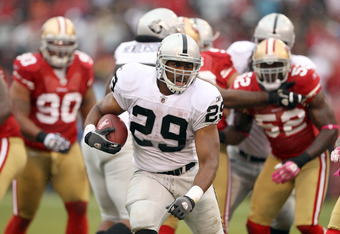 Ezra Shaw/Getty Images
"At 27, Bush doesn't have the usual wear-and-tear of other free-agent running backs because he's been a backup for most of his career. He's a bruising runner who can gain the tough yards. He's also an above-average receiver, which would add another element to the Bengals' passing game."
For the sake of comparison, since 2008 (Bush's rookie year) he has only carried the ball 632 times—in that same time span, ex-Bengals running back Cedric Benson carried the ball 1,109 times.
As Hensley stated, Bush's versatility is something the Bengals desperately need now that they are running offensive coordinator Jay Gruden's West Coast Offense. At 6'1" and 245 lbs., Bush is the type of back that can get the tough yards between the tackles or kick outside for a big gain.
His most underrated asset is his ability to catch passes out of the backfield, a trait that is very important for feature backs in a West Coast Offense.  Last season alone, Bush racked up over 400 yards receiving and one touchdown.
The only knock on Bush is last season he started nine games and enjoyed initial success, but his production dipped heavily in the last few games. He appeared to wear down under an increased workload—but that's not something the Bengals will have to be concerned about next year.
Bush would obviously be the feature back, but Gruden has stated that the Bengals are utilizing a running-back-by-committee approach next year, meaning the carries are split somewhat evenly between two or three backs.
This means Bernard Scott will see more carries next season, and a rookie taken in the upcoming draft will get a large amount of carries as well. Scott is a perfect change of pace back when paired with Bush, and the duo could easily wear down opposing defenses throughout the course of a game.
If the Bengals truly want Bush in stripes, they have the means to make that happen. Bush's head coach last season in Oakland, Hue Jackson, is now a member of the Bengals coaching staff again and could help to recruit Bush. Cincinnati also has to be an attractive option to Bush as it is in close proximity to his hometown of Louisville.
If the Bengals want to improve on what was a surprise season last year, Bush is the way to do so. Adding a versatile, dual-threat running back to an already budding offense is a step in the right direction for a young team that rapidly on the rise.