Chris Paul Excels in LA Clippers' Win vs. Spurs: Why David Stern Knows Best
March 10, 2012

Ezra Shaw/Getty Images
The Los Angeles Clippers must love NBA commissioner David Stern: Everyone from Mo Williams to Blake Griffin and owner Donald Sterling should immediately add Stern to their Christmas—or Chanukah, as Stern is Jewish—card list, for without him, the Clippers would never have gotten their current MVP, Chris Paul.
When Stern blocked a trade that would have sent Chris Paul to the Lakers, he explained his veto: "All decisions are made on the basis of what is in the best interests of the [League-owned New Orleans] Hornets."
At the time, Stern was blasted for what some writers called "shady" politics, in which Stern was "bullied by small-market owners into" disallowing the Lakers' attempt to continue their prominence in the NBA's Western Conference.
As a result of a mismanaged trade—in which anonymous sources spilled the beans before getting the okay from all other parties to the deal—Angelino Lamar Odom got a case of hurt feelings and had to be shipped out to Dallas and Pau Gasol was left in a prolonged limbo that persists to this day.
For Los Angeles' forgotten NBA squad—the LA Clippers—Stern's move couldn't have been more perfect.
When the Paul-to-LAC deal was finalized, the Lakers were understandably steamed, yet in the end, the entire saga turned out wonderfully for the Clips—and for the NBA-owned Hornets.
The Hornets ended up receiving Eric Gordon, Chris Kaman, Al-Farouq Aminu and an unprotected first-round draft pick in exchange for Paul and two lower-round draft picks, which was better for New Orleans than receiving the Lakers' Odom.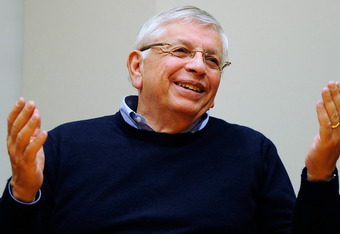 Patrick McDermott/Getty Images
Since arriving in Dallas, Odom's field goals made per game have dropped from 5.77 per game in 2010-11 to just 2.83 per game in 2011-12 and his field-goal percentage is down almost 20 points, from 53.0 percent in 2010 to just 36.2 percent this season. Also down are his three-point and free-throw percentages.
In other words, Stern knew something about Odom that all the naysayers didn't, and in the most roundabout of ways, that helped the Los Angeles Clippers.
Chris Paul has lit up the floor in Los Angeles—his field-goal percentage is up from 46.3 percent in 2010-11 to 49.0 percent this season and his three-point percentage has increased from 38.8 percent last season to 42.3 percent this year.
Paul's points per game in 2011-12 currently is hovering just shy of 20, while he put up just 15.8 points per contest last season.
The Clippers couldn't be happier.
Had the Clippers' Blake Griffin suffered his ankle sprain on a CP3-less team, the Clips may have had no one else to turn to. With a playing-through-pain Griffin and no other All-Star-caliber player, the Red and Blue might have collapsed into the perennial losing Clippers squad of old.
Instead, Paul came into Friday night's game versus San Antonio and pulled off an impressive performance, one that last year's team would have only experienced at the hands of Lakers guard Kobe Bryant.
Paul was infectious: Not only did Randy Foye and Griffin score 15 points each with a 14-point showing from Caron Butler, guard Mo Williams hit so many crucial three-pointers that broadcaster Ralph Lawler's famous cry of "Bingo!" after each successful three momentarily replaced the words "the" and "basketball" as the most common word heard during the telecast.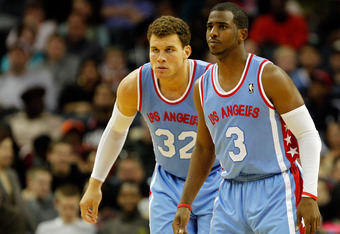 Streeter Lecka/Getty Images
Paul wasn't without his faults tonight—earning a technical for staring at referee Marc Davis after a foul no-call—yet clearly led his team to an uncharacteristic victory in San Antonio.
The Clippers record prior to Friday's contest at the AT&T Center was 0-17, having last defeated the Spurs at home in January of 2002—just over 10 years ago when gas prices were in the dollar-range and the word "iPad" was simply a misspelling of "iPod," a brand new 6.5-ounce MP3 player boasting a state of the art 160-by-128-pixel black and white display.
Yes, a player like Chris Paul has been a long time coming for the Los Angeles Clippers and after a difficult road trip, the Clippers return home with a great deal of momentum and excitement after their exhilarating San Antonio win, a landmark victory that wipes out the devastating loss to New Jersey on March 7 after a buzzer-beating Jordan Farmar three-pointer.
These Clippers are true contenders, thanks in no small part to their unofficial leader, Chris Paul.