UFC 146: Breakdown of Every Heavyweight Fight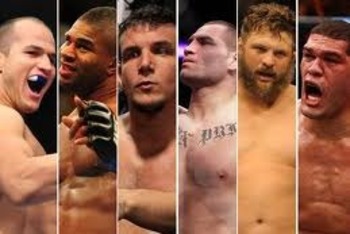 UFC 146 is literally one of the biggest cards of the year, featuring four heavyweight bouts that will restructure the heavyweight division from top to bottom.
Shane Del Rosario vs. Gabriel Gonzaga
Roy Nelson vs. Antonio Silva
Cain Velasquez vs. Frank Mir
Alistair Overeem vs. Junior dos Santos (c) for the Heavyweight Title
UFC 146 will take place at the MGM Grand Garden Casion in Las Vegas, Nevada on May 26th, 2012.
So let's just cut to the chase and get the breaking down started!
Gabriel Gonzaga vs Shane Del Rosario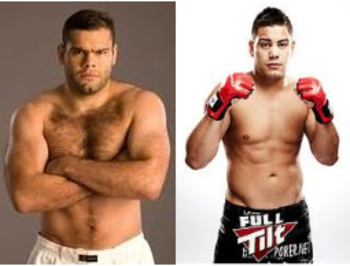 Here is a most interesting fight for the shaping of the heavyweight landscape featuring veteran Gabriel Gonzaga against the blue chip heavyweight prospect, Shane Del Rosario.
Gonzaga was a former UFC title contender who came up short against Randy Couture for the championship many years ago. Since then he has been a capable fighter that might have gotten a little obsessed with attempting to display his striking ability instead of fighting to his strength. In his last fight, Gonzaga got back to his roots and won by submission over Ednaldo Oliveira.
Shane Del Rosario was one of the bright spots in the Strikeforce Heavyweight division before suffering a herniated disk which resulted from a car accident that occurred on April 14, 2011. Now over one year later, Del Rosario will come back to face his toughest opponent yet.
The outcome of this fight will send one man into contention and the other to the bottom of the division. Del Rosario has the ability to finish the fight on the feet, only being out of the first round once in his career but I just think this is too much to ask of him in his first fight back. Gonzaga is more than capable of finishing a fight on the feet but if he stays true to his word and focuses on working his jiu-jitsu game, I expect Gonzaga to walk away the winner.
Winner: Gabriel Gonzaga by submission, Round 2
Antonio Silva vs Roy Nelson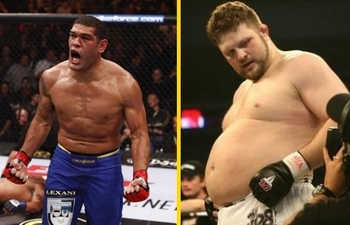 Another fight that has some serious contention promise is Roy Nelson vs. Antonio Silva.
Nelson has forged his reputation by demonstrating his ability to take unfathomable beatings inside the Octagon by fighters such as Junior dos Santos, Frank Mir and Fabricio Werdum without being finished. The problem is that he isn't winning those matchups. Against weaker competition, though, Nelson has proven to be the superior fighter. Usually that recipe garners the reputation of a gatekeeper.
Antonio Silva was another Strikeforce bright spot until he was knocked out by Daniel Cormier and knocked out of the Strikeforce Grand Prix. Silva has rolled through weak competition and his one bright spot is a finish over poorly conditioned Fedor Emelianenko. Silva has pretty decent hands but if this fight touches the canvas, Silva could have his hands full. This will be Silva's toughest fight to date.
Though I see this as a great chance for Roy Nelson to prove himself and hand around the UFC top-10, Antonio Silva fits into the mold of fighter that Nelson has struggled against. Silva brings with him to the table a good striking game and a 9" reach advantage so expect Roy Nelson to display his toughness again and come up short in a unanimous decision loss.
Winner: Antonio Silva by Unanimous Decision
Cain Velasquez vs Frank Mir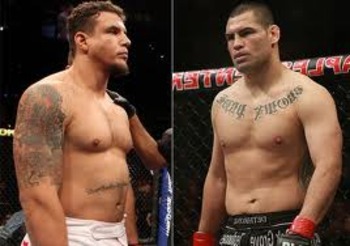 In the No.1 contender's matchup you have two former champions battling it out for the rights to challenge the UFC Heavyweight champion, which will be decided directly after this fight takes place. The two fighters share three common opponents in their careers and should make for a very entertaining bout.
Cain Velasquez will be coming into this fight after suffering his first loss as a professional mixed martial artist. There will be no doubt that Cain will be looking to enact his revenge on one Frank Mir but he still has some lingering question marks around him. Is his should 100 percent yet? Is his conditioning up to par? The advantages that Cain should hold are his wrestling ability and speed. For Cain Velasquez, this is the most well-rounded fighter he has ever fought.
Frank Mir comes into this fight on a three-fight winning streak, including a bone snapping victory over Antonio Rodrigo Nogueira. Mir will be the larger fighter and should have the advantage in striking and Jiu Jitsu. Mir has fared well against smaller opponents. If he comes in with the cardio to go three rounds with Velasquez, Mir will be a force to be reckoned with.
This fight is probably the most interesting of the night because where is this fight going to take place at? Cain might want to attempt to keep the fight standing due to Mir's ability to secure a submission but also should play into Mir's strength as he is a more diverse striker. Mir also may be able to use his weight advantage and improved wrestling to actually wear down and control Velasquez. Mir will have a 2" reach advantage and more than likely a 10-15 pound weight advantage. More importantly, Mir should be very motivated for this fight.
Winner: Frank Mir by Submission, Round 1
Alistair Overeem vs. Junior Dos Santos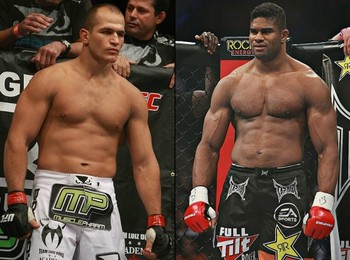 Here we are, the main event fight which will be billed to be an amazing display of striking featuring Alistair Overeem versus Junior dos Santos.
Alistair Overeem is entering this fight unbeaten in his last 12 fights and is the last and only Strikeforce Heavyweight Champion. Overeem has a distinct mass advantage in this fight and will be looking to use his strength to end this fight as soon as possible.
Junior dos Santos is unbeaten in his last nine fights and is defending his title for the first time since knocking out former champion Cain Velasquez in just over one minute. For JdS, he should want to use a smart game-plan by using his mobility to his advantage.
In this match, I don't see it as a very hard one to call because this fight is all about game-planning. It is no secret that Overeem has conditioning problems, big muscles need a lot of oxygen. Junior dos Santos should be able to use his distinct speed advantage to get in-and-out on Overeem. JdS will want to avoid staying in the pocket for the first two rounds and even possibly the third round. Wearing down the giant is the key and I fully expect JdS to pick apart Overeem.
Winner: Junior dos Santos by KO, Round 3
Keep Reading