New England Patriots: Aaron Hernandez and Rob Gronkowski's B/R 1000 Rankings
March 12, 2012

Rich Schultz/Getty Images
The New England Patriots are fortunate to have two tight ends in Aaron Hernandez and Rob Gronkowski that are widely regarded as among the best at their position in the NFL.
B/R lead writer Matt Miller's evaluations hold that point strong. 
As part of his B/R 1,000 series, Miller took a look at the tight ends around the league, ranking the top 50 at the position. Not surprisingly, Hernandez and Gronkowski came out near the top of the list, ranking out at Nos. 5 and 1 respectively.
Let's take a closer look at their rankings:
Aaron Hernandez
Hernandez is the "specialist" of the two, and with Matt's scouting report, it's no wonder why. His agility, speed and run after catch are all 10's, while he earns a nine for route running, size and health.
Hernandez won't be blocking very many people, and scores a 4.5 as a run blocker and just a three as a pass blocker.
The grading is fair, but I'd give him a bit more credit for his release. He doesn't get jammed by cornerbacks, who are covering him much more often. When linebackers cover him, which is rare, he gets jammed, but is often able to utilize his speed to get away from linebackers after a less successful jam.
It's hard to argue that he should be ranked higher than the three tight ends that separate him from Gronkowski: Falcons tight end Tony Gonzalez, Cowboys tight end Jason Witten and Saints tight end Jimmy Graham.
Rob Gronkowski
The All-Pro tight end is no surprise to top this list; perhaps what's most surprising is that it's only taken him two years to get there.
We all know Gronkowski is well-rounded, and it shows in Matt's grading. Gronkowski received a grade below eight in only two categories: Hands and pass-blocking. He dropped just three passes in his rookie year according to Pro Football Focus, but dropped eight passes in 2011. 
But make no mistake: It's his size and route-running that set him apart, and Miller gives him a perfect 10 in both areas. I'll spare you a lengthy description and just point you to an article I wrote about those two very aspects of his game after his two-touchdown performance against the Jets in Week 10.
Miller's grade gets a passing grade from this perspective.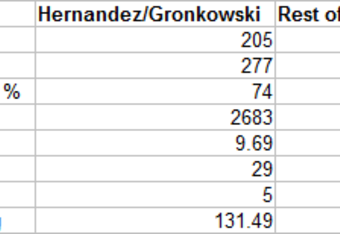 Other Nuggets About The Tight Ends
Hernandez and Gronkowski were targeted on 45.3 percent of Tom Brady's passes in 2011. 
Brady threw 29 touchdowns vs. five interceptions to the tight ends through the 2011 regular season and playoffs, and 18 touchdowns vs. 11 interceptions to everyone else in that span. That's a huge disparity, and evidence of how important Gronkowski's injury was to the team's loss in Super Bowl XLVI.