Peyton Manning: 4 Places That Make Sense for Manning
October 30, 2016
Joey Foley/Getty Images
March 7th, 2012 will be a day people in Indianapolis never forget. Heck, it will be a day NFL fans will never forget. March 7th was the day that possibly the greatest free agent in NFL history hit the open market. In an emotional press conference with team owner Jim Irsay, Peyton Manning closed the door on his career as a Colt.
Manning made sure to let the media know he is by no means done.
"I don't want to retire. And no I don't feel like I have anything to prove," he said. "Nobody loves their job more than I do. Nobody loves playing quarterback more than I do. I still want to play."
Well Peyton, everyone still wants to see you play as well.
The free agent frenzy that has ensued due to this historic release is unprecedented and should be fun to follow. I believe four teams are realistically in the hunt for Manning's services. In no particular order, the Miami Dolphins, the Arizona Cardinals, the Seattle Seahawks and the Kansas City Chiefs.
1. Miami Dolphins
The Miami Dolphins would be an interesting choice for Peyton Manning. He would finally fill that void of quarterback that was left by Dan Marino (Manning's favorite quarterback outside of his dad and Eli) way back in 1999.
The Dolphins offer dynamic play makers in wide receiver Brandon Marshall and running back Reggie Bush. Add in Jake Long protecting the blind side, a young improving defense and you have a team that can offer Manning the chance to win now. They also have cap room to bring one of his buddies along, such as Reggie Wayne (who would love a chance to return to Miami) or Pierre Garcon (whose family wants him to play in Miami).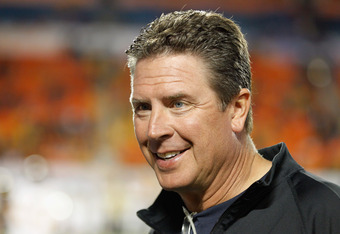 Streeter Lecka/Getty Images
Interesting option, but will team owner Stephen Ross mess it all up like he has with other deals in the past?
2. Arizona Cardinals
Arizona offers Manning a great deal. They have a strong core of wide receivers with Larry Fitzgerald, Early Doucet and Andre Roberts. Not to mention veteran tight end Todd Heap. The Cardinals also offer Manning comfort playing in a dome and playing in a pretty soft division (outside of San Francisco).
The blueprint is there, when Kurt Warner was with the team, so that also might sway Manning's decision. The only question mark is the shaky Cardinal defense. Manning wants to win now and he would need the defense to step it up, even if the offense does score a ton of points (which should happen).
The Cardinals are going all in on Peyton Manning, but will he want to play in the same conference as his brother? There have been conflicting reports back and forth, so nobody really knows. We shall see.
3. Seattle Seahawks
The Seahawks are a team that people are disregarding when it comes to Manning, and they should be taken seriously. I'll tell you why.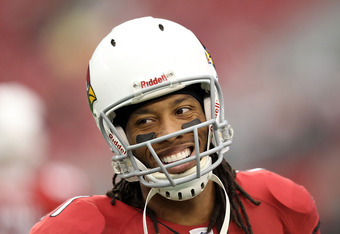 Christian Petersen/Getty Images
Manning has played in a small market his whole career with Indianapolis, and Seattle would offer him that same scenario. When Manning landed in Miami to head to his winter home in South Beach after his press conference, the media was tailing him like it was a police chase. Manning told the driver to pull over in some parking lot so he could address the media. Manning was reportedly turned off by that hoopla and Seattle can offer him that "homey" feel that he is used to.
Also, "The 12th Man" at CenturyLink Field is insane and the fans would treat Manning like a God. They also have some nice pieces in place for Manning, such as a great running game with Marshawn Lynch and a solid wide receiver in Sidney Rice. Last time Rice had a Hall of Fame quarterback throwing to him, he posted 1,312 yards with eight touchdowns. Seattle also possesses a top-10 defense and again (like the Cardinals) provides a soft division.
4. Kansas City Chiefs
Here is my dark horse—my sleeper pick in this whole thing, the Kansas City Chiefs. I believe the Chiefs have a real shot at landing the future Hall of Famer. If you remember, Joe Montana went to the Chiefs after Steve Young was given the starting job in San Francisco. That really doesn't mean anything in terms of Manning, but it's interesting that history can perhaps repeat itself once again.
The Chiefs offer Manning receivers Dwayne Bowe and Steve Breaston, but don't offer much of a running game. Their defense, however, is strong—they were ranked 11th in total defense last season. Also, they play in a division where the winner finished (8-8); Manning can easily lead that team to the playoffs if fully healthy. Head coach Romeo Crennel really wants Manning on his team, and word is the Chiefs have already offered Manning a contract. I think it would be a pretty solid fit.
At the end of the day, nobody knows where Manning will decide to go. It seems like every five minutes we have conflicting reports from reporters. All we can do is sit back, relax and enjoy the show. By next week we should see Manning in a new uniform.
"I haven't thought yet about where I'll play, but I have thought a lot about where I've been," Manning said at his press conference on Wednesday.
Sure Peyton, we all know you're smarter than that.