Rivera Retirement: David Robertson Is the Best Candidate to Be New Closer for NY
March 9, 2012

Nick Laham/Getty Images
With the official announcement supposed to be coming around the upcoming All-Star break, it's assumed across the baseball world that future Hall of Famer Mariano Rivera will announce that he will retire after the 2012 season.
Nobody in Yankee-Land wants him to go, but he most definitely deserves a happy retirement. Coming into the season, he has a Major League record 603 saves, a 2.21 ERA and 42 postseason saves.
The man has been the Yankees' full-time closer since 1997, and he's one of the most crucial parts to the teams' World Series runs.
Unfortunately for the Yankees, the team will have to worry about filling the vacancy in the closer's position this offseason (should he actually retire). They have been very lucky that for nearly 15 seasons they have not had to worry about that role.
But now they do and, needless to say, his replacement will have enormous shoes to fill.
Many names have been floated around as the heir apparent to Rivera. Fortunately for the team, they are all already wearing pinstripes.
Former closer Rafael Soriano, prospect Dellin Betances, former top prospect Joba Chamberlain and lights out setup man David Robertson are the most likely candidates for the job.
While all the candidates are worthy options, Robertson is the most logical option.
"Houdini," as he's called, had one of the best seasons for a setup man in recent memory in 2011. In 70 games (66.2 innings), Robertson struck out 100 batters and pitched to a 1.08 ERA. He was also a first time All-Star and received Cy Young votes at the end of the season.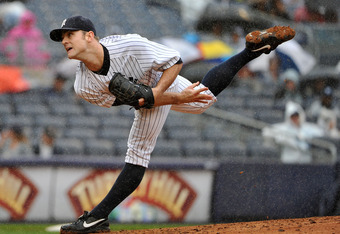 Christopher Pasatieri/Getty Images
With another solid season in 2012, Robertson will prove that he is the best man to replace Rivera. Here's why:
1) He's Quiet
Robertson is a very quiet, easy-going kind of guy. He doesn't make a spectacle of himself on the mound and picks his spots very well. He doesn't parade around the mound every time he strikes out a batter, ala Jose Valverde, and he understands the culture of New York enough not to do so.
The other candidates, most notably Chamberlain and Soriano, have a history of doing such things. Now, I'm not saying that showing a little emotion is a bad thing.
On the contrary, actually, I kind of like it. But replacing Rivera is not something that should be taken lightly.
In order to have a semi-seamless transition from Rivera to the next closer, the mannerisms will have to be somewhat similar.
2) Consistency
With another solid season, Robertson will prove that he has the right mentality to be the Yankees' closer. The other candidates have all struggled with consistency in recent years, and those should be the last people that the team wants to replace "Mr. Consistency" himself.
Now, Robertson doesn't have to go out and post another 1.08 ERA in 2012. If he records an ERA under 2.00, I'm sure the team will be more than satisfied.
He's already proven that he can strike guys out and get out of tough spots, so he'll just have to prove that he can keep everything else consistent next season.
3) He's Young
After having the same guy close games for the past going-on 16 seasons, the Yankees will most assuredly be looking for a replacement who can take the ball in the ninth inning for the next five to eight years (or more, of course).
Robertson can be that guy.
Rivera became the closer when he was 27-years-old. Robertson will be 27 this April. If he can prove consistent enough, we could be looking at the heir apparent to Rivera.
Soriano would not be able to provide the team with several years in the ninth inning role, as he's already 32-years-old. The Yankees will most likely not be looking for a situation where they routinely change closers, and that's a situation that Soriano would put them in.
Chamberlain and Betances are also both young, but there's a difference between them—and—Robertson.
For starters, Betances is too young. There's no way you can expect a top prospect to just replace the best closer of all-time. That's a recipe for disaster.
Chamberlain, on the other hand, has yet to prove that he can pitch at the level we all thought he was capable of. If he does this season (when he comes back from injury), he may give Robertson a run for his money.
Of course, we all hope that Rivera chooses not to retire and instead decides to pitch another season in pinstripes. Even if he does, there will still be the question of who his replacement will be.
Don't worry, though, fans.
David Robertson seems pretty capable of becoming the Yankees next closer.