NBA Trade Deadline 2012: The One Trade the LA Clippers Must Make
March 9, 2012

Streeter Lecka/Getty Images
CLIPPERS TRADE: Randy Foye, Eric Bledsoe, Travis Leslie and 2012 Second-Round Draft Pick
NUGGETS TRADE: Arron Afflalo
The Los Angeles Clippers have made a miraculous turnaround this season and are headed to their first division title in team history and quite possibly their first conference finals berth or even an NBA Finals appearance. Then Chauncey Billups went down with a season-ending injury.
Now, the Clippers most likely will not win their first division title, nor advance past the first round of the playoffs.
Hope is not lost in "Clipperland," however, as all the team needs is a starting quality shooting guard to replace the injured Billups and they should be able to get right back on track to winning their division and making a run in the playoffs this season.
It has been reported that the Clippers have interest in both Ray Allen of the Celtics and Jamal Crawford of the Trail Blazers. However, without a first-round draft pick in this year's insanely deep draft, the Clippers have little hope of landing either one of those two players.
This being the case, they should turn their attention to another, younger, much better defensive shooting guard: Los Angeles native and former UCLA Bruin, Arron Afflalo.
Afflalo is not only a fantastic defender at the shooting guard position, he is also a career 40 percent three-point shooter who just happens be averaging a career high 16.9 points per 40 minutes to boot. Arron Afflalo is the real shooting guard the Clippers should be trying to trade for.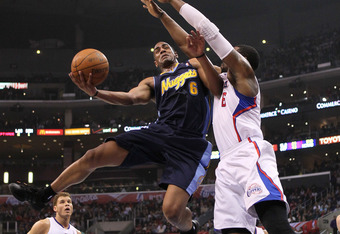 Stephen Dunn/Getty Images
Losing Eric Bledsoe, pine-riding rookie Travis Leslie, Randy Foye and his expiring contract and a second-round draft pick is not too steep a price, whatsoever.
As for the Denver Nuggets, I do believe, they would strongly consider this trade if proposed to them by Clippers GM Neil Olshey. The Nuggets most definitely want to sign Wilson Chandler to a long-term contract, but they may have a difficult time doing so financially speaking, as they already have Afflalo under contract through the 2015-16 season at over $7.5 million per season. They have sharp-shooting Rudy Fernandez at the off-guard position as well.
Trading Afflalo for the super-talented combo guard Eric Bledsoe and his extremely inexpensive rookie contract, rookie high-riser Travis Leslie and his insanely cheap contract, the expiring contract of Randy Foye and a second-round pick is a solid return on their initial investment in Afflalo.
This is a trade that has not been rumored, but as we all know, many times the trades that actually happen are those no one saw coming. This trade could indeed be one of them.