What Price Will the Lakers Have to Pay To Shore Up Gaping PG Hole?
March 9, 2012

Rob Carr/Getty Images
Trade Kobe Bryant.
Good...I got your attention. Now that I have done that, pay no mind to that ludicrous statement, but rather, consider that the Los Angeles Lakers may be a steady point guard away from going very deep in the upcoming NBA playoffs. 
Or, depending on what road game they are playing, they could be making another early exit even with an addition to the roster.
The Lakers are that much of an enigma.
ESPN's Ric Bucher actually does think management should consider moving Bryant. I understand his reasoning, but think it would be insane on the part of the team to even consider it. 
The Lakers are not going to try and move the Black Mamba, even if it means they could shed about $60 million from their payroll over the next two years. Kobe has a no-trade clause; he is not going anywhere.
What is keeping general manager Mitch Kupchak awake at night is an intense drive to find and secure help at the point guard position. The Lakers have most of the ingredients needed to be a contender; what they don't have is the "straw that stirs the drink," as Hall-of-Fame outfielder Reggie Jackson once said about himself and the New York Yankees. Kobe may be the "assassin," but the team is surely missing the facilitator.
Yet, lack of depth, perimeter shooting and a strong point guard may not be their biggest problem. The Lakers cannot buy or trade for dedication and commitment to playing hard-nosed defensive basketball for 48 minutes. From all that we hear coming out of the current road trip, this team may in fact be a bit dysfunctional, playing for a coach who has the respect of his players but doesn't seem to get the X's and O's of an offensive system.  
As ESPNLosAngeles.com beat writer Ramona Shelbourne reported Thursday:
(Mike) Brown's effect on the Lakers' defense has been undeniable, but sources say the team's ongoing struggles on the road -- with L.A. dropping to 6-14 away from Staples Center following a loss in Detroit and blowing a 21-point lead to the undisciplined Wizards -- have some veterans longing for a return to the trusty Triangle offense preferred by Brown's predecessor, Phil Jackson.
As the Lakers head into Minneapolis to meet the Kevin Love and the Timberwolves tonight, there is less than a week to go before the March 15 trade deadline, and we still don't know if the team is set to pick up a small or a big piece. We just know they need a piece or two or three.
But at what price? 
The players out there rumored as possibly coming to L.A. include Ramon Sessions (Cleveland), Raymond Felton (Portland), Rajon Rondo (Boston), Devon Harris (Utah), Kyle Lowry (Houston) and Jose Calderon (Toronto), just to name a few.
Are the Lakers ready to move Pau Gasol in order to get one of the above-mentioned players, or do they feel it would be giving up too much? To get someone like Rondo, the team probably would have to trade Gasol. On the other hand, they may be able to get a player like Sessions without giving him up.
While this team publicly continues to say it can win a championship with the current roster, privately, I think it's a totally different story. There just doesn't seem to be a heart and a spark to this Lakers team.  In embarrassing losses to the Pistons and Wizards, the Lakers were going through the motions.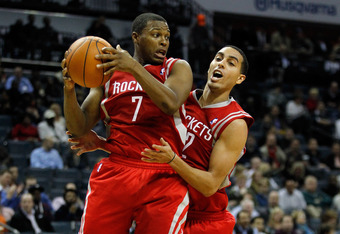 Streeter Lecka/Getty Images
Hindsight is 20/20, but here's a nice little list of things the team should not have done before the season even got underway:
They should not have hired Mike Brown, but rather, signed Brian Shaw to a three-year contract.
They should have stayed with the Triangle Offense because it's how this team was constructed and it's what they've known for a decade. The current team under Brown averages the least amount of points by a Lakers team since the shot clock went into effect in 1954.
They never should have traded Lamar Odom. He's an emotional guy, and he would have gotten over the fact they were ready to move him in the Chris Paul deal. L.O. was the heart of the Lakers; now, the team is on life support.
The Lakers showed last Sunday in a big win over Miami that they can play well for 48 minutes and they can beat an elite team. Yet, something is missing here, and it's hard to pinpoint.
Yes, the Lakers seem old, especially on the road. A young, strong, slashing point guard who leads the team, takes control of the offense and is able to spread the floor will certainly help.
It's time to pull the trigger and make a deal, big or small. Earlier this year, Magic Johnson was in favor of blowing up the team and starting over. Depending on the deal they can or cannot make, I think nothing is off the table for Mitch Kupchak and the Lakers brass.
What this team truly needs is heart and desire. It may come from a new point guard; or it may come from within the current roster.  Either way, the Lakers need to get hungry in a hurry, or they're going to miss dinner.