NCAA Bracket 2012: Power Ranking Top 38 Studs in NCAA Tournament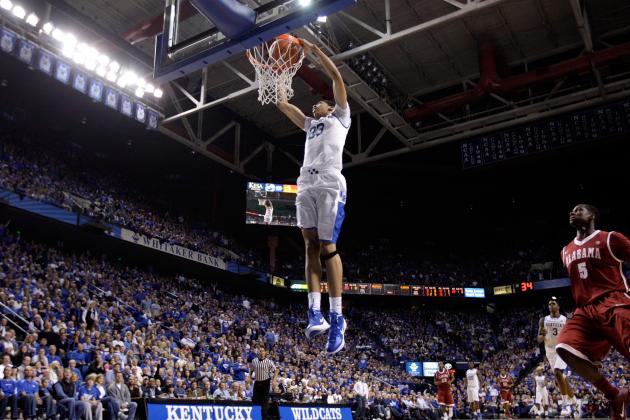 Andy Lyons/Getty Images

With NBA scouts drooling over the year's crop of players likely to be selected come draft day, what this NCAA tournament figures to lose in quality team basketball, it ought to make up for in individual talent.
And the individual talent is fairly spread out, though some teams possess more star power than others.
The usual thoroughbreds—Kentucky, North Carolina, Duke and Kansas, to name a few—bring tremendous talent, and this tournament is also rich in talent coming from some of the mid-major squads.
But, who is the best? Here are my opinions based on some advanced metrics found at the StatSheet website.
Begin Slideshow

»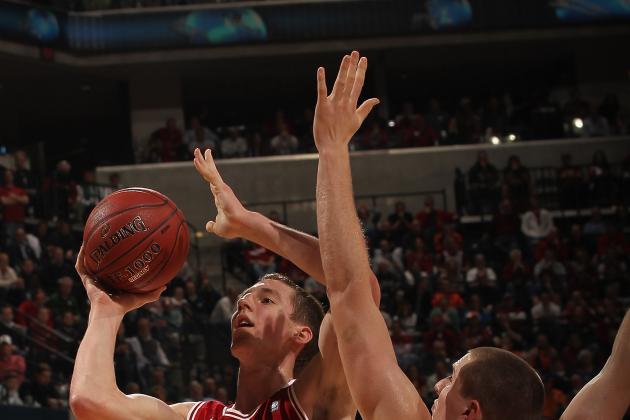 Jonathan Daniel/Getty Images

The 6'11" younger brother of Tyler has been every bit as good as expected upon his arrival in Bloomington. He is a large reason (pun intended) why Indiana is back in the NCAA tournament.
Many years, Zeller would be a leading candidate for national Freshman of the Year. That award is unlikely to come his way, but his inaugural college campaign has been a great one.
He has impressed everyone with 62 percent shooting, which has yielded better than 15.5 points per game. He's been dynamic defensively, averaging 1.2 blocks and a remarkable 1.3 steals per game.
His rebounding is a little below par for a young man with his size (6.4 per game), but that promises to improve with growth in a variety of areas.
If Zeller improves on his freshman year, he promises to have an excellent college career. The NCAA tournament provides him an opportunity to grow up in a hurry.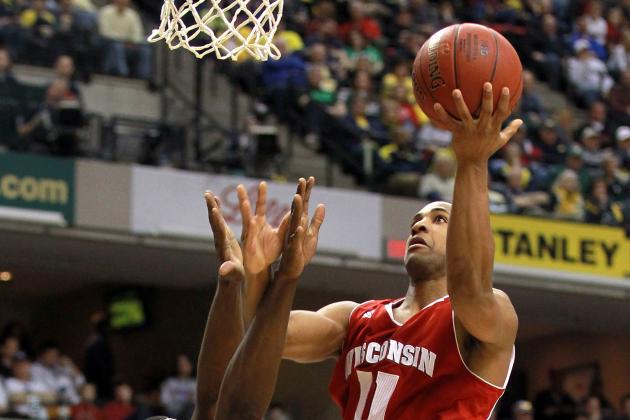 Andy Lyons/Getty Images

The 6'1" senior point guard has seen his productivity drop a bit this year in Madison.
But, Bo Ryan's team is still in good hands this March because Jordan Taylor is a veteran presence who will always get the offense into the right play and limit turnovers.
His 2.5 assist-to-turnover ratio ranks him third in the Big Ten and 31st nationally. That is something you can count on come March.
The Badgers have to feel good with this senior running the show at point.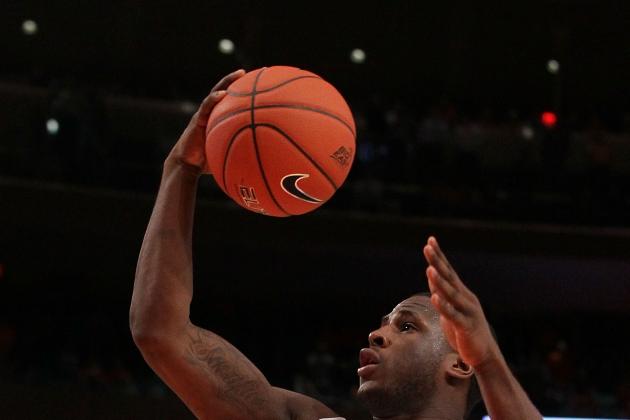 Jim McIsaac/Getty Images

I contemplated not including a Syracuse Orange player, but determined that after including two Kentucky players and four Tar Heels, I couldn't fail to include at least one player from the nation's No. 2 overall seed.
The Orange are the ultimate team, but the one guy who does stand out is Dion Waiters. Please note every player on the Orange is good, but this was intended to be primarily standout players.
Here's what makes Waiters stand out above his teammates.
He scores 16.8 percent of his team's points. He has 16.5 percent of their assists. Also, 19.5 percent of the Orange's steals come from Waiters.
That doesn't necessarily sound like a lot until you remember the kind of talent Jim Boeheim has at his disposal this year. Those percentages actually do mean Waiters stands out quite a bit.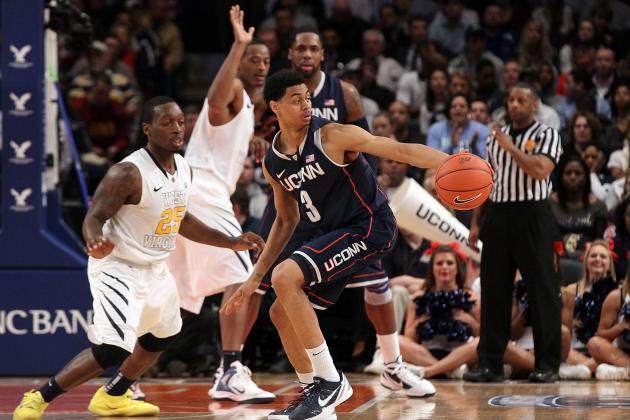 Jim McIsaac/Getty Images

In the wake of Kemba Walker leaving a season early for NBA hell (Charlotte), his primary running mate in their championship run a season ago, Jeremy Lamb, has had to step up his game to keep UConn in the race for the NCAA tournament.
He has done so with mixed results. His numbers have remained largely the same across the board. In fact, he's regressed in a few key areas. But, in the most necessary area, scoring, he's stepped his game up big-time.
He has improved from 11.1 points per game in 2011 to 17.7 in 2012. That said, ESPN analysts criticized him in the final minutes against Syracuse for not demanding the basketball and making plays for the Huskies.
Lamb is not yet NBA-ready or even an elite college guard, but he is by far UConn's best player and possesses the ability to lead this team to a victory or two if he gets hot. We'll learn a lot about the sophomore in this tournament.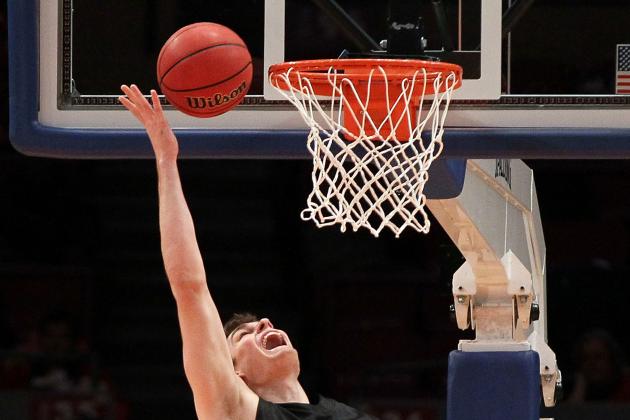 Jim McIsaac/Getty Images

Wichita State, more than any other team, has come on quietly to the point they are almost a stealth bomber as we enter the tournament. A huge reason (pun intended) is Garrett Stutz.
The 7'0" center embodies his team, or they him, perfectly. Neither demands national attention, yet quietly, each has positioned themselves for stardom come this March.
With 13.8 points and 7.9 rebounds per game, Stutz isn't the most dominant center the college game has ever seen. But, I promise you any team that has to face him isn't going to be smiling at the proposition.
He is a terror down low, the ultimate battler who would just as soon beat you up as cleanly block your shot. That attitude makes the Shockers an incredibly tough out. And Stutz will probably end up getting plenty of attention after all.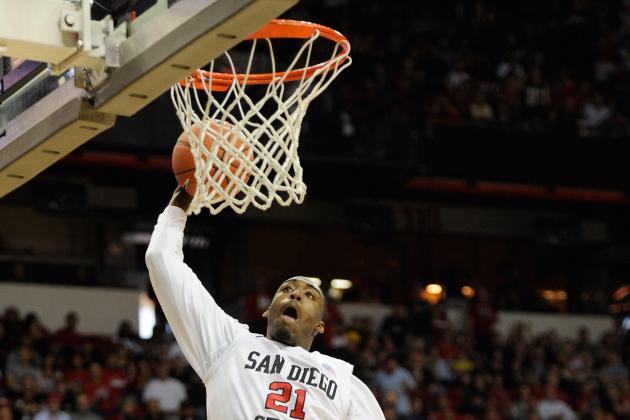 Ethan Miller/Getty Images

Though Jamaal Franklin won the Mountain West Player of the Year award, I believe he was truly the Aztecs' second-best player behind Chase Tapley. Clearly, he is the more athletic player—the guy who wows you with his pregame dunking exhibitions and in-game theatrics.
He managed to lead the league with 17.2 points per game and grabbed 7.8 boards per game, despite being just 6'5". In the Aztecs' four-guard lineup, Franklin is the power forward. In normal lineups, he would be a college small forward.
The guy made two game-winning shots in 2012 and a myriad of other remarkable plays. He is the next human highlight reel. My contention is that Mr. Sleeves exudes about as much brain power as Alicia Silverstone's character in Clueless.
He tends to cost his team about 8-to-10 points every game from stupid plays that few other players at a level as high as the Mountain West would make.
Franklin supporters would argue he makes up for that and more, by adding 10-to-12 points that the Aztecs would be without if not for Franklin's hustle, athleticism and ability get the ball in the basket.
Either way, Franklin is a tremendous talent who few in the country can match in terms of sheer athleticism.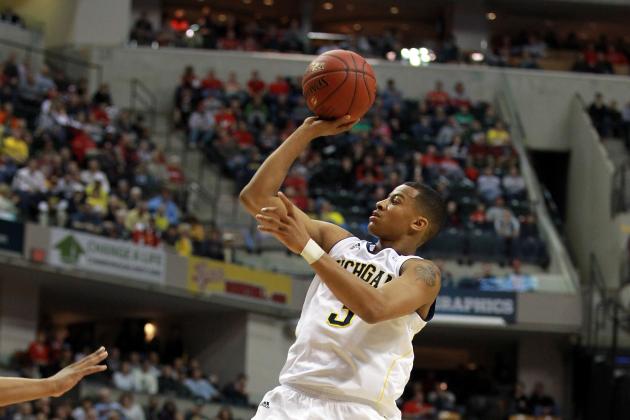 Andy Lyons/Getty Images

Trey Burke is almost entirely different than his backcourt mate, Tim Hardaway Jr., and that's a good thing. The two make for a wonderful odd couple. While Hardaway stands 6'6", Burke is generously listed at 5'11".
Burke likes to penetrate, but more often than not, he does in order to find an open teammate spotted up for a triple. As a result, Burke is averaging close to five assists per game.
When defenses focus too much on Burke's dishing possibilities, Trey hits them with a variety of shots, which has led to a 14.8 PPG average on 44 percent shooting.
And despite his rather diminutive size, Burke averages over 3.5 rebounds per game. He is tough, kind of like a slightly bigger version of Nate Robinson.
The freshman has made Hardaway and Michigan better in 2011-12.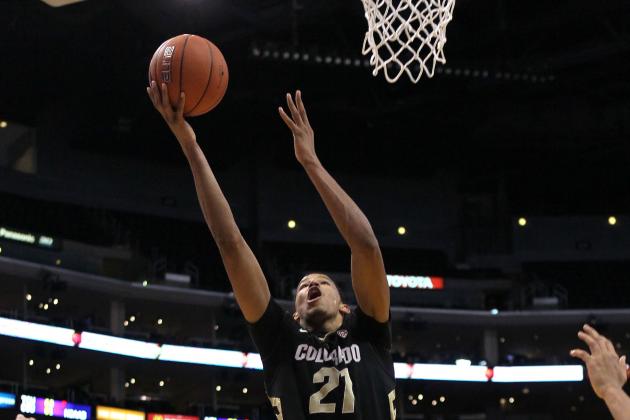 Stephen Dunn/Getty Images

Andre Roberson is a 6'7" sophomore forward on one of the more surprising tournament teams, the Pac-12 champion Colorado Buffaloes. During CBS' coverage of the tournament final, Bob Wenzel and Reggie Miller were comparing him to Shawn Marion.
I find that comparison unsatisfactory. I'm not going too far away, but I think the body type scares me off. Instead, I prefer to think he's a little more Gerald Wallace. The difference is that Wallace, and thus Roberson, though undersized, will bang with the bigs.
And where Marion relied primarily on his athleticism early in his career with the Suns, Wallace and Roberson—though great athletes—rely more on toughness and a nose for the ball.
I'm not going to bother posting stats on Roberson. They don't make him the player he is. Just know that No. 21 guy on Colorado is really good.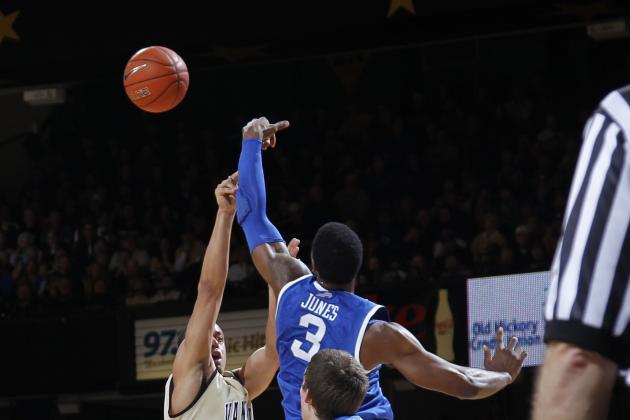 Joe Robbins/Getty Images

Though it appears Kentucky's Terrence Jones managed to block John Jenkins' shot attempt here, that was a rare occurrence this season. No player in the entire NCAA tried or made more three-point field goals than Vanderbilt's Jenkins.
He made 126-of-278 attempts, good for 45.3 percent. His overall field-goal percentage was 48.5. He was also an 84 percent free-throw shooter. All this led to Jenkins scoring just a hair under 20 points per game.
While that was Jenkins' primary contribution to the Commodores' season, he also grabbed 2.7 rebounds and dished out 1.1 assists per game.
No matter what, defenses facing the 'Dores better know where Jenkins is at all times, lest he single-handedly ruin their dreams of dancing their way to New Orleans.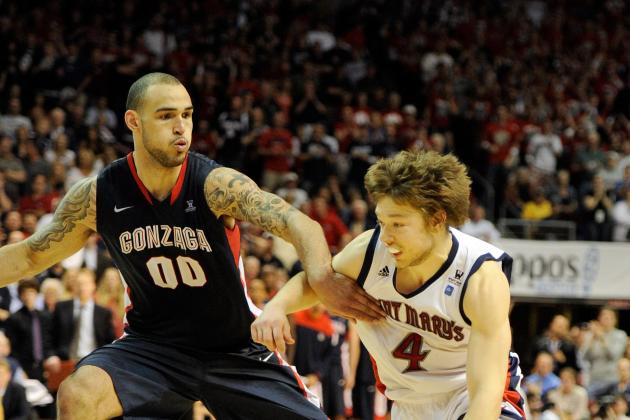 Ethan Miller/Getty Images

The 6'4" Aussie may be known more for his outside shooting, but nothing describes his game better than this picture. Look at the hair, the teeth, the determination. He's a wild man who refuses to be stopped. He'll go to the goal and keep coming 'til you literally take him out of the game.
Randy Bennett's squad is made up of a bunch of tough guys, none more so than Dellavedova. Sure, he put up 15.6 points and dished out 6.3 assists on the season, but the WCC Player of the Year's primary contribution to the Gaels' team was his refusal to quit and ability to push through tough times.
That grit will help the Gaels in the tournament if and when they face a tough situation. They know just who to look to—the crazy Aussie.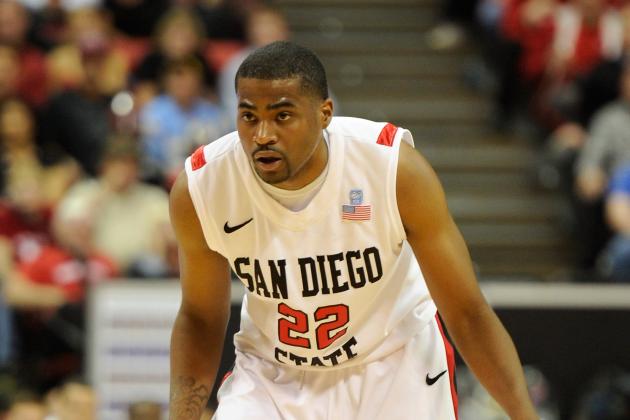 Ethan Miller/Getty Images

I admit I am slightly biased in including Tapley on this list. I feel the Mountain West coaches made a huge mistake in not including Chase Tapley on the Mountain West First Team.
It befuddles me because statistics and simply watching the games point to Tapley being one of the finest players in the fourth- or fifth-best conference in the country.
Let me make my point. As a 6'5" guard, Tapley does everything for the Aztecs. He rebounds at an impressive 4.2 per game clip. He dishes, with 2.2 assists per game. He led the team and the world in steals with 1.78 per game.
And that doesn't even get to what Tapley does best. He is a lights-out shooter. He shot better than 43 percent from three-point range in 2011-12. And if you watched the Mountain West championship game, you saw Tapley isn't afraid to shoot from anywhere.
When he catches fire, he's nearly unstoppable. Early in the season, he was leading the Mountain West in overall field-goal percentage before cooling down slightly.
In my mind, he's a lesser-known version of Arron Afflalo. Click here for a comparison of the two in each player's junior season.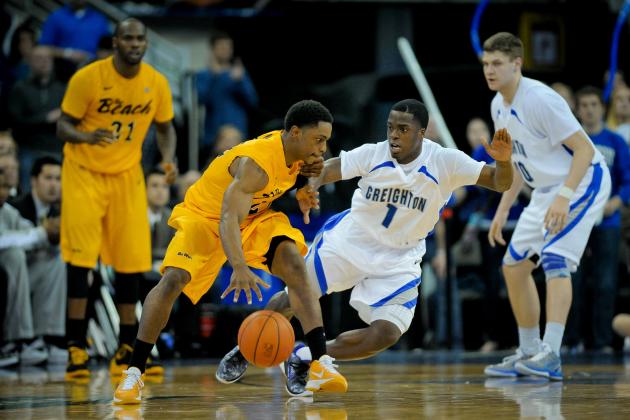 Eric Francis/Getty Images

At 5'11", Casper Ware is undersized and unknown to much of the college-basketball world. Something tells me that's about to change this week, if it hasn't already.
In the Big West title game against UCSB, Ware poured in 33 points while dishing out six assists. Amazingly, the 33 points weren't even a season high in scoring (he had 38 against Pacific on Feb. 9).
For the season, Ware shot 40 percent and 36.7 from three-point range. He was 80 percent from the foul line and finished with 17.4 points per game.
He also managed 3.3 assists to go along with 2.4 rebounds per game. And he was good for 1.4 steals per game.
Combined with a healthy Larry Anderson, Casper Ware and "The Beach" have a chance to make some noise this postseason.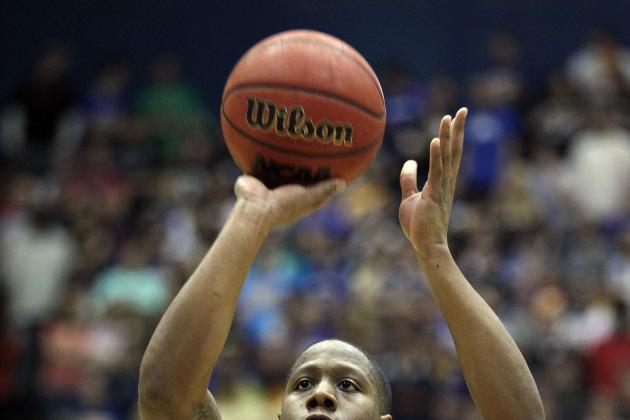 Andy Lyons/Getty Images

Make no mistake about it, Murray State's Isaiah Canaan is a scorer first and foremost. That is not to say that he cannot distribute; he did assist on hoops 3.7 times per game. And he grabbed 3.3 rebounds per game.
But the 6' guard made his mark on the Racers' incredible year with 48 percent shooting, including an incredible 47 percent from three. And his 84 percent from the free-throw line isn't too shabby, either.
He was one of the most efficient offensive players in the country—a big reason this Racers team had such a remarkable season.
Put it this way: Don't be surprised if Canaan's name is one you see filling up the score sheet quite often this weekend.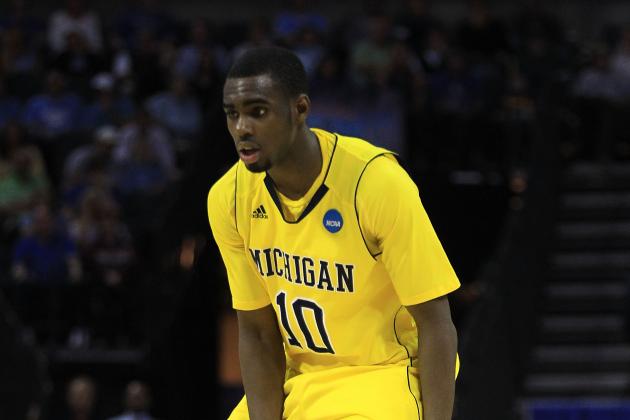 Streeter Lecka/Getty Images

The 6'6" sophomore guard and son of NBA great Tim Hardaway, Tim Jr. is a much different player. He isn't a great shooter like his father, nor is he a dime-dropper. What Hardaway does well is get into the lane and hit tough shots. He's a 42 percent shooter for the season.
From an efficiency standpoint, Hardaway Jr. really isn't very good. But, he is a dangerous player and one opposing teams must be prepared for and ready to slow down. His size presents quite a challenge.
As he learns how to use that size, he should become a better distributor, and with increased strength, he ought to get to the free-throw line even more than he does now. That is the area in which he currently excels, yet he can get better.
As he does, his entire game will improve. Based on his name alone, we know Hardaway is a tremendous talent. Now he just has to put it all together.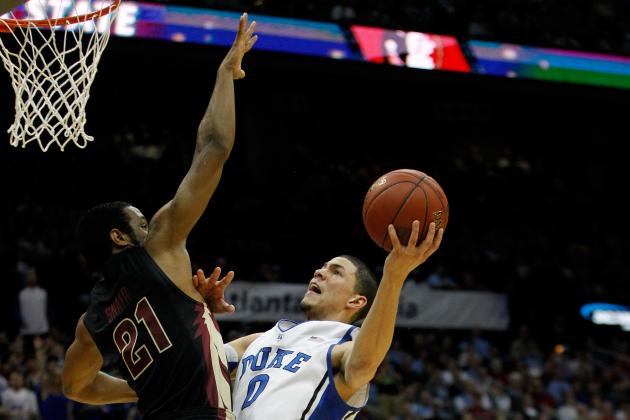 Streeter Lecka/Getty Images

The 6'4" son-of-a-coach has been a bit of a revelation for Coach K and the Duke Blue Devils. Granted, the team's point guard for part of last year, Kyrie Irving, is tearing up the NBA in his rookie season, but Austin Rivers has been remarkably consistent and shown a great desire to call his own number at the most important times.
With nearly 16 points and 2.1 assists per game, Rivers is clearly a shoot-first point guard. His offensive-efficiency rating ranks him just 36th in his own conference, but those numbers figure to improve should Rivers return to school another year.
The Blue Devils will likely be fine a year from now regardless, but Rivers' presence would put them in position to earn Coach K another title. This season, Rivers' presence likely won't get them that far. However, that says a lot more about the team around him than it does Rivers himself.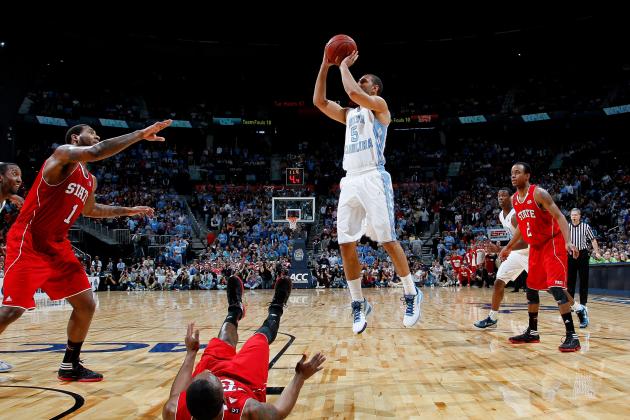 Kevin C. Cox/Getty Images

Kendall Marshall isn't going to wow anyone with his shooting or scoring ability. By point-guard standards, those numbers aren't great for a marquee player. But his lefty release does give him an advantage in his ability to get his shot off, since most defenders aren't used to facing a southpaw.
It also aides him in his ball-handling and when he uses the one-hand pass to teammates on the break or off the pick-and-roll. His ability to penetrate and find teammates has made this one of the most dangerous offensive teams in America.
We all know Roy Williams loves to play uptempo basketball, but Marshall is the best point guard he has had in the half court. Because of Marshall and the talent around him, Carolina is just as comfortable playing a slow game as they are in a track meet.
When a college point guard is averaging nearly 10 assists per game, you know that player has tremendous vision and ability to put the ball in a precise location. That is exactly what Marshall does, and it is the reason Carolina is not a team anyone wants to mess with this March.
Streeter Lecka/Getty Images

Statistically speaking, John Henson is nearly the exact same player he was a season ago as a sophomore. His 50 percent free-throw shooting is less than two percent better than a year ago.
His field-goal percentage has improved by less than a percent, his blocks per game have actually decreased by 0.2, while his steals per game are almost exactly the same.
And his 10.2 rebounds per game are less than a quarter of a rebound increase from a season ago.
But, Henson has improved in two key areas. First, he has improved his scoring to above 13.8 points per game, up from 11.7 a season ago. That is a basket-per-game increase that his team directly benefits from.
And he has improved in finding open teammates for baskets by nearly 0.5 assist per game. For every two games, that is one assist. In these two areas, Carolina is a better basketball team because of Henson's improvement.
If Henson is healthy in the tournament, Carolina literally could go all the way. If he can't go, Roy Williams is going to have a tough time replacing the guy who may be his most consistent player.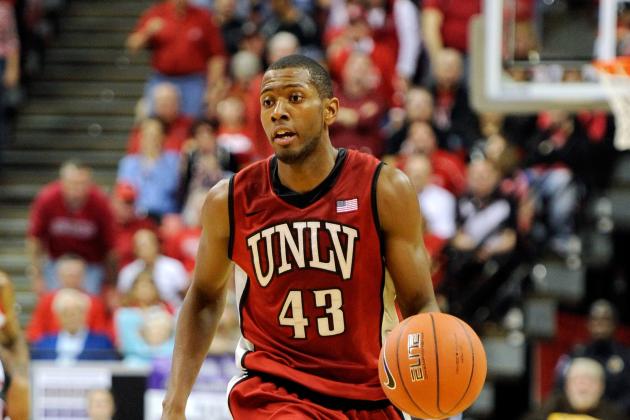 Ethan Miller/Getty Images

One of two UCLA transfers in the Mountain West who could make legitimate claims to conference player of the year, Mike Moser provided the Runnin' Rebels an interior scorer they hadn't had in quite some time.
But, Moser has been an incredibly active defender, recording nearly one block and 1.8 steals per game. These skills were on display in some of the Rebels' biggest regular-season wins. It was what made Moser so valuable in games where his offense seemed to take a night off.
Those nights were pretty rare, though, as Moser finished his first full college season with 14.1 points per game on 45 percent shooting and made one-third of his three-pointers. He also is an elite rebounder, having grabbed more than 10.5 per game.
And for a guy who played power forward for the Rebels, Moser did well to dish out more than two assists per game. He has been quite the complete player and makes the Rebels a tough out this March.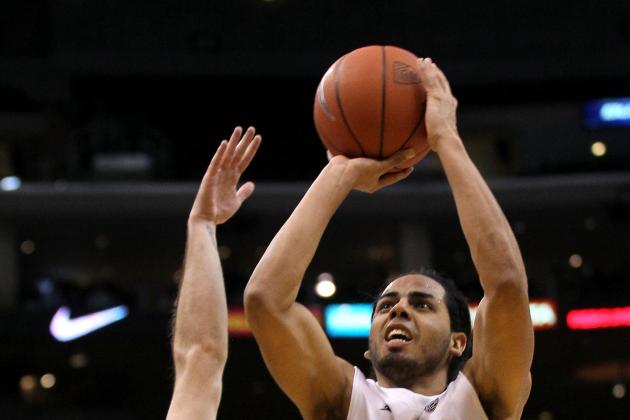 Stephen Dunn/Getty Images

The 6'3" senior guard from Chihuahua, Mexico, was named Pac-12 Player of the Year and Defensive Player of the Year in 2012. His 1.2 steals per game and on-ball defense led to the defensive honor.
The overall player of the year was likely due to his 13 points, 4.0 assists and 5.3 rebounds per game. Gutierrez played with a chip on his shoulder throughout his Cal career and was constantly rewarded for it.
In his senior year, the individual awards abounded, though the team was dangerously close to being left out of the NCAA tournament.
Look for Gutierrez and the Bears to seize the opportunity and look like hungry golden bears in the first round.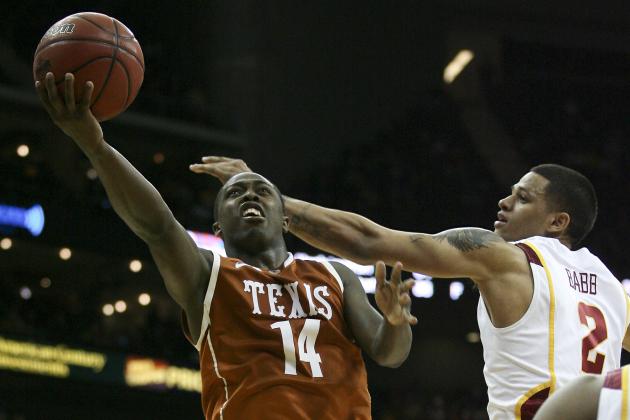 Ed Zurga/Getty Images

The 6'1" junior guard for Texas is one of the most improved players in all of college basketball. In 2010-11, J'Covan Brown averaged 10 points per game. In 2011-12, he averaged 20.
Interestingly enough, his percentages were essentially identical. In fact, his numbers across the board were the same as his sophomore season. The only real difference is that he doubled the number of shots he took this season.
Credit Brown for recognizing this was his Longhorns team this year and taking advantage. The wins didn't come as quickly as Brown and Co. hoped, but this remains a talented team.
It's a talented team that has a confident leader ready to put up big numbers in this tournament.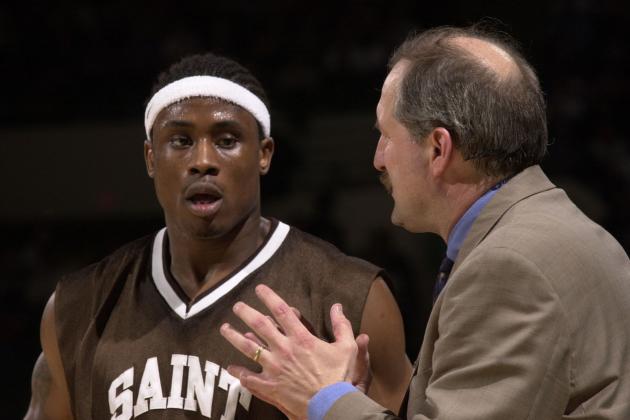 Doug Pensinger/Getty Images
That's not Nicholson but one of the few photos showing Bonaventure at all.
Few NBA prospects are likely as unknown as Andrew Nicholson. Here's what you should know about him. He's 6'9" and 240 lbs. from Ontario, Canada. For his college career, he's averaging 17.0 points per game and 7.2 rebounds.
Statistically, Nicholson hasn't grown tremendously from his freshman season (he's a senior now), except that he's added a three-point shot, which he's shooting at a 38.6 percent clip.
He does a lot of things well, but nothing spectacularly. But, he has led his St. Bonaventure squad to the brink of the NCAA tournament, needing only a victory over Xavier in the Atlantic 10 final to secure a spot.
Not bad for a guy you may not have ever heard of, huh?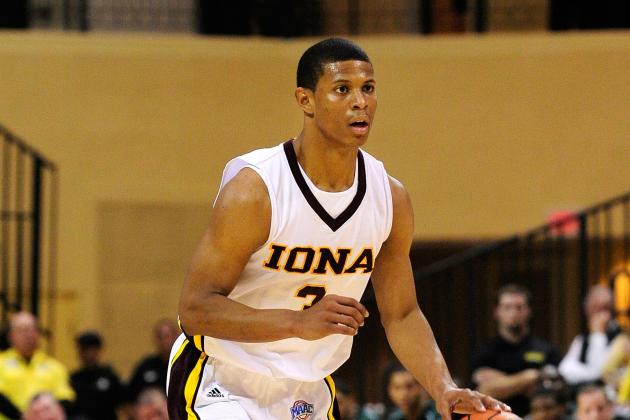 Sam Greenwood/Getty Images

The Iona Gaels were sweating out their NCAA tournament lives all week after losing in their conference tournament. But with Scott Machado at the helm of the offense, this team had to make the tournament.
Machado averaged 13.6 points and dished out 9.9 assists per game. Only North Carolina's Kendall Marshall approached that number this season. Machado is thought to be a good NBA prospect in the upcoming draft.
His 49, 41 and 80 percent (FG, 3PT and FT) shooting makes him one of the best shooters in the country. The assist numbers prove he is an excellent distributor with great vision, and advanced metrics prove he is one of the most efficient and valuable players to his team in the entire country.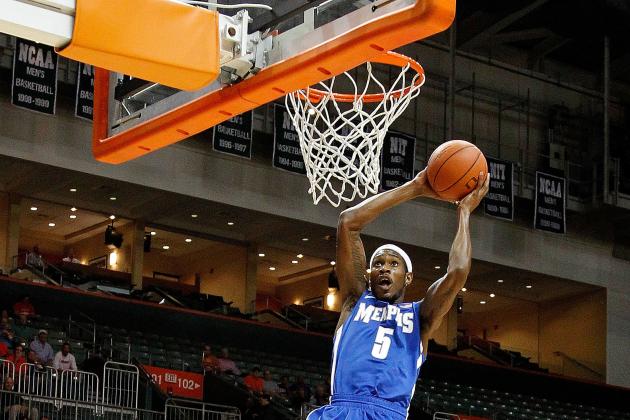 Mike Ehrmann/Getty Images

Will Barton is a 6'6" guard for Memphis whose brother, Antonio, also plays regularly for Josh Pastner's Tigers squad.
Make no mistake, though, Will is the superior brother. With 18 points per game and eight rebounds, even calling Barton a guard seems odd.
Granted, those numbers were put up primarily against Conference USA competition, but Barton proved to be an elite talent in 2012. He also had 3.0 assists per game and 1.4 steals.
If Will can put up similar numbers in this tournament, it's not out of the realm of possibility that Memphis could make some noise.
Eric Francis/Getty Images

Let's just be honest, looking at Doug McDermott, there isn't a lot to suggest that he would be an outstanding basketball player. Sure 6'7" guys don't grow on trees, but in basketball terms, they are rather commonplace.
Yet as a sophomore, McDermott put up 23.2 points on 49.5 shooting from beyond the arc and 61.0 percent overall. So, the guy just flat out knows how to score.
Of course, he also knows how to rebound—he grabbed an average of eight per game—and he had more than one assist per game.
Granted, these numbers were put up mostly on Missouri Valley Conference competition, but at least one game was against what should have been a superior San Diego State Aztecs squad. He burned them, too.
The guy's a good basketball player, no matter how you break it down.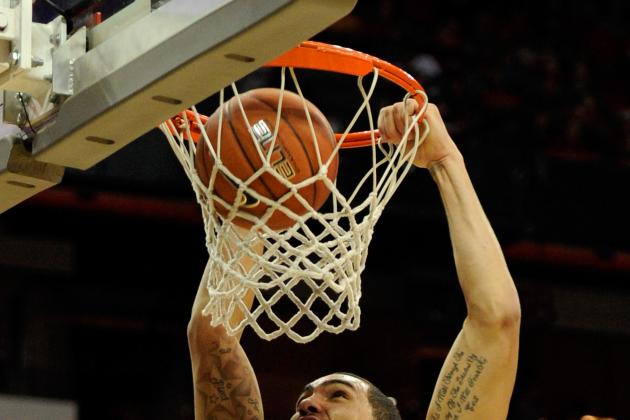 Ethan Miller/Getty Images

Drew Gordon, the other UCLA transfer in the Mountain West, was an elite talent in 2012.
He led the New Mexico Lobos to a regular-season tie for the Mountain West title and then helped the Lobos defeat San Diego State in the Mountain West championship game to gain the conference's automatic NCAA tournament bid.
With nearly 14 points and 11 rebounds per game, Gordon was by far his best in his senior season at New Mexico. For the first time, he averaged more than an assist and also blocked more than one shot per game.
The other numbers were quite impressive for a player who left UCLA due to philosophical differences with head coach Ben Howland back in 2009. Gordon got redemption this season, as New Mexico is tournament-bound and UCLA is not.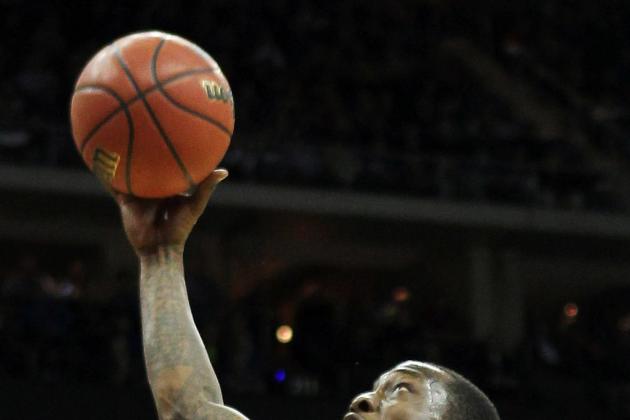 Jamie Squire/Getty Images

The 6'3" senior guard has nearly matched teammate Thomas Robinson in scoring for this Jayhawks squad, averaging 17.3 points per game. He's done so on a very impressive 49 percent shooting performance from the field, which also included deft touch from three at 43 percent.
With 4.8 assists, 1.9 rebounds and 1.2 steals per game, Taylor is a balanced player who makes his teammates better and leads them well.
With Robinson and Taylor, the Jayhawks exceeded expectations in 2011-12. Much credit should be given to Taylor, who is another coach out on the floor.
His size allows him to do things many other point guards cannot do, such as seeing the court and shooting over defenders with ease.
Taylor may not be a superstar at the next level, but he's been another great guard in a lineage of great Kansas Jayhawks guards.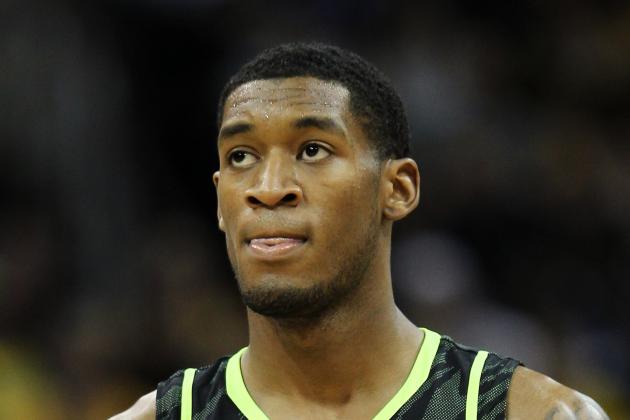 Jamie Squire/Getty Images

The III suffix sure was popular at Baylor this year. First, Heisman Trophy winner Robert Griffin III made the suffix famous by leading Baylor to maybe its most memorable football season ever.
Now, Perry Jones III has erupted onto the national scene for what has become an underrated Baylor Bears men's basketball team.
Sure, Jones and Co. lost to Mizzou for the third time Saturday in the Big 12 championship game, but Baylor has been outstanding otherwise.
Jones is averaging barely under 14 points per game on a stacked team. He's done it on 50 percent shooting and has managed 29 percent shooting from three-point distance. More importantly, he's contributed 7.7 rebounds per game and 1.2 assists.
Jones is a freakish athlete who figures to fit in better at the NBA level. But for now, head coach Scott Drew is going to get everything out of Jones that he can.
We'll find out over the next couple of weeks if he can get to a Final Four on the the wings of Jones III.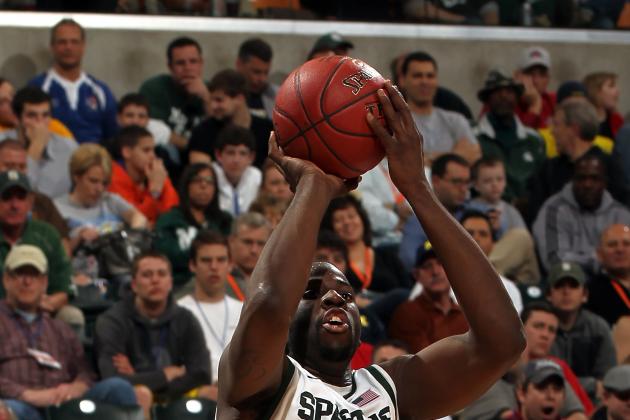 Jonathan Daniel/Getty Images

The 6'7" forward is undersized, but—in typical Tom Izzo fashion—tough as a nut, er...Spartan.
Green is the undisputed leader of the Michigan State team, leading them with 16.2 points and 10.4 rebounds per game and showing off great versatility with 3.6 assists per game (there are guards on this list who don't approach that number).
With nearly 1.5 steals and exactly one block per game, Green does it all for Tom Izzo. Most importantly, the Spartans know Green wants the ball in crucial moments, and more often than not, he will produce big plays.
Izzo has made a career out of getting every ounce of production out of his players. Clearly, he has done that with Green in his senior season. He is the Big Ten Player of the Year and will place somewhere pretty high nationally for All-American consideration.
Jonathan Daniel/Getty Images

A season ago, Darius Johnson-Odom burst onto the scene as a major player in Marquette's surprising run to the Sweet 16. This season, he took his game to another level still.
At 18.5 points per game, Johnson-Odom was among the Big East leaders in scoring while hitting approximately 40 percent of his three-point shots and 45 percent of all his field-goal attempts.
As a combo guard, Johnson-Odom was impressive in dishing out 2.8 assists and grabbing 3.5 rebounds per game. He also chipped in one steal per game while leading Marquette as only a senior can.
Along with Jae Crowder, Marquette was in good hands with their top dogs.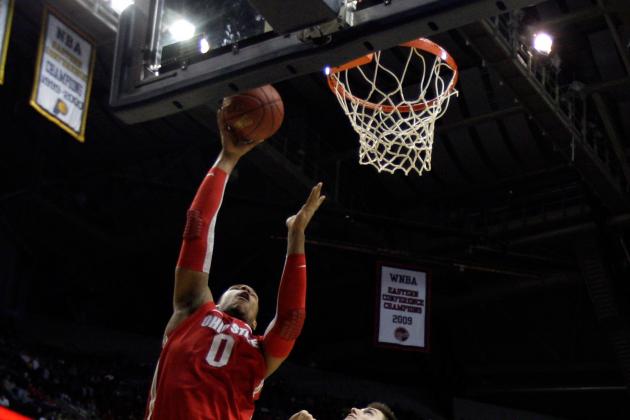 Andy Lyons/Getty Images

Jared Sullinger is another player whose return to the college game after a spectacular freshman season hasn't helped his draft stock much. Statistically, Sullinger is largely the same player. His points per game, field-goal percentage and rebounding are all within reasonable range, but none has improved much.
The only real growth in Sullinger's game from his freshman to sophomore year is in his offensive efficiency. But, even those numbers aren't enough to suggest that Sullinger made the right decision to return to Columbus.
Only one thing can justify such a decision: A trip to New Orleans and the Final Four would make Jared Sullinger's decision to return to school a good one. Otherwise, his sophomore season will be remembered as mostly a disappointment—fair or unfair.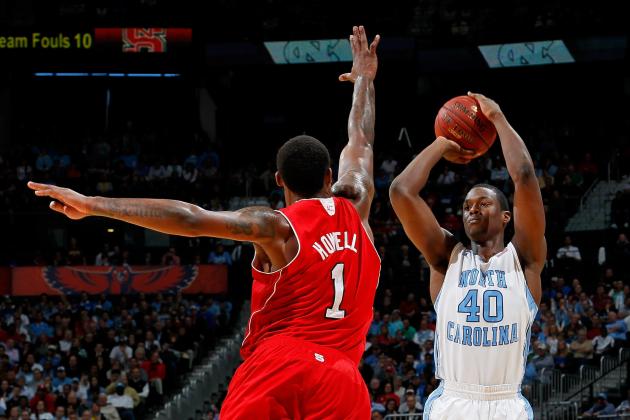 Kevin C. Cox/Getty Images

The 6'8" small forward surprised some last April when he decided to return for his sophomore season in Chapel Hill instead of going to the NBA. The decision hasn't necessarily added anything to his value, but it also hasn't subtracted from it.
It's a reasonable bet that Barnes saw the fate of Marvin Williams before him and decided playing a sophomore season was worth it. If there's one area Williams has excelled, it's in the clutch. He's statistically the most clutch player in America.
Impressively, Barnes averaged 17.2 points per game on 45 percent shooting and a respectable 38 percent from three-point range. With over one assist and 5.1 rebounds per game, Barnes ranks up there as one of the most complete players in the country.
He also gets a block about every third game while averaging just over one steal per game.
Stats don't seem to tell the full story with Barnes, though. Sometimes you love him, other times you shake your head and feel he's wasting his talent, which makes him eerily similar to his predecessor, Marvin Williams.
If Barnes can find a way to become more consistent, watch out tournament field because the Heels would become a team to be reckoned with.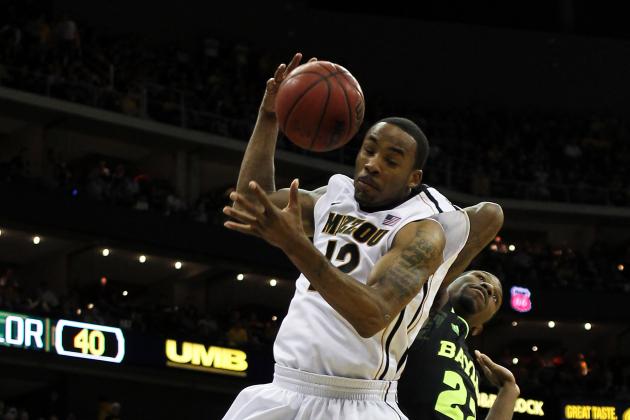 Jamie Squire/Getty Images

Everyone knows Mizzou has four great guards. Everyone knows they love to play all four together at once. Few can identify which of the four is the best player.
While all four are great, Marcus Denmon has stood out in my eyes. He has been the most clutch while producing the greatest overall numbers.
At 17.6 points per game, Denmon was near the top of the Big 12 in scoring, but more impressively, he shot 46 percent from the field and 41 percent from three. And most impressive of all, in terms of shooting, is his foul shooting. From the charity stripe, Denmon was right around 90 percent for the season.
If that doesn't convince you of his value to this Mizzou squad, how about the 6'3" guard averaging over 5.1 rebounds per game, including more than one offensive rebound per game?
Playing essentially the small forward, or maybe even power-forward position for the undersized Tigers, Denmon also found a way to dish out over 2.1 assists per game.
Defensively, he stole the ball an average of 1.6 times while averaging only 1.1 turnovers and just one foul per game. He is a clean player who makes big things happen while playing smart.
Denmon was one of my favorite players in the country this season.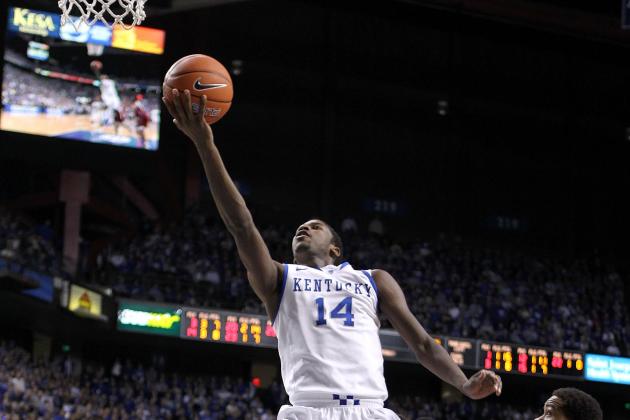 Andy Lyons/Getty Images

Much like fellow freshman Anthony Davis, Kidd-Gilchrist can do a little bit of everything. He combines with Davis to make up one of the finest defenses—not just this season, but historically.
The Wildcats lead the world in blocks, in large part due to Davis' 4.7 and Kidd-Gilchrist's 1.06 per game. He also averages 1.18 steals per game. While Davis plays power forward or center, Kidd-Gilchrist is a true small forward.
At 6'7", this kid can get to the rim and shoots the ball pretty well from the line (76 percent). He makes 48 percent of his shots from the field to account for over 12 points per game, while also contributing 7.8 rebounds and two assists per game.
There isn't much Michael Kidd-Gilchrist cannot do. If he weren't overshadowed by Davis, we might be able to see just how good he really is.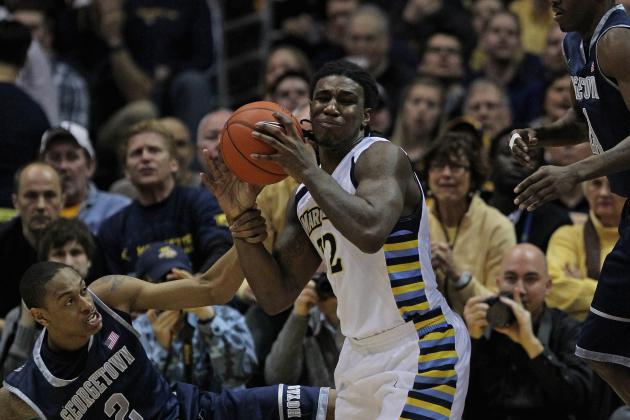 Jonathan Daniel/Getty Images

Though completely undersized, Jae Crowder was probably the Big East's most valuable post player in the 2011-12 campaign. At just 6'6", Crowder used determination, hustle and grit to make up for his obvious limitations.
Those qualities led to 17.4 points per game on 50 percent shooting, including 35 percent from three-point range and eight rebounds per game. He also exhibited tremendous passing ability, as he managed more than two assists per game.
On the defensive end, Crowder was a beast, taking the ball away 2.4 times and blocking more than one shot per game.
Between Crowder and Johnson-Odom, it wouldn't surprise me if Marquette makes another great run in this tournament.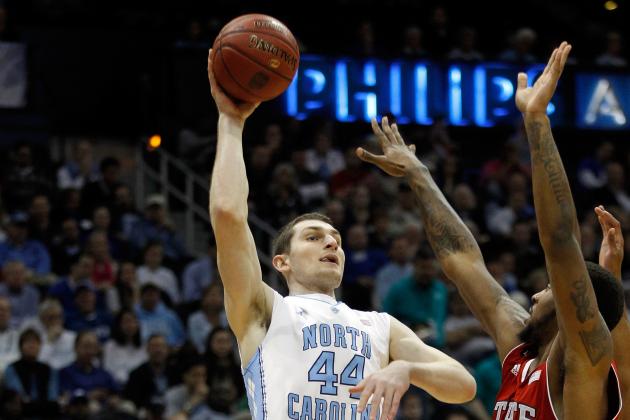 Streeter Lecka/Getty Images

For the common fan, Tyler Zeller is Tyler Hansbrough 2.0. While there are definite similarities, that's really doing a disservice to both players. Hansbrough was a pest who excelled mostly due to his tenacity and resiliency.
That's not to say that Zeller doesn't possess such attributes, but truth be told, he is a much more skilled player than the man he took over for in Chapel Hill.
The 7'0" senior won ACC Player of the Year due mainly to a skill set which includes a wonderful back-to-the-basket game, soft touch around the rim and marksmanship from the foul line (80 percent).
The Indiana native averaged 16.4 points per game on 55 percent shooting from the field. While not being the shot-blocker that teammate John Henson is, he did reject more than one shot per game. He also provided one assist and one steal per game.
Most of all, the Tar Heels rely on Zeller's leadership. The senior has been a steadying force for Carolina for multiple seasons. He would love to leave Chapel Hill as the primary author of another championship.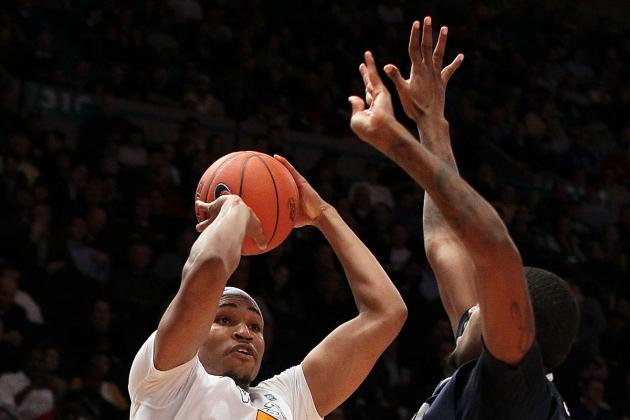 Jim McIsaac/Getty Images

The 6'8" senior power forward is somewhat reminiscent of Elton Brand in terms of his body type. But, his game is a little more reminiscent of a young Sam Perkins.
Early in his West Virginia career, Jones was a 40 percent shooter from deep. As his body and game evolved Jones, got thicker and moved down in the post more often. That doesn't mean Kevin won't step out and launch the three.
In several games this season, Jones has caught fire from beyond the arc and led the Mountaineers to key wins in doing so. Make no mistake, though, Jones and the Mountaineers are at their best when he's playing closer to the rim.
He shot above 50 percent on the season, along with 78 percent from the free-throw stripe. In fact, better than 15 percent of Jones' total points came from the stripe this season. Sixty-eight percent came from inside the three-point arc, meaning he maintained discipline and did most of his damage around the basket.
It showed, as he also managed more than 11 rebounds and a block per game. Maintaining his overall game, he contributed 1.25 assists.
For a player on a 19-13 team, it would seem unlikely for him to garner Player of the Year consideration, yet many have thrown his name in that hat. It is because his game is so highly evolved. His NBA stock should fall in line quite nicely, common sense would tell you.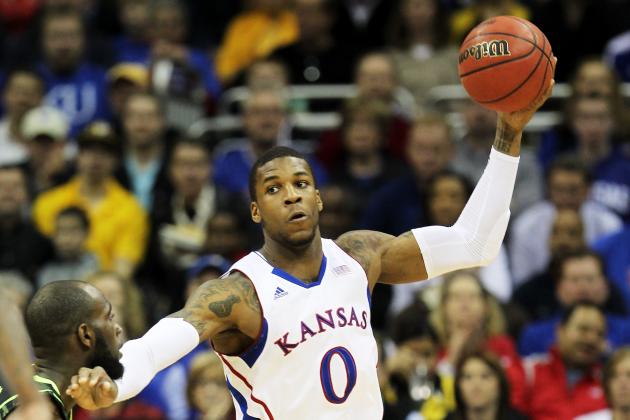 Jamie Squire/Getty Images

At 6'9" and 237 lbs., Thomas Robinson is the prototypical NBA power forward. For now, he's a dominant college player. The junior emerged from the shadows of the Morris twins to become Kansas' best player and a top candidate for national Player of the Year.
He's averaging nearly 18 points per game on 53 percent shooting from the field, including 46 percent from the three-point line. He's also shooting 68 percent from the free-throw line, which isn't bad for a big, aggressive forward.
He's at nearly two assists per game, meaning he is an unselfish player who knows how to feed his teammates out of the constant double-teams he faces. And his 11.7 rebounds per game helps the Jayhawks' defense to no end.
He also adds a block and just over one steal per game.
Most impressively, he's led a Kansas team low on talent (by Kansas' standards) to another Big 12 title and No. 1 seed in the NCAA tournament.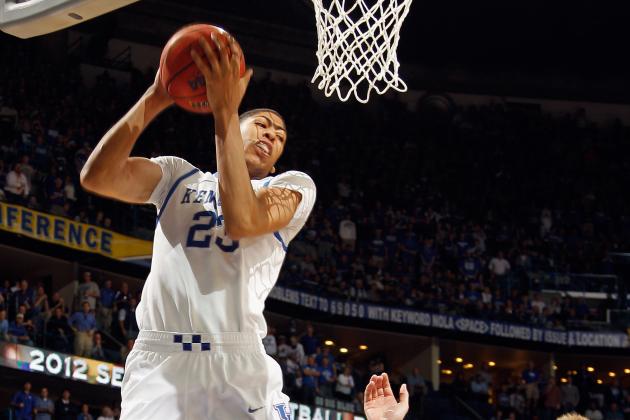 Chris Graythen/Getty Images

At 6'10" and 220 lbs., Anthony Davis has the kind of size you expect in a three or four, but he possesses the skill sets of both a point guard and a center.
Going into Sunday's games, Davis was averaging 14.3 points per game on 65 percent shooting from the field, 10 rebounds, 1.4 steals, one assist and 4.7 blocks per game.
In other words, he's a five-tool player, to use a baseball analogy.
No wonder he's going to be Freshman Player of the Year, Defensive Player of the Year, National Player of the Year and the likely No. 1 pick in the NBA draft.
He's Mr. Everything for Kentucky. There are a ton of good players in college basketball, but Mr. Davis surpasses them all without much doubt.