Peyton Manning to Miami Dolphins: Power Ranking Reasons This Is Best Fit for All
March 8, 2012

Joey Foley/Getty Images
Peyton Manning apparently has 12 teams that are interested in having the recently released quarterback on their team at the start of the 2012 season. However, the one team that makes the most sense for Manning to play for is the Miami Dolphins.
There are a number of reasons why Manning would work out in Miami, but here are the top five. 
1. The current roster of players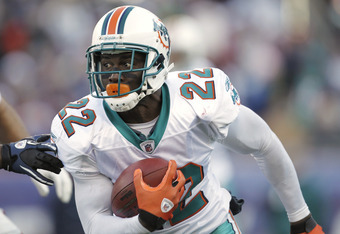 Winslow Townson/Getty Images
The Dolphins did finish 2011 with a 6-10 record, which put them tied with the worst record in the AFC East. However, the record is a mirage of the talent that is on this roster. 
For starters, the Dolphins' 2011 season got off to a bad start losing their first seven games. However, over their final nine games Miami went 6-3. Among those six victories, three of them saw this Dolphins defense hold opponents to under 10 points. 
Manning would walk onto a Miami team that has a go-to receiver, Brandon Marshall, good running game with Reggie Bush as a pass-catching running back, and Daniel Thomas as a bruising-style runner. 
He would have a great offensive line, as the Dolphins have spent two of their last four first-round draft picks on protecting the quarterback. 
Plus, Manning would be coming onto a team that had the fifth-best defense in the AFC last year. 
2. Knowledge of the conference
Manning has played 13 great seasons in the AFC. He's won four MVP awards, thrown for 54,828 yards and 399 touchdowns and has a passer rating of 94.9. He's been to three AFC Championship Games, while playing in 16 playoff games. 
In his last active season with the Colts he had an impressive stat line against the AFC of  3,479 yards, 25 touchdowns and a passer rating of 92. He put up these stats while throwing to subpar talent like Blair White, Jacob Tamme and Austin Collie. 
If he signs with Miami the Dolphins will get a quarterback whose best stats outside of his division was the AFC East. Against the East Manning had 12,388 passing yards, 80 touchdowns and a passer rating of 84.4. 
3. Welcoming fanbase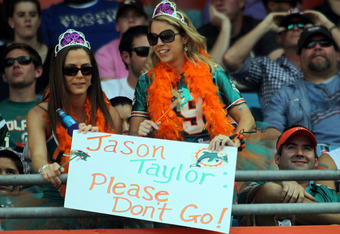 Marc Serota/Getty Images
The Dolphins fanbase has not seen an elite level quarterback since Dan Marino retired after the 1999 season. They would welcome Manning to the franchise with open arms no matter if he is or isn't 100 percent healthy. 
Because of Manning's history and because of what he can do on the football field, he would walk into this situation with the Dolphins and be the most popular player. 
This Dolphins fanbase has not seen a playoff game since Chad Pennington came in as a free agent in 2008. If Manning would sign with the Dolphins it would be the biggest signing in Miami sports history since LeBron James two years ago.
4) Owner who loves big names and stars
Dolphin's owner Stephen Ross is not shy about his affection to celebrities. He's created the "Orange Carpet" to welcome his partial owners. From CBSSports.com:
The change attracting the most attention has been the addition of the Williams sisters, the Estefans and Anthony as limited partners. Ross also forged an agreement with Buffett, who wrote a song for the Dolphins.

Some of the VIPs were to make their pregame arrival on a new celebrity orange carpet with Hollywood trappings, and Buffett was expected to perform for tailgaters.

"We have just a great bunch of partners who have a great feeling and compassion for South Florida and the Miami Dolphins," Ross said. "It has been a fun experience getting to know them."

The celebrities are part of Ross' effort to spice up excitement at games. He says they reflect the diversity of South Florida and show the franchise is connected with the community.
Manning is the biggest name and star on the free-agent market, and with an owner who has a love for having glitz and glare around his team, adding Manning is a perfect fit. 
5. Knowledge of the area
When Manning finished his press conference the first thing he did was hop on a private jet and fly to Miami. 
He has a vacation home, he's been working out there and signing with Miami doesn't mean he has to uproot his family to a new location. 
Miami is Manning's home away from home and should be where he finishes out his career. He can play with the Dolphins for the remaining portion of his Hall of Fame career while leading the Dolphins on deep runs in the playoffs. 
He can sign with any one of the 12 teams that have been reported to be interested in him. However, the place that makes the most sense is Miami.