2012 NFL Free Agents: Chicago Bears to Look at Kamerion Wimbley If Released?
March 8, 2012

Harry How/Getty Images
If the dominoes fall the right way, the Chicago Bears may have their ideal candidate to play defensive end opposite Julius Peppers land directly in front of them. 
According to beat writer Vaughn McClure of the Chicago Tribune, the Bears are expected to "take a long" look at Oakland Raiders outside linebacker/defensive end Kamerion Wimbley if the Raiders release him in the coming days.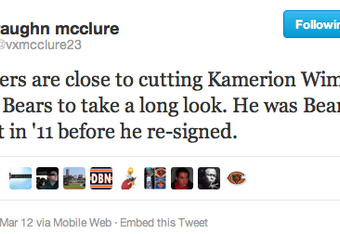 Wimbley was the Bears' No. 1 target during the 2011 offseason before the Raiders re-signed the 28-year-old to a five-year, $48 million contract last August. As McClure points out, Wimbley was viewed by the organization as "the ideal 4-3 defensive end to pair with Julius Peppers."
However, you have to consider that the Bears fired GM Jerry Angelo this offseason and replaced him with Phil Emery. It's unclear whether Emery's staff continues to view Wimbley as a top target for the Bears.
We are likely to find out soon, as ESPN AFC West blogger Bill Williamson reported this week that the Raiders are expected to release Wimbley "unless there is a major change" between the two sides on a contract re-structure.
According to Williamson, the two sides "have not talked in several days" and Wimbley is "not interested in taking a pay cut."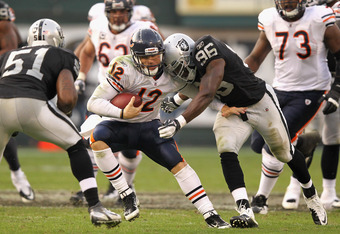 Ezra Shaw/Getty Images
If that course stays true, the Raiders will likely be forced to release Wimbley, who is scheduled to lock in over $17 million in guaranteed money if still on the Raiders' roster on March 17. Wimbley has a clause in his contract that guarantees the remaining $4.5 million for Wimbley in 2012, $11 million in base salary in 2013 and $2 million in 2014 if the Raiders' hold on to him through that date.
There also appears to be little incentive for Wimbley to restructure, as Wimbley is already guaranteed $6.5 million for 2012 regardless of whether or not the Raiders release him. If Wimbley is released, he could still find more guaranteed money on the open market as one of the top pass-rushers available.
The Bears might be one of the teams willing to pay him that guaranteed money once on the free-agent market.
Last season, the Bears didn't get the kind of production you'd expect from a position playing opposite a player of Peppers' quality.
According to Pro Football Focus, Israel Idonije produced just five sacks and eight quarterback hits on almost 1,000 defensive snaps in 2011. He received a negative pass rush grade despite the dominance from Peppers on the other side.
Adding Wimbley might help cure that ailment. 
Wimbley had six sacks, 16 quarterback hits and 40 pressures, which equaled the Raiders' top overall defensive grade and second-best pass-rushing grade, according to PFF. 
The Bears will have plenty of competition for Wimbley if released, however.
Every team in the NFL is looking for more pass-rush, and certainly a handful of teams would be willing to give Wimbley another rich contact to rush the quarterback for their franchise.
If the Bears are heavily invested in finding a receiver on the free agent market, like many assume they are, it may limit their aggressiveness in acquiring Wimbley. The opposite could prove true as well if the Bears are more interested in getting a pass-rusher in free agency and a receiver during the draft.