Rajon Rondo: Everything That's Wrong About Him Is Exactly What's Right About Him
March 8, 2012

We faithfully stood by the Boston Celtics throughout Paul Pierce's dark years. And we proudly stood by the Bruins, too, even though they hadn't won the Stanley Cup since 1972.
Boston sports fans are a loyal bunch and we don't shrink away from our pride just because one of our teams hits a rough patch.
But for the Celtics, this is not a rough patch. This is total misery.
The Celtics are like a sick person who won't go to the hospital because they've convinced themselves that nothing's wrong. This isn't about losing, this is about denial. 
Doc Rivers always seems to be in a positive mood. Both he and Danny Ainge are always in good spirits and seem to believe in this team. Why?
Admitting to a problem doesn't necessarily equate with panic. They can admit the team is falling apart and still make rational and wise decisions. They can improve the situation. They can take the necessary steps to inch their way closer to the solution.
Why won't they do that?
When I listen to the players talk, it seems like they're simply dealing with the normal ups and downs of professional basketball. For the most part, the guys on the Celtics seem pretty cool and collected. It's as if they're just going through the natural ebb and flow of the season.
But there is no ebb, nor is there any flow to this season.
This team is imploding. Danny Ainge's flimsy and pathetic attempts to correct the situation seem to imply a total lack of understanding about how bad this team really is.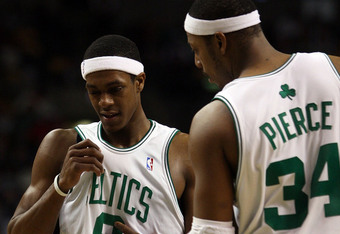 Why are the Los Angeles Lakers so much worse than they have been in recent years, yet they're still a championship contender? I wish I could ask Danny Ainge or Doc Rivers that question.
Why is Kobe Bryant's team playing at a fraction of the greatness they embodied a few years ago, yet Bryant still has a relatively decent shot of grabbing a sixth ring this season? Answer that, Doc Rivers. Answer that, Danny Ainge.
The Lakers lost their coach, they lost Lamar Odom, they lost Trevor Ariza, Pau Gasol is inconsistent, Derek Fisher is a shadow of his former self and Steve Blake is getting tons of playing time. All of those factors should add up to a busted season. So why are they still pretty good?
If the Celtics make the postseason, they'll most likely get bounced in the first round. Why is that?
Why do the lackluster Lakers still have a chance and the Celtics don't? Why do the fans in Los Angeles get to have a team that's still alive and the fans in Boston have to put up with this insanity?
If sinking into quicksand is our fate, then fine, let that be our fate. But at least make an effort to squirm out of the vortex of death. Make an attempt to survive for the sake of the fans. As long as our team tries its best, we will return a heavy dose of gratitude as loyal fans.
But this team isn't trying its best.
Making Rajon Rondo the focal point of this madness is not rational. Allowing him to be ravaged by trade speculation is beyond disgusting. I don't care if he plays his best when his head's in the chopping block, his head should never be in the chopping block at all.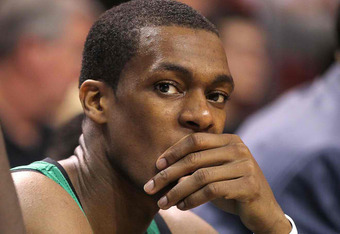 I don't care if Rondo nabs a historic triple-double every time he's mentioned as trade bait, it should never happen. He's the only source of life this team has.
For the last time, Mr. Ainge, leave the kid alone and let him play basketball. And if you're not shopping him, then you should stand on a mountain every day and scream it.
Don't wait until you've already heard all the offers or until the trade deadline's about to strike and you've already struck out. Make it common knowledge that Rondo is a Celtic. Yell it a thousand times a day so we know you mean it.
The Celtics have not done enough to keep Rondo shielded from the horrors of this deranged season. Allowing any trade rumors to linger renders some degree of guilt upon the wizards behind the green curtain. Rondo's the only reason why this team is still in the playoff picture.
Look, the Bruins are having a rough time, too. They've been struggling to find their chemistry for the last two months. Teams go through tough stretches. That much is, indeed, normal.
But there's a major difference between the Celtics' situation and the Bruins' situation.
The Bruins are having a great deal of trouble right now, but the guys who can fix their problems are already in their locker room. The guys who can fix the Celtics' problems are not currently members of the Celtics.
And that's the difference.
The Bruins have the right players, they just need to find the right chemistry.
That's exactly why the Lakers still have a shot. The Lakers have the right guys to make a serious push for the crown. They're not as skilled as the Miami Heat and they're not as fast as the Oklahoma City Thunder, but they have a shot because they have the guys in that locker room who can solve their woes during tough stretches.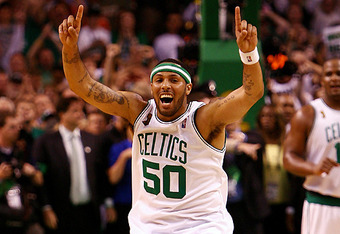 The Bruins and the Lakers kept most of their core intact, while the Celtics traded away all of the guys who provided the glue that held their unit together.
Look at the Dallas Mavericks.
Dirk Nowitzki was the best player on that team last season, but he wouldn't have won without Tyson Chandler and J.J. Barea holding that team together through the toughest times.
Likewise, the Celtics wouldn't have won in 2008 without James Posey, Eddie House and Kendrick Perkins keeping everyone's emotions glued together.
The Celtics got rid of every player who could fix their current troubles, while the Lakers kept most of their "glue guys."
The Lakers still have Kobe Bryant, Andrew Bynum, Pau Gasol, Metta World Peace and Derek Fisher. Yes, they're feeling the effects of losing Odom and Ariza, but they still have some very serious emotional pieces in place. Those are the guys who can repair the train tracks during those long nights of soul-searching in Los Angeles.
Kevin Garnett, Ray Allen and Paul Pierce were never the emotional epicenter of the Celtics in 2008. They were the best players, of course, and they were the most consistent players. But when it came to emotion, Glen Davis and Eddie House were the guys who provided unity, laughter and clarity.
Leon Powe, Tony Allen and James Posey were always the soul of the team and Kendrick Perkins was their heart. Even Brian Scalabrine provided incredible and often magical qualities that uplifted the Celtics in times of distress.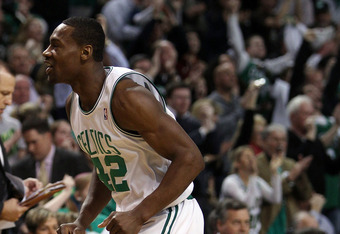 Those guys are gone now.
Kendrick Perkins was Rajon Rondo's best friend and Danny Ainge traded him. Were they surprised that Rondo got a little uptight? That's like saying to Tom Brady, "Hey, we're getting rid of Wes Welker; you're cool with that, right?"
And yet, the damage is done. This nightmare of a season will continue seemingly without end.
For the Celtics, at this point, chemistry is moot. They don't have the right players, therefore chemistry is useless. At best, a moderate degree of chemistry will buy the Celtics a pass to the first round of the playoffs. That's it.
For the Lakers, winning will be about finding their chemistry. They have the luxury of time; time to figure it out, because they have the right guys.
That's why the Lakers have a shot at winning a championship this season and the Celtics are crumbling into the abyss.
The Celtics need a new team. They need to follow in the footsteps of the Knicks and overhaul the entire roster.
Keep Rondo and replace everyone else.
Let Rajon Rondo inherit this team. Tell Danny Ainge and Doc Rivers to stop fighting it. Yeah, Rondo's got an attitude problem.
You know who else has an attitude problem? Kobe Bryant. You know who had an attitude problem? Michael Jordan. You know who used to have serious attitude problems? Magic Johnson and Larry Bird.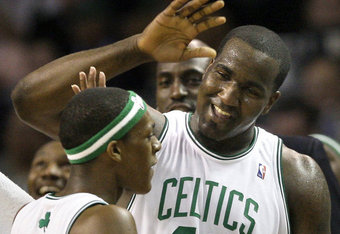 Since when did attitude go out of style?
This is still a sport, right? This is competition, yes? Don't we want our best players to be a little pissed off? Don't we want them to have a killer instinct and an insatiable hunger to win? When exactly did political correctness invade Boston Garden?
I seem to remember Kevin McHale dropping Kurt Rambis to the floor like a dirty dish rag. Remember that? That was basketball.
Rajon Rondo is basketball. Tell Danny Ainge and Doc Rivers to stop seeing Rondo's attitude as a deficiency and start seeing it as an asset.
Everyone wants Rajon Rondo to grow up. I say: Don't. Don't ever grow up. Let Rondo be as young and impulsive as he wants. Had Ainge kept more of the '08 team intact, that young and impulsive nature would've led the Celtics to a dynasty.
Let's not blame Rondo for the mistakes of his bosses.  
I wonder how anyone in the workforce would react to being the employee of the month, every month for four years, and still being shopped around by their company. That person might get a little pissed off from time to time.
It doesn't mean that person is immature, it means that person should probably be in charge of the company.
If Bird, Jordan and Magic taught us anything, it's that great players should never be forced to grow up. Let them gradually grow old and wise after they retire.
But while they're playing, just let the kids be kids.