2012 NFL Free-Agent Predictions: Vincent Jackson and Players Worth Big Cash
March 8, 2012

Christian Petersen/Getty Images
After March 13 we are going to see tons of teams overpaying free agents who are coming off career years just to get fans off their backs.
With so much money on the line, any player can put up good numbers with a little talent.
The only players truly worth that five-year deal with the fat signing bonus have pieced together season after season of outstanding Pro-Bowl caliber play.
With the new salary cap restrictions, even Peyton Manning isn't worth a fat deal with the uncertainties around his neck.
Here are the only three players that are actually worth the gobs of money owners are willing to toss in their direction.
Vincent Jackson, WR
Sure he has been battling the Chargers for more money the last two years, but now he is a free man and ready for a fresh start.  
Jackson is coming off a 60-catch, 1,106-yard and nine-TD season despite Phillip Rivers experiencing the worst year of his career.
The 29-year-old has 37 career TDs, has played hurt and has the size (6'5'', 230) to be a threat in the red zone in addition to sizzling speed. He is the complete package you would like to see from your No. 1 receiver and is by far the best available.
Potential Contract: Five years, $55 million, $18 million guaranteed
Carl Nicks, G
While it may not be the most glamorous position, Nicks is the sort of offensive lineman who you can build around for the next decade.
He is only 26 and already has two All-Pro nods in addition to a Super Bowl ring. Did I mention he's only 26?
At 6'5'' and 340 pounds, he has the prototypical size and has incredibly quick feet for a man of his stature. Few, if any, players are as good in pass protection as Nicks.
Potential Contract: Six years $70 million, $30 million guaranteed
Mario Williams, OLB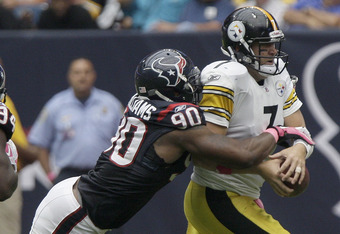 Thomas B. Shea/Getty Images
Super Mario switched from defensive end last year and the transition was flawless. He registered five sacks in as many games before suffering a season-ending injury. For his six-year career he has 53 sacks, one of the top marks in the league over that span despite the '11 injury.
He is an ideal fit for a team that incorporates a 3-4 system, yet he possesses the versatility to adjust in a 4-3 scheme. That means virtually every team in the league would love to have his services.
With a 6'6'', 283-pound frame, Williams is Julius Peppers 2.0. Speaking of, Peppers landed a six-year $84 million two years ago. Expect a similar payday for Williams.
Potential Contract: Six years $89 million, $40 million guaranteed