Jahvid Best Cleared for Workouts: What His Return Means for the Detroit Lions
March 8, 2012

According to ESPN.com's Adam Schefter, Detroit Lions running back Jahvid Best has been cleared to work out with the team. He'll be able to take part in Detroit's OTAs, minicamp and training camp.
An unnamed source "familiar with the situation" told Schefter that Best wasn't cleared to return to all football activities yet, but would be "shocked" if he wasn't able to fully participate.
This is good news for Detroit coaches, players and fans who've all been sitting on the edge of their seats waiting for the verdict. Remember that during the regular season, there was a rumor that Best would never play again.
Having Best back in the fold is an important first step in his return to active football. It definitely looks like he'll play in 2012. That doesn't mean the issue won't be on everyone's minds going forward, though.
Like Matthew Stafford, Best will have some serious questions to answer on the field and off. Stafford was forced to endure endless inquiries regarding the strength of his shoulder. The only way those questions would die was to demonstrate that he could take a hit and stay healthy for an entire season.
Stafford put that baby to bed with a spectacular 2011 season in which he appeared in all 16 games and played through a hand injury.
Best needs to do the same. Questions about the concussions, his durability and his health after football will dog him all offseason. It's something he can better prepare for and learn to answer through gritted teeth. A healthy, concussion-free season would go a long way to ease everyone's mind.
Only time will tell if that's possible.
Obviously, Best's return to the team is a positive. He's a dynamic player when healthy. But, do the Lions truly need him to win?
I've heard many people disregard Best and point out that Detroit made the playoffs without him. On the contrary, I believe it was the games featuring him that made the difference.
Detroit's record with Best on the field was 5-1. The only game they lost with him was in Week 6 against the San Francisco 49ers. That same game, he suffered the season-ending concussion.
Detroit went 5-5 the rest of the year without him. Although they received some inspired performances from Kevin Smith, it was easy to see the running game wasn't the same without him in the lineup.
Best gives the Lions a dimension to their offense that's needed to be successful in the NFL these days. He's a dangerous change-of-pace back who can beat an opposing team in a variety of ways. He's equally effective running around the edge or catching passes out of the backfield.
He's not the kind of back that can be relied upon for full-time duty, though. That was never the Lions' intention. He was meant to complement a more traditional rusher, like Mikel Leshoure.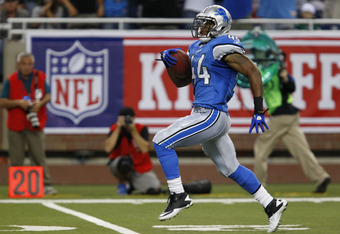 Teams in the NFL regularly use a two-back system. In fact, the most successful teams employ two backs equally. The New York Giants have Ahmad Bradshaw and Brandon Jacobs. The New Orleans Saints have Mark Ingram and Darren Sproles.
The Carolina Panthers, New York Jets, Oakland Raiders and Houston Texans also employ a two-back system.
Best is very similar to Darren Sproles, and he has the skills to be just as effective. Sproles had a breakout year in 2011, with 603 yards rushing, 710 yards receiving and nine touchdowns. He only averaged about five carries a game.
In the six games he played last season, Best had 390 yards rushing, 287 yards receiving and three touchdowns. Those numbers project out to be equal to or better than Sproles. The only difference was, Best had almost as many carries in those six games (84) as Sproles had all season.
In other words, he was being used too much and in the wrong ways. He should only have 10-18 combined rushes and receptions a game.
As we've seen, Matthew Stafford doesn't need a powerhouse running attack to be successful. Neither does Calvin Johnson, for that matter. The Lions certainly disproved the theory that a good running game sets up the pass.
That said, a decent running game sure couldn't hurt. If the Lions can add an average rushing attack to their potent passing game, they could easily have another record-setting offensive year.
At this point, Best's health is the most important thing. Everyone wants him on the field, yet no one wants him to risk permanent damage. Honestly, the Lions were probably planning on him not being there. This could explain the Joique Bell signing.
If he does play, anything he gives them will be a huge bonus.
I, for one, hope that he returns to form and picks up where he left off. He's a game-changer, and he's been a big part of turning this franchise around. He deserves to be there when the Lions reach their ultimate goal.